Syrian Hamsters are undoubtedly lively and adorable little creatures, but what's more remarkable is that they are extremely affectionate toward their owners. Although they are easy to keep and care for, they require an appropriate cage for their needs and activities. There are many things that a hamster needs, but the cage is at the top of the list because they need a clean box to live a healthy existence.
We have reviewed the five best hamster cage for Syrian Hamster that we have used in the last one and a half years. These boxes are listed on the basis of the cage's style, easy to clean, proper ventilation and security, accessories in a cage, and user feedback over these products.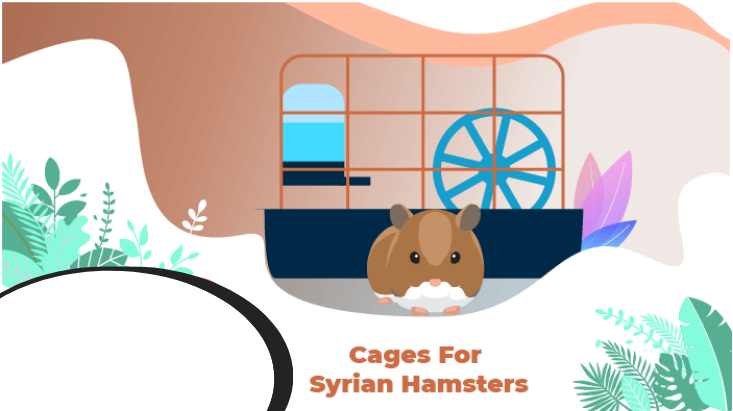 Different Types of Syrian Hamster Cages
There are several kinds of cages, but these enclosures are specially designed for little animals.
Modular Plastic Cages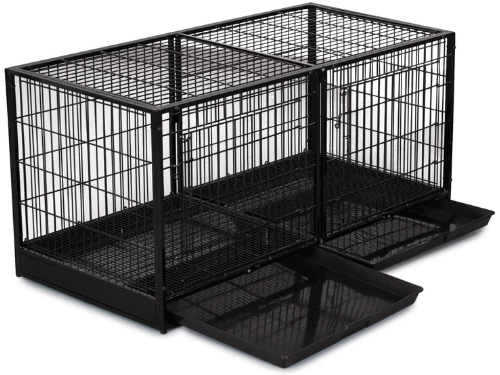 The majority of modular cages only contain a plastic base. Tubes, tunnels, extra modules, and a variety of other items can then be installed. These cages offer you to create a stimulating and comfortable atmosphere for your lovely hamster to enjoy, and they can get enough room for exercises and cerebral activities. Many hamster parents like the multiple expansion options available to them.
The downside of this type of cage is that they can't provide proper ventilation to your pet and cleaning the box and its accessories is a time-consuming process.
Wire Top Cages
These cages have a wire top and a plastic ground. For easy cleaning and more comfort, you can use the bedding on the base that can be easily separated from the entire cage. The fact that these cages come in a variety of styles is one of the main reasons for their success. Instead of a modular plastic cage, wire top cages are very simple to clean, compact, and inexpensive, and they provide adequate ventilation. However, make sure the cage isn't open to the elements, and the space between the bars is not much wide to prevent their escape.
Glass Cages
In my view, there are many benefits of glass aquariums, such as they are perfect for preventing the escape of the Syrian hamster from the cage and offering good ventilation. Glass cages offer a complete view of its activities and surroundings. Moreover, you are allowed to add more than one bedding in the cage. Their sole issue is their weight, which makes it difficult to shift around.
Buying Guide: Best Hamster Cage for Syrian Hamster
When you are picking a cage for your Syrian hamster from an online or physical store, you need to remember a few essential factors. You want to pick an enclosure that is easy to clean, large enough, and properly secured. Sadly, only a few cages meet the requirements for a Syrian hamster. Below some important points are listed for your convenience.
Easy to clean cage
A wire cage with a plastic tray is quite easy to clean; just pick the wire from the base, empty the bedding, and clean the wire as required. The complicated cages are very difficult to clean. If you're thinking about a plastic enclosure with different accessories and tubes, cleaning these cages is a challenging and time-taking process. Glass cages are not very tough to maintain. Still, they can be heavy and inconvenient to move around at the time of cleaning. It's a serious task, so keeping it simple will make having a hamster more enjoyable.
Style of the cage
Currently, there are three common types of cages in the market: plastic, glass, and wired. Each type is explained in detail with its pros and cons. Every enclosure has its features, advantages, accessories, and downsides. If you haven't read it, please go through it.
Cage size
Here is the most important point because your hamster will spend most of its life in this box, so you will probably buy a perfect-sized cage. Hamsters want different accessories in their cages for burrowing. Syrian hamsters require a large amount of space for movement, and the cage's floor space is vital for this. Many hamster cages in the pet shops are too tiny for them. According to the National Hamster Council, a 150 square inches area should be given to syrian hamsters for a healthy life. The council suggests the 17.5 inches height of the cage.
Safety & Security
It's also the most important point to consider because safety is everything. Regardless of hamster size and height, its feet are small, so that it can be stuck in bedding sometimes. That's why a plastic tray is recommended for the base. These little animals are very clever and active and always find the chance to escape. To minimize the possibility of their escape, the space between bars should not be more than ½ inch. I prefer the vertical bar cage instead of horizontal bars.
Ventilation
Your syrian hamster will be upset if there is not enough ventilation. Because their lungs are not particularly large, a cage that does not allow proper airflow will create many health-related issues. Aquariums and plastic enclosures are easy to have, but they are not properly ventilated. A wire cage is best for ventilation. So, choose the box that is according to your requirements.
Accessories
Your hamster will pass the most time of its life in this cage. So, having a hamster wheel to run and exercise is important. Ensure that syrian hamsters' wheels are large enough, and there should be no crossbars for the support. The surface should be solid instead of wired mesh. This prevents it from becoming trapped in between while running.
Material
A best hamster cage for syrian hamster constructed with good quality material will be durable. You can use this enclosure for future pets if properly cared for. Whether you choose a plastic or aquarium cage, make sure the material is strong and substantial. The cage's surface should be durable and able to tolerate washing.
Brand reputation
Don't blindly trust newly launched brands. The famous and well-known brands have thousands of customers due to their quality products. It is preferable to purchase the item from a reputable company. You may take help from their reviews.
Price & Feedback
You will get what you will pay for. This isn't to say that more expensive products are always better. Go through the buyer reviews to find what other users say about this cage.
5 Best Cage for Syrian Hamster
Midwest Critterville Arcade Hamster Cage – best hamster cage setup
The kind of accessories and features offered by Midwest are outstanding. It has a vast play space that will greatly impact hamster health and make it active. When I put my Syrian hamster in this cage, I was surprised to see its happiness in this enclosure because it is loaded with quality accessories, so these little pets feel comfortable in it. The exercise wheel is built well with glass and not supported by any bars. The bar spacing is, according to the National Hamster Council, ½ inches. If you are interested in fitting bedding, the cage has a deep base. Most owners love this cage because it includes everything necessary.
It has no major drawbacks. Instead, it's a bit tricky to assemble. Other than that, easy cleaning, affordable price, quality material, and all accessories make it a great choice for every owner. Moreover, it includes a port and connecting rings, so you are allowed to expand the pet play area in the future.
---
Savic Hamster Heaven Metro Cage – top hamster cage for syrians
Here is another Best Hamster Cage for Syrian Hamster. If you are looking for a large cage, give this product a look. Like the previous one, it's also loaded with a plethora of accessories such as tunnels, an exercise wheel, two houses, a penthouse, a water bottle, and feeding bowls. What's required for a hamster to enjoy in a box? Obviously, a large base with bedding and a few accessories. The company has offered the last floor area, for bedding, with much tunneling and frolicking fun. The box is fully customized with two portable handles, but additional tubes are also available if you want to do further customization.
We Americans mostly use USA-made products, but this one is from Belgium, so to check the cage performance and the company's credibility, we ordered it last month. It's easy to assemble, and our team is impressed with the quality material and the company's customer support. On behalf of the Yumehub team, the Savic hamster cage is fully recommended for every owner looking for a quality product at an affordable price.
---
Favola Hamster Cage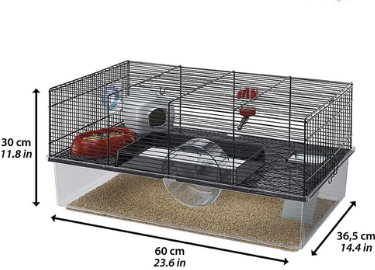 Favola hamster cage offers a lot of options to your little pet with its high bottom and two floors. It's covered with wire, and many people ask that is it chew proof? Yes, it has a great wire mesh, and it's 100% chew proof and prevents your hamster from escaping the cage. Don't worry about ventilation; there is enough space for excellent airflow. The airflow enables the cool temperature inside the cage.
However, the deep bottom makes cleaning easy, but it can be difficult to clean the bottom floor for some guys. You can disconnect the middle plastic section from the transparent base for easy and quick cleaning. My experience with this cage is good, but I'm not satisfied with the poor-quality bottle. The company should replace it with a good quality bottle. The plus point is that you can easily accommodate two hamsters in it. You will be amazed to read that the company offers a one-year manufacturing warranty for this cage.
---
Prevue Pet Product Small Animal Home – best cheap hamster cage
Have you ever seen a cage that is affordable, properly ventilated, easy to clean, simple, lightweight, and loaded with features? If not, then dive into this product. This product is optimized in every aspect according to the guidelines of the National Hamster Council. It has a deep base that offers a large space for the hamster to play around. The two entry doors at the side and top are easy to use and prevent escaping of hamsters.
The spacing between bars is ⅜ inch which makes it more versatile. Another reason for its versatility is that you can also use this cage for other species, such as ferrets. Remember, it's not for giant or large-sized species; use it for small and medium-sized animals. What if I tell you that it's the only product with thousands of satisfied and happy users.
---
Living World Deluxe Habitat – best large hamster cage
Here is our final product that has been widely used and the favorite of many owners. It offers a natural environment, a deep base with excellent ventilation. The cage's large size is one factor that contributes to the natural surroundings. This cage is about twice the size of a standard hamster cage, giving your pet plenty of room to play around and exercise. Add the bedding to provide more comfort to your little specie. Smooth plastic has made the cleaning process very easy. It's all good, but I noticed that it's not durable. You need to use it very carefully.
---
Conclusion
Hamsters give you pleasure with their funny acts and movements. They are nocturnal, so you need a perfect spot for their cage. You can use lights at night inside the cage with the proper setting. Before adding the product to the cart, read the main points that are discussed above for the best hamster cage for syrian hamster. If possible, try to create a natural environment in the box.