If you are an owner of the cockatiel then you must take some extra care for your bird because of its sensitive nature and long tail. A cockatiel is such a loving and playful bird, so you must give the best possible lifestyle to them.
One mistake I've observed is failing to provide an appropriate living environment for cockatiels, which causes them to become moody and aggressive. Today, I've decided to provide comprehensive information on how to select the best cage for cockatiels.
Your bird will be definitely happy and more playful when you provide him with a proper living facility. Keep reading and make the right choice.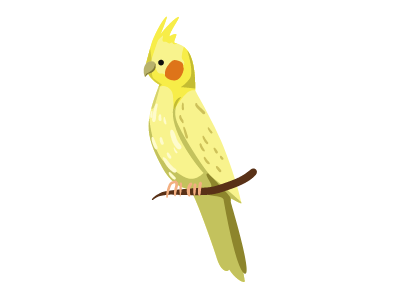 Best Cage for Cockatiels:
VIVOHOME 59.8 Inch Iron Cage- Best Cockatiel Cage:
Vivohome is a leading company for making the best quality cages for birds, that's why it is on the top of our list. The cage is made up of the best quality iron with a varnish of black powder, making him more durable. The cage is specifically built for 2 cockatiels.
When I order the cage, I was thinking that it will come in full assembled size. But I was surprised to see that it comes in different parts in a small packed box.
One helpful feature is that it has a wheel on the bottom through which you can easily move it all over the house. At the bottom, it also has a plastic tray to store birds' waste, which can be easily removed and cleaned.
For cockatiel and owner ease, it contains multiple small and large doorways. The cage has 2 wooden crossbeams where your bird can stand.
Some of the helping features are a swing, multiple bars, locking joints, 4 wooden perches, and 4 feeding cups.
---
SUPER DEAL PRO 61″ Large Bird Cage
To deal with the harsh weather and birds bites, here is a Super Deal cage, which is made up of strong, long-lasting material. This cage provides a complete play area for your bird due to its interesting and unique structure.
At the bottom, it contains a sand tray that keeps the waste of birds. You can easily clean and place it in the tray to make the environment hygienic.
It includes 5 stainless steel dishes for your pets to eat from. A common problem people face is that the birds come out of the cage when they open the cage to put food. So this cage manufacturer gives individually opening doors through which you can feed the birds without opening the cage.
Placement of a cage is a bit difficult decision as sometimes you have to put the cage on the lawn, sometimes near the window. So no need to be worried; its 4 non-marking wheels will help you to pull the cage wherever you want.
---
VIVOHOME 30″ Iron Bird Cage- Small Cage for Cockatiel:
If you are looking for a small cage for your cockatiel then the VivoHome 30-inch cage will be the best choice. The cage is painted with non-toxic hammer pattern paint, which gives your bird a secure and healthy environment.
The plastic plates for food and water are very easy to get in and out of the cage. The cage is best suited for a small cockatiel, the addition of more birds can cause injuries to them.
The waste tray at the bottom is very easy to take in and out. For cleaning, you can easily remove all the parts of the cage for a clean environment.
If you place the cage in direct sunlight or rain, there not be an effect on its iron due to its water-resistance nature.
In helping accessories, it comes with two white plastic food plates and 2 long wooden crossbars.
---
Yaheetech Wrought Iron Cage
This cage meets all the needs of small and large birds and looks very beautiful inside the home due to its attractive color. Moving it from one place to another is no more a problem because of its 4 smooth-rolling coasters.
The cage is structured in a way that you can easily hold your pets and accessories. At the front, there are four doors through which you can feed your birds without fear of being fleeing. 2 long wooden perches are there for birds to rest.
Hammertone paint is used on the iron of the cage, which looks very decent and eye-catching. The cage wires are also of excellent quality and show resistance against the pet's ugly bites.
The cage's setup is straightforward as the thorough detailed instructions come with it.
---
VIVOHOME 41.5 Inch Stackable Divided Bird Cage
If you want 2 in 1 birdcage, hen this cage will be your first choice. It gives you all the best living and feeding facilities to your cockatiels in a safer environment. With non-toxic white spray, the iron will not rust even in a high temperature and bad weather.
To provide a joyful environment, you can also partition and decorate the cage according to your preference. A wheeled stand that you can easily attach or detach anytime when needed.
The cage design is composed in a way that birds cannot open the door themselves, and you can also feed them without fear of fleeing. There are two perches on both cages, and perches are fit to bird's feet.
In the lower bottom, there is a waste try which is in drawer style. The tray is composed of white spray paint material, due to which cleaning it is so easy.
In helping items, it comes with 2 white plastic boxes, 2 wooden perches, and a tray in a cage.
What to remember before buying a Cockatiel Cage?
How can you pick the best one, when there are so many options on the market? You will easily become overwhelmed when different colors, sizes, and models are available. So here are some tips to remember before buying a cockatiels cage.
Choose the right size:
The main issue which most of the people face is that they did not buy the cage according to their needs. If you have large birds, then go for a large cage so that your birds live comfortably. Keeping a cockatiel in a small cage can change behavior like screaming, biting, and feather plucking.
They can move around in a large cage and fully extend and flap their wings. So it's better to consult a veterinarian for recommended cage size.
Bar Spacing:
Another aspect of a cage to consider is the spacing between the iron bars. Some birds are escape artists, so there must be horizontal bars through which birds cannot escape and do some exercise by climbing.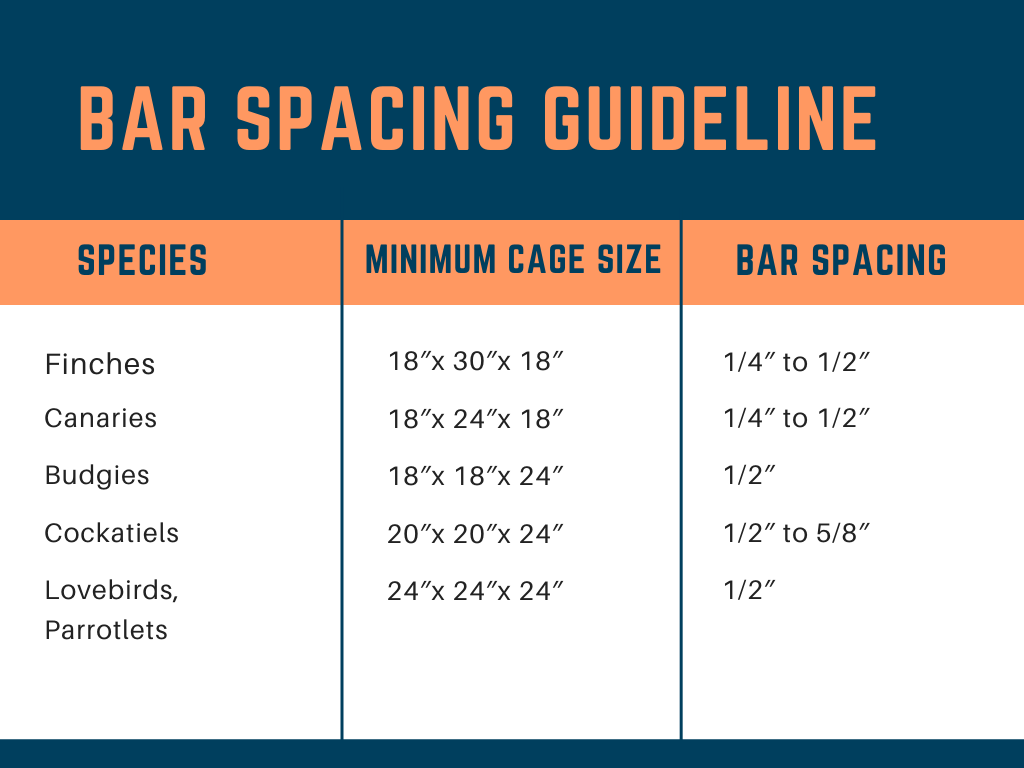 Shape:
According to expert veterinarians, square or angled cages are better than round-shaped cages. So wisely check for the shape of the cage. No matter you hung or placed it on the ground.
Quality:
You must have heard a quote that quality is remembered long after, and the price is forgotten. The cage must be sturdy, solid, made of stainless steel, etc., which gives your bird a safe and healthy environment. Good quality and properly built cage can give more happiness to your bird and make his behavior joyful.
Cage doors:
As cockatiels have to come in and out through the cage, and sometimes they get hurt due to the small size of a door. Moreover, owners feed them the doors, and sometimes birds escape through the door while owners feed. So look for a cage with a great space for bird entrance and a separate door for feeding.
Ease of cleaning:
If you want your pet to remain healthy and have good behavior, you must give him a clean environment. Cleaning a cage is not an easy task, but you can get rid of this effort if you wisely choose the cage. New cages are much easy to clean as you can separate them into pieces and clean each part.
Extra features:
This point is not compulsory, but considering this will be beneficial. Extra features in the cage include colorful toys, perches, feeding cups, wooden sticks for birds standing, and other accessories.
Frequently Ask Questions:
Why is cage important?
Generally, due to cockatiel nature, they are kept in a cage. This didn't mean that they could not be out of the cage, but most of their time was spent in the cage. They live, eat and play, or if you are going out for a picnic, you also take them with you in the cage.
What is a suitable size for a Cockatiels cage?
No one can give a correct answer to this question except you because you, as an owner, know your bird's exact size. But a large-sized cage is always better, even if your birds are in small size. So choose the cage size according to your preference and height of the bird.
Does my cockatiel need a companion?
According to a report, birds live happier when they have birds with them. This did not mean your pet could not live alone. Yes, he can, but you will have to give extra time and attention to him. Continuous ignorance will make their behavior rude.
So that's why it's better to get a pair of cockatiel who lives happily even if you are not giving them time and attention.
What are toys for Cockatiels?
Toys in the cage are to create a playful environment for birds. Toys include perches, swings, pinecones, natural fiber ropes, rawhide, ladder, and other birds' elements. Do not give them the toys through which they get an injury.
Conclusion:
Birds are the most sensitive creatures which need the extra care and attention of their owner. Being an owner, you must give your birds like cockatiels the best facilities. The first demand of birds is to give a living facility. So here is the article for the best cage for Cockatiels and we hope that you must have selected one of the products.
Wisely pick any product while remembering the above-written points so that you should not regret your decision.