Maine Coons are the most famous cats in the United States & the whole world has a lot of fascination when it comes to these giant cats. Although, Maine Coons have a repute of being sluggish, these big felines still want to climb, leap, & crawl on the cat towers & with an average weight of around 18-19 pounds especially for male Maine Coons, pet parents are going to get an extremely durable cat tower in order to support the weight successfully.
Likewise, being a responsible cat owner, it is important to give Maine Coon a great & healthy activity environment. Cats should jump, exercise, scratch, and climb. And, it can be all ensured by selecting the best cat tower for Maine Coons. So, in this article I will show pet parents everything they need to know & understand in this regard. Here are the 5 best cat towers to make Maine Coons feel secure and comfortable.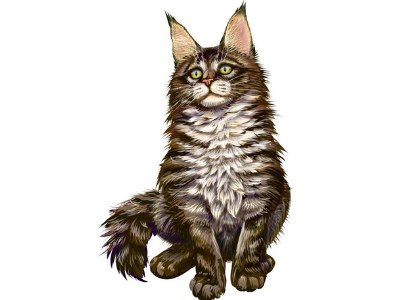 Why Do Maine Coon Cats Need Cat Tower?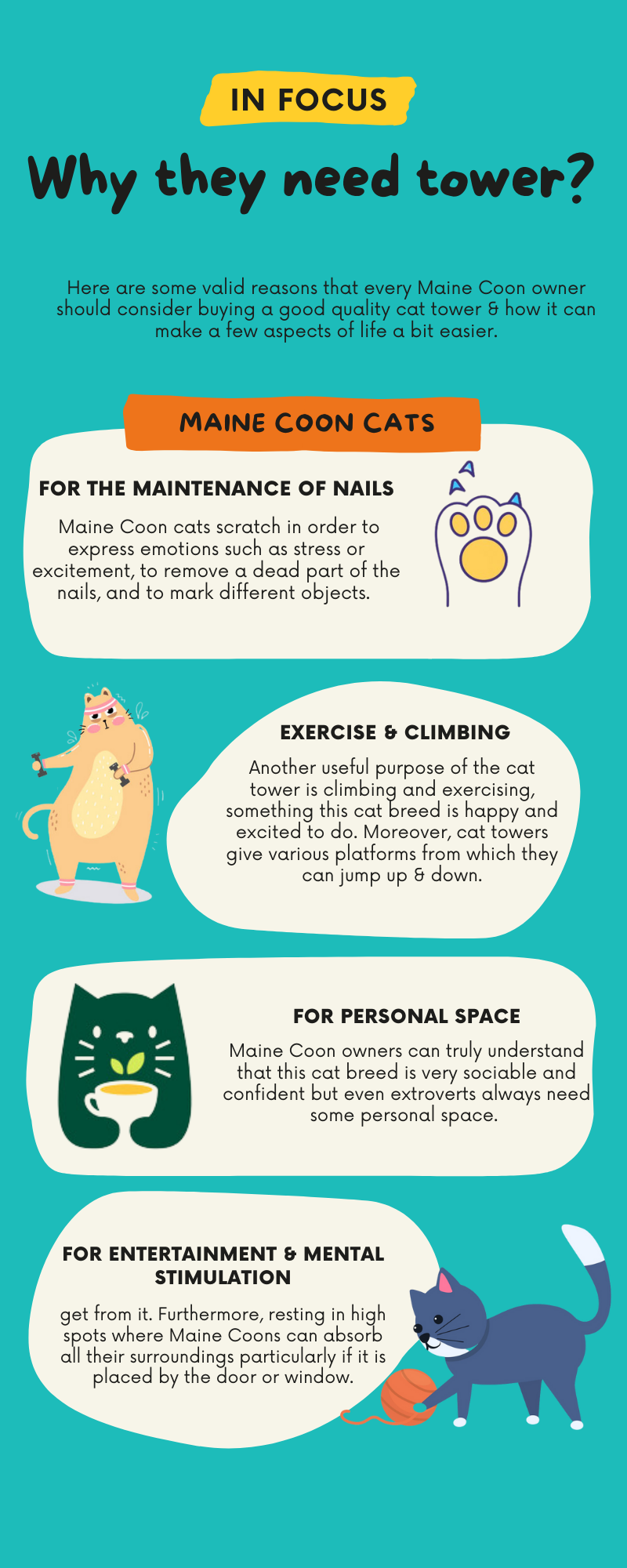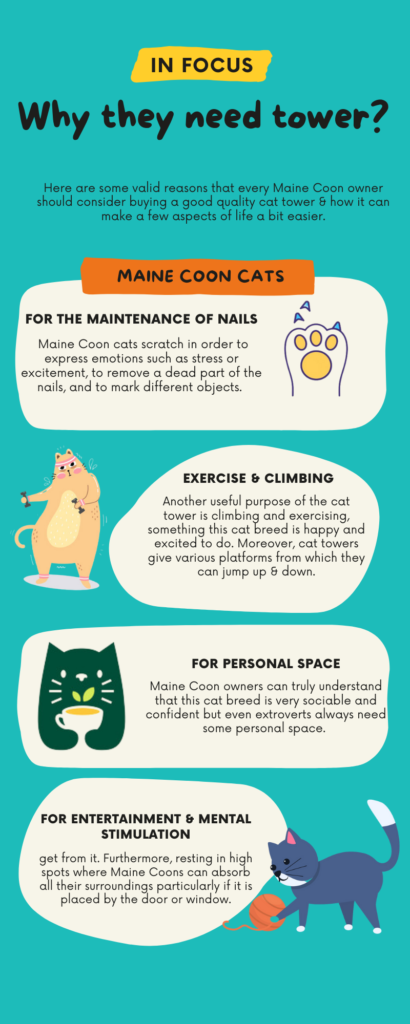 Here are some valid reasons that every Maine Coon owner should consider buying a good quality cat tower & how it can make a few aspects of life a bit easier.
For the Maintenance of Nails:
Maine Coon owners might be thinking that their precious cats are scratching the furniture as a way of getting back to them for not offering them treats or required attention; however, in reality this behavior of the cats has nothing to do with pet parents & is 100% natural. In fact, Maine Coon cats scratch in order to express emotions such as stress or excitement, to remove a dead part of the nails, and to mark different objects.
For Exercise & Climbing:
Another useful purpose of the cat tower is climbing and exercising, something this cat breed is happy and excited to do. Moreover, cat towers give various platforms from which Maine coon cats can jump up & down. Many of them normally have toys dangling directly from top platforms in order to help Maine Coons get into a playful mood.
For Personal Space:
Maine Coon owners can truly understand that this cat breed is very sociable and confident but even extroverts always need some personal space. Tall cat towers can offer a lot of privacy whenever Maine Coons have to stay alone.
For Entertainment & Mental Stimulation:
Another valid reason Maine Coon cats will surely benefit from having a heavy-duty cat tower, is the instant enjoyment they will get from it. Furthermore, resting in high spots where Maine Coons can absorb all their surroundings particularly if it is placed by the door or window. It is quite easy to forget that indoor felines can get bored easily but that is not a big deal for Maine Coon cats as long as pet parents entertain them & have a cat tower to divert their attention.
Reviewed: Best Cat Towers for Maine Coon
Cat towers are considered a multi-purpose toy for Maine Coons. Usually, they are large and sometimes massive. So, with all the much-needed background information shared-above, it is the time to get into the detailed reviews of the 5 best products out there. Each of these cat towers was selected on the basis of quality, comfort, durability & other related features.
Hey-Brother Cat Tower
No doubt, this cat tower is perfect for Maine Coon cats. Super easy to assemble, took less than 30 minutes, pretty durable & stable which is extremely important for hefty Maine Coons. The most noticeable feature is that it comes with the hardware included, plus a few extra screws & an Allen key is also given. The Maine Coon's favorite part is the hammock & she often lays in it. Truly appreciate the fact that the package arrived on time & well packed.
The compartments where Maine Coons can hide in are quite roomy, the top perch is a bit smaller than expected but Maine Coon still enjoys sleeping up there. Well, the design does not give a sufficient ledge to step to the top bed level which makes it a bit tricky for adult Maine Coons, older Maine Coons may not be able to maneuver there.
---
FEANDREA Cat Tower
This thing is huge & worth the price. Maine Coon cats absolutely love this cat tower. The design is unique and rock solid, & does not move here and there when Maine Coons race up to the top. When it comes to assembly, all of the tools were perfectly categorized & the provided instructions were easy to read and follow. The most unique part of the FEANDREA cat tower is that it has side ledges, both are well designed & fun. So, with so much available space, Maine Coons won't have any issue.
This instantly transforms the tower into a playground for adult cats and kittens when pet parents' factor into the top beds & the hiding holes. Furthermore, the base of this cat tower is made of premium-quality materials & the posts are made of top-grade sisal which is considered as the best scratching material for Maine Coons.
---
Vesper Cat Tower
This is another unique and beautiful cat tower. Much nicer as compared to the typical carpet wrapped scratching posts out there. In fact, everything about this cat tower is simply adorable, especially the fact that it is all wood, does not have any carpeting with removable and washable memory foams like pads. This item surely fits with a more contemporary, modern look perfectly.
Well, it was not that much difficult to put together even though the instructions were missing a few details that would have made the whole process easier. It is better to read through the instructions carefully before starting on it. On the whole, this truly is one of the cat towers currently available on the marketplace. Majority of the aesthetically pleasing contemporary cat towers lack actual scratching surface but the sisal poles on Vesper cat tower are pleasing to the Maine Coons without being an eyesore.
---
MidWest Cat Tower
Nice to have something bigger for Maine Coon cats, the MidWest cat tower is definitely a great product & totally worth the money spent. It is sturdy, easy to assemble, & made of better-quality materials than anything else. In short, pleasantly surprised by the quality of this cat tower. Furthermore, this cat tower is huge as compared to all other products, even though it does not take up as much floor space as pet parents would think in comparison to those pitiful towers.
The base is large enough for Maine Coon to lay on, which is another great feature not seen in some other cat towers. I would strongly recommend this cat tower to all those pet parents who have a small place but want their Maine Coon cats to have something to play with for a long time. It is extremely sturdy & withstands jumping, scratching, & climbing all over, pretty well.
---
PetFusion Cat Tower
This cat tower will turn Maine Coons into the happiest felines on earth. Sturdy, good quality, much more attractive as compared to other usual cat towers while being extremely functional. The most appreciable thing is that it was relatively easy to install. This is indeed a highly recommended cat tower that does not take up too much space & looks cool in the shared living space as well.
Furthermore, the parts included a bit level tube thing which was quite helpful when the tower is not rolling around on the flat surfaces. Only feedback is that the middle platform of this cat tower should stick out a little further from the top platform so Maine Coons have sufficient landing space in order to jump from the top. Overall, the quality of the cat tower is very high with sturdy wood & well-wrapped sisal ropes.
---
Buying Guide: Best Cat Towers for Maine Coon
Cat towers are considered a fairly straightforward buy. If pet parents want to inspire their lazy Maine Coons to climb & play around, then the cat tower can be the right option. But it is unwise to purchase any product randomly, apart from reading the reviews it is advised to do some research. Well, to make things easy this buying guide is going to cover all those factors that pet parents should consider before making a final buying decision. I will add, also take care of their food.
What to Look for in the Best Cat Tower for Maine Coon?
It is not the right cat tower if your Maine Coon does not love using it & it is not the best cat tower for you as well if it does not fit in the living space. So, it is advised to consider the following factors before buying the cat tower for Maine Coon.
Space:
Cat towers are sturdy, wide bases to keep cats from toppling over, & those bases are available in different sizes. It is better to measure the area where pet parents want the cat tower to go before getting one.
Materials:
Feline furniture is usually made of MDF, plywood, cardboard, & whole tree limbs as well. Moreover, scratching surfaces are sisal, jute, carpet, & sisal weave mats. While selecting feline furniture, always consider the feline's surface preferences along with your personal aesthetics.
Configuration:
Well, the entire layout of the tower should match your Maine Coon. Adult Maine Coons can easily climb & leap onto anything but senior or old Maine Coons need special considerations.
Interesting Additions:
It is vital to mention that keeping Maine Coons engaged is surely the greatest trial ever while investing a lot of money in any toy. Well, if Maine Coons prefer to bat around a false truffle, then, get a tower with dangling toys. On the other hand, if Maine Coons enjoy climbing in & around boxes then, enclosed condo and apartment can serve the purpose.
Price:
It is important to note that cat furniture is not cheap but pet parents can get suitable units at different price ranges. The recommended practice is to consider the budget before getting one & be ready to pay extra for high-quality materials & modern designs.
Where to Place the Cat Tower?
Corner spots can increase stability while decreasing wobbliness however, not all cat towers are designed to be placed in corners. Many cat towers have a flawless right angle that can slide into the corners easily while others are extremely wide. Moreover, wobbliness is a very crucial factor that should be considered but cat towers can be an ideal way of stimulating the Maine Coons. If pet parents place the cat towers in front of the windows, then, it will surely have numerous mental advantages.
Final Thoughts:
In the end, it can be said if pet parents are trying to give their beloved Maine Coons a comfortable and peaceful personal space, then the best cat tower is surely the way to go. No doubt, all felines need some enjoyment in their lethargic lives & getting them a good quality cat tower not only gives this but also reduces the desire to scratch the furniture around. But always remember that not every cat tower will serve for Maine Coons. Hopefully, the prospective buyers found exactly what they are looking for & are ready to surprise their precious Maine Coons by gifting them the best cat tower.