Without any doubt, lovebirds are the most affectionate, gentle, and friendly birds. They have become prominent in recent years, with a significant surge in popularity among pet owners. They are lovely and learn new things and tricks very quickly, and they like to entertain the owners with their funny activities.
For good and proper health, they need a proper cage and care for a living. We have shortlisted some of the best cages for lovebirds based on several factors that are necessary for lovebirds.
Many of you may wonder why we need a special cage for them when every cage is the same. Every cage is unique in terms of size, durability, material, space, and the essential components contained within it. Look over the entire list; we like them all for different reasons.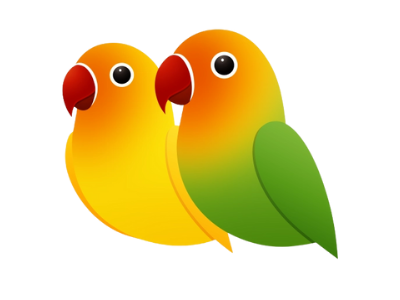 5 Best Lovebirds Cages
The market is full of cages, some of which are low-quality cages that may be harmful to your precious bird. So, invest in an excellent product to get a durable, long-lasting, and perfect item. Detailed information is given for each product.
Prevue Bird Cage – best bird cage for lovebirds
First and foremost, here is our top option, which you will like because it contains every functionality that a cage should have. The enclosure is constructed with non-toxic powder-coated iron that is well known for its durability. Although it's heavy, you can still move it around. It includes four stainless steel cups, a cage stand, two wood perches, and rounded seed guards to facilitate the bird.
Because the space between the bars is 0.75 inches, it is impossible to get the head between them. In terms of portability, the cage comes with a caster-equipped stand that allows you to move the cage around quickly. It also has a vast main door, so routine maintenance inside the cage won't be complex.
It's quick and easy to set together. You can save a few bucks going lower quality, but if you want a nice-looking, durable, safe, and easy to clean cage, check it. Moreover, it's wholly secured, no bird from outside can get in, and it's available in different sizes and colors.
---
Yaheetech Portable Bird Cage – Fancy Bird Cage
If you are looking for a fancy, portable cage, easy to move around and lightweight, look into it. It is made up of quality iron wires that are covered with rust-resistant paint. The base is crafted with plastic and is easy to clean. You can open and close the rooftop to keep your bird active, and the bird can stand on the perch.
The company has included accessories such as four wooden bowls for feeding, four wooden perches, and a swing for the bird rest. The distance between each bar is about 0.4 inch so getting a head stuck is impossible. Because it's lightweight, you can easily pick it up and move it around. The front doors have two small entrances for little birds. For feeding, you can use side panels.
Cleaning is easy compared to other cages because you need to unhook two buttons and pick the tray to clean it. Birds can't walk in the tray's waste because of the fence. Overall, it's affordable, and most of the users are satisfied with it.
---
Yaheetech 61 inch Bird Cage – best cage for large birds
Here comes another product which is considered as the popular product in the list of best cages for lovebirds. The cage from Yaheetech is designed in such a way to provide maximum comfortability to your adorable bird. I'm sure they will enjoy this. The cage is made up of a safe non-toxic metal. You will be amazed to see a slide-out tray for quick and easy clean-up. The Interior contains two stainless steel bowls for feeding and one perch for bird' rest.
The manufacturer has designed a ladder and two bowls for food and water with a litter pan to give it a pleasant look. The cage's base is fitted with locking wheels that make it easy to move. For easy maintenance, the cage has a big front door with a locking mechanism for additional safety, so they can't escape. Moreover, the cage has two feeder doors along with bowls so you can quickly feed them.
This is the best cage for lovebirds we've seen and experienced. We were worried before ordering that how we will assemble it because it looks complex in the images. The on-time delivery and excellent packing was just amazing. As a result, if you invest in this product, you will undoubtedly acquire a long-lasting and reliable cage.
---
Prevue Hendryx Iron Cage
This isn't the cheapest cage you can buy by any means, but it is worth paying a little money to get a good range of options – and this is a perfect example. Prevue Hendryx cage is built with alloy steel and plastic. It is a large cage with a bar spacing of 0.5 inches. It looks heavy, but it is very lightweight, weighing only 19 pounds. Although it is not recommended to put two birds in a single cage, you can put four lovebirds in this cage. The enclosure is also available in XL size, which can easily house up to six birds. You can add toys in large cages.
The interior includes four plastic cups for feeding and three solid wood perches for the bird rest. You don't need to open the main doors for feeding. Six nest doors are designed for proper feeding. For easy and quick cleaning, pull out the tray and throw the waste. The rounded moving wheels are inserted for rapid movement. Overall, it is suitable for parakeets, canaries, and medium-sized birds of all breeds.
---
ViviHome Bird Cage – best cage for parrots
Despite being only two years old, it has astonished competition and won customers' trust with its high-quality features. Alloy Steel has been used to form this cage that makes it solid and durable. To protect the cage from atmospheric contaminants, it is covered with a non-toxic hammer-pattern paint.
Some birds are very smart and can open the door for escape, so it has latches on the front to prevent the chances of escaping. The interior part consists of four plastic bowls and three perches for standing out. Like all cages, it's also simple to clean, the mesh tray at the bottom stores the waste, and birds can't walk on it because of the fence. Finally, I will say that it can be a good product if you have more than one bird. Apart from other cages, it has some hanging accessories. The notable point is that its price is also affordable.
Buyer's Guide: Best Cages for lovebirds
Your adorable bird will spend most of its time in the cage, so select a box that can provide maximum comfortability, security, and facilities. A poor quality cage is dangerous for lovebirds' health and life. Most of the packages discussed above are the same shape but differ in features, material quality, and durability. Below are some crucial points that should be in your mind before buying any cage.
Size of the cage
The size depends on the bird type. If you want to see your bird happy, then give him more space than its size. Because lovebirds are active and energetic, they need a larger cage than their size to be happy and comfortable. Keeping the birds in tiny cells is not recommended.
Perches
Lovebirds like to be on the go throughout all times. They require a lot of areas to move to obtain the proper amount of physical activity. A pair of birds should have at least four perches. This gives them an adequate area to sit and force them to be active. They won't be satisfied if they only have a couple of perches because they won't have as many options to move around. If your cage does not have perches, do add more perches by yourself.
Accessories
A cage does not contain a lot of accessories, so don't worry about it. Every cage has feeding cups and similar stuff, and you can also add later. Instead of focusing on it, concentrate on the size, material, and design of the cage.
Easy to clean
Cleaning is, as we all know, an essential element of bird care. Some cages have an easy cleaning method, while others have a little bit of a complicated cleaning process. So choose a cage that is simple to clean.
Bar Spacing
Spacing between the bars should be more than 0.4 inches. Birds can get their heads stuck in the bars by mistake. Therefore more space will lower the possibilities of this happening.
Portability
Your priority should be a lightweight cage. If you are going to buy a heavy cage, then make sure that it should be equipped with rolling wheels for movement.
Buyers Feedback
Check the reviews of the selected product for better analysis. You'll get an idea of the cage and how it performs in real life.
Frequently Asked Questions
Q1. How much space is recommended for lovebirds in a cage?
Doubtlessly, lovebirds are active and energetic, so they need more space than other birds. According to bird experts, 35 cubic feet of space is ideal for a pair. Aside from that, the bigger the enclosure, the better.
Q2. How can we keep them more happy?
Please provide them with a large cage for easy movement. Feed them a proper diet. After two or three days, free them from their cage in a secured room with locked windows and doors.
Q3. What extra things are essential for the cage?
Add perches in the cage. Each bird should have at least two perches, for a total of four perches for a couple.
Q4. How long can they live?
Some experts live around 10 – 15 years while others say 10 – 17 years.
Conclusion
Lovebirds are not the largest birds, but they are pretty active and prefer to be kept in groups or pairs. Always choose the largest cage you can afford but make sure it matches the minimum size requirements for the birds. Don't be impressed with the eye-catchy pictures of the product. Check the cage from each and every aspect and get the best cage for lovebirds.