The parakeet is often considered as a beginner little bird however, this outgoing, social bird deserves a lot of attention & care just like larger parrots. Parakeets are also known as budgerigars & come under the category of small & colorful birds. It is worth sharing that this small and cute member from the parrot family will surely make a best companion for pet lovers who are planning to buy a bird.
Parakeets are extremely famous among people especially in the US as they are pocket-friendly. Moreover, these little parrots are very social & easy to train. Their major distinguishing characteristics lie in the fact that they have long tail feathers along with slighter builds.

Well, it is definitely no secret for parakeet lovers that they are very playful and caring birds. But, people can enhance this playfulness by simply giving parakeets a toy.
Here, I would like to share that every parakeet & his playing habits are quite different therefore, the toys that one parakeet likes might not always mean that it would also be what others parakeets will like. But as a rule of thumb, try buying the noisy toys for parakeets especially bells to let them perform various tricks, ladders and swings are also good to keep parakeets busy for a longer time.
So, keeping this mind, this article is going to share some worth reading information concerning the best toys for parakeets that are currently available in the market. Keeping a budgie entertained is not tough in fact, can be performed easily if done with due care to keep budgies healthy and happy.
Origin & History of Parakeets
The different species of parakeets originated from Australia however, they are still seen in large groups in grasslands or grass mats. Likewise, these wild pets however, are a bit smaller as compared to other normally found birds in the pet stores.
There are 2 kinds of budgies that are common when it comes to pet trade namely, the English budgie & American budgie. The American budgie are commonly available in pet stores however, the English budgies can be seen in various pet exhibitions.
Care
As compared to other parrots, Parakeets are usually available at almost every pet store therefore, care matters a lot while choosing a bird. It is advised to purchase a Parakeet directly from a renowned breeder.
When it comes to taming a parakeet, then it is recommended to go with a young parakeet. Select a parakeet that is active, alert, and bright. It is vital to note that Parakeets are playful and active & should have a huge cage that gives sufficient room for eating, sleeting, toys, and flight.
Why Toys are Important for Parakeets?
As mentioned earlier, Parakeets are quite intelligent and energetic birds & due to this, they deserve a huge range of toys & stimulation to remain active and happy. Furthermore, due to being playful creatures, Parakeets need much physical and mental stimulation daily.
The budgies tend to enjoy the amazing experience that they get from toys. So, in order toys are highly recommended for Parakeets to keep them entertained while ensuring smooth brain development.
What are the Different Kinds of Toys for Parakeets?
The best toy for parakeet falls into the following categories: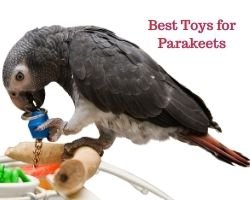 Treat Toys
Climbing Toys
Swings & Perches
Balls
Parakeets like to play & pet lovers will notice that the toys they got will keep them occupied for a long time. In short, in order to achieve all this, a pet toy is a must.
Reviewed: The Best Toys for Parakeets
People can find a whole different range of Parakeet toys to select from & no doubt, every product is different from another. To bring the precious parakeet a living healthy and happy, this article has compiled a list of the best picks. It is advised to consider the detailed reviews of the best toys for parakeets along with a buying guide to make an informed decision.
BWOGUE Toy for Parakeets
Giving a little parakeet a good-quality toy is important concerning his physical and mental health. While looking for the best yet multipurpose toy that can fit in the parakeet's cage easily then, BWOGUE will surely be the right pick. Parakeets tend to play with toys that produce little noise. This natural wood toy is highly recommended for parakeets due to its size and design.
The whole package consists of five packs of various kinds of bird chewing, hanging or swinging toys in order to meet the diverse needs of parakeets. The product is made from 100% safe, durable, and pet safe materials.
The purpose of BWOGUE toy is to soothe the parakeet's feet while giving chew & audio entertainment. So, what are you waiting for? Order BWOGUE toy right now and give parakeet unforgettable treats & hours of unlimited fun watching him play peacefully.
Pros:
Fits most cages easily
Multi-functional
Premium quality material
Economical
Highly durable & decorative
User Experience:
The majority of the buyers have liked the BWOGUE toy. According to them, the best thing about this toy is that it is multifunctional. The quality of the materials used is unmatched. Many users have commented that the product not just keeps the Parakeets entertained but also ensures proper physical and mental health.
Prevue Hendryx Bird Toy
An interesting thing about parakeets is that they love to hide often. They have a habit of resting or forming nests inside the hideaways. That's why this particular toy is surely the best one. Moreover, the company creates toys of budgies that are 100% safe for tears, nibbles & curious claws.
The Prevue toys also help enhance physical play and mental stimulation for the parakeets. The materials used are safe & sustainable without any small parts that could put parakeets in danger. People can mount this coconut-shaped hidey-hole to the one side of the parakeet's cage with the help of added clip attachments.
Afterwards, they have to connect this wooden walkway to the coconut hideaway. The parakeets can climb easily towards its small home on a wooden ladder. It is important to mention that the Prevue Hendryx bird toy generated an amazing Hawaiian theme to the Parakeet's home. No doubt, the natural texture of the toy encourages parakeet for beak & foot exercise.
Pros:
A perfect relaxation spot
Easy and simple to mount
Made from sustainable and natural materials
Recommended for shy or nervous parakeets
Give the best value for money
Cons:
Might not good for larger birds
Mold infestation
User Experience:
Many customers gave positive reviews about Prevue Hendryx toys. According to them, this is such an amazing and affordable accessory for Parakeet's cage. Few buyers have mentioned that the product is as advertised & shipped as promised. Indeed, it is worth buying a getaway for Parakeets who prefer a little quiet-time.
Wesco Shreddable Bird Toy
Another great toy that fulfils the basic needs of parakeet i.e. The overwhelming urge to chew, the Wesco Shreddable bird toy is a recommended option. The toy offers the little bird something to chew on in order to enhance the health of the beak.
This so-called parakeet catnip is especially made from soft & fibrous pithy wood & is 100% biodegradable. Furthermore, the toy does not have any harmful chemicals. As stated previously, the parakeets have a habit of chewing for hours therefore, Wesco Shreddable toys are a healthy pick for them.
Apart from this, this product is also good for parakeets who are suffering from feather-picking issues. It changes the parakeet's attention away from different bad habits. The best advice is to hang this wonderful chewing toy inside the Parakeet's cage & let the fun begin.
Pros:
Long-lasting
Biodegradable
Fun texture for shredding and chewing
Keep parakeets entertained
Prevent the habit of feather picking
Cons:
Parakeet loved it however, the wood is extremely soft
User Experience:
According to the buyers of Wesco Shreddable toys, the parakeet seems to like the product well enough. Few customers have commented that no doubt this toy won't last forever however, it is a perfect option when it comes to keeping the parakeet's desire to chew in check. Overall, this is an amazing toy at a great price.
SSRIVER Bird Toy
With other bird toys, people will have just a single functionality however, this is not the case with SSRIVER toy. It gives a huge variety when it comes to usage for example, the whole package consists of six pieces bird chewing hanging toys.
It is also considered a multi-functional bird toy. The colorful & distinctive shapes along with beautiful colors are pretty enough for attracting the parakeets to climb, chew, & decorate the home. Additionally, the product is especially designed to let parakeets have fun while soothing the feet.
According to the manufacturers, this parakeet toy is a good place for the pet bird to have some rest & entertainment. SSRIVER bird toy is made of natural wood & harmless ABS material whereas dyed by edible colors, durable and safe to keep parakeet healthy.
Last but not least, the product gives a whole new experience for the parakeets as it can used for climbing, swinging, chewing, and physical sports & for foraging as well.
Pros:
Highly durable
Affordable & colorful
Multipurpose
Made from safe materials
Easy to install
Cons:
It might take a lot of time in assembling the pieces
User Experience:
The majority of the buyers are pleasantly surprised at the quality of this toy. According to them, the toy is colorful, durable, and made of premium-quality materials. Many customers have stated that the long bells inside the package are heavier, solid, and impressive. The product has become successful in winning the hearts of buyers thus, highly recommended.
RYPET Bird Toy
This product also comes under the category of the best toys for parakeets. The product consists of a set of eight toys, 4 types of creations toy in order to raise the interests & activities of parakeets.
Moreover, this amazing tabletop toy is considered as a bird intelligence enhancement training toy made of natural wood & 100% safe materials. The toy is completely safe for parakeets to chew & play.
The best thing about this product is that it teaches the parakeets to recognize sizes while following simple commands to strengthen the relationship & understanding with owners.
Additionally, there are mini canvas sneakers, every sneaker is made from 100% natural cotton & soft rubber. The graspable rubber and lightweight sneaker is extremely easy for parakeets to pick up. The included mini skateboard has a unique shape to give incredible foot exercise & the scrub coating is also there for keeping nails and beaks trimmed.
Pros:
Pocket-friendly
Pet-safe materials
Perfect swing for exercise
Good for usage
Good value & variety
Cons:
The wooden ladder might be bit dangerous for Parakeets
User Experience:
Many customers are happy with the performance of RYPET bird toys. According to them, the product is well-made & especially designed for parakeets. Some buyers have mentioned that the product is exactly as advertised. Both the rope swing and wooden swing are perfect. Overall, the toy is nicely made to cater to the diverse needs of parakeets.
Buying Guide: 5 Best Toys for Parakeets
The only purpose of every parakeet lover is to keep the little bird happy & stimulated. And this can be achieved after buying the best toy for them. However, selecting and purchasing the best product for parakeets will force people to consider different things.
The important thing I would recommend while deciding which product to purchase is to always go for the variety. Having listed & looked at the top 5 products that are now available in the marketplace, I would now give some worth reading guidance by simply answering the some basic questions.
How to Select the Best Toy for Parakeet?
While buying the toys, it is necessary to look for the product that is completely safe & suitable for the birds. That said, below are few important factors prospective buyers should consider while shopping for the best toy for parakeet.
Bird's Size
This factor matters a lot and should be given due attention during the whole process of selection and buying. Usually, parakeets are small in size thus, people should pick the toy that is meant for small birds. Apart from this, consider the cage size as well especially if people are planning to purchase more than one bird toy.
Material & Texture
Parakeets always love to discover new things and the same goes with toys. This is great when it comes to preparing their minds to think creatively therefore, the material & texture has to be 100% safe for the parakeets. Moreover, every parakeet toy has to be non-toxic & safe to chew.
Safety
No doubt, this factor holds a special position to keep parakeets safe and healthy. The selected product should be about entertainment, play, physical stimulation, not mishaps. Therefore, pet lovers should ensure that any bird toy that gets into the parakeet's cage is completely safe. Never purchase those toys that have sharp edges & loose threads.
Types of Parakeet's Toys
It is vital to mention that parakeet toys usually come in different types in order to serve the purpose for different activities while offering different advantages. Nibbling and chewing toys are good for parakeets who have a habit of chomping on objects. Conversely, hang and swing toys help stimulate a parakeet's physical health & activeness. Finally, there are toys as well that are good at soothing the parakeet's feet. So, consider the different types and choose wisely.
Quality
Well, due to parakeet's playful and energetic nature, the toys should handle wear & tear when it comes to wreck less playing. Thus, prospective buyers should select bird toys that are made by well-known brands. Selecting the bird toy made of top-quality materials is also important.
Mental and Physical Stimulation
Every animal or bird needs a great deal of both mental and physical stimulation however, this is particularly true when it comes to clever & active pets i.e. parakeets. It is worth mentioning that bird toys for little parakeets should motivate his inquisitive nature while allowing him to explore new things. Likewise, toys with a little bounce will help encourage the balance and dexterity of the parakeets.
WHAT ARE THE ADVANTAGES OF BIRD TOYS?
Bird toys for parakeets are surely good due to the following reasons:
* Toys keep parakeets active both physically and mentally
* Good quality toys keep parakeets smart
* They are helpful at getting parakeets out of boredom or loneliness
* Help treat aggressive behaviors
* Toys considered as a perfect way of showing love and affection towards little parakeet
* Chewing bird toys help preen & condition parakeet's beaks
* Foraging bird toys give parakeet objects that keep them busy
WHAT SHOULD BE AVOIDED WHILE SELECTING THE BEST PARAKEET TOY?
It is advised to avoid the following:
* Leathers
* Sharp edges
* Fabrics
* Metals
Verdict
To summarize, I would like to say that parakeets are amazingly playful pets that love entertainment and social interaction. They intentionally demand people to pay constant attention and care to them and that can be achieved by selecting the best bird toy. Furthermore, bird toys always lessen the feeling of boredom while making parakeets active and happy. Prospective buyers can consider the detailed reviews of the above-shared products to avoid investing in vain. Another recommended practice is to do a lot of research in order to expand your options.