Allergy is among the most common medical concerns affecting cats. An allergy can occur when the immune system of the cat is hypersensitive to any foreign substances known as allergens. Allergens are actually foreign proteins against that body's immune system is struggling and tries to kill them. While these food or allergens are normal in many other conditions and harmless to other pets, a pet with allergies may show an intense reaction to them. When her body attempts to get rid of these allergens, she may develop several symptoms.
Just like humans, cats may experience allergies and show adverse symptoms of an allergic response. However, allergies can be controlled by finding out the reason and substance causing allergies to your cat. But it can be challenging and you may need the help of your vet. By the way, there are different cat food for different scenarios and we have covered most of them here on this website like for senior cats, for sensitive stomach, and for hairball prevention.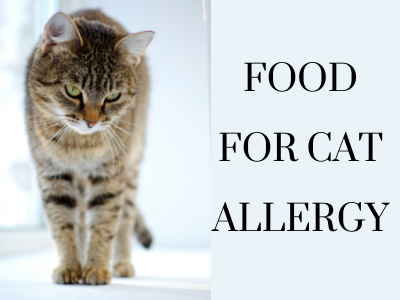 Common Symptoms of Allergies
Cat skin can be the main indicator if they do have an allergy. You may observe a tiny scar as you touch your cat. You may also find various red patches on your cat's skin that seem to be swollen. Lesions on cat skin can occur due to allergy i.e. belly, face, or thighs. The allergy in the cat can disturb her digestive system, respiratory system, or skin. Symptoms may develop within a few minutes or may take hours to appear. Some common symptoms include:
Sneezing
Coughing
Wheezing
Rashes on the skin
Red and itchy eyes
Redness of the skin
Runny and itchy nose
Vomiting
Frequent trembling of head
Diarrhea
Causes of Allergy
The below agents can trigger an allergic reaction in various cats depends upon their sensitivity towards any specific product:
Scented soaps
Tree and weeds
Grass or rot
Smoke of tobacco
Mildew and dust pollen
Food
Fleas and
Flea Management Items
Rubber or plastic product
Medicines
Cleaning products
Diagnosis of allergy
Food allergies in cats are triggered by an immune reaction to any food. The most common cause of allergy is due to the protein component of the food, such as beef, chicken, pork. Some vegetable proteins can be allergic i.e. Corn or wheat, and even some food additives and preservatives.
Food allergy diagnosis is advised if clinical symptoms are being observed for many days. Diagnosis is being performed by feeding the hypoallergenic diet. Generally, food products take eight weeks to be eliminated from the body, you have to make sure that your cat must eat a strict diet purely for at least six to 12 weeks.
Allergic cats can overreact to normal things in their environment and may experience skin irritation, itching, and inflammation. Other than food your pet can be allergic to many other things in their environment, like pollen, mites, and fleas. Feeding your infected cat with the right food for skin allergies is one of the very first steps you can take to control their allergy.
Prevention of cat allergies:
Prevention is the best cure for fleas. It is advisable to take a flea control program for your pets. An outdoor pet can expose your indoor pets to fleas.
If a cat's allergic symptoms are triggered by dust, then clean your pet's bedding weekly and vacuum at least twice a week.
Give bath to your affected cat frequently because it will help to combat itching and remove airborne allergens and pollen from her fur. You should consult your doctor for a shampoo prescription as frequent baths can dry out the pet skin.
Choose dust-free, odorless litters because some cats are allergic to the chemicals used in the scented litter.
If you think that your cat has food allergy then you need to give her hydrolyzed protein food.
Medications for Allergic cats:
Many substances that trigger allergic symptoms can never be removed from the surroundings. Your vet can recommend the following medicines to cure these allergies.
Fatty acid supplements can help to reduce the itchiness on the skin of your cat. There are also different shampoos that can help to reduce inflammation of the skin, which normally happens in allergic cats. They usually contain aloes, oatmeal, and several other natural products.
For airborne pollen, the doctor will prescribe cortisone or steroids. These medicines help to prevent allergy. However, the easiest way to treat airborne allergies is through allergy injections.
Antihistamines are also prescribed by vet such as Benadryl however they work as the best preventive measure before your cat gets allergic.
You can also use several flea-prevention products on your cat's skin every month. That treats the allergy directly instead of only masking the itch.
Remember that give your cat any medicine only if it is prescribed by your veterinarian.
You should visit your veterinarian. Your veterinarian will take a full history and perform a proper physical examination to diagnose the cause of allergic reactions. They may recommend the elimination of any particular diet to identify the cause of an allergic reaction. Kindly remember that many cats suffering from a food allergy may need home-cooked food, but this should be done after consulting with experts because it may require a special protein food balance.
In this article, we will help you in the selection of appropriate food. Dozens of hypoallergenic pet foods were evaluated based on many factors, including price, customer feedback, nutritional information, ingredients as well as other aspects for selecting the right pet foods for cats with allergies.
Best Wet Cat Food For Cats With Skin Allergies
Remember there is also some cat food that helps with human allergies so we need to understand the difference. these are the best cat food for skin allergic cats.
1. Purina Pro Plan FOCUS Sensitive Skin & Stomach Wet Cat Food
Product description:
You can give special attention to your cat's dietary needs by using Purina Pro Plan wet food. Their recipe consists of protein-enriched components which include real fish, in every meal. This food is easily digestible and good for the cat's stomach as it contains linoleic acids that promote good healthy skin and coat.
This is grain-free food without any artificial flavors or additives. Every ingredient is carefully selected that gives your cat the food according to its needs. The tempting taste keeps your cat actively involved in eating. This food provides a perfect blend of texture and flavor. You can fulfill the specific requirements of your cat with Purina Pro Program wet pet food.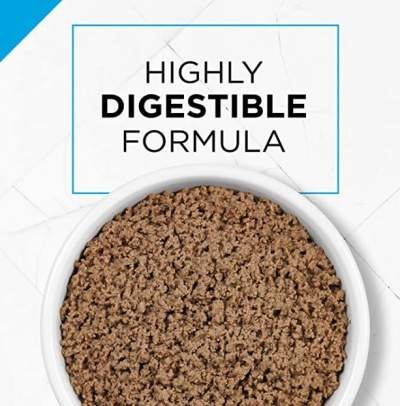 Pros:
Grain-free food
Excellent food for sensitive stomach
Highly recommended
Good quality food
Cats like this food
Increase the cat's weight
The best solution for vomiting
Affordable price
2. Hill's Science Diet Wet Cat Food
Product Description:
Hill's Science Diet Pack includes two flavors that help to keep your cat's stomach healthy. It contains grain-free and easy-to-digest ingredients. Its formula is good enough to keep your cat's digestive & skin health in good health.
It contains Natural fiber that helps to promote convenient stool cleanup it comprises of Omega-6s and Vitamin E that nourish your cat's skin as well as add luster to their hair. Their both varieties are grain-free and without any preservatives.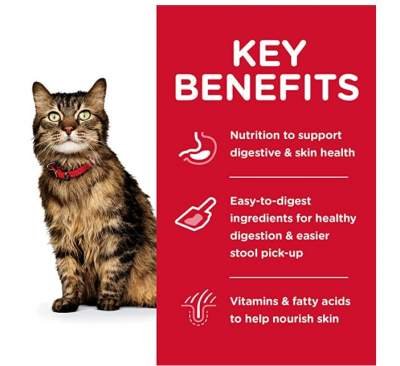 Pros:
Good choice for cats with sensitive stomach
Cats love the taste of this food
Easy to open
Highly recommended
Soft and moist food
Easy to eat
Comes in different flavors
3. Blue Buffalo Natural Indoor Adult Dry Cat Food
Product Description:
BLUE Basics is a balanced, natural, limited-ingredient diet for cats that are sensitive to ingredients used in traditional food products. Blue Basic's aim is to reduce food sensitivities while enhancing the nutritious benefit for your cat. This food is grain-free and without eggs, corn, soy, wheat. This food is specially designed to satisfy the particular needs of house pets with natural fibers to support proper digestion and help to sustain proper body weight. 
This food contains whitefish and very selective ingredients. It contains only fish as a protein source plus potatoes, pumpkin, and peas to facilitate the healthy digestion of your pet food. This food does not contain any gluten-containing grains that making it an ideal choice for a sensitive stomach. This is a perfect combination of antioxidants, essential nutrients carefully selected to support the immune system.
Pros:
Real meat
High-quality protein source
Easily digestible
Omega 3 and 6 promote skin and hairs health
Healthy fruits and vegetables
Highly recommended
Loved by cats
Provides excellent nutrition
Good choice for sensitive stomach
4. Blue Buffalo Freedom Grain Free Natural Adult Pate Wet Cat Food
Product Description:
Cats love to eat this natural food as it provides the essential nutrients and amino acids. Its nutritious whole grains like brown rice, Oats, and barley provide your cat with the necessary carbohydrates required for nutrition.
It comprises of healthy and fresh vegetables and fruit like whole carrots, parsley, sweet potatoes, and cranberries. It contains micronutrients that help to keep your cat healthy. This is absolutely natural, extremely healthy, and digestible food.
 It consists of delicious and high-quality protein as well as potatoes and peas make it easy to digest. An accurate blend of vegetables, fruit as well as micronutrients helps in the cat's digestive process. Omega 3 and 6 Fatty acids promote skin and coat health.
Pros:
Good choice for cat with a sensitive stomach
Promote fur growth and luster
Good food if a cat has an allergy
Limited ingredients diet
Good wet cat food
Cat loves this food
Cons:
Order delivered very late
FAQ
What is the Best Wet Cat Food For Cats With Skin Allergies
According to yumehub.com, the best cat food for allergic cats is Purina pro plan (you can buy from here), You can give special attention to your cat's dietary needs by using Purina Pro Plan wet food. Their recipe consists of protein-enriched components which include real fish, in every meal. This food is easily digestible and good for the cat's stomach as it contains linoleum acids that promote good healthy skin and coat.
What can I feed my cat with skin allergies?
You can feed the following to these specific cats: Protein, Essential Fatty Acids, and Antioxidants.
How do I know if my cat is allergic to her food?
The food which you feed to your cat may at times cause these symptoms. Symptoms like vomiting or diarrhea, Flatulence, Frequent scratching or hair loss, inflamed skin, Coughing, wheezing, and sneezing is a clear indication that our cat is allergic to the treated foods.