The budgies are also famous as parakeets & they are surely one of the most loving & well-known pet birds. Budgies are not only easy to manage and care for but they are highly social, affordable, & come in a wide range of vibrant colors. It is worth sharing that getting the best & right cage for the budgie is only the recommended way of keeping him happy and healthy.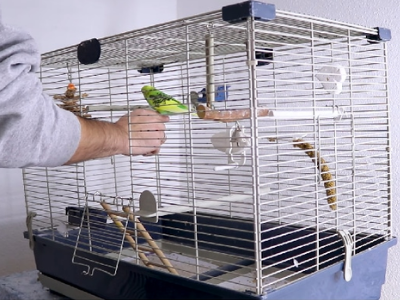 However, due to the availability of different options, bird cages do vary in features, size, & quality. Therefore, it is important to do a lot of research before buying a bird cage for a budgie. Keeping this in mind, this article is going to provide reviews of the best bird cages for budgies that will definitely fit the bill.
How Much Space is Good for Budgies?
Well, it depends on different factors. If pet parents do not give their budgies enough time outside their cages, then, the cage size has to be bigger as compared to minimum recommendation. However, for a single budgie, pet parents will need a cage of 12x17x17" & for pairs, at least 40x20x31". And for more than two budgies, pet parents should ensure to give them a lot of space. If you're not satisfied with these, check the best cage for cockatiels.
Is it Necessary to Cover Budgie Cage at Night?
Yes, it is. Because budgies usually sleep for around 11-12 hours at night therefore, it is better to cover the cage at night to avoid disturbing lights.
How Frequently to Clean the Cage?
The recommended practice is to clean it daily. Change the paper, clean the bars. You can use a piece of cloth & soap to clean it.
What Else Pet Parents Should Include in the Budgie Cage?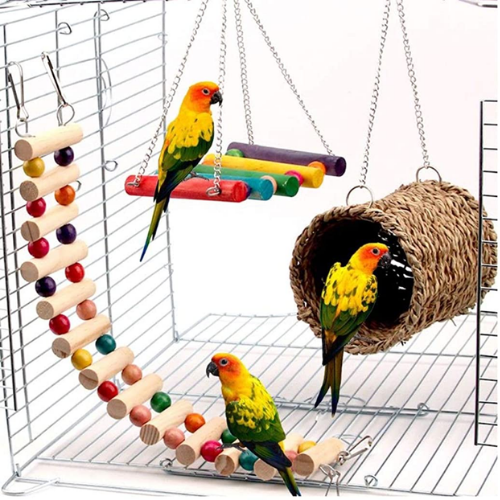 Apart from the cage, pet parents will have to include a few things in order to provide for their budgie's needs. It is suggested to provide different perches your budgie will hop between along with a water bowl & 1 food bowl per budgie. Moreover, for enrichment, you can offer a lot of chew toys & soft wood items budgies can chew on. Few budgies also enjoy mirrors and bells.
Few Special Requirements Related to Budgie Care:
It is worth sharing that budgie is really a cute & small bird that usually stands between 7 & 8" long with an average lifespan of 10-11 years. Pet parents can extend the lifespan of their budgies by providing them with a spacious cage and healthy diet. Mistreatment, neglect & poor care will surely shorten the budgie's life span while increasing its risk for malnutrition and obesity.
Product Reviews for Best Bird Cages for Budgies
While looking for the cage for budgies, prospective buyers should consider the minimum dimension requirements & try getting the biggest cage they can afford. So, all those prospective buyers who are not sure where to begin shopping for the best budgie care, they can try one from my top 5 picks discussed below.
SUPER DEAL Bird Cage
After searching for the durable and right sized cage for my budgie, I personally believe that this is surely the highest quality cage I came across with respect to price range. Truly loved the shipping process, the cage delivered in a timely manner & was very easy to assemble even though the provided instructions were a little confusing. The cage is very spacious & well structured.
As compared to other bird cages, the square design of this cage maximizes comfortable space while giving a sleek look. Well, this is an economical cage so pet parents should not expect wrought iron along with powder coating. But it is much stronger than the average budgie cage. But I have noticed that the cage is a little smaller than advertised & the price range is high as well for the cage's actual size.
---
Prevue Hendryx Bird Cage
I always wanted to give my Budgies more comfort and space for moving around & playing easily while spreading his wings & exploring toys. And, luckily the prevue Hendryx bird cage fits my bill perfectly. The product was larger than I had expected, colorful, sturdy, & easy to clean with a removable bottom. Nicely packaged with very easy assembly in mind & easy to follow guidelines.
It assembled itself in only 5-6 easy steps. Well, the only thing that could be changed is the cage door. It has to be opened outwards instead of up & down; however, a simple clip can keep the cage open when the budgie plays. So as per personal experience, all those budgie owners who are looking for an affordable yet simple everyday cage then, Prevue Hendryx is surely a great option.
---
Yaheetech Bird Cage
I purchased this cage for my Budgie, I truly wish that I was a bit bigger but he is happy in it. It comes with feed bowls and perches for those wondering. My budgie loves staying in this cage. Appreciated the fact that the product was delivered on time but unfortunately the provided instructions are extremely useless.
The brand does not really provide any information when it comes to assembly. It took me about 30 minutes to set up this cage. But the shape and size of the cage is perfect for my house. Well, I would not suggest housing more than one budgie in this cage. I like the 2 front large doors as they ensure easy access & cleaning. So, this portable and lightweight bird cage is definitely worth buying.
Prevue Hendryx Flight Cage
It is a perfect cage for my two Budgies & surely has enough room for some more. Everything fit perfectly as it should, the provided instructions were not even required because assembly is very self-explanatory. Truly liked the fact that the product feels very durable & there are various areas that allow users to get inside easily for cleaning. It is such a large cage for budgies for the right size bars & bar spacing at a reasonable price range.
However, on the downside the side doors of the cage can be a great concern if your budgie figures out the way of pushing them in order to open them, luckily, my Budgie is not that smart. As there is no specific cover available for this budgie cage, I personally found that the fitted twin sheets work quite well in order to cover the sides & the flat sheet fits nicely to drape over the front & top.
---
VIVOHOME 30 Bird Cage
The cage is sturdy, attractive, & fairly easy to handle and clean. In spite of being made of premium quality cage, it also comes with 2 food boxes & wooden sticks. However, it is advised to consider the measurements and descriptions before ordering this cage. The measurements are somehow accurate however, the provided image with the large budgies inside this cage are not accurate.
Moreover, my precious Budgie climbs most of this cage however, it is a little small for Budgie to really fly. Well, I would say that if you are a budgie owner then, it is better to use this cage as a secondary cage or else purchase a flight case that can serve a purpose as a main cage.
---
Wrapping it Up
I believe that after reading Best Bird Cages for Budgies, you have a better notion of what kind of cage you need to get for your budgie. Realizing everything you need to acquire makes the procedure even quicker, which is exactly what I've tried to achieve.
Whichever cage you choose, I believe it is the correct fit for you as a budgie parent, as well as one that your bird will like.