Before moving ahead, I would like to share that scratching is considered a cat's natural behavior & cat lovers can never stop the cats from scratching completely. Scratching allows felines to maintain the claws while marking the territory with the help of scent glands on paws. The majority of cats love scratching because some consider scratching as a tool of stress-relieving & few take it as a morning stretch routine.

No doubt, being a cat owner is a delight and source of enjoyment except when the cat begins tearing up the furniture. Luckily, with the help of the right tools & patience, cat lovers can teach cats to modify annoying behavior. But now, readers might be wondering? Yes, with the help of the best no scratch spray for cats, the problem of scratching can easily be resolved.
The good scratch spray is surely highly effective and worth buying when it comes to preventing little felines from scratching. No scratch spray offers a simple solution for cat lovers as they only have to spray it on the targeted areas or items cats are scratching & the cats will certainly be repelled.
Why is Scratching Common among Cats?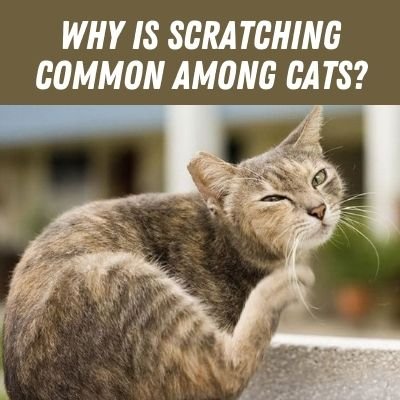 Cat owners all around the world would possibly know that cats have a habit of scratching. It is normal feline behavior. It is worth mentioning that there are different reasons behind scratching & the most common comes under the category of body stretching action in order to remain active.
However, if the cats are scratching too aggressively or too often, then there is a chance that they are undergoing some stress. It is advised to give attention to potential stress or anxiety triggers for instance, bad food or unclean litter box.
You can also use cat cages for those times where you don't want you pets to roam around or go to forbade places: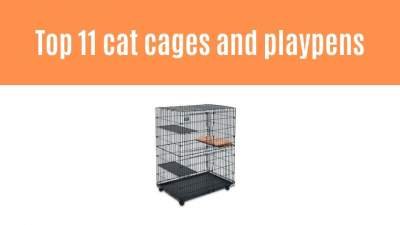 What are the Different Types of Anti Scratch Spray for Cats?
Well, each cat is quite different from others, though & since cat owners cannot ask cats to tell them what they truly like. Therefore, it is important for cat lovers to understand and learn how the various kinds of anti-scratch sprays will work in order to find the right one according to the needs of cats. The types of anti-scratch sprays are as follows:
Sound
The anti-starch spray that uses different sounds works by simply startling the feline along with a slight hissing noise being released by the can. This type of anti-scratch spray is not recommended for jumpy cats however, a boisterous cat would be the right candidate. The majority of these kinds of products are always handheld but if cat owners have to deal with a cat that does not sleep whole night that a motion sensor spray will serve the best purpose.
Pheromones
The purpose of this spray is to mimic the calming, natural chemicals produced by felines in order to put them at ease. Moreover, the pheromones' anti-scratch spray is perfect for cats showing bad behaviors just because of stress. These sprays are also good for vet visits and long trips.
Smell
Here, it is extremely important to mention that the feline's sense of smell is extremely sensitive. Some cats dislike the smells of thyme, citrus, eucalyptus, rosemary, and lavender. However, again it might vary from cat to cat. Better to do some research in order to know more about the likes and dislikes of your cats.
What are the Some Helpful Tips to Prevent Cat Scratching?

It is advised to consider the following tips to help cats stop scratching:
Avoid punishments
Never declaw the cat
Trim the claws often
Better to use cat odor eliminator & deterrent spray
Encourage good behavior by giving incentives
Anti-scratch tapes
However, in spite of the shared tips, another recommended solution is to purchase an anti-scratch spray for cats.
Reviewed: 6 Best No Scratch Spray for Cats

A little feline may be an important part of any family, but urine making, scratching & other stress- induced behaviors could destroy the home while making felines less welcoming to be all around. The no-scratch sprays are specially made from a wide range of ingredients to in order to reduce the cat's anxiety, stress, and fear. This article is going to review the top products currently available. The purpose is to find a few great anti-scratch sprays that will ease stress to make the cat's life more comfortable and calm.
1. FELIWAY Spray
A great and worth having product particularly for stress-induced unwanted behaviors, this spray mimics pheromones in order to help put little felines at ease but, in the most natural & safe way. It is worth sharing that Testing of FELIWAY odorless spray has repeatedly been tested & found around 90% reduction in spraying and scratching.
Here, I would like to share that vets have also recommended the FELIWAY spray when it comes to facing challenging situations & curb stress directly associated with unwanted behaviors. This spray is safe for humans and cats & capable of making travel easy while giving the felines some chill in the course of appointments to the vet.
Pros:
Drug-free solution
Work as advertised
Lifesaver
Give the best value for money
Clinically approved & vet recommended
Cons:
Smell is not that much good
User Experience:
The majority of buyers have commented that FELIWAY spray has helped them to keep cats relaxed and calm whenever new things enter the environment. Few have mentioned that this is surely a great product to help cats feel more secure and comfortable. In short, the buyers of FELIWAY spray are happy and loving the miracle being offered in this spray bottle.
2. Pet MasterMind Cat Spray
Specially made from plant-based, natural, pet-safe materials, and pet MasterMind is the best cat anti-scratch spray that will help to keep the cats away from the couch. Furthermore, this spray replaces the traditional methods of preventing precious stuff from being destroyed by the feline's paw.
The pet Mastermind is considered the safest anti-scratch spray that will reduce or stop the feline's desire for scratching stuff. The spray is safe for use on different surfaces. It is vital to mention that not all felines will respond positively to the spray but its economic price range makes it a worthy product.
Pros:
Safe & natural
Non-staining formula
Furniture and pet friendly
Ultra protective and powerful properties
Amazing product works great
Easy to use
Cons:
Might not create physical barriers when it comes to scratching
User Experience:
This unique and safe anti-scratch spray has been reviewed by the majority of buyers as a highly recommended product for cats due to its features & effectiveness. Some customers have loved the fact this product is natural & effective. Moreover, the formula is safe for cats and kids. On the other, just like other anti-scratch sprays, few felines might stay unbothered by the product. But, still, it is worth buying spray.
3. Comfort Zone Spray Scratch Control Cat Calming Spray
This anti-scratch spray is quite similar to several other feline calm pheromones & help them feel safe and comfortable. Moreover, this spray will automatically inform felines that the surroundings are safe. It is also a vet-recommended product to reduce urine marking, destructive scratching while creating a peaceful environment.
Besides, the comfort zone calming spray is perfect for spot treating places in the house that the feline can target for instance door frames and couches. The most noticeable thing is that the calming spray is unscented, drug-free, & safe on hardwood, upholstery, fabrics, and doorframes.
Pros:
Easy to use
Safe and effective
Help reduce stress
Good for behavioral problems
Clinically proven
Cons:
Not recommended for cats having respiratory issues
Works perfectly but the smell is not good
User Experience:
The majority of buyers have suggested this anti-scratch spray because it can handle anxiety, stress, scratching or even behavioral problems of the cats. It is good at calming the cats before vet visits and car rides. Few users have commented that the spray has successfully lived up to all the hype & managed to cater to the different issues of cats including scratching. However, some users have complained that this spray is not long-lasting.
4. PetSafe SSSCAT Spray Dog & Cat Deterrent
A great product for cat lovers who are looking for a deterrent but in the form of a spray. It is considered as the automated way of controlling the cats because it works by simply sensing the cats or dogs within 3 feet range & starts spraying the targeted area automatically.
No doubt, this method will save a lot of time & effort as compared to manual ones. Additionally, the spray can be used on carpets, fabrics, curtains, furniture, or even certain rooms of rooms. The most noticeable thing is that the PetSafe SSSCAT spray is stainless, odor-free, harmless & safe. This is also considered an ideal way of training the cats in order to keep them away from different things.
Pros:
Environmental friendly
Can are replaceable
Motion activated
Safe for cats
Battery operated
Cons:
Sensor is not capable of detecting the difference between pets and human
User Experience:
The customers are happy after buying the PetSafe SSSCAT spray because it is safe for all humans, animals, and surfaces. The spray also makes a great option for those who are not willing to add new fragrances to their homes. Few cat lovers have complained that the spray triggers on humans as well therefore, better to turn it off when not in use.
5. SmartyKat Anti Scratch Training Aids
As mentioned earlier that cats have a habit of scratching different surfaces therefore, it is important that cat owners should safeguard their homes with a good-quality anti-scratch spray & considering this, the SmartyKat Anti-scratch training aid is not an exception. This product can be used on carpets, furniture, drapes, and beds in order to give an invisible & strong barrier to deter the felines from scratching.
No doubt, this anti-scratch spray goes on easily when it comes to preventing the lovely little feline from destroying the amazing décor in the home. With the help of this product, cat owners will surely have a peaceful time with their pets.
Pros:
Very simple to unroll & use
Never harm the furniture
Easy to remove
It is clear tape therefore, it is not visible on the furniture
Eco-friendly & effective
Cons:
Not a good choice for leather furniture because the spray will peel off the upper layer
User Experience:
According to the customers, this product works as advertised & keeps cats away from plants, floors, and furniture. The majority of cat lovers have recommended this product & considered it is a perfect short-term solution. However, on the other hand, few users have complained that the product seems flimsy & difficult to remove.
6. Nature's Miracle No-Scratch Cat Deterrent Spray
It is a great outdoor repellant in order to train the cats to avoid certain places outside. Cat owners are advised to spray it outside while making every important thing away from the cat. The product will make targeted things or places unpleasant to a cat's sense of taste and smell. In spite of outside places, the product can also be used in the house's basement.
Moreover, it is completely safe for plants and humans. The spray consists of SLS, sodium benzoate, water & essential oils for discouraging feline from scratching. The best thing is that using this spray is also very easy due to its odor-free feature.
Pros:
Works like a charm
Smells great
Offer the best value for money
Odor-free & stain free
Long-lasting concentrated formula
Harmless
Cons:
Should be used frequently to get fruitful results
User Experience:
The users have commented that this product surely discouraged the cats from scratching. Some customers have said that the spray is best for all those who want to keep feline out of harmful wires or plants. Due to its decent performance and safe formulation, the product is best for outdoor cats. Moreover, no doubt the brand makes incredible products but this specific spray has to be repeated after some days for required effectiveness though.
Buying Guide: 6 Best No Scratch Spray for Cats
Being a cat owner, it might be annoying and frustrating to tolerate cat scratching furniture & chewing on the carpets frequently. There are several different anti-scratch sprays for cats and selecting the right one is a bit tricky. Only reading the reviews will not serve the purpose therefore, it is advised to consider the following information as well.
How to Select the Best No Scratch Spray for Cats?
Every anti-scratch spray for cats has its own unique formula & it is not just about the ingredients, in fact, the phenomenon matters a lot. Well, it is vital to keep some factors in mind while making a buying decision.
Coverage Area
Here, prospective buyers should ask themselves whether they are trying to keep wild felines out of the backyard or simply trying to keep crafty cats off their kitchen counter. It is worth remembering that some anti-scratch sprays are good at covering small areas while others can easily cover around 5,000-6,000 square feet.
Location
While buying an anti-scratch spray for cats, people should think about the location i.e. whether they need an outdoor or indoor product, or a product that can easily be used in either indoor or outdoor settings. So, choose wisely
Safety
It is surely an important factor that should be considered. Because safety matters a lot and buyers should ensure that formula would not harm the cat's skin & coat. In other words, better to find a formula that will be gentle on the cat's skin.
Ingredients
Do check the ingredients as well, try to avoid harmful chemical-based solutions. It is recommended to pick natural formulas as they are made of essential oils and plant-based ingredients.
Non-Staining
Here, I would like to mention that the best anti-scratch spray for cats has to be non-staining. A spray with no harsh ingredients is not recommended.
Some Important Things to Consider Before Using No Scratch Spray for Cats:
As discussed earlier, anti-scratch sprays are extremely beneficial in handling the cat's scratching habit. But, unlike dogs, felines are independent pets having varied behavioral traits and personalities. Thus, it is advised to pay attention to the following factors:
To ensure success, especially with anti-scratch sprays, clean the targeted area with vinegar, baking soda or surface cleaners
Anti-scratch sprays are only effective in specific behavioral problems & not a good substitute for any issues that might be arising because of health and physical ailments.
No scratch spray has maximum impact when people spray it while the feline is looking around. Nevertheless, never put the spray directly on the cat's face unless openly specified so.
Always check for staining and discoloration on the small inconspicuous places before using it on certain surfaces for instance leather, vinyl, wooden varnishing, & faux leather places.
What are the Good Ingredients to look for while Purchasing No Scratch Spray for Cats?
It is advised to look for natural ingredients, oils, and additives such as eucalyptus, fennel, tea trees, ginger, lemongrass, cloverleaf & many more because they are surely the best. Better to avoid chemical-based anti-scratch sprays.
How do you treat a cat scratch?
Cats often scratch and at times it becomes a wound. A wound caused by a cat can be treated with mild soap and water. If the bleeding continues apply pressure and gauze the wound with a bandage and consults a vet.
Can I get sick from a cat scratch?
When a cat licks or bites or scratches a person at times cat scratches fever happen to a person. This is because the cat might have been infected with a bacteria named as bacteria Bartonella henselae. This bacteria gets passed to the person and makes him sick if he has a weak immune system.
Do cat scratches need antibiotics?
No. Not all the time cat scratches require antibodies. But it is good to consult a doctor.
What scents keep cats from scratching?
Scents like lemon, orange, peppermint, Eucalyptus, Rosemary, and Cinnamon keep cats from scratching.
Final Thoughts
In the end, it can be concluded that cats are at times a nuisance & they might ruin the valuable items by simply tearing all of them with sharp nails. In order to stop cats from scratching the surfaces, cat lovers can use the above-reviewed top-selling no-scratch sprays. These anti-scratch sprays are made of natural ingredients thus, won't harm the little feline.  Moreover, they are safe for humans as well. So what are you waiting for? Just pick the best no Scratch Spray for Cats product and protect carpets, furniture, floors, and curtains with these cat repellent sprays.