Felines have a tendency to dig their teeth into anything they can. Furniture, rugs, clothes, shoes…nothing is safe if you have a kitty at home. It can reach the point, where it's genuinely annoying to find your stuff so battered and bruised, following a treatment from your pet with the Best cat teething/Chewing toys for indoor bored cats 2020. Treat your pet with the best chew toys for cats.
The problem is, cats are naturally curious and instinctive hunters. They are one of the best urban scavengers, with an innate ability to kill and land fatal blows to birds, rodents and other small animals. They are adept at this and there isn't much one can do about it.
One way to get around the trouble is, to buy a chewing toy for your fur monster. That should alleviate the problem to a very large extent, since they are made of strong flexible material, and give your kitty partners something else to worry about. These toys come in various and interesting shapes, and good enough to attract the attention of your pets. Many of them have catnip rubbed in them to give your cat a little extra boost (Think of it like being high on catnip! I've never been high myself, but I'm guessing it must feel great).
10 Best Chew Toys for cats:
Happy Kitty Stick Review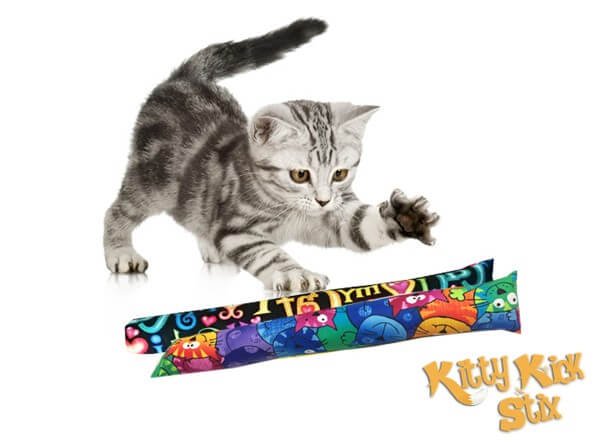 This handmade toy is great to have around your pet. It comes in the shape of a stick, with sharp, neon colored markings to secure the attention of the pet immediately.
Imbued with catnip, it is bound to make your pet feel relaxed. This tickle stick is extra-long (longer than most products of similar kind available in the market), and serves more than one purpose.
You can play fetch, give belly tickles or simply, use it as something for your cat to sink its paws and teeth into it. Its length enables you to multitask, which is to say that, you can read, or type, or rock in a chair while giving your kitty the time of its life. The stick is filled with polyester fibrils which makes it flexible and sturdy at the same time.
Cons:
Handmade, which means that seams might be vulnerable to bites.
Petstages Dental Health review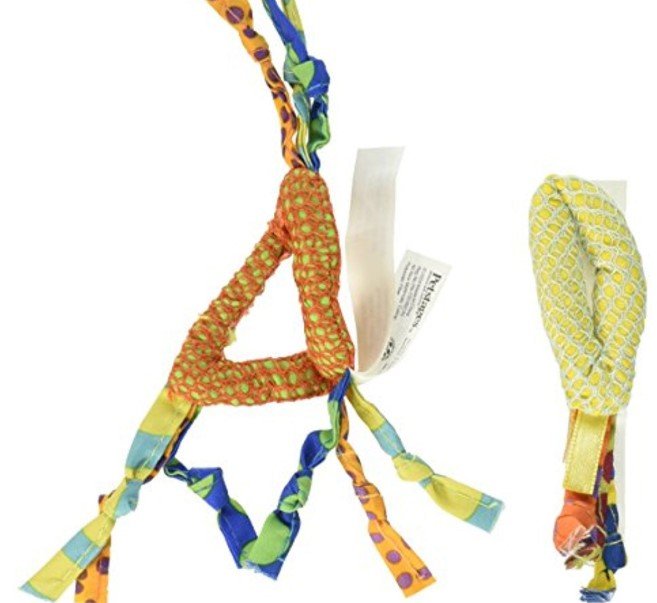 Cats usually start teething at anytime between the age of 3 and 4 months. The process carries through the age of 6 and 7 months, by which time, all the teeth have appeared in the stellar form.
Now, cats can struggle from teething problems as well, just like human toddlers. During this age, the biting habits develop, and the young kittens try to explore this new ability by biting into whatever stuff they can.
Petstages Dental Health chew toy is specifically designed to find a solution for this problem. It does not mean that the product isn't suitable for old age groups. The netting and seams are strong, and should hold against the toughest of bites.
The toy massages the gum while being chewed and promotes the growth of teeth in this way. Rubbed with catnip, it is ideal for satisfying the desire of chewing and biting. The product is extremely lightweight and portable, which means it is safe to carry it on travels.
Pros:
Lightweight and portable yet robust
Good for promoting teething
Softies Patchwork Bear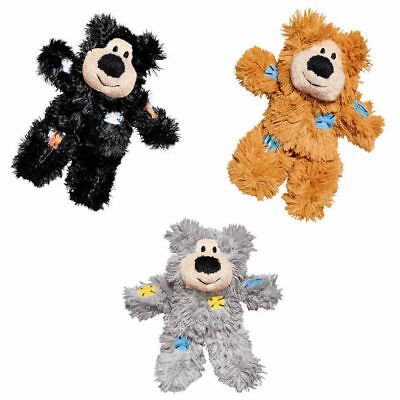 Kong are one of the best manufacturers of pet products on the market. Their products are famous for durability, quality and range.
This soft and plushy teddy bear is just for kittys, and no one else. Like mentioned earlier, cats have a killer instinct, and this is a great product to satisfy their need.
Its size ensures that, it is easy to carry around in the mouth, and on travels. The product is designed to match the intensity of young and energetic kittens. It also contains KONG Premium North American catnip, to urge kitties to play with it. It is hand and machine washable, in case it gets soiled or dirty.
Costumer reviews have been very positive and people have really found this product helpful for kittens who are a handful. One added feature is that, the toy is available in more than one colors which means you and your fur monster have an element of choice, in case you don't like the color on display.
Pros:
Durable
Washable
Available in a range of colors
Cons:
Catnip might lose its intensity after prolonged usage.
HDP Petstages Fresh Breath Mint Stick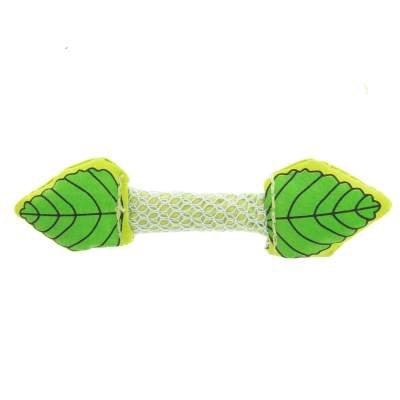 Petstages are the market leaders when it comes to pet products. They produce a range of toys for both canines and felines both.
In making this product, they have pulled of yet another coup. Mint being a relative of catnip (both belong to the same family Nepta) can be used in its place. It serves the purpose of freshening the cats breath as it chews on this toy. There are no fillers in this, just some dried mint leaves rolled into the center.
The net meshing allows for a better grip with teeth and paws, and is strong enough to withstand the blows and stress it is likely to face.
Pros:
Minty scent works almost as well as catnip
Durable
Cons:
There are some doubts about its breath cleansing abilities.
Verdict:
If you want your cat's breath cleansed, visiting the vet is the best option, or you can try dental/enzymatic treats. But if you are looking for a cheaper more convenient option, you might as well consider giving this a shot.
The banana Toy: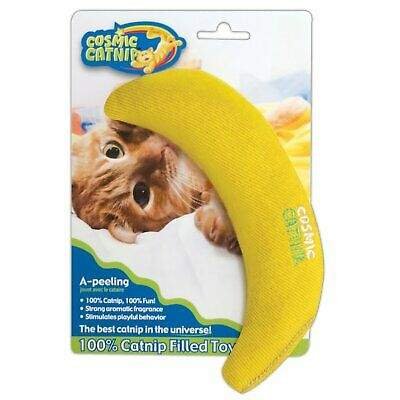 At first you would think like me, that its weird. But you cat will love it. This is even proved by the reviews it self.
Durability is the key to this product, if you want to stay long with a toy, this might be one of the toys I would buy. One of the mention-able things is the aroma which comes out of it when the you gets pinched by your cat.
This toy comes in several shapes and most of them are attractive, just to name them, they are Carrot, Banana, Fish, Snake, Cigar, Cactus and Chili . As I mentioned banana in the heading, this was my fav but a lot of reviewers have written "carrot" has been very nice with the cats.
This toy is filled with naturally grown catnip.
Pros:
The aroma which is light and nice
Durable material
Cons:
Stitches might open up for some products
HDP Petstages Night time Catnip Rolls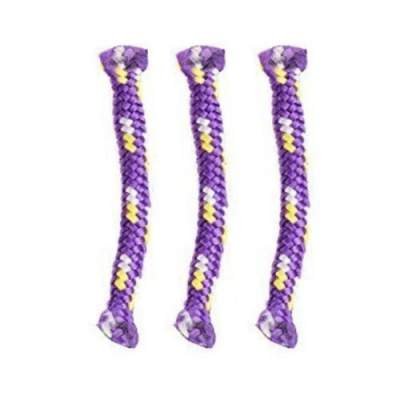 This is the third Petstages product on this list. That should mean something !
Unlike other products on this list, these night rolls have been designed keeping the comforts of pet owners in mind. At night, owing to their great vision and presence of more rod and cone cell in their eyes, cats are really active.
This makes them a nuisance. Toys tend to ignore the fact that, they might make an awful lot of noise (enough to wake one up).
These rolls are made of soft and quiet material to encourage play at night, but to make as little noise as possible. The stick shape is great for gnawing and cats usually love it.
Pros:
Great for night activity
Good for everyday use as well
Cons:
Customers have reported that the sealed edges are rather sharp.
Verdict: This toy ensures that you are not woken up by your cat at night, especially at dawn and dusk, which is their time of hyper activity. One way of getting around sharp edges is, you can prune them with scissors, before handing it to your pet.
WoLover Cat Catnip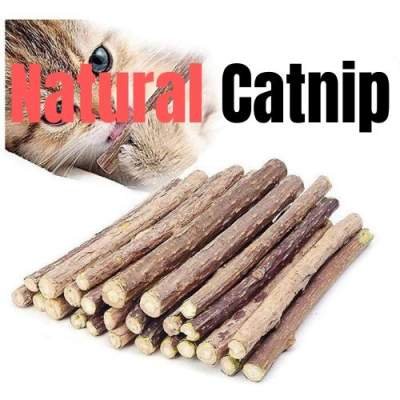 These are basically unprocessed silver vine twigs, which are intended to be used as an alternative for catnip, and a chew toy as well. The only processing that is done is, heat treatment to prevent from molds.
Silver vine elicits an entirely different response from catnip, and its action is stronger as well. But that shouldn't be a worry as it is perfectly safe.
It has the benefit over catnip that, it works on more cats than catnip, and makes them playful and more interested in toys.
The bark of the twig works to exfoliate plaque from the teeth, resulting in improved dental health. Its use also relieves stress. The packaging is environment friendly and airtight to ensure freshness when they make the journey from manufacturer to the consumer.
Pros:
Works on more cats
Environment friendly packaging
Great for dental health as well
Cons:
Its stronger action might be overwhelming for younger kittens.
Verdict: Young kittens such as of the age of 6 months are immune to the effects of catnip. This product is silver vine which might be able to work on your kitten and help you solve the problems that accompany teething.
Petstages Catnip Chew Mice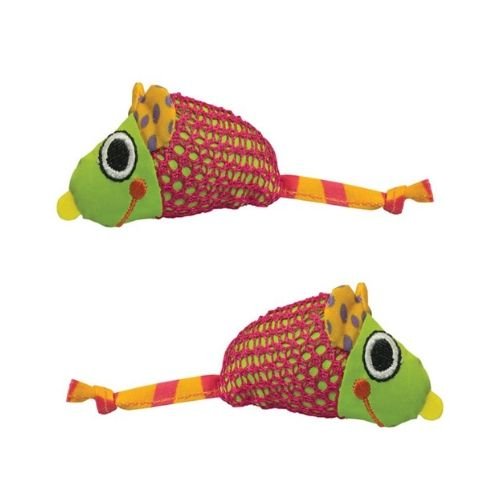 Mice and cats…name a better combo if you want a whole lot of fuss around your house. The relation has been rather thoroughly documented in the Tom & Jerry cartoon series, but these aren't your ordinary mice.
Ideal for tossing around, flinging and hurling all over the place, these Petstages mice come in a meshing that clears tartar from teeth, and flosses teeth as your fur-monsters chew on it.
The product is lightweight and comes in a shape that is as convenient to carry, as it is attractive to kittys.
The knotted streamers at the tail end were of special interest to kittys in test runs. Add to that, that these are filled with catnip, and you get a lethal combo to make your pet go weeee! Not only will it make your cat playful, it'd do so in a very healthy way.
Pros:
Comes in a rodent shape, and is guaranteed to secure your pet's attention immediately
Cons:
As of late, customers have reported that the size of the product has been somewhat reduced to the point where is actually ingestible. That is a major worry!
Verdict: Definitely worth spending the few dollars it costs, but do inspect the size before handing it to your pet, and supervise while it's playing, just in case the worse happens.
KONG – Cat Wubba Hugga – Fleece Plush Catnip Toy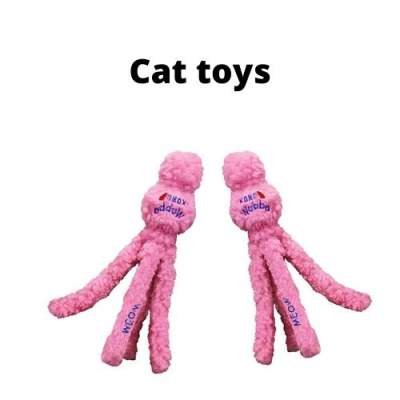 This fleece toy comes in the shape of an octopus- of sorts. The trunk is long and sturdy, and the tail fins are extended from the lower part like protrusion or legs. The flip flop effect of this result in a very interesting response from cats, who will definitely want to attend to the toy.
The fleece is plush and soft (as mentioned in the name). The crinkle sound has been specially put in there to encourage play and the rattle basically rewards contact.
The fleece covering is ultra soft and urges cats to react to its contact by biting, chewing or pawing the thing, which is basically what the cats instinctive desire is .i.e. stalk and prey.
Pros:
Just like the other KONG product on this list, this one also comes in a range of colors.
Great texture and rattling sound
Cons:
Rattling might be a nuisance if you are an insomniac or struggle to sleep
Abobo Catnip Sticks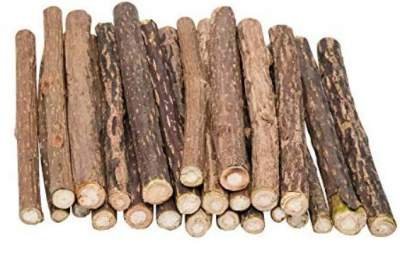 Once again, in order to end the list on a high, one of the stronger products on the market. If nothing seems to get your cat interested, this should.
Very high potency, unprocessed silver vine twigs should work wonders, and if these don't work, I don't know what will.
They come with the bark still unshaven, and chewing on these will surely help your cats dentition. They are intended for use as a cat-wand or to play fetch.
Common responses include rolling, purring, biting, rubbing etc. The response usually lasts around 20-30 mins. after which the olfactory system (responsible for the sense of smell) gets tired. Comes in an airtight package to ensure freshness.
Recommended usage is 2-3 times per week.
How to Use cat teething toys:
1). Peel off the skin with a knife, exposing the white.
2). Tease your cat like a cat wand , or just throw it to your cat to play with it.
3). After a period of using, cut off the outer layer again to refresh the potency.
Pros:
Highly potent
Organic/unprocessed
Cons:
Customers report that not all cats are interested in it. But my personal opinion is that, they probably haven't tried shaving the twig a little.
Verdict: If your cat refuses to budge, try this once. It might prove to be worth it after all.
How cats play with catnip sticks
FAQ
What is safe for cats to chew on?
Like babies, cat also have teething issues, its best to let them bite something which is more safe and non poisonous like good quality fabric or plastic or best of all catnip. naturally grown catnip are a great thing to let them use.
How do you keep cats from chewing on cords?
You can do the following to keep the cats from biting or chewing in the cats.
Let them use a chew toy, this is one of the simplest tricks. As cats start growing, they formulate the habit of chewing so they will chew anything but if you provide them with the proper teether, its good.
You can use citrus smell on the wires as they dont like citrus.
You can cover the wires with the rubber dough to make it more secure.
WHAT IS SAFE FOR CATS TO CHEW ON?
Like babies, cat also have teething issues, its best to let them bite something which is more safe and non poisonous like good quality fabric or plastic or best of all catnip. naturally grown catnip are a great thing to let them use.
What are the best toys for indoor cats who are bored?
Cats are naturally curious and instinctive hunters. They are one of the best urban scavengers, with an innate ability to kill and land fatal blows to birds, rodents and other small animals. We list 10 toys which will keep your cats engaged all day long.