More often than not a lot of people forget about the size of a cat litter box, when you buy a litter box there are many factors you need to take care of. For example, the material of the litter box, the design of the letter box, the functions and features of the box and one of the most important factors is the size and dimensions of the litter box.

Why do you need a large litter box:
There are many instances where the cat stops using the litter box and one of the reasons is that the box is too small for them. they feel suffocated inside the box. Naturally cats are wild Animals and love to be in a place where we can easily do business.

If you've come searching for this, It may mean that either you have a large cat or your cat is doing Pee or poop outside the existing letter box, or maybe you have multiple cats at home. Let us tell you that you've come to the right place.

The importance of large litter boxes for big cat:
As a general rule of thumb, your cat should be able to freely move in the litter box whether it is covered or not. while doing their business that normally squat, sit and sometimes flex.

You'll also find that quite a few litter boxes come with covers or "hoods" to reduce the chances of waste falling out. This is not an ideal situation for most cats, and larger breeds probably won't use it at all if they're unable to do their business without crouching down to fit inside.
How big should be the box:

Generally speaking, most cats need a litter box that's large enough for them to climb into and turn around in. This means for large cats, you need huge cat litter boxes.
Just make sure that the box isn't so large that you can't comfortably lift, empty, and carry it as needed.
Our Top Rated Choice of 4 largest litter boxes for big cats:
| Product | Why its best for | Dimensions |
| --- | --- | --- |
| 1 . Catit Jumbo | Extra large litter box for big cats | 22.4″L x 18.3″H x 17″W |
| 2. Nature's miracle | Extra large litter box with high sides | 23.4L x 18.2H x 11W |
| 3. Petmate booda | Extra large litter box with hood | 22.5L x 22.5H x 19W |
| 4. Omega Paw | Extra large Self cleaning non electric | 18.5L x 21.5H x 20W |
Top 8 Large size Cat litter boxes for big Cats reviews:
1. Catit Jumbo (Best overall)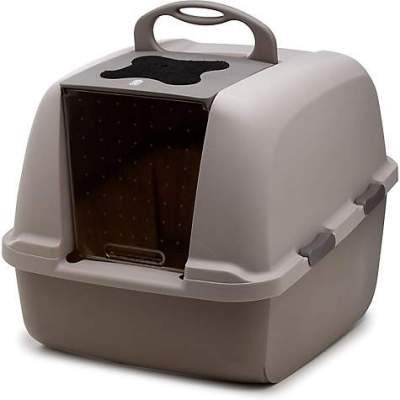 The Catit Jumbo Hooded Litter Pan is made of high class, hard-wearing plastic that will last for several years. The latches are heavy duty and can support the weight of a full litter box when you lift up on the top handle. Ideal for the multi cat's household. Cats would get used to it very easily because of their fine structure.
The litter Pan use varies reliant on the size of your cat, their litter habits, preferences, and aesthetics, which makes finding the right one a challenge. Some cats love to kick their litter and make a mess, and there's nothing worse than having to clean up a pile of litter outside of the box. To minimize clean up, you'll need the right litter box for your unique cat.
The door opening of Catit Jumbo Hooded Litter Pan is also wide i.e.10.4 x 9.6 inches, and that means your cat can see out, very important to keep them using their litter box. This hooded litter pan also comes armed Carbon filtration system that eradicates dust and odor. Replacement carbon filter sold separately also.
There is no issue with its locking mechanisms. Common sense should overcome that fully loaded with large amount of litter isn't going to work if thoughtlessly try to lift and carry it. This litter pan can slide on the floor on a little rug. Bag anchor frees hand for easy scooping. Removable clear plastic door of this pan allows easy access. The wavering door can be removed if wanted that also make ease in washing.
But for everyday scooping, there is a hinged flap that can be lifted without having to unlatch anything. There is a replaceable carbon filter on top of the litter box and a swinging door through which your cat can enter. Top flap can be folded back on its hinge for easy scooping no need to remove the whole top and set it aside.
This litter pan gives the privacy that need to do their business in peace while maintaining the aesthetic of your home and also in offices. The litter pan has ability to hide the litter inside the pan and making cleaning a breeze. The door opening is also quite large, ensuring that any cat can effortlessly get in and out. It dumps the clumps into a collection tray, which I then pull out and dump into the litter genie. And it is offered at a very reasonable price.
PROS:
Spacious
Odourless
Easy to hold.
Perfect lids.
2. NATURE'S MIRACLE HIGH-SIDED LITTER BOX
This Nature's Miracle High Sided Litter Box is the best option who want to see their houses free from the pet's litter it adds beauty in your houses too. This high sided litter box has 23″L x 18″W x 11″H dimensions.
The base of this litter box is wide with the dimension of 16 inches long x 12 inches width and its top is comparatively narrow from the base. Handles along its side and a spurt on the front side add ease to let out the litter and can be held very well. This high sided litter box mostly comes in Black colour. It has a non-stick surface.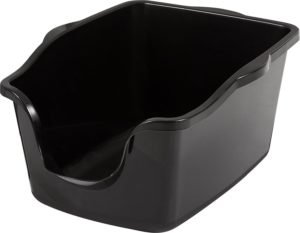 Its high sided wall keeps the litter inside the box and ensures that no litter will drop on the floor. High sided litter pan's wall helps to keep their urine in the box. Its open top helps to remove the litter out and make the cleaning process easy.
Its shape is another convenient feature of this litter box. It can adjust to any corner of the house. It is made up of anti-odour technology that helps to block the odour. Its antimicrobial protection helps to stop the bacterial accumulation.
These advantages help to clean the house and keep the air fresh. This high sided litter pan is made of high class, hard wearing plastic that will last for several years.
PROS:
Easy to clean
Ideal for the older/elderly pets i.e. cats, rabbits, etc.
Easy to hold.
High walls reduce litter
Easily fit into the corner.
Non-sticky surface.
Litter can easily remove
Odour control
CONS:
Litter can drop from the front opening
Sometimes litter can get stuck just before they pour out points.
Litter dust can easily show on the inside walls because of the black colour that causes the irritating situation.
3. Petmate Booda Dome
Petmate Booda Dome Clean Step Cat Litter Box provides a well ordered, step designed structure to seize the litter from the cat's paws. It ensures privacy by hooded top.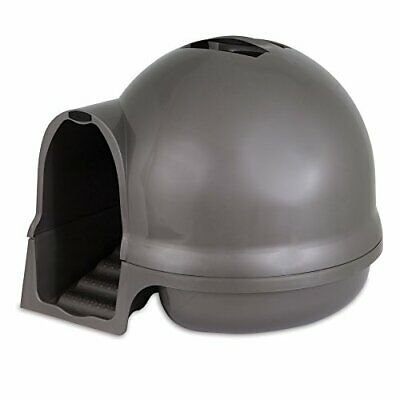 It has a detachable top that allows you to remove litter while cleaning. Its built-in handle causes ease in cleaning, lifting and replacing. It is allowing confident placement in any room of the home. This dome step litter box has an order blocking ability. Wider opening helps in effortless entry and exit. All Clean Step of theses litter boxes does not have the same filter.
This kitty litter pan contains a charcoal filter that absorbs odours so it can be easily placed anywhere in your home. Perfect for multicat homes & larger cat breeds. 21″ x 21″. It encloses a design that helps to contain litter within the litter box. It has 21 1/2″ x 19 1/2″ dimensions. It has non-sticky walls where litter does not stick on the plastic and provide privacy.
Petmate Booda Dome Clean Step Cat Litter Box
PROS:
Keeps litter and dust in the box.
Keeping the litter area fresh
Litter does not stick to the plastic.
Waterproof surface
Attractive design and colours.
Perfect for multi-cat homes.
Easy entry and exit.
Easy to assemble.
Eco-friendly
Easy to clean
Ideal for disabled cats
Contains stairs make it more attractive
CONS:
Low bottom (cat tends to pee on the wall where it catches around the edge)
Short steps/less space in the litter area; litter falls out when lid open.
Unique shape; comparatively hard to clean.
The top part falls so easily.
The darkness inside the box.
4. Omega Paw Roll 'n Clean Self-Cleaning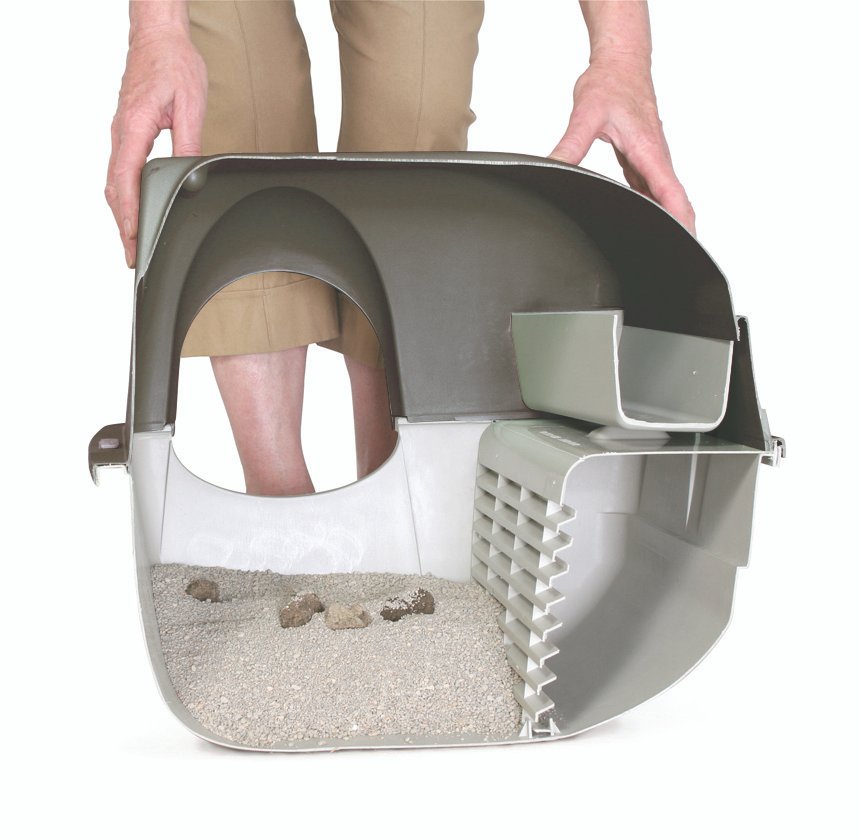 The Omega Paw Roll 'n Clean Self-Cleaning Litter Box has unique features to handle the pet's litters. It is designed as a grill system that gathers the litter into the detachable litter tray. To operates the self-cleaning litter box, simply roll it up onto the top detach the tray, remove the litter and roll it down upright.
There are three models of the Omega Paw litter box. The original, the improved original and the Elite. It is easy to clean because of its removable try and no need to bend for its cleaning. It is available in two sizes i.e. regular and large. The self-cleaning litter box made up of high-quality plastic.
The self-cleaning litter box control odour and dust. There is no requirement of any filters, liners and electricity to operate it.
PROS:
It is easy to use and clean
Time-efficient.
Removable waste/litter try.
No electricity required.
Easy to handle.
It can be easily used for a big cat.
It eliminates the smell of the cat litter.
It is designed according to the comfort of cats.
CONS:
Clips are made up of plastic, it can break if you shut it down forcefully
Not 100% waterproof
Difficulty in attaching the hood.
Sometimes faces/poo stuck on the screen
Waste falls from the litter tray.
Required enough place to roll
It occupies a large space
The latch on the back is difficult to keep secure.
Difficult to assemble.
Ill-fitting 'scoop'
The material can get easily scratched
There's no sign to indicate how high you should fill the sand.
5. Petphabet Covered Litter Box, Jumbo Hooded Cat Litter Box, Extra Large
Petphabet Cat Litter Box best for Multiple Cat Households. This litter box is suitable for the average size cat. This cat litter box has a proportion poop Fest in a jumbo litter box. It has a detachable and transparent top cover that helps to see so well what you are lifting.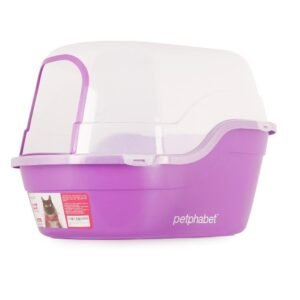 Transparency of litter boxes saves lots of time especially and reduces the amount of litter residue. The Head of this jumbo litter box is broader than its bottom which helps to lessen the spill over. The front is high enough that it helps to contain the litter within the litter box.
Cats feel free in this jumbo litter box or like they could be aimlessly trapped with a litter box for cats. It has a wider bottom that's why cats can move freely, and it is easy for the user to remove the litter and to clean too. It has the colour slip that fits over the opening. It has such a big opening so the more litter may out.
This litter box has a wide opening that helps the cats for effortless entry and exit. The dimension of this litter box is 24.8″L x 20″W x 16.5″H and door opening size is 8.2 X 7.8 inches. Cat litter box litter is made up of reliable non-stick and antimicrobial plastic also covered the top of the litter box for trouble less cleaning.
Petphabet Cat Litter Box
PROS:
Wider area
Removable and transparent top
Lesser spill over
Microbial protection
Easy to clean
Ideal for both young and older cats
Effortless entry and exist
Time-efficient
Fine for multiple cats
Availability in multicolour.
CONS:
Has no filter and door may cause the odour of fresh poop
No handle on the lid for easy moving
Have a Wide opening so that the litter may out of the box.
6. Nature's Miracle Hooded Flip-Top Litter Box
Nature's Miracle Hooded Flip-Top Litter Box is made up of durable plastic with a built-in odour blocking system. Have an odour-control charcoal filter to engage litter box odours and help to keep the litter box fresh. Replaceable filters help to control the odour. This litter box made up of a non-stick surface eliminates litter covering and odour accumulation.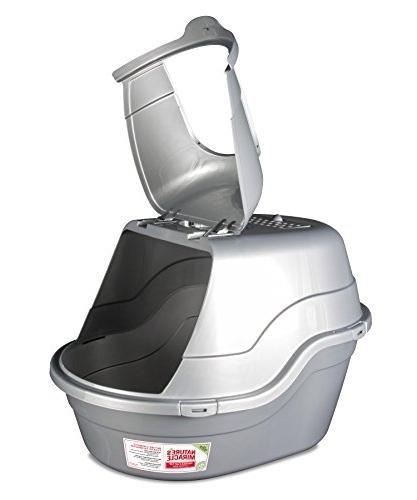 The adjustable, hooded design with an adjustable handle that makes it easy to replace. Front opening and high sides make comfort in cleaning within no time and contains the litter and dust well. The litter box has 19.125 inches x 25.125 inches x 11.75 inches dimensions.
Urine does not clump on the bottom and it's very easy to keep clean. Wide bottom helps to move easily inside the litter box. Nature's Miracle hooded litter box help to make life with pets more comfortable, fresh and replaceable so, less time is required in handling.
The antimicrobial protection coating prevents bacteria accumulation inside the hooded flip-top litter box. A convenient Conser design allows us to save space in the house.
Nature's Miracle Hooded Flip-Top Litter Box
PROS:
Time-efficient
Simple design
Provides privacy and helps prevent litter scatter
Replaceable filters
Convenient, front-entry and exist
Deep enough to keep litter in
Helps control odours to help keep the litter box fresh
Non-stick surface helps to Eliminates litter covering and odour build up to make clean up easy.
It contains odour neutralizers that continuously neutralize tough litter box odours for up to three months.
Adjustable handles and flip-top front opening make cleanup quick.
Wet, muddy litter doesn't stick to the sides.
No need for dilution before usage.
CONS:
Square charcoal filter and not elongated enough to just.
The connection between the top and bottom is not that good.
The plastic plucks are inflexible and allow the 'projectile pee-er
Shape and size make it difficult to unfilled
7. Van Ness Odour Control Extra Giant Enclosed Cat Pan
Van Ness Odour Control Extra Giant Enclosed Cat Pan provides an efficient odour control system by enclosing litter box's door. I addition, it has a replaceable odour control door and Replaceable Zeolite Air Filter. It helps to stop litter from scattering. Ideal for multiple cat households. Well cleaned finish that is the smell and stains safe and easy to clean this cat pan. Removal opening helps to clean the enclosed cat pan easily.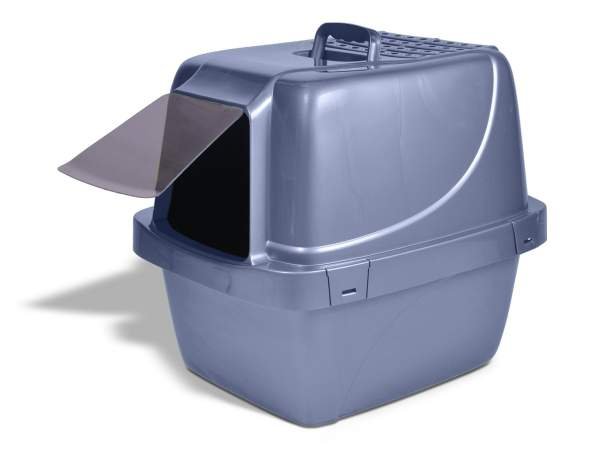 It has dimensions i.e. 21.5″ x 17.5″ x 18″. The top and bottom are protected with a plastic bond. Cut the plastic tie off and unjustified the four clips on the sides of the pan and the bottom will fall out. It has plenty of space to get in and turn around.
The closed design contains the litter and dust well. The shatter that holds the top to the bottom is resilient and fixed. Both top and bottom are secured with a plastic tie. Being absolutely a dark blue top and base seeing that what is at the back without evacuating the top.
Most importantly note that The bottom is inverted and placed up into the top for shipping purposes. compared to other older brands such as Pet Mate Large Sifting Litter Pan the Van Ness is a real deal and is odorless and much easier to clean and maintain!
PROS:
The bottom is overturned and placed up into the top for replacement purposes.
Ideal for multiple cat households
Large enough
Adjustable at any place
Swinging door
Lightweight.
Blocking odour.
High polish finish.
Easy to clean because of the removable top.
Eliminates litter scatter.
It contains a strong carrying handle.
Reasonable price
Sturdy litter pan
The flap can be easily removed according to need
Door is wide
High sided litter tray
CONS:
Small door and sticks and does not work properly.
Dark from inside.
Difficulty in removing the lid.
Tray, lid, and connecting handles perhaps thinner.
A long cat would urinate on the back wall of the box. If it happens then you need to clean the inner back of the box with a napkin or tissue.
8. Jackson Galaxy Giant Litter Pan
Jackson Galaxy Giant Litter Pan able to hold up to 30lbs of litter. These are large litter boxes, so they have plenty of room to dig in. It has a low-profile front entry. It is not heavy yet not flimsy. This box gives the cat the facility to "manoeuvre" inside the box during his natural break. This box provides him the separation that the cat wants. The outside dimensions of the unit are 25.6″ Long x 18.3″ Wide x 10″ Tall.
PROS:
It provides a low-profile front entry. Consers are softly rounded so there is no problem of Consers squinters.
Sturdy giant box
The box is combined with Slide litter
The quality of plastic is not of superior quality.
It is a very large box so cats of any size can be fit.
less litter on the floor because of its high walls.
Super easy to clean.
Keeps the litter in better than other boxes.
CONS:
The difference in the size of the front and the back slope is a problem because some cats can't pee over 8 inches.
Overpriced
Occupied too much space
It's a bit heavy to handle.
It is hard to find a liner that will fit inside of it.
Why you should buy a large cat litter box?
Finding the best litter box for large cats is essential because it ensures that you tend to your cat's needs. They are particular to hygiene. As you may notice, cats often lick themselves for grooming. This is one evidence that they want themselves to clean most of the time. Most cats, especially larger cats, cannot easily fit in a commercial litter box. The high sides may also make it difficult for older cats or those with arthritis to get in and out of the box. The use of a plastic box under-the-bed storage is a good, inexpensive alternative. These are large enough to permit cats to easily get in. The litter box should be at least one and a half times the length of the cat. If you're unsure, you should pick the bigger size.
Benefits of having big litter boxes:
It prevents the cat from spoiling your precious furniture and other areas of your house.
It also helps your cat to feel comfortable doing its own business.
They will have ample space to move and dig around in it, without having to step out.
There will be plenty of space for them to easily avoid any "deposits" that are still around from earlier visits.
A mother cat could give birth to two to three kittens at a given time. At this stage of the little ones' growth, cats need twenty percent more warmth than humans would, the young kitties must be beside their mother for feeding, comfort, and survival.
They would have enough room to sleep and play in, too. Cleaning up will be better. Clumps would not be out of sight.
These boxes holding the odour of your cat's poo, so you don't have to smell that manure
These boxes also prevent the dust clouds.
These boxes also reduce what we call as litter tracking.
During extreme weather or when your cats would like to stay in their box a little bit more, the selection of a large litter box is a wise choice. Cats habitually prefer to go to the cleaner side of the box, so they need more space for that when they are together in one box.
When you are looking for a large cat litter box, it must be deep and should not be greater in length and width than the average litter box. Several boxes don't have the appropriate depth to handle the digging and movement of the cat that causes litter flying.
Many cats dislike covered litter boxes because they keep odours in, so, large uncovered boxes may be able to avoid this problem with diligent scooping and cleaning.
A large litter box should be used as it could end up solving your cat problem. It may simply be that they just need a bit more room in the box to feel comfortable.
Since cats must turn around while they're digging, eliminating, and then burying their waste, they need to have plenty of room in which to do that. If they don't feel like they can do that in the litter box, then they may find somewhere else as a solution to their problem.
It should be kept in mind that one of the most common reasons for litter box refraining is a background health problem.
Large litter boxes needed to keeping solids separate from liquid to keep the area clean.
In the wild, they can go easily wherever they want to go for any purpose. With a large litter box, they get back some of that feeling of being in the great outdoors.
Large box provides make the movement of cats easier than the small box.
Cats want to be able to turn around while they're using their litter box. Because they need to find the perfect spot, and the other part is they need to be able to dig their waste when they're finished.
In a small litter box, your cat may not have enough room to properly turn around, especially when it comes to top-entry litter boxes and others with high sides.
Cats don't want to stick their paw in something they left in the box yesterday, so they always look for a clean space to go in.
Some cats like to urinate in one part of the litter box and defecate in other parts of the same box. Though, a small litter box just doesn't allow them to do this.
If your cat regularly uses the litter box to urinate but defecates elsewhere it is possible that your cat just wants a bigger litter box so he can do both tasks but in different parts of the box.
Litter boxes should be according to the choice of the cat too. Large cats tend to prefer open-feeling litter boxes that don't have a cover. cats are forced to enter and exit through a small doorway in enclosed litter boxes. It can prevent them from turning around easily and can make them feel vulnerable to trap by other cats in the household.
If your large cat refuses to use a covered box, you must remove the cover to see if that makes your cat more comfortable. You may also want to select a litter box with low sides to make it more approachable for those overweight kitties.
The litter box must be kept clean either it is small or big. A large litter box will be more protective and hygienic as compared to the small one. There are only a few automatic or self-cleaning litter boxes out there made to fit large cats. If you can't find a solution for your larger breed cat, use a self-cleaning litter box that works effectively for giving a clean litter box.
Do cats like large litter boxes?
1. Large litter boxes remind them of the great outdoors.
2. There will be more room to turn around that cats need.
3. Larger box provides more clean areas.
4. Large litter box provides room for separating waste.
How many litter box should a cat have?
One litter box is sufficient for a cat. If your cat is large then prefer a big litter box.
Why do cat sit on the litter box?
At times you may find your cat sitting inthe litter bix without moving. From that condition of your cat you can understand that your cat is nervous or anxious. If there is no room for the cat to room about then at times cats will sit in the litter box itself.If the litter box is small the cat might feel comfortable.