These Adorable Cat Trees will be a Beautiful Present for your Large Cats.
At this special event of the delightful beginning of a New Year & a true Joyful Christmas, it is a best time for you to shop an enchanting present for your darling Cat too that could be a really charming & engaging condo which will make your tabby even happier.
Cat Trees, Condos or Towers are cat furniture that are a great fun specially designed for your lovely pet. They include condos for sleep and play, along with high platforms, perches, scratching posts, tunnels, cat beds & hanging toy balls that can cover your cat's size, activity, and interest, and consider your choice and space limitations. To choose a condo for your dinky feline, consider what type of material would work the best to keep your cat safe, active, healthy, and entertained. There are variety of scratching trees available to accommodate your cat's need. By just observing a few of your cat's habits and preferences, you can find the perfect living to suit your cat.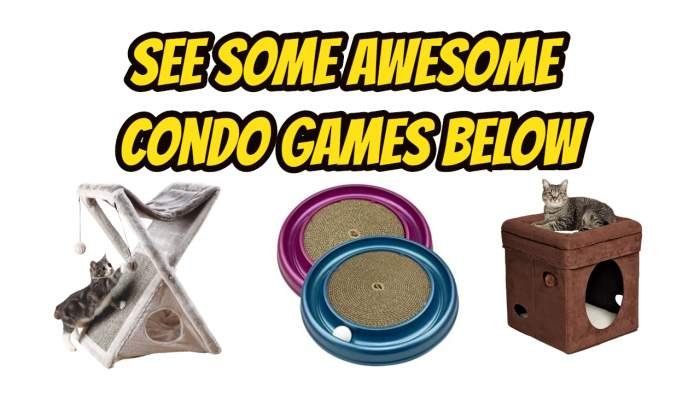 Here's a quick elaboration, to determine the best appealing Cat towers. These are the best suggestions you can opt for, for a more in detailed view. So, you can find out what works best for your Cutie Pies.
How big of a cat tree should I get?
You need to keep 2 things in mind while you search for the Cat tree, Larger is better, because the cats would love to have it resemble a tree and tree are normally long. but on the other hand, try to buy the one which is sturdy, I have seen many cat trees falling of because of the poor quality and lack of equilibrium.
How do you make a cat tree for a large cat?
This was the very first questions which came to my mind as well, but making a good quality tree costs you almost the same or sometimes even more then the ready made ones, if DIY is your hobby go for it and I have linked the video at the end of this page but if not, stick to the ones they are making and we list of the best quality cat trees for big cats.
Our Top Notch Preferences for Endearing Cat Trees to Consider this Year.
The 7 best large cat trees reviews:
1. FEANDREA MULTI STEP CAT TOWER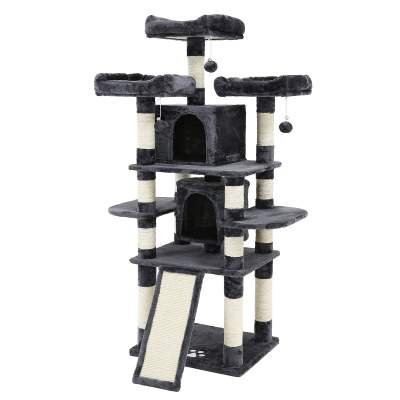 Specifications
Color available are smoky grey (PCT90G), light grey (PCT90W) & beige (PCT90M).
Materials Used are particle board, plush, sisal rope & paper tube.
Product size reckons 60 x 50 x 140 cm (W x D x H).
Product weighs 21.3 kg.
The FEANDREA's MULTI STEP CAT TOWER is a high quality stylish multi-functional cat tree which is flawless at every aspect. The inclusion of perches, cozy basket and roomy cat condos covered in velvety fiber offers a spacious & cozy living. Made from high quality materials, wood boards and collaborated with various entertaining designs & accessories.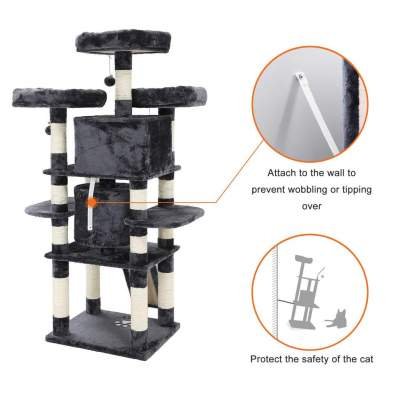 Pros and Cons
High Quality.
Best for Big Cats.
Extremely loved by Pets.
Worth the price.
Cons
Verdict
The all new FEANDREA's MULTI STEP CAT TOWER is an exemplary cat tower that is actually more than expectations. This offers a swiveling design that allows you to things with ease & is highly multifunctional for your convenience. Go and Grab the product now.
2. PAWZ ROAD MODERN CAT CONDO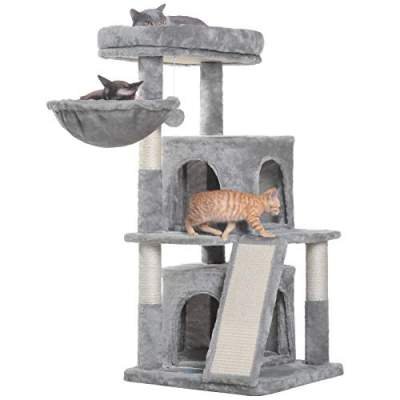 Specifications
Color available are Grey
Material Used are CARB-certified Board, Plush Fabric & Sisal Rope
Product Size reckons 50 x 50 x 152 cm (W x D x H).
Three fluffy Hanging Balls at each level.
The PAWZ ROAD MODERN CAT CONDO is cat's activity tree or large and cozy apartment which is a winning Ideal for your cats do all whatever they love from hiding, jumping, playing, and scratching. The removable bed cover make the perch easy to clean & more comfortable for cats to relax. Fluffy hanging balls is something which your feline is going to enjoy a lot.
Pros
Cozy Design.
Pom Poms hung to play.
Snug Perch.
Removable Bed.
Tempting Lookouts.
Cons
Verdict
The Pawz Road Modern Cat Condo is fairly a good option to consider, & truly is as cute as picture. It's a perfect & sweet New Year gift for your feline. It's simply engaging design, is hard to find anywhere else. If you are looking for a Good affordable Cat Tree than Go for the Product now.
3. PAWZ ROAD MULTI LEVEL CAT TOWER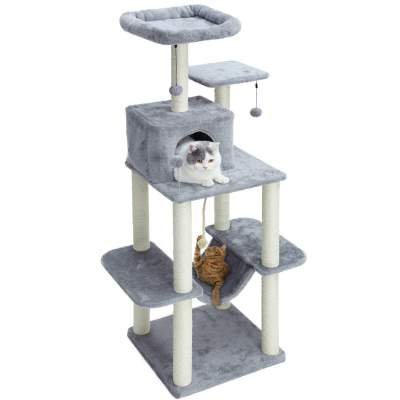 Specifications
Solid Makeover.
Four level construction.
Fluffy relaxation spots.
Nicely Built.
Premium Stuff.
If you are looking for a Cat Tree with most of the premium features than PAWZ ROAD MULTI LEVEL CAT TOWER, is what you can really enjoy. Fantastic Fabric, Solid makeover and a Beautiful exterior, when compared to the best Cat Towers out there, this is an excellent value. The 4 level construction cat tree is covered by soft plush with a decent base of size 24" L X 14" W. Two scratching posts and the ramp covered with natural sisal, & pom pom ball that entice them to have more activities. They will enjoy hours of fun with the cat tree instead of spoiling your expensive furniture.
Pros
Ideal Cat tree.
Dual Condo.
Impressive Built.
Dangling Pom Pom.
Nice Design.
Cons
-Comparatively Expensive.
Verdict
PAWZ ROAD MULTI LEVEL CAT TOWER 5 is an excellent Cat Tower with bundles of premium features like dual safety measures, Boney pom pom toys, Scratching posts which help you pamper your little tiger in a more easy way. Impressive Fabrication & nice design that's an amazing package in all. Want to know more, Check out for the price here.
4. PAWZ ROAD MULTI STEP COZY CAT TREE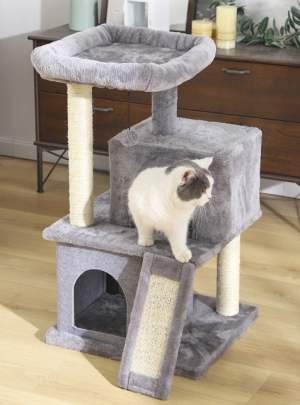 Specifications
Extra-large perch.
Natural Sisal covered Scratching post.
Hanging Pom Poms.
High Raise cushion.
Comfortable Condo.
The Pawz Road Multi Step Cozy Cat activity tree is the one Spot entertainment for your feline to do all the thing they love from hiding, playing and scratching. It comes with an extra-large perch covered with high raised cushion that provide a cutesy bed to relax easily. It's completely secure helps in better sleep & extra comfort. The natural sisal wrapped scratching post & pretty hanging pom poms that satisfy develop extra fun.
Pros
Raised Cushion.
Hanging Toys.
High quality stuff.
Nice Color.
Dual Condos.
Cons
Verdict
At first look it seems to be designed brilliantly. The Pawz Road Multi Step Cozy Cat activity tree is a Best Option to consider and among all of these, this will be a nice choice to consider while looking for a budget cat tree. It's just simply worth the cost and price. All these stunning features befalls in amazingly reasonable price. Check out for the price here.
Other cat products we liked
5. Best cat condo cage:
If you want the features of a cat tree and tower with the security of a cage than one of the best cat condo cage is play pen.
Features:
It comes with a swing for cats, surprisingly, cats love swings.
cat beds which are cozy and spacious
Doors at different places
Highly secure
easy to put it together.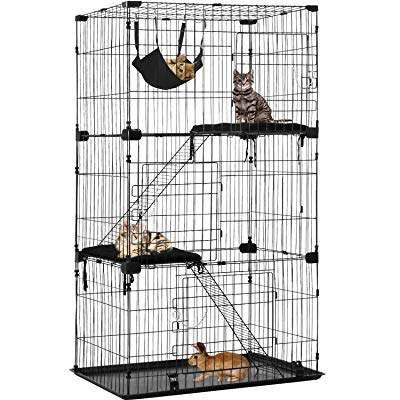 Pros
Easy to assemble.
Many clips to guarentee sturdyness.
Quite Tall
Nice Color.
Cons
6. Best outdoor cat tree/condo for large cats: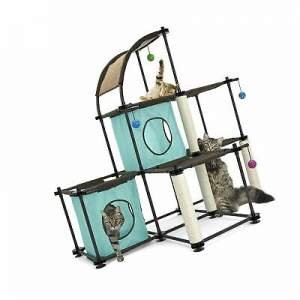 7. Best carpeted cat tree for large cats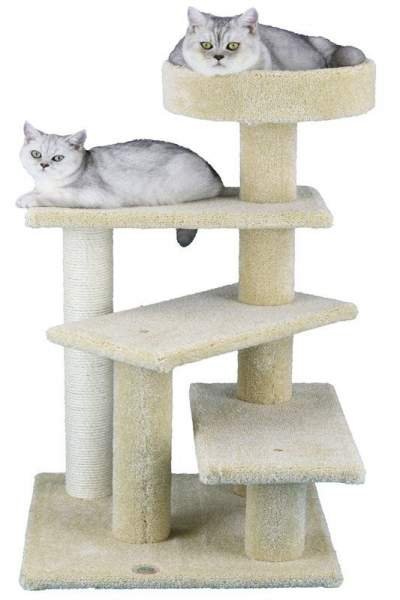 TOP 3 Best Cat Condo Games reviews
Having a cat condo is great but if you have a game on top of it will be like a cherry on cake. you can engage the cat and cats will always be thankful to you for this. Showing you the list of cat tree games:
1. Trixie Cat toy:
The idea of this toy is 2 in 1, you can use it as a normal game but you can also use it near the tree or on one of the shelves of the tree. This is a small condo game it self with a high sitting place and great other features. below are the features:
Features:
A great scratching surface
A sitting place
String toys
Cushion is removable and washable.
Great for small spaces.
Almost 25 inches high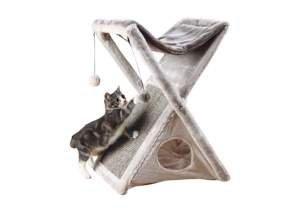 2. MidWest cat cube:
I love this one, its such a cozy cube for cats that your cat will forever be happy. best thing is the sive and versatility. can be placed on top of any condo or tree or beside.
Features:
Like a house
Sneak peak cut outs for fun and games
synthetic sheepskin which is great.
Almost 16 inches high

3. 2 in 1 scratch toy:
Cats love two things, scratching and balls, this item has both of them, so you can buy this one with eyes closed.
Features:
Scratch pad, detachable
ball game
small size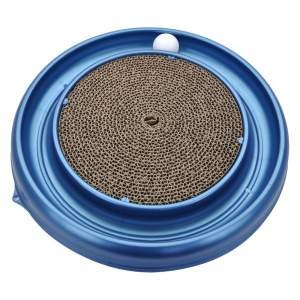 FAQs
Can my large cat climb the cat trees?
The answer to that would be, your can should be able to climb the tree as most of the cats can do this. This is their natural instinct and I would be surprised if your cat can't except if there are some medical problems
How to I attract/train my cat to use the trees/towers?
You can do this by many ways, you can use treats, if they do so, its like training for any normal thing. You can also use the catnip as they normally respond well to them. You can also play games with them, like hiding the cat treats on the tower and let them find it, this way they will feel engaged to you as well as get used to use the trees.
Where can I place my cat condo/tree/tower?
To our experience, the best place to keep your cat tree is to keep them in the warm places. Maybe you can keep it in the sun as well, most of the cat towers support under the sun placement. You can even place the cat tree in the living area as this will make them feel more comfortable to use and even stay there. As they can see the rest of the family as well.
All the cats like cat towers/trees?
Most of them do. This comes as natural instinct. Lets answer the question why do cats like cat trees?
They like heights, I don't know why am I mentioning this here but kids now a days, feel staying late at night is an achievement. (this is my personal but strong opinion) they would naturally start loving to stay late and I being an early sleeper always suffer when I am with kids, same thing is with cats, they, like to stay high. Why? All I can say is they feel safe at height, as they are programmed that going high will reduce the possibility of the threat.
Keeps them fit. Like kids they have calories to burn which is a vital part of their fitness, this is a must.
Trees give them more space and a sense of owner ship. As cat trees are multi story, it gives them the ability to choose which level they want to go and stay. And even sleep. Secondly, it lets them feel its their territory.
Are cat trees dangerous for cats?
In general, a well-made cat tree will not be dangerous as it has security measures, just look for the following points while buying the cat trees as these could be the danger producing elements.
Fall protection, check if your cat tree has the fall protection feature.
Getting down, does your cat tree have the way to get down.
Balanced, Is your cat tree well balanced specially for big cats.
Is a cat tree worth buying?
If you ask our expert opinion, we would say, YES, it's a great buy, its worth it and satisfy every penny.
Why do cats like high places?
If you see the history of the cats, they were hunting and preying for food, they learnt a lot of skills and one of the them is to climb on high things to save them or hide them when required.
How to make a cat tree at home?
Here is your answer