Winter is here. It's Christmas season and that means presents, Kris Kringle, and chill that cuts through your bones.
The occasion demands that everyone get a present this winter season. If you have kids, a toy car, or a stuffed animal or a PlayStation might do. But if you are a cat owner, you might as well consider giving it something special. Luckily, we might have just the right suggestion for you: A Heated Cat Bed (What else!).
These beds are comfy and cozy, and exactly what your cat needs (considering it doesn't already have one). They are a good hideout for your feline partner, and provide them with a refuge where they can warm their bodies. Cats have dense fur, which provides natural insulation to the cold, but that's not the whole point. For old arthritic cats, heated-beds work wonders. These comfy beds have been proven to boost the immune system, and the mood of the cats. Cat owners have reported that their pet spent much of its time around the bed in winter evenings.
Now naturally, some pet owners are worried about the safety hazards regarding these products, and they have a right to. But considering all variables, they are not that much of a hazard. Beds come with good wiring and enough electric insulation as to not cause bedside fires or electrocution. There are many varieties available, that don't use any electric components at all.
We got the summary list for you if you need a quick look!!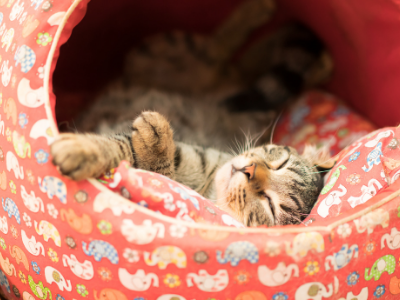 7 Top Rated Heated cat beds LIST:
Here's a list of the best products available in the market with cat heated bed reviews:
1. Best Self warming Cat Bed
Aspen Pet Self Warming Beds by Petmate: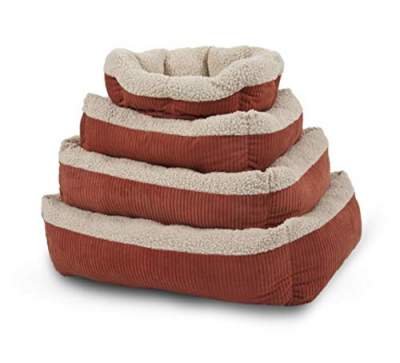 The sleeping/resting surface is covered in sot lambs-wool, and the overall make is of corduroy, in order to keep the bed upright and not collapse on itself. The filling is of heat conserving polyester fiber, making is cushy and comfortable.
The bottom is of non-skid material, making it ideal for hard floors like tile, and hardwood, as it prevents slippage, as and when your pet steps in or out of the bed.
The interior Mylar layer conserves and reflects the pet's body heat, resulting in almost instantaneous warmth and comfort from the cold outside. The faux lambs-wool is good, as it keeps the burrowing in check, without damaging itself. You can also use this cat bed on the cat hammock.
One of the best things about this best is the variety of sizes and shapes which makes it almost perfect for any cat.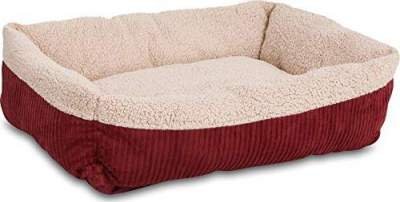 The bed is mostly fabric, and can be conveniently hand washed with some soap or detergent. The product is very lightweight, making it both easy to move from one place to another, and carrying it on road trips and travels.
Pros:
Lightweight
Effective (Does what its supposed)
Washable
Different sizes
Cons:
Corduroy does not make a perfect pillow, does it ?
Verdict:
The biggest advantage is that, I comes in a range of styles, colours and size. Worth giving a try!
2. Best Orthopedic Cat Bed
Best Friends by Sheri OrthoComfort Deep Dish Cuddler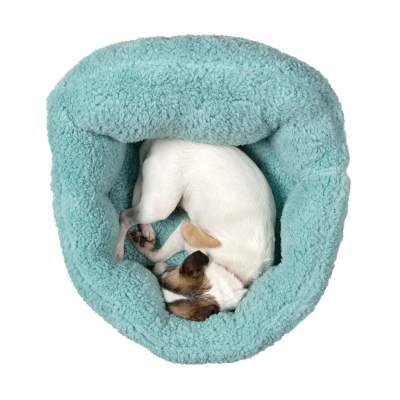 This bed has been specifically designed to provide therapeutic effects. The Large back eases stress on the spine, while the lower front, gives support to the neck, head and fore limbs.
The walls are designed so as to give your pet a sense of security as it lies in the bed. (Not suitable for pets under 10 pounds, as it is flexible, and might result in awkward posture).
Excess hair and the odors are no longer a problem, as this bed is machine washable, and dryer safe.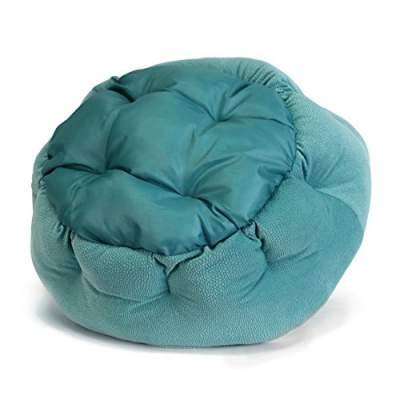 As you can see above the product is made with a material at the bottom which is water resistant.
The product is made using pet-safe materials, and the delicate AirLOFT fibers ensure that the fibrils last 3X longer than ordinary materials. The bottom is water-resistant, which aids in keeping your floor clean.
Pros:
Water resistant bottom
Therapeutic effects
Cons:
Only comes in two size
Verdict:
Great for older pets with arthritic bones.
3. Best electric Warming cat bed
K&H Pet Products Thermo-Kitty Heated Pet Bed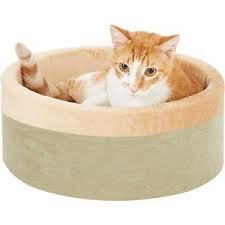 This bed is electrically heated and thermostatically temperature controlled, to match that of the body of your pet.
The walls are soft foam, and the covering is of cloth that is easily removable for the purpose of washing and cleaning.
The walls provide a great head rest, and can be used as a pillow by your fur monster. (Product also features a separate pillow, just in case). Thermostat function allows the owner the luxury that it can be used all year round. The cloth is fleece with a fine texture.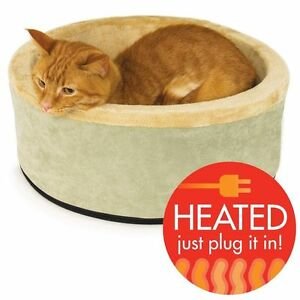 The product comes with a one-year limited warranty. The heater is very low wattage (4 Watts only), thus eliminating any chances of electrocution or injury. This cat bed heated has been tested & certified by MET Labs to exceed USA/CA electrical safety standards. Bottom line, you don't need to worry about that.
Pros:
Electrically heated, Thermostat control
Comes with a comfy, spare pillow
Cons:
Not suitable for outdoor usage as the heater is sensitive to humidity.
Verdict:
One year warranty makes it ideal to try, if you are a new pet owner, and are still looking for a hidey-hole for your cloud.
A very nice video demonstration here:
4. Best microwavable cat heated pad
Snuggle Safe Pet Bed Microwave Heating Pad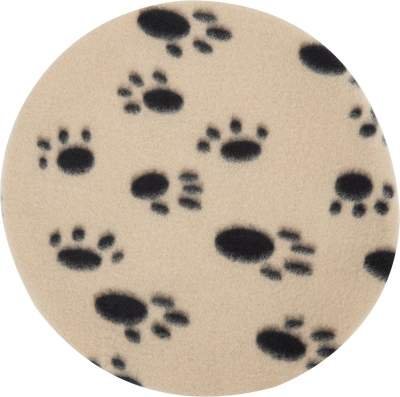 This isn't a bed (the name is pretty self-evident) rather a heating pad. It is a convenient and handy appliance to have in your home.
It doesn't even need an electric supply to keep it going. Just warm it in your microwave, and the fluff balls can have a great time snuggling over it.
The plate sized pad fits easily under the bed, or can be used without any attachments. It provides a full 10 hours worth of warm comfort, thanks to its extraordinary heat conserving properties.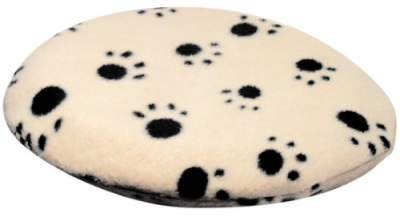 The insulating material is thermapol, and the heat conserving capabilities make it ideal for use in shelters and on the road. It's a bit like recharging ! Warm it up, use for 10 hours, warm again and its ready for use once again.
Pros:
Very handy, and convenient.
Great heat capacity
Cons:
A few users have reported that, the pad burst while heating in the oven, and released white-ish goo, causing damage.
Customer support isn't very helpful. (The venture is based in UK).
Verdict;
Great for day to day usage. Easy to handle and use. Beware of overheating.
5. Best heated pad for cats with arthritis:
If you want to give your old cat with arthritis a comfy and cozy heated bed pad than this is the best choice: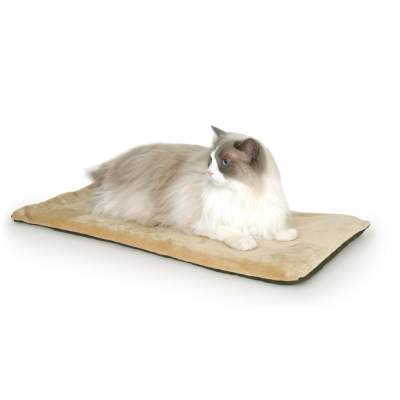 6. Best heated bed for cats outside:
One of the best Rugged, heated cat pads for outdoor use. durable and comfortable. If you are looking for more in the outdoor category, Read more about our best collection of heated cad beds here.
7. Best Waterproof Cat Bed
Some of the salient features of this cat bed are the electricity efficiency, Chew protected cord, temperature control of up to 104℉. Good quality PVC is used for great water protection and fire resistance. Comes in three different sizes to serve your needs.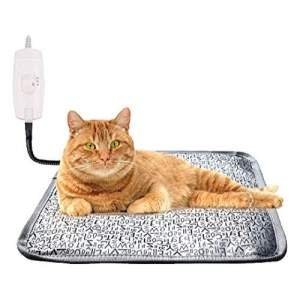 FAQs
Are heating pads safe for cats?
Generally, Cat heated beds are safe to use, until it's a really bad quality one, which you would never prefer to buy for your pet.
Do cats like heated beds? Are cats OK with heated beds?
Normally the cat's body temp is 38 degrees Celsius or 102 Fahrenheit. so if the outside temperature is colder, they will like it.
Do self warming pet beds really work?
According to our experience! yes, they do. Heated beds work in two ways, self-warming or electric. self-warming is a material that reflects the heat from the body and keeps the pet warm when sitting on the bed. Electric is as you understand, works with electricity.
How heated beds work?
Heated beds work in two ways, self-warming or electricity. self-warming is a material that reflects the heat from the body and keeps the pet warm when sitting on the bed. Electric is as you understand, works with electricity. a very good explanation is given on how heated beds work.
What is the best cat bed? which is the best cat heated bed?
According to our research on all the beds available, the one which seems to be worthy and valuable is Aspen Pet Self Warming Beds by Petmate. But the opinions may vary, that is why we have given a list of top heated beds, we are sure, one of them will find its way to your heart,
How do I keep my stray cat warm in the winter?
As simple as this, use heated beds. for stray cats, you can use self-warming heated beds and they will wish happiness for you.
How do cats stay warm in the winter?
If your cat does not like to stay at one place but would like to keep herself warm, then an electric heated bed for a cat is a great gift.
Do cats get cold at night? and how to solve this?
Yes, they do, and a heated cat bed is the best solution. Heated beds work in two ways, self-warming or electric. self-warming is a material that reflects the heat from the body and keeps the pet warm when sitting on the bed.
How to make a self warming pet bed?
The easiest way to make a DIY heated cat bed is to buy a self-heat reflective material and convert it to a bed, easy peasy, you can watch a video we found on how to do it.
Can I wash a heated cat bed?
Most of them are washable, Except the electric part off course, haha.
What is the best litter box for cats?
The best cat litter boxes are either catit large litter box or a sifting litter box.
Also, check our great cat backpack review.