Let us find you the best outdoor heated cat beds for outdoor use you will find in the market.  there may be many times where you need to use your cat beds for outdoor use, either it's your picnic or you want to stay outside or you want to camp outside. you might need cat beds for your lovely cats. We wrote an article earlier about heated beds for cats but this is specifically for outside use.
Do you know that cats sleep for as long as 15 hours in 24 hours? That's over half a day. Another funny thing about this observation is that they can sleep almost anywhere in the compound or house as long as they find it comfortable enough for their body.
What better way is there to treat a cat to a great sleep than buying them the best outdoor heated cat bed and giving them the best comfort while they are with you?
In this article, we will be looking at the best 3 heated beds for your outdoor cat.
What are Heated Beds for Cats?
A heated cat bed is basically a warm, cozy bed for your cat. The heat and warmth of the bed is generated by a thermostat that is built into the bed or pad. Some beds are pressure sensitive, so they become warm when your cat sits or sleeps on them while some are not. Some are recommended for indoors while some are great for outdoors.
Size range for heated beds:
Most outdoor heated beds are as large as 30 inches while some are 3 times smaller and are known as outdoor cat pads.
What material is best for heated beds for cats?
Soft and breathable PVC should be the best material to be used in out cats beds because of many reasons including the durability, comfort and warmth. this material is also good to retain the temperature for a while.
Why your cat needs a Heated Cat Bed for outside: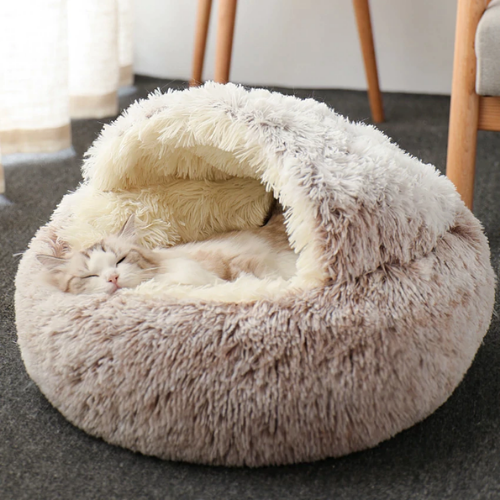 Prevent Diseases: Cats can carry all kinds of worms and other infections, especially outdoor cats. They can get Toxo from an infected stool they made contact with – Toxo is a dangerous parasite that cats can infect humans with. It could cause blindness.
There are tons of other diseases you could prevent by just getting a durable outdoor heated cat bed for your cat.
Comfort: Cats are lazy and they would sleep almost anywhere they find comfortable. That's why they need a bed. They would settle on the heated bad for another 15 hours instead of curling up in a warm corner of your home or in your arms while you're trying to get some things done.
Personal Space: It's all lovely and great to share a home or your personal space with a cat but what happens when you need to get a job done or go on a Skype call and your cat is all over you, trying to find shelter or some warmth? A heated bed or pad would be the perfect place to put them in because, let's face it, all the cat needs is just some warmth.
These warming pads for your pets can be a cozy place for them to enjoy the winter season, remember there are many areas around the world where you have to keep these pads or beds for all the year because of the weather.
Here are the top 6 outdoor cat pads or heated cat beds out door for your favorite cat(s).
The Top 6 List of heated cat beds for outsude:
1. K&H Outdoor Kitty House: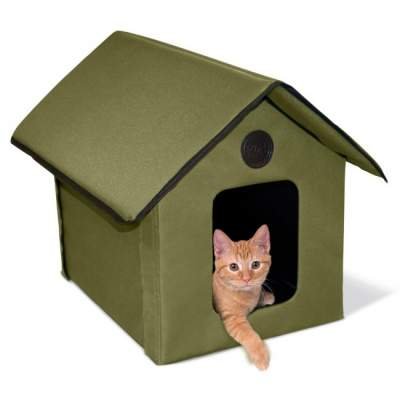 You can't contain some cats in your home, especially the curious ones who love to hunt around the neighborhood or just enjoy the company of street cats.
K&H's kitty house comes with an outdoor heated cat bed that would keep your cat comfortable at any time of the day so they would not leave home. The house would require you to assemble it at your cat's favorite corner of the house. It is quite easy to set up and doesn't require any tools or equipment.
It is also waterproof and works fine under any weather condition. All you have to do is plug the cat pad to a power source and it would warm up in no time.
This heated outdoor cat house comes with two entrances in case your cat needs to escape from danger through the other end. The two entrances are also for ventilation on hot days.
Pros
The heated floor of the house is tested and safe for your cats.
It is waterproof.
It has two entrances so your cat would feel safe and free to move out through the other side in case of danger.
Although light weighted, it doesn't get blown away by strong winds.
It is pressure sensitive and only heats up when your cat goes inside.
The top of the house can carry the weight of a cat, so it would not collapse.
Cons
The cord is not chew-proof. It is made of rubber so you would need to tape it or install it in a way that your cat won't chew it.
Features and Specifications
Ventilated: Yes (two entrances)
Easy to Clean: Yes
Lightweight: Yes
Waterproof: Yes
Chew Resistant Cord: No
Mobile/Adjustable: Yes
Tested and Certified: Yes (But you can test it too by placing a pillow on it)
2. Lectro-Soft Heated Outdoor Pet Pad: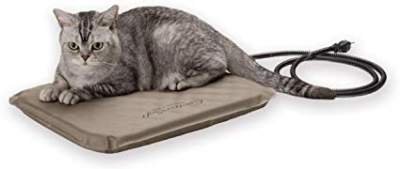 If you're looking for heated pads for cats outside and within your home then look no further. This K&H lector-soft bed comes with an automated heater that would never exceed the body temperature of your cat outside the house. I would easily rank it the best outdoor heating pad for cats.
This is also one of those outdoor cat pads that come with a washable fleece. The fleece cover gives your cat the adequate heat and comfort they need to relax all day.
If you already have a cat house then simply throw the cat pad into it and watch your cat never leave her house.
Pros
It is very easy to clean and the fleece is machine washable
It is flexible, so you can fit it in a cat's house or corner
It has a thermostat that controls the temperature and stops overheating.
The cord is reportedly chew-proof for cats.
Cons
It is not pressure-sensitive.
It is not chew-proof for dogs.
You cannot use it with an extension cord. It needs to be plugged in an outlet, directly.
Features and Specifications
Ventilated: Yes
Easy to Clean: Yes (machine washable fleece)
Lightweight: Yes
Waterproof: Yes
Chew Resistant Cord: Yes (to cats only)
Mobile/Adjustable: Yes
Tested and Certified: Yes (But you can test it too by placing a pillow on it)
3. Thermo-Kitty Heated Cat Bed: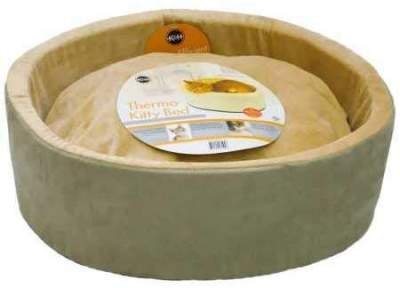 This is the perfect fit for you if your cat loves to look out the window but doesn't go out much. You can place it close to a window or move it out for your cat to take in some fresh air. It is also very soft and durable so you don't have to worry about your cat's comfort.
If you would like to test it then plug it to a power outlet, place a pillow in it and wait 20 minutes to feel the warmth.
I personally love this heated cat bed because of its shape. It's round, making it the perfect bed for cats to change positions in comfortable.
Pros
Low Wattage (uses only 4 watts)
It comes with a thermostat that adjusts the temperature according to your cat's body temperature
The covers are removable and can be washed separately
It's mobile. You can carry it around
The entire wall is made of foam to keep your cat comfortable.
Cons
Takes some time to become warm.
Its round and can be moved around but no handle.
Features and Specifications
Ventilated: Yes
Easy to Clean: Yes (removable cover)
Lightweight: Yes
Waterproof: Yes
Chew Resistant Cord: Yes (barely visible)
Mobile/Adjustable: Yes
Tested and Certified: Yes (But you can test it too by placing a pillow on it)
4. Extreme Weather Kitty Heated Pad For Indoor
It's made with rugged abs plastic and comes with the free fleece cover. You can place in a shed, garage, barn or anywhere your outdoor kitties spend time.
5. Self Heating Cat Pad for outdoor
As mentioned below, the best thing about self warming cat beds is that its one time investment specially for the stray cats but believe me this is something you should have! even if you don't want to buy electric heating cat beds you should invest in self warming cat beds for your lovely pets
6. Upgraded Pet Heating Pad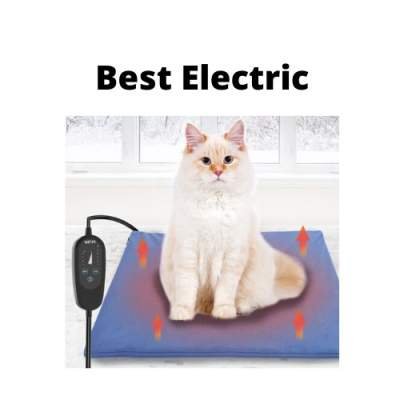 All I can say about this is that it's made of pretty good material, fabric and plastic. comes with the timer so that you can set the timer and forget.
What to consider when buying a Heated Bed for Outdoor Cat
There are not so many factors to consider when buying a heated bed for your cats. These are the most important:
Test and Certification status: It is easy to overlook the test status of heated pads for cats outside our homes because we forget they would need to be plugged to an outlet and we are not buying it for indoor use only. There have been cases where a new bed did not heat up at all or did not follow USA/CA electrical safety standards. So, be sure to find out before buying.
Reviews: Please look out for what other users are saying about the product. The best place to find the most frustrations and excitements is in the questions and answers section which is on the product page.
FAQ
Are heated beds safe for cats?
Yes there completely safe as the heating elements inside the cat bats are very low voltage and definitely they are insulated to save your cats from any kind of electric shocks. it is still recommended that every now and then you can check your cat bad for any kind of wear and Tear where you can find that the electrical devices exposed to the cat but this is normally not the case as they are well protected
How can I keep my outdoor cat warm?
Probably, this is the very right article you are in, we are helping you find out how can you keep your cat warm when it's outside the perfect answer is to buy are heated cat bed for outside use
How to make a heated outdoor cat house DIY?
Yes you can make a cat bed by yourself at very low cost, all you need is a little cardboard or wood and a very cheap heated pad. how do you do it? it's just that you make a small house of whatever design you like. you can Google Cat house designs and you will find a lot of attractive designs which can be made at home if you will write cat house designs by cardboard or by what you will find some other designs as well just do that once you make your easy that house just put the electric heated pad inside the house and you are done
What is the best bedding for outdoor cats?
One of the best weddings for cats which leader heated pad is the lectro-soft Heating pad which holds the number two position in our list one of the best
How do I keep my stray cat warm in the winter?
A great question to answer, as I mentioned earlier you can create a DIY small Kitty house in your home and place it outside. normally a cat has a natural tendency to warm the place its sitting but you give them A nice place to rest and sleep
You might also want to see best cat hammock.
How can I keep my outdoor cat warm?
The answer to this question is categorically sample, Just provide a heated cat, there are many self warming cat beds for outside cats which cost almost nothing but it will provide a good safe environment for the cats who are wandering outside and have no one to take care of.

How do I keep my stray cat warm in the winter?
There are many videos on YouTube giving tutorials on how to make d i y cat houses for stray cats that can be made from cardboard, or any other material which is present at home. All you need is a kind heart and you can always help the stray cats special in winter.

Can I use a heating pad outside?
Yes you can as long as its marked safe for outside use like the one mentioned in this article it's completely safe to use outside
Do cats like heated beds?
Cats do like warm places of your cat is unable to produce this much heat that it can create the warmth in the bed yes they will love your cat beds which are heated
How do I select a cat bed?
In this article we have mentioned a complete buyer's guide so before you make your decision you are well informed of what is the best cat bed out there and WHY? our main focus is to critically review the products so you know the good and bads of each.
Conclusion
That's all about the best outdoor heated cat beds that your feline need for a comfortable sleep. Heated beds are preferred because cats loves to rest on warm spots and these items are perfectly designed for it. Don't forget to check the description that's given on the product page. Need our assistance, comment down your issue to discuss with us.