Teaching dogs to pee & poop outside (You might like the article Dog chains for out side) the home is one of the most important tasks for pet owners. The majority of the dogs understand this concept quickly & become trustworthy within a few days. But unfortunately, others have to struggle a lot with this crucial skill.
It can happen due to various reasons. The dog lovers might be accountable if they have not employed good dog house-training strategies or else it might be due to the dog's medical or emotional issues. However, despite the reason the dog is in trouble, the dog owners should take some precautionary measures to prevent all this mess from happening.
Anyone who is having a kid at home or even providing the babysitting services to other kids must know and understand the importance of the diapers due to the number of reasons. But, nowadays life has become much easy and with the introduction of Pet diapers, pet lovers can ensure the comfort and safety of the pets especially dogs.
In other words, diapers are not good just for little two-legged babies in fact, at various stages in the life of dogs, pet diapers will be extremely beneficial. The reasons always vary a lot from a bad spinal injury to being old. As a dog lover, there is no logical reason to get embarrassed while you are taking your little dog for a walk who is wearing the diaper.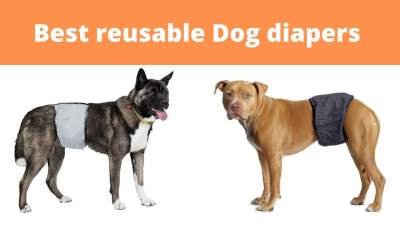 Like different types of diapers for humans, dog owners can get different shapes, sizes, and types of diapers for their beloved dogs. It is better to do a lot of research on which dog diapers will perfectly suit the dog's needs and requirements considering the age, the reason for buying and the size of the dog.
The purpose of this article is to provide worth-reading information in order to help dog-owners get the best reusable dog diaper. But, before moving ahead, it is necessary to know some other reasons behind purchasing the dog diaper. These reasons are as follows:
What are the Top Reasons for Purchasing the Best Reusable Dog Diaper?
If dog lovers are planning to purchase a reusable diaper, this would be due to the following valid reasons:
Incontinence:
An elderly dog is more prone to lose his/her bowel movements however, the problem of incontinence could also be because of excitable urination or an illness. Here, it is important to note that if the incontinence is persistent, it is recommended to visit a good vet for a detailed checkup.
House-Training:
Dog diapers can surely protect the home furnishings throughout the process of house-training still, it is essential not to use dog diapers as crutch especially in that situation. The little canine should learn to pee and poop outside the home with the help of good potty training tactics.
Illness:
The most common and basic reason behind temporary incontinence in dogs is directly linked to the infections of the urinary tract. Moreover, dog owners can use diapers for dogs with ill health.
Behavioral Problems:
Generally, male dogs always show marking behaviors. This kind of behavior is extremely frustrating when the process involves shoes despite a fire hydrant or a tree.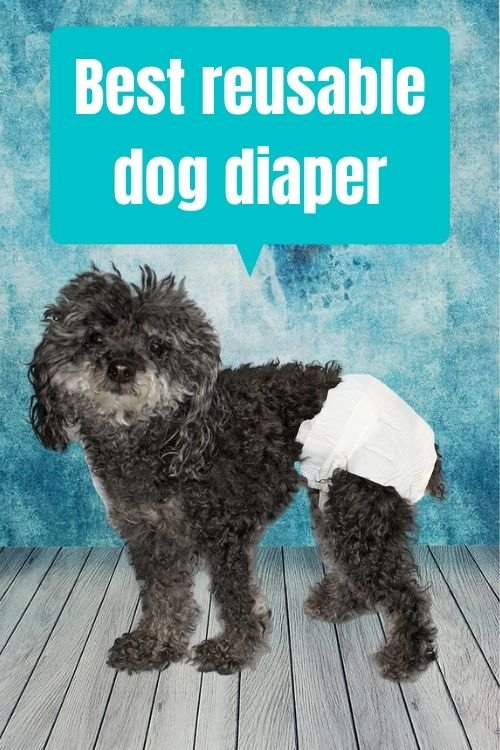 What are the Different Types of Canine Diapers?
The four main types of dog diapers are given below:
Disposable
It is a one-time use diaper. Once the diaper is soiled, a recommended practice is to remove & discard it. The disposable diaper is one that dog owners need for temporary or accessional use. Moreover, if dog owners are thinking about the long-term usage of the diapers, they will end up giving more as they cannot reuse disposable diapers. Additionally, these diapers are less breathable and eco-friendly as compared to other diapers particularly, the ones made of fabric.
Belly Band
It is specially designed to absorb urine. The belly band does not cover the tail and backside of the dogs. These types of diapers are best for male canines who like to mark the territories. Do remember that the belly band will not give complete protection from mishaps but, still does a good job when it comes to preventing defensive spraying.
Reusable
The reusable dog diapers are also sold as washable diapers. These diapers are best for canine having incontinence problems. Moreover, they provide value for money as dog owners do not have to purchase in bulk. They only need more than a few pieces and they are good to go.
Homemade
At times, dog owners are not in a position to purchase anything and in this scenario, they can make the homemade diapers by using any fabric. And all this demands a little imagination and creativity. No doubt, it is a practical approach of showing love and care towards your precious little canine to ensure safety.
Each type of dog diaper serves its own purpose but, this article will focus on the reusable dog diaper as they are eco-friendly and extremely famous among dog owners. I have reviewed a wide range of dog diapers for identifying the best one including female and male dog diapers & those that are reusable.
Some Handy Tips to wash the dog diapers:
After buying any reusable dog diaper, the dog owners should remember that they will be using the diaper repeatedly therefore, extra care is suggested. Additionally, there are few important things dog owners have to consider:
While washing a reusable dog diaper, always ensure to use non-toxic detergents because they will prevent skin irritations from occurring
Dog owners might plan to change dog diapers as often as possible in order to inhibit the occurrence of UTIs or skin rashes
Try to wash the genitals or and hind area of the dog around four times a day particularly once he got free after poop. Conversely, dog owners can also use baby wipes to keep the dogs healthy.
Dog owners can use Velcro straps for making the dog's waistband snugger to ensure more protected fit. Likewise, the option of white flexible snaps is also available for cinching up a diaper.
If dog owners love travelling then they should try keeping an extra diaper pad to wick away the moisture
For dog owners, it is better to wear high-quality gloves while changing the dog's diaper to avoid further health issues.
Top 10 Reusable Dog Diapers with a perfect fit for all dogs list:
Let's start with the detailed description of the best-selling reusable dog diapers which are highly absorbent for male dogs and female dogs and come with a perfect fit for all dogs.
1. Pet Magasin Reusable Washable Dog Diapers
For the little canine that feels uncomfortable while wearing a disposable diaper, the pet Magasin reusable diaper will be the best option due to ease of cleaning, style, usability, and quality. It is made from a soft, flexible, and comfortable fabric to let dogs move around easily. The best thing about pet Magasin diapers are, they work best for both female and male canines.
These washable and reusable diapers are more pocket-friendly as compared to disposable diapers. Moreover, there are total of three wraps in purple, blue, and green colors. In order to increase acceptance, highly soft and comfortable material is used.
According to my user experience, I would rate it the best dog diapers for incontinence and urination excitement. which commonly happens for old dogs.
Pros:
Best for newborn and small canines.
Both hand & machine washable
The inner layers are extremely absorbent
Available in different colors and sizes
2. Wegreeco Washable Female Dog Diapers
It is another great and recommended product especially for small dogs but, it is better to measure the waist of the dog before buying it. Wegreeco dog diapers are considered useful for female canine in heat, untrained dogs & the dogs suffering from incontinence or excitement urination. Dog owners can machine wash the diapers. But, never use bleach or fabric softener while washing the diapers.
Pros:
Available in three cool colors
Extremely absorbent
To increase the canine's acceptance and comfort, no uncomfortable and crinkly texture is used in the diapers
Quick hook and loop closures
3. Teamoy Reusable Wrap Diapers for Male Dogs
These cool belly bands are introduced by Teamoy to ensure the male dog's safety. The diapers come with a wider Velcro strap to have secure fastening. Likewise, by being easily washable, the diaper comes integrated with the padded core & no doubt the core serves as a magnet to prevent moisture. The edges are leak-proof to keep surface dry and clean. In short, it is a must-have and life safer product for all the dog owners out there.
Pros:
Easily machine or hand washable
Durable and super absorbent
Made from a high-quality fabric
Economical, not heavy on pocket
4. Pet Parents Washable Dog Diaper
These diapers can be used by small female and male dogs. The Pet parents are washable as well as more economical & environment friendly. Moreover, it is very absorbent, secure, and comfortable along with secure-fit properties. The packaging is available in black, rust, and grey colors. Isn't it cool?
Pros:
Completely adjustable
The Outer layer is waterproof
A perfect option to solve the different problems of the little canines
It is reusable
Cons:
Everything is perfect but, more Velcro should be used
5. Paw Legend Reusable Female Dog Diapers
The best match for all the female canines as it comes in a huge variety of designs, little fashionistas will surely love it. Apart from different designs, dog owners can get these diapers in four sizes. It is indeed a pocket-friendly option because it reduces the expense of buying new diapers again and again. Additionally, it also features a water-resistant outer for keeping to reduce leaking & an odor control layer to wick away the moisture.
Pros:
The diapers can handle 300 washes
To ensure comfort, the diaper offers extra quilted fine stitching
Dog owners can easily put it on
Leak-proof
For a perfect customized fit, adjustable hook & loop tabs are used
Cons:
Sometimes it becomes a little difficult to get a suitable size
6. IN HAND Washable Male Dog Diapers
This environmentally friendly and economical diaper is especially to cater to the needs of the untrained male canines. With dual protection layers, IN HAND diapers proved to be extremely absorbent due to inner layers & a water-resistant outer layer.
Furthermore, its elastic edges offer a comfortable fit & safety thus, preventing leakages of all types. The biggest benefit of IN HAND diaper lies in its attractiveness and affordability. It ensures that male canines will have a good & fun time while wearing these colorful diapers.
Pros:
Very absorbent
Durable and soft
Fit perfectly as Velcro fastening helps dog owners to adjust the size accordingly
Affordable
7. Surgi Snuggly Washable Disposable Dog Diapers
Does not matter whether a little canine is highly territorial or incontinent, the washable diapers offered by Surgi Snuggly always serve the best purpose. Designed & approved by Vets, this stretchable dog diaper is simply the best. Furthermore, the diaper helps in keeping the dog odor-free thus, as a result, your precious little canine will remain safe from harmful bacteria.
Pros:
The fresh protection feature of this diaper will keep the dogs safe from odors and germs
Best for solving the individual needs of dogs
The product ensures a suitable fit
Made from breathable material
8. MKono Male Dog Belly Band Wraps Washable Diapers
The leak-proof system of this washable diaper is just amazing and most importantly, it fits perfectly and comfortably around the dog's belly. Apart from this, these belly bands are highly recommended for dog owners who love traveling along with canines. Currently available in three cool colors i.e. yellow, white, and blue to attract more buyers.
Pros:
Perfect for medium and small canines
It successfully prevents leakage & damage to the sofa, carpet, etc.
Highly absorbent
Cons:
Perfect for dribbles and marking but not extremely good in controlling urine
9. Petting is Caring Dog Diapers Washable and Reusable
This product works best for the female and male canine. By being eco-sustainable, the product ensures the dog's comfort and safety. The complete set of three high-quality reusable and washable diapers includes one orange, one green, and one purple. These diapers are carefully designed with elastic bands on the dog's waist, tail hole along with adjustable closures in order to have easy and fast handling.
Pros:
Leak-free
High-quality material is used
Machine or hand washable
10. JoyDoag Reusable Belly Bands
The last product on this list is JoyDoag Reusable diapers, with powerful absorption abilities, waterproof design & comfortable fit, these diapers are simply amazing currently available in the market. Additionally, in this creatively designed belly band, the canine's diaper pad is carefully sewed thus, offering complete protection against odors and leaks. In order to ensure proper fit, this belly wrap features an adjustable waist along with huge square straps.
Pros:
Available in 3 different designs and six sizes
Machine washable
Secure & comfortable
Breathable
Cons:
Just 1,2 buyers have faced shrinking problems
The above-given information regarding the top-selling reusable dog diapers will surely help dog lovers to make a wise decision. Apart from knowing the details such as features, pros & cons of each product, it is recommended to consider some other factors.
FQAs: Answered Reusable Dog Diapers
Selecting the best reusable dog diaper might sound easy. The majority of dog owners think that a reusable diaper just has to be comfortable, absorbent, and secure. But, there is much more than that & for this purpose, the article will cover the comprehensive buying guide in order to help dog owners sort out the top-quality and best product for their beloved canines.
What factors should be considered while buying the Best Reusable Dog Diaper?
The following factors should be kept in mind while buying the best reusable dog diaper.
Usually, a reusable diaper is made from cloth, allowing for frequent washings while providing the dog with maximum comfort. While on the other hand, disposable diapers are extremely absorbent. Unluckily, they are not environment friendly.
Basically, the diaper does not have any universal shape and size, because the right size depends on the health, age & waist measurement. Therefore, it is crucial to find out the right size & for this, dog owners should measure the dog's waist & then compare that size before buying the diaper.
Obviously, dog owners have to check the level of absorbency with other related functionalities before buying a reusable diaper. Whenever a canine suffers from incontinence issues, the diaper with a long-lasting effect will serve the best purpose. Because, if the reusable diaper for canine cannot absorb much liquid, he/she feels extremely uncomfortable while wearing a diaper. Therefore, it is advised to check the different functional issues while buying a reusable diaper.
The correct size of the diaper will always align with the waist size and weight of the dog. Thus, the dog owners should weigh the canine for getting the right measurements before purchasing the diapers.
An environmentally friendly dog diaper is highly waterproof, cost-effective, and comfortable along with a great absorbent capacity for dealing with the bowel and incontinence issues of the dogs. Moreover, this type of diaper may not need an additional pad in order to hold/control the urine as it features a very soft microfiber.
Finally, if dog owners are planning to use a diaper on the canine for several hours then, it is better to consider buying a washable/reusable diaper.
Is it good to Human diaper on Canine?
Dog owners could likely get human diapers to work properly if they have faced diapering emergencies in the past. The reason is simple, no doubt human diaper is pocket-friendly as compared to canine diapers but, dog lovers won't care a lot about saving money when they see substance leakages everywhere.
Keeping a diaper on the dog, is it easy?
The majority of the diapers use an elastic strap or brand to remain cozy. Pay extra attention while selecting the size of a diaper & that's it because by doing so, dog owners are good to go. However, if they have selected the too large diapers mistakenly, it is recommended to use an old belt, duct tape, the clip for keeping the diapers in their right place.
How to Keep a Reusable diaper for the dog from falling-off?
In the case, of a male dog, a belly band can be used. It is made from fabric and some dog owners should try to secure the diaper by wrapping it around the canine's waist. Conversely, several other options are also available for male and female canines such as diaper suspenders and diaper harnesses.
Who Should Purchase a Reusable Diaper?
It is important to note that whether it is behaviorally or medically required, a reusable dog diaper will surely help prevent curb marking, heal surgical wounds, and support female dogs. Well, the major reason behind using a reusable diaper, is urinary incontinence.
What are the best washable dog diapers female?
According to our experience and review, we feel WEGREECO WASHABLE FEMALE DOG DIAPERS is the best WASHABLE FEMALE DOG DIAPERS which is mentioned on the second number on the list above. this diaper can also be used for small puppies or dogs. It is available in three cool colors which are cool for female dogs.
do dog diapers work for incontinence?
Yes, they do, remember that it's always recommended to have an expression to the bowel then to make them habitual of diapers but for those who have medical issues, the diapers do work for them as a part of the treatment. I hope if any dog is suffering from this, they get well soon.
How do you keep a dog's diaper from falling off?
Buying the right size will help you a lot. and because dogs are normally not as careful as humans, you need to buy some good quality diapers as well. you can also use Canine suspenders for the support for the diapers which work like the harness and support the diaper to prevent the fall.
Are Doggie diapers okay to use?
Well, it depends on some of the conditions.
If your doggie is a victim of urine leakage from old ages, it's very useful to secure it from infections and feel comfortable.
For other such safety measures, for a female doggie, it's better to cover the mating area during the duration of its mating with the dog, the dipper will protect the area.
Final Verdict
Dogs are considered the most steadfast and loyal friends dog lovers will ever have. It is worth sharing that dogs will never indulge themselves in petty arguments or squabbles with their owners, in fact, by being a loyal friends, they will surely be there for the owners. Therefore, dog owners should always try to be there for little pooches without considering the circumstances.
Additionally, there are several problems with which the dogs need the support of their owners once they get older & a few of them might need a comfortable reusable dog diaper. Whether dog owners are providing house training to dogs or the dogs are suffering from temporary disabilities due to surgery, a reusable dog diaper is the ultimate solution for keeping them comfortable and cozy.
Now, dog owners are in a better position to get their hands on the best product after reading the reviews of best-selling products. Whatever reusable dog diapers readers purchase, being extremely and easily adjustable is important to ensure long-lasting use and comfort. Additionally, dog owners should remember their responsibilities of keeping the beloved dogs neat & clean. They do not allow their canines to sit in a wet or dirty diaper all the time because this practice can cause inflammations or skin irritations.
Finally, it is advised to do a lot of research regarding the best reusable dog diapers currently available to make the whole process easier and hassle-free.