It is a well-accepted reality that a pet's diet plays an important role when it comes to overall health & well-being & the same implies to cats. By providing the cats with a balanced, and healthy diet people can help them prevent a wide range of medical problems. One of the best feelings about having a cat is that cats are fairly neat and clean as compared to other pets. But, unfortunately, urinary health issues are quite common in cats.
And it is mandatory for pet parents to ensure the health and safety of the cats. No doubt, the urinary health of the cat is extremely important. The problem could be due to different reasons. Well, the issue is quite common in dehydrated cats as it usually happens due to inadequate moisture. In spite of getting medical advice for urinary health issues, changing the cat's diet will also help solve the problem.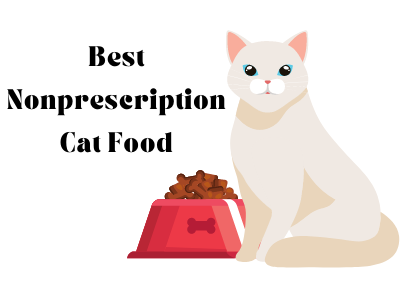 What are the Symptoms of Feline Lower Urinary Tract Disease?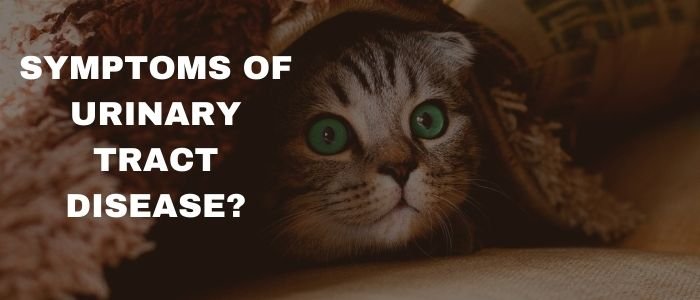 There are several underlying health issues that can contribute to UTIs in cats. However, the main culprit is FLUTD what was once known as FUS. It is vital to mention that FLUTD is not any disease but a combination of various symptoms that can be associated with more than one underlying reason. Some common symptoms are as follows:
Bloody urine
Frequent urination
Painful urination
Doing business outside her litter box
Small quantity of urine
Cystitis
Bladder crystals or stones
What are Urinary Tract Crystals?
The sole purpose of kidneys is urine formation. Urine is then stored directly in the gallbladder & passes out from the body through the urethra tube. Additionally, urine removes extra waters & water from the body. Basically, crystals are the microscopic particles & they are developed in the cat's urinary tract. These crystals can cause above-mentioned problems. Urinalysis is done for screening the crystals in feline's urine. If your little feline has a healthy & fit urinary tract then, the crystals will pass through easily via urine but conversely, the crystals deposit in the feline's urinary tract & cause discomfort. This condition could be very challenging for male felines due to small urethra.
What Causes Crystals?
The major causes are:
Medicines
Water intake is not enough
Nutritional imbalance
UTI
Excessive amount of minerals in the feline's urine
And, dietary supplements
It is vital to share that there are different types of crystals however, calcium oxalate and struvite are quite common. Crystals can also develop if the cats are not eating a complete & balanced diet. Be very careful towards cat health because in the worst case scenario, crystals can also lead to the stone formation while causing life-threatening health issues.
Reviewed: Best Nonprescription Cat Food for Urinary Crystals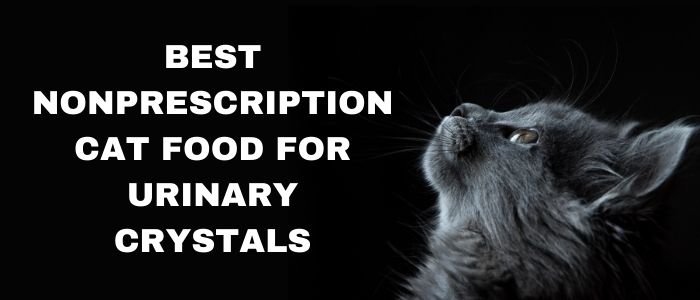 The best cat food for urinary crystals is hard to select and buy. Due to the availability of various products & almost every product claims to be the best therefore, it is difficult to recognize & differentiate the best ones. Choosing the right food for cats is considered the best treatment thus, it is important to make a wise decision. There are several food items in the marketplace that contain particular additives that are required for rebuilding balanced levels of urine PH along with a healthy urinary tract. Continue reading the article to know more about the best non-prescription cat foods for urinary crystals.
1. Purina Pro Dry & Wet Cat Food
As mentioned earlier, moisture is mandatory when it comes to managing the cat's urinary health issues therefore, the Purina Pro brand is selected to be on top of the list. It is a great cat food that can be used without any vet prescription. The low magnesium formula of the food works amazingly to reduce pH levels while maintaining urinary tract health. It has a high level of moisture content to ensure easy digestibility & better hydration.
Made with real chicken and beef, this mouthwatering cat food gives the needed protein. It is worth noticing that Purina Pro cat food is blended for supporting the feline's immune system thus, contributing to health and well-being in the longer run. In short, this cat food is considered as one of the highly-recommended urinary care feline food currently available.
Pros:
Easily digestible
Smells great
High nutritive value
Reduce dietary magnesium & balance pH levels
High level of moisture
Chewable and soft
Cons:
Contains artificial ingredients and by-products
User Experience:
According to the cat owners, the best thing about this product is that it can be bought and used without a vet prescription. Few customers have mentioned that the product is good at keeping the cat's urinary tract healthy. No doubt, the product works as advertised to ensure that cats remain strong and healthy.
2. Hill's Science Dry Cat Food
It might be considered as one of the most costly cat foods on this list but prospective buyers should mind a bit extra price for the great quality product they are getting. This product is highly recommended for cats who are suffering from hairballs & urinary health issues. The low-magnesium and high-fiber formula support the feline's urinary tract while reducing the existence of hairballs side by side.
Moreover, the Hills' science cat food is rich in Vitamin E and omega fatty acids to support a healthy coat and skin. The food is suitable for senior and adult cats & helps maintain energy levels and lean muscles. The 1st ingredient is real chicken without any preservatives or artificial flavors. It is a clinically proven formula to help support a cat's healthy immune system and reduce the risks of UTIs.
Pros:
Remove urinary crystals
Contains good fiber content
Reduce hairballs
Great smell and taste
Supports bladder and urinary tract health
Vet recommended
Cons:
Not good for nursing or pregnant cats
Odd consistency
User Experience:
The majority of users are happy with the results of the Hill's science cat food because it focuses on the entire urinary tract system. Some users have commented that this food cat is a life saver when it comes to urinary crystals. Overall, cat owners have recommended Hills' science cat food to others as well due to instant effects.
3. HILL'S PRESCRIPTION Urinary Care Cat Food
This vegetable and chicken canned cat food is especially formulated by top vets and Hills' nutritionists to support the cat's urinary tract health. It is vital to mention that cat food is clinically proven to reduce the recurrence rate of most common urinary symptoms by 89% while supporting bladder health with the perfect balance of essential nutrients.
Furthermore, this specific cat food helps promote the right pH level & controlled levels of phosphorus and calcium that will surely reduce the chances of repeated urinary crystals. This wonderful food also helps dissolve annoying struvite stones in 7 days. Likewise, made from all-natural ingredients including real chicken, the HILL's prescription canned food is cooked gently & fortified with all the essential minerals and vitamins. Highly digestible and jam-packed with omega 3 fatty acids, antioxidants, & potassium citrate to support cat's urinary tract health.
Pros:
Good for lifelong feeding of senior cats
Clinically proven formula
Give the best value for money
Perfect blend of vitamins and minerals
Highly effective for UTIs
Balanced diet
User Experience:
The cat lovers loved the fact that HILL'S Prescription cat food can be used without a vet recommendation. According to the buyers, it is a great product for urinary crystals. This cat food is gaining a lot of popularity among cat lovers as it offers urinary care & supports a healthy bladder with the help of a balanced diet.
4. Purina ONE Dry & Wet Cat Food
Purina brand is extremely famous in the cat food industry, offering both wet and dry cat foods to address the multiple needs of cats. This particular product is designed to maintain pH levels in the cat's urine. This helps in dissolving urinary crystals as well. The formula has low levels of phosphorus and magnesium, the real culprits behind the formation of urinary crystals.
Apart from addressing urinary tract problems, the Purina ONE cat food helps promote overall health. In order to ensure great flavor, this cat food has real beef and liver in it. Moreover, this easily digestible cat food has omega-6 fatty acids that not only support the feline's digestive system but improve skin and coat health as well. The Purina ONE dry & wet cat food does not contain filler, it simply means that all the ingredients are safe to consume.
Pros:
No artificial flavors, colors, & preservatives
Small kibbles
Pocket-friendly
Easily digestible
Prevent UTIs and fight urinary crystals
Supports overall health
Cons:
Not good for felines with sensitive stomachs
Strong smell
User Experience:
According to the buyers, it is a good cat food that is reasonably priced & gives a great performance. Due to all-natural ingredients, the Purina ONE cat food can be used without any prescription. The majority of cat lovers have recommended this product as it is good at tackling urinary crystals thus, maintaining the cat's overall health.
5. Royal Canin Cat Food
This product also comes under the category of the best non-prescription cat food for urinary crystals. Because it is especially designed for felines suffering from urinary health issues. More specifically, this product is highly recommended for cats with pre-formed urinary crystals & long-term histories with LUTDs and UTIs. The brand has developed this cat food to support the urinary tract and bladder health nutritionally in adult felines.
Moreover, the Royal Canin cat food maintains required hydration levels & encourages healthy urination for releasing toxins. It is vital to mention that Royal Canin's formula is designed to reduce the formation of struvite stones and oxalate and urinary crystals. No doubt, the food is extremely appealing to felines, chicken being the 1st ingredient thus, offering the delicious protein cats need & crave for.
Pros:
Dilutes stones and crystals
Reduce pressure while urination
Supports cat's urinary tract and bladder
Work as advertised
Recommended and healthy option for cat's overall health
Cons:
Some cats might not like the flavor
User Experience:
According to the buyers, it is a great option for all those who are looking for a fast acting yet a workable solution for preventing potential urinary tract problems, then Royal Canin cat food is a way to go. Few customers have mentioned that this cat food has actually worked for their precious cats.
Buying Guide: The Best Nonprescription Cat Food for Urinary Crystals
As cat lovers start considering the different options concerning cat food for urinary crystals, they will surely come across few vet recommended diets. It is advised to be very careful of these diets as they are usually made from processed ingredients & poor quality fillers. Because an expensive diet is not always good. It is better to do some research after analyzing different options depending upon your cat's current situation.
How to Select the Best Nonprescription Cat Food for Urinary Crystals?
The best practice is to go with the premium-quality cat food which is designed for urinary tract health or else a product that fulfills the following requirements.
Moisture Content
It is important to increase the moisture content of a cat's diet when it comes to urinary health. This practice will help in diluting the urine while flushing out excess crystals. It is advised to select wet or semi-moist food.
Low Dietary Magnesium
Usually, this micronutrient is considered the real culprit behind urinary crystals formation. Moreover, whole grains have high levels of magnesium therefore, consider purchasing grain-free cat food to prevent urinary crystals.
Quality
Selecting a poor quality cat food simply means more health issues. The cats should take a balanced and complete diet, made from premium-quality ingredients. Prospective buyers can do some quality checks in order to ensure that food is according to high-quality standards.
Supplements
It is vital to mention that apart from urinary health, a balanced diet is needed for a cat's overall health and well-being. Chelated minerals and synthetic vitamins help to ensure recommended nutritional balance for feline food, though vegetables and fruits can give natural sources for vital nutrients also.
Sensitivities or Allergies
Any kind of sensitivities & allergies the cat has must always be given due attention while selecting the food. Fortunately, limited ingredients & grain-free food items can possess benefits related to urinary tract health.
How to Maintain Feline's Urinary Tract Health?
Improving the feline's urinary tract health is important to maintain her/his overall health. Cat owners can promote urinary tract health by feeding cats good quality food. Hopefully, the following tips will also in this regard:
Cat owners should ensure that fresh and clean water is always available for the cats.
Consider buying an attractive drinking fountain since cats might find running water extremely striking
Give small quantities of meals after regular intervals because it is beneficial in reducing the swings related to pH levels.
Decrease significant day-to-day changes to reduce discomfort
Place litter boxes in peaceful areas
Try to overcome stress in cats
Ensuring that cats have a safe and sound resting spot
keeping the feline's routine consistent to greater extent
Ensure that cats have complete access to entertainment or toys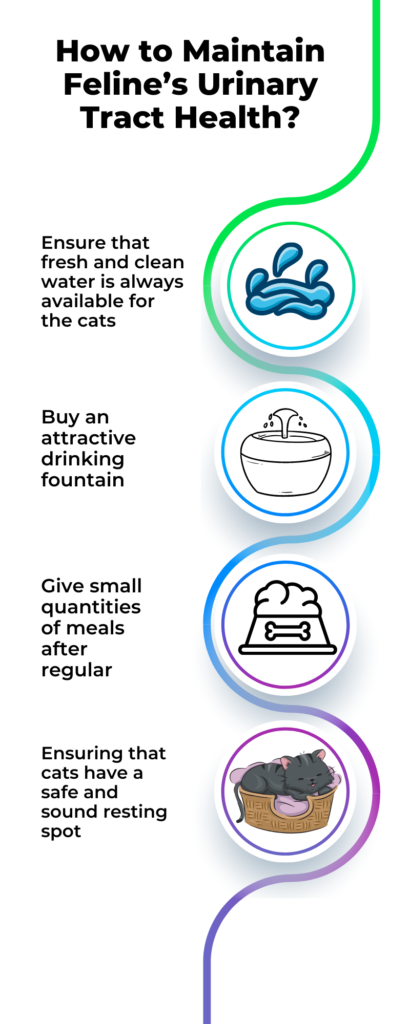 How Can Improving the Feline's Diet Help in Reducing Urinary Crystals?
According to the Vets, nutrition plays an important role in controlling urinary crystals in cats. Nevertheless, selecting a complete and balanced diet can be greatly influenced by a cat's condition. Moreover, protein rich and low starch food items are best for felines with diabetes whereas, food rich in fatty acids and glucosamine are suggested for felines suffering from joint diseases including arthritis. Well, when it comes to reducing urinary crystals, then it is advised to pick a food that helps in lowering urine pH levels. In short, try reducing the cat's magnesium intake by giving them grain-free food.
Final Thoughts:
Overall, it can be said that every cat has some basic nutritional needs however, if your little feline is prone to urinary crystals then you should pay more attention to the feline's diet. It is always better to seek help from your vet about different treatment options & then ask him what type of dietary changes will serve the best purpose. But the best thing is that some mild cases can easily be treated with dietary changes. All the above-reviewed cat foods are commonly available & affordable. Again, a balanced diet is mandatory for urinary crystals therefore, always look for the cat foods that give essential hydration just like the above discussed cat foods.