No doubt, birds always make great pets but in order to ensure the overall health & wellbeing of both birds and their owners, keeping the environment neat & clean is mandatory. Every bird lover will definitely agree that having pet birds is a wonderful experience as they are colorful, loving, very engaging while being wonderful companions.
But with all this, it is necessary to maintain clean & fresh air in the home and for this, one of the recommended and workable solutions is surely the best air purifier. Keeping the importance of air purifiers in mind, the article is going to explore the worth buying products currently available on the basis of quality, effectiveness, type of air filtration technology, noise level and few other important factors.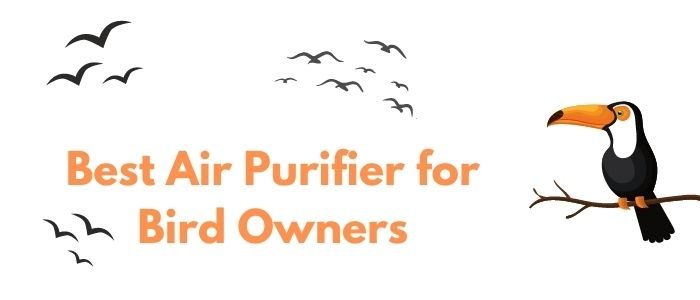 How Does an Air Purifier Work?
The majority of air purifiers work in 1 of 3 ways & some utilize all 3 methods of purifying the air:
Firstly, there are air purifiers that come with HEPA filters. Basically, these are the pleated automatic filters that simply work by forcing all the air through an extremely fine mesh in order to remove bacteria, mold, pollen, dust, pet dander, & few other airborne particles. It can be said that HEPA filters are considered the gold standard.
Secondly, some air purifiers have UV filters & they use lights for inactivating bacteria and germs. Moreover, they are mainly used with HEPA filters.
Finally, there are activated carbon filters to remove unpleasant odor from the environment by absorbing it.
What Is Bird Dander and Dust?
Bird dander or feather dust is basically dead skin cells that fall off of feathers when they fly around in their environment. It contains oils and other substances which make it allergenic. The oil content makes it sticky and hard to remove. This is why we need to clean up after them! If there's any kind of residue left on furniture, carpets, bedding, etc., then this is where the problem starts.
How Bird Owners Can Maintain their Air Purifiers?
The best practice is to follow the guidelines mentioned on the user's manual on every air purifier. Furthermore, some have reusable or permanent filters that can easily be washed or vacuumed with water and soap. Others have disposable air purifiers that must be swapped out after a few months. It is vital to mention that the selected air purifier might feature a special light in order to tell bird owners when it's the right time to replace the current filter or else., it is better to check the filter after 3 months of use.
Reviewed: Best Air Purifier for Bird Owners
Bird owners can truly understand that birds always produce a lot of dust and dander. And, these pollutants can easily cause health problems for them and their families. So, all those bird owners who are having asthma, allergies, & other severe allergic reactions because of the birds in their homes, I have a great news for them. This particular section of the article is going to review the top 5 air purifiers that will serve the best purpose for bird owners.
GermGuardian Air Purifier 
I have been looking for a replacement air purifier for my home for some time now. I have been on the lookout for one that is not just for air purification but also for cleaner air. With the germs and pollen in the air, it's important to have something that not only reduces the allergens but also kills the germs. This product is perfect for my home. I am happy to have finally bought this product. It is quiet, easy to use, and powerful. The price is also reasonable.
A great unit that always performs well, sound levels are also acceptable at high speed & extremely quiet at lower speeds. This air purifier is very easy to use, has UV light, timer feature, & variable speed options. It can be said that GermGuardian air purifier has proven to be highly effective when it comes to filtering out pollen, dust, pet dander & other pollutants directly from the air.
The best thing is that the UV light is quite safely housed & the product is designed intelligently in order to prevent accidental exposure to harmful UV lighting. Additionally, this air purifier effectively filters that air even on low settings i.e., #3. As compared to other high end air purifiers, it seems to be more powerful and efficient. The buttons are also very intuitive. Only drawback is related to the digital display that is very bright for use in bedrooms, especially for those who want a peaceful and dark room.
Pros:
Effectively kills germs
Reduce up to 99.97% germs
Traps allergens
Reduce odors
Quiet operation
Cons:
Lacks Auto mode and AQ indicator
---
Winix HR900 Air Purifier 
Simply amazing, auto mode was such a great help, no doubt the Winix air purifier worked much better than expected. Thoroughly happy after buying this air purifier & cannot recommend this unit enough. Moreover, it is extremely quiet when it ramps up into high fan speeds. The air purifier is very easy to assemble, moving it from one place to another place is easy due to being lightweight. & It keeps the house odor free without any kind of spray chemicals. The most noticeable feature is that function buttons are pretty straightforward.
As per my experience, some air purifiers do not work well against pollen, mold, & other fine particles but Winix air purifier seems to do well & definitely cleans the air better than other commonly available units. I would like to say that this wonderful unit is worth every penny spent. Highly appreciate the fact that it comes with child lock.
Pros:
Come with HEPA filter
Plasma wave technology
Absorb odor well
Budget friendly
Attractive design
Cons:
---
Hamilton Beach Air Purifier
This well-made air purifier has made a huge difference when it comes to purifying the air. It worked so well that the fragrance from the plugged-in air freshener cannot be smelled. So, if the prospective buyers are among those unhappy souls who frequently suffer from pet dander & dust, they will be surprised at how thoroughly all the dust is captured.
The basic reason behind buying the Hamilton beach air purifier is that it has two permanent filters i.e., a pre-filter and HEPA filter along with two carbon odor filters. Furthermore, this heavy-duty air purifier can easily stand up just like a tower with a removable base or bird owners can use it horizontally with the four cushioned feet that are also included. Undoubtedly, the unit is very powerful without being too noisy. On the downside, it has fan balancing problems.
Pros:
Powerful and quiet
Highly versatile
Easy to clean
Give the best value for money
Ensure complete air protection
Cons:
Purifying range is limited
---
Honeywell Air Purifier
Bought Honeywell air purifier to help reduce allergens that are present in the air as they can badly affect a person suffering from asthma. It definitely helps with the amount of dust and fur floating all around. Yes, it is costly but it has 3 HEPA filters, which are surely gold standard to remove airborne viruses & bacteria.
The ultimate suggestion is to always close the doors and windows to other rooms in order to avoid over-taxing the purifier's effectiveness. This unit is energy efficient, quiet, & the timer feature is super convenient. The ability to turn off the on light completely while the unit is running is a great feature when bird owners run it during the night. Here, I would like to share that in order to ensure utmost performance, it is better to use only genuine filters provided by Honeywell.
Pros:
Help reduce allergens and other germs
Effective air cleaning & circulation
Allergists no. 1 recommended
Reliable and solid
Best for extra large rooms
Cons:
---
LEVOIT Air Purifier
Being a true bird lover, this air purifier can be declared as a life saver. Well, it is bigger than expected but the overall look is great. The LEVOIT air purifier proved to be incredibly quiet & noticeably improved the quality of air. Moreover, it was very easy to remove the old filter & pop in the new one. Luckily, there was no debris left in the unit. The fan speeds work perfectly well & the evening mode is barely noticeable. Even bird owners with severe allergies praise how well the LEVOIT air purifier works.
The best thing is that this air purifier helps keep the environment smelling fresh. It is a very lightweight & compact product which made is easy to move all around the room or even house. Overall, it is worth sharing that the weight, size, & processing capabilities of this air purifier are extremely good thus, making it a highly recommended unit for bird owners.
Pros:
High powered
Feature sleep mode & timer
Powerful performance
Help relieve allergic symptoms
Good at improving the air quality
Cons:
Does not come with air quality monitoring
---
Buying Guide: Best Air Purifier for Bird Owners
So, which one to buy? When bird owners invest in air purifiers, there are some important things that should be considered & this buying guide will discuss those factors in detail.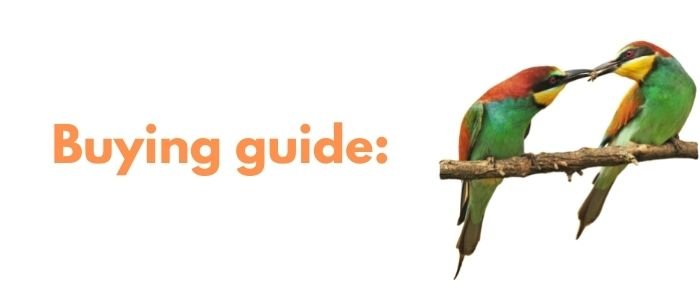 What Makes the Best Air Purifier for Bird Owners?
A good air purifier should have the following qualities:
Strength:
It is vital to mention that some air purifiers are much more powerful than others, & just how much power bird owners will need usually depends on the room size, how many birds they have & what, if any, allergic reactions their family members experience. It is advised to carefully check the total coverage area before making a buying decision.
Sound:
While few like the white-noise buzz of the typical air purifying units but others are irritated by it. Luckily, there are units that are super quiet & others that let bird owners change the volume. On a few models, bird owners can easily preset runs in order to operate at various volumes throughout the day.
Additional Features:
Apart from cleaning or purifying the air, few air purifiers also come with extra features such as temperature and odor control. Bird owners might also have to consider the overall look of an air filter if it is going to be in a very visible spot. Moreover, some are available in different colors so bird owners can select one that will complement the décor.
Air Quality Sensors:
Prospective buyers should look at this factor as the most important part of the air purifier. No doubt, sensors are extremely important because they monitor the quality of air continuously & consistently.
What are the Different Types of Air Purifiers?
The ultimate choice of the air purifier for bird owners is currently limited to 4:
Filters
UV purifiers
Ionizers
Ozone Purifiers
What Bird Owners Should Consider While Buying the Best Air Purifier?
As bird owners can see, even if they actually do not have birds at home, it would still be great if they consider buying an air purifier in their homes, particularly if they are fed up with dust & airborne particles. Now, in purchasing an air purifier, bird owners might have to consider the below-listed factors.
Size of the room
Placement of the air purifier
Maintenance cost
Kind of filtration that bird owners require
Power consumption
Automatic monitoring
Effectiveness
Noise level
Some Expert Tips for Using the Air Purifier Efficiently and Properly
It is always better to have an extremely efficient air purifier in the home but due to the lack of required care & maintenance, a great and highly effective unit can become the worst one. So, in order to ensure that the selected air purifier stays in best condition, I would recommend bird owners to follow these usage tips:
It is advised to place the air purifier in an area where there is no obstruction related to air circulation
Bird owners should point the unit in the right direction in order to ensure that the air flow is always towards the targeted areas
Never turn off the air purifier especially all those who are more prone to allergic reactions. For this, it is better to get an energy efficient air purifier
Apart from all this, I would advise changing the filters regularly. Washable filters have to cleaned after ten days whereas HEPA and carbon filters should be replaced after 1 year
Below is the list of bird species that produce the highest and lowest bird dander.
| | |
| --- | --- |
| High Dander Birds | Low Dander Birds (hypoallergenic) |
| Cockatoos African Greys Cockatiels Pigeons | Parakeets/ Budgerigar Toucans Eclectus Parrots Macaws Pionus Parrots Finches and Canaries |
Can Birds Cause Respiratory Problems in Humans?
The general answer to the question is that there is no evidence that birds can cause respiratory problems in humans.
This answer, however, may change when we have a closer look at what it means for a bird to cause a respiratory problem. In this context, it means that the bird's feathers or droppings contain germs or other substances that can harm the human's lungs. In which case, humans could contract one of many different illnesses from a bird carrying them.
In order to answer this question in full we need to know the following: what type of birds are we talking about? What are these birds doing? How close are they getting to humans?
Why you need an air purifier for birds?
The air in our homes is filled with particles that are created by the activities of humans, animals, insects and plants. A large percentage of these particles is considered to be allergens; however, some of them may cause respiratory problems in humans.
Birds may or may not cause respiratory problems in humans due to their feathers and dander. This can lead to an allergic reaction such as asthma or hay fever which can be potentially dangerous for children who may not know they're allergic to certain things.
There are many factors that affect the level of air pollution we experience inside our homes – like for example: the type of house we live in or whether we have pets – but birds and their feathers and dander form a significant part.
Final Thoughts
In the end, it can be said that hopefully this article has helped bird owners to understand more clearly & closely why an air purifier is considered a great investment. Modern units have truly worked for bird lovers with sensitivities to the majority of domestic pets like cats and dogs. Moreover, if the readers already own the birds & they have been living without a good quality air purifier for birds, then they probably already know that the air quality could surely be better, not only for them but for the birds too. I am sure that bird owners will notice an immediate difference after buying and installing the best air purifier.