The nutritional requirements of the cats will change as they age. Thankfully, the majority of the cat foods are especially formulated for senior felines' health needs so pet parents can easily select the best one. Well, senior cats might not jump as high as they used to do but still, they are full of curiosity, love, & feather-chasing capabilities. Naturally, pet parents want to ensure that their beloved cats get the required nutrition according to different life stages in order to keep cats healthy and happy for a long time.
In terms of how to select the best senior cat food UK, there is a staggering number of options out there, & it can feel a bit overwhelming but do not worry, this article has trawled through the different premium-quality cat foods in UK & picked the top 5 on the basis of quality, taste, health benefits, & much more.
When Pet Parents Should Switch to Senior Cat Food?
An important question that must arise in every pet parent's mind, is there any certain age at which a feline should switch to the senior diet? Well, unfortunately not as it usually depends upon each cat & his/her vet's recommendations. Moreover, if a senior feline is maintaining a good muscle condition and body weight after having a certain food, then there is no need to change it. If cats are gaining weight without any specific health issue, then, feeding a higher fiber & lower energy and senior kind of diet might serve the purpose. The best practice is to discuss diet related problems with the vets during all visits irrespective of age.
Dry Vs. Wet Cat Food
The major advantage of dry food is that it is normally budget-friendly as compared to wet food & it is highly convenient when it comes to storage. Premium quality wet foods are better for felines than dry foods due to high protein content. The dietary requirements of cats are quite different from canines because canines can process both animal and vegetable-based proteins happily; however felines might only prefer animal proteins.
In short, wet foods are better for them because many wet food items are made of protein rich fish and meat. It cannot be said that wet food items are always better than dry items for cats. Inexpensive and low-quality wet food can contain different empty fillers with low nutritive value whereas highest quality dry items can surely be as protein rich as few wet cat foods.
Reviewed: Best Senior Cat Food UK
It is extremely necessary to ensure optimum cat health if pet parents want to have a long-lasting and meaningful relationship with their beloved cats. And, the best way of doing so is to give them healthy and highly nutritious food. With myriad cat foods for senior felines out there, it is difficult to pick the right one. Should pet parents get grain-free options, one with high protein, or low calories? And, what about antioxidants? To make the entire process easy, pet parents can check out the options listed below.
Whiskas Cat Food
No doubt, this is a really cost-effective way of feeding the senior cats while maintaining their overall health and well-being. The food is quite easy to dispense from a tear-top pouch. The entire pack contains 85 individual packets of the cat food in jelly. This is a mixed selection which includes tuna, salmon, beef, and chicken. It is worth mentioning that senior cats do get bored with the same food items so change is extremely important.
This product has different textures & flavors too. Furthermore, not only do pet parents get them at a wonderful price but they are delivered straight to the door. On the downside, the Whiskas cat food has a relatively strong smell so consider that before buying it. Overall, getting this massive box has worked out perfectly for senior cats. Never run out of cat food, it is cheaper as compared to other options & most importantly, cats are now happy and healthy. I have been using this diet for my senior persian cat.
---
Sheba Cat Food
It is very tough to find a good and reliable brand of cat food especially for fussy senior cats. But unbelievably even the fussiest senior cats will find the Sheba cat food extremely delicious. The pouches are very convenient & loved the fact that they are available in this handy super-sized pack with an economical price point. It is worth sharing that Sheba is a 100% complete diet for senior cats, so highly recommended. I ordered this product for my senior feline and I'm quiet satisfied with its result, ingredients, and smell.
Yes, it might not be the healthiest cat food out there but if pet parents combine with a good quality dry food, along with chicken and tuna, the cats will remain healthy. The most noticeable feature is that this cat food does not smell bad. On the whole, this delicious bulk-pack offers great value if pet parents are planning to feed multiple senior cats or ready to stock up on balanced and complete cat food on a budget.
Thrive Cat Food
This is exactly what senior cats should eat, all natural, nothing artificial & taste really good. The price is quite affordable as compared to other brands. No doubt, thrive always make amazing cat food which pet parents can completely trust for being wholesome and natural. This particular product is also best for senior cats with kidney problems because it is super hydrating & the levels of sodium and phosphorus are not very high. Moreover, the food smells & looks so healthy and fresh with no unnecessary additives.
Well, the only ingredient improvement recommendation would be to use salmon oil in spite of sunflower oil because it is much better suited for senior cats. Other than that, the remaining ingredients are great if pet parents want to give their senior cats a healthy and complete diet so that they can avoid further health issues.
---
Felix Snack Box
With respect to value for money, the Felix snack box is excellent. Buyers will get 14 packs at quite a reasonable price range. Basically, this is a colorful & attractive range of treats complete with enjoyable forms and enticing aromas that senior cats will surely enjoy. There is a wide range of flavors, countryside mix, picnic mix, mixed grill, & cheese in the treat version but pet parents also get crunchies too in salmon and beef flavors.
The packs are in a durable box, in foil packets that carefully seal in the yummies to keep them crunchy and fresh for an extended period of time. Senior cats love this product while giving them a chance to try them on some new flavors at a reduced price. Furthermore, this is a great way of purchasing them in bulk so senior cats have a constant supply.
---
IAMS Cat Food
Absolutely amazing stuff while being the cheapest one, pet parents can ever find & the convenience of getting the product delivered at your doorstep is just great. Surely a wonderful make which pet parents can trust from their beloved senior cats. In fact, the IAMS food can also serve the purpose for picky eaters as well. As per personal experience, there is far more food than jelly as compared to other high-end brands.
Moreover, the food is a gravy with a perfect mixture of solids. The fact that IAMS is a mixture of poultry and seafood is a bonus in order to offer variety. It is a bit more costly than others but for the health of senior cats & inconvenience of cleaning up sick daily, it is surely a worth buying product.
---
Buying Guide: Best Senior Cat Food UK
Due to the availability of different products, it is very common for newbie pet parents to make a few mistakes while selecting the right kind of food for their senior cats. But just like any other products, pet parents should look for the premium quality products. However, I have created this handy buying guide to help pet parents decide which product is going to be the best for their beloved senior cats. If your old feline also have bad teeth, they try this food.
What Factors should be Considered while Selecting the Best Senior Cat Food?
So, while selecting a food for senior cats, the main purpose should be:
Preventing or slowing chronic illness
Maintaining the cat's health & recommended body weight
Lessing the signs of pre-existing ailments
But other factors matter, too, such as the texture, taste, quality, & moisture content of the food.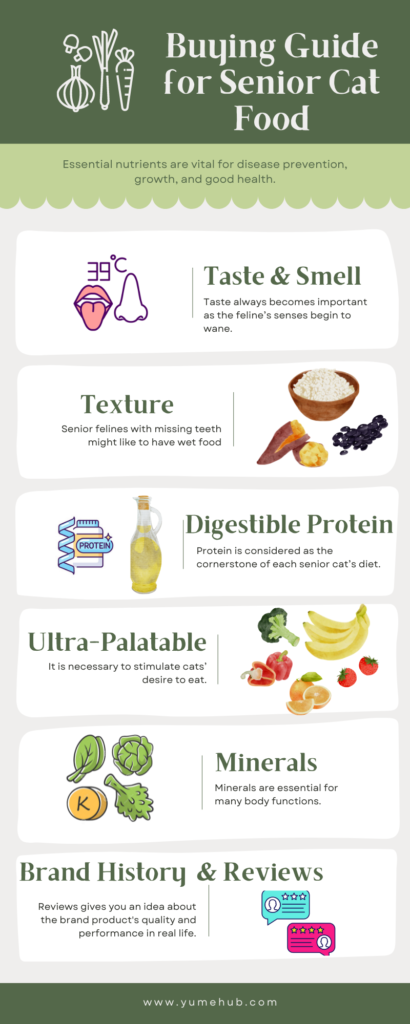 Taste & Smell:
As a feline gets older, taste always becomes important as the feline's senses begin to wane. On a palatability scale, wet foods hold a top position. Moreover, some senior felines will only prefer dry food & some will love to eat wet food items but again every feline is different and the preferences usually develop in the early years. The recommended practice is to offer a wide range of foods both canned and dry with different flavors at a young age.
Texture:
The texture of the food makes a huge difference. Senior felines with missing teeth might like to have wet food or even kibble softened with warm water but few can still enjoy the crunchy items.
Highly Digestible Protein:
It is worth sharing that protein is considered as the cornerstone of each senior cat's diet because it is important for different bodily functions including metabolism & tissue repair. Meat protein is very digestible & nourishing for senior felines, obligates carnivores. So, it is advised to feed them those foods that contain premium-quality protein sources in order to honor their biological needs.
Ultra-Palatable:
Because many senior cats lose interest in food once they age therefore, it is necessary to stimulate cats' desire to eat. Moist, warm food items with strong aromas will surely point senior cats towards the right direction. All of the foods reviewed in this article were selected after considering the needs of senior cats. They are rich in animal protein, have slightly processed ingredients with moist, soft consistency that is easy to consume.
What Actually Matters in Senior Cat Food?
It is vital to mention that the cat food industry has been driven by hype, trends, & the idea that responsible pet parents will surely do anything in order to give their cats the best. But in today's marketplace, it simply means a special emphasis on natural, real, ancestrally inspired things. In the UK, the thriving cat food market is more and more driven by pet parents who want to offer their felines the healthiest and finest nutrition.
Moreover, with food labels like ethically sourced, premium, & good quality popping up all around & their meanings defined so vaguely, the cat food industry can be nearly full of publicity. In order to find the right kind of food for senior cats, pet parents should overlook the buzz while focusing on what is actually important.
Some Common Health Issues of Senior cats:
Speaking of some underlying issues, senior felines can develop few health problems that can be managed with proper diet. But before changing the cat's diet, it is better to seek help from a qualified vet to address the root cause. Few common problems are:
Weight gain
Muscle loss
Memory/Behavioral changes
Drinking and eating less
Ingredients to Avoid:
Due to possible toxic reactions or stomach upset, senior cats should never eat few human foods such as:
Citrus
Alcohol
Caffeine, coffee, chocolate
Avocado
Fresh coconut and coconut milk
Raisins and grapes
Garlic, in huge quantity
How Much Should Pet Parents Feed their Senior Cats?
Majority of pet parents do not really measure the cat's food; in fact, they simply pour what they think is roughly the right quantity into the cat's bowl. Well, it is always good to weigh out the right amount of food for a feline per day or per portion. To begin with, pet parents can consider the feeding guidelines mentioned on the packet. As mentioned above, senior felines have a very high protein and energy need as compared to adult felines. Thus, as per vet recommendation, it is better to increase the intake by 1.2 to 1.6 times.
Final Thoughts:
Overall, it can be said that senior cats need the right nutrients in order to remain happy and healthy. In selecting their required nutrition, pet parents should focus on the premium-quality proteins while avoiding those items that contain a number of carbs & artificial ingredients. I can understand that selecting the best food for senior cats demands a lot of effort and patience as well but hopefully, this article has made that important decision a bit easy by providing readers with detailed reviews of the best food for senior cats currently available in the UK.