Harnesses are the most secure, comfortable, and safe way to connect your dog to his leash. A decent harness will decrease pulling, give you more control over your dog, and relieve stress on his neck and joints.
I was finding the Best harness for German shepherd for my dogs because first I was using a collar, but it did not for two of my shepherds. I ordered 10 different products, and half of them really fall on my expectations. So have a look and see which product is ideal for your dogs.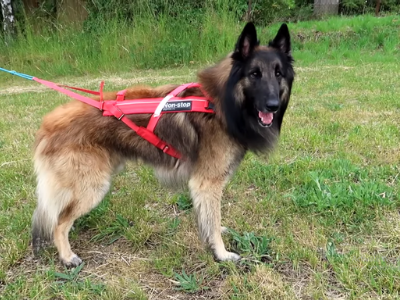 Best German Shepherd Harness:
Voyager Step-In Air Dog Harness
Voyager dog harness is a top-selling product with many positive reviews from the buyers, which was the main reason for my choice. Unexpectedly order arrived too quickly, which I was not thinking of. The product was the same I saw in the picture.
Both of my dogs looked very nice in this harness, and it exactly fit their body. It took some time to make them familiar with it, and afterward, they were very happy to wear it, even they took a nap while wearing it.
The product comes in plenty of colors to choose from, and I choose a black color because it really suits German shepherds. It's made for all types of breeds and comes in different sizes. So, measure your dog's chest and buy it accordingly.
The inner side of the harness is very comfortable, soft, has space for air, and is lightweight, which will not irritate your German shepherd. It has two D-rings to give extra protection and a buckle for quick release on its top.
Overall this harness for german shepherd really impressed me, and my dogs are very happy and comfortable with it. It takes some seconds to get them dressed, so you can imagine how easy it is to use.
---
BARKBAY No Pull Dog Harness
I was not expecting much quality from BARKBAY Harness, but it proved me wrong when my large shepherd wore it and went jogging with me. It comes in beautiful packing, but delivery was a bit late.
The harness is very strong, lightweight, and very easy to wear as it has 4 points of adjustment that will strongly fit his body. Its reflective stitches make sure that your dog is visible at night.
Whether your dog has a pulling nature or not, it helps to reduce stress on his neck and allows shoulders freedom. A strong metal hook on top is available to connect the leash. Moreover, an easy life handle is there to hold him with your hand if the leash is not available.
I would strongly suggest this product because it is well-made and comes at a reasonable price.
---
WALKTOFINE Comfortable Harness
This harness has a more simple style than the other harnesses for German shepherds on this list. It includes soft padding over the shoulder and chest areas, making it more comfortable to wear for extended periods of time for your German shepherd.
Another significant feature of this harness is its ease of use. Simply slide it over your German shepherd's head and secure it with one durable clip, and you're ready to go. Furthermore, the reflective trim ensures that your dog is seen in the dark.
This dog harness is entirely adjustable, highly reflective, and comes with a back handle for further control, which I appreciate. Fast-release buckles are also included for quick removal in any condition.
---
PoyPet No Pull Dog Harness
If you're seeking for a stylish and comfortable harness for your German Shepherd, look no further because this product will be your first choice. When my dogs were on a walk while wearing this harness, almost 5 people asked me about this and praised my choice.
This no pull dog harness has 2 buckles and 1 lockable quick release for easy on and off. Its reflective stitches look wonderful at night and allow you to find it easily at night. There are two leash attachment hooks' one on from and one on the top, to reduce pulling.
The harness for german shepherd is of high quality, durable, comfortable, and perfectly fits on my dogs. I am really satisfied with my purchase.
---
Stpiatue Tactical Dog Harness
The ALBCORP Tactical Dog vest harness is composed of 1050D oxford fabric and has a durable, rough, and rugged appearance. It's made specifically for walks, hiking, and jogging with your pooch. This no-pull harness is available in different sizes and colors.
Two alloy buckles on the shoulders are available for a super heavy load. Moreover, two clips are on the front and top of the harness; to discourage pulling and for a normal walk, running, and hiking.
The Velcro is durable and simple to put on and remove. This product is not inexpensive, and I would strongly recommend it.
---
Why to use a Dog Harness?
Harnesses provide neck, chest, back, and leg support. Harnesses provide the handler more control of movement because they support more of the dog's body. This is especially beneficial for large, powerful dogs with the strength to pull whoever is on the other end of the leash hard.
By compelling the dog to turn around rather than being pulled back, the handler can redirect and manage the dog's attention. With a clipped front harness, dogs are unable to pull since they are pushed to turn over.
Some dogs are extremely sensitive, so a harness that distributes pressure can help prevent injury. Using a harness may potentially help you stay safe, and your dog is less likely to create strain and tension on your arm since it reduces pulling.
Harnesses also make it more difficult for your dog to twist their leash around you.
What type of material is used in German Shepherd Harness?
In the production of best dog harnesses, a variety of materials are used. But only three materials are sturdy that provides a solid and long life to harness. What are these materials? Have a look at them!
Nylon:
Nylon is the most strong and popular material used in a harness. Many people believe that Nylon made harness provides long life and is water-resistant. Furthermore, this material is safe for all types of dog breed's health.
Leather:
Leather is commonly considered a reliable material, and people buy not only a leather harness but also daily routine items made with leather.
Polyester:
Polyester is another type of sturdy material that can give your dog a comfortable and long-lasting harness.
Types of Dog Harness:
Front clip harness:
Some dogs have a habit of pulling whenever they see something. This can be a difficult situation not only for older but also for young owners. So this type has a clip on the front side which highly prevents the dog from pulling. It's also called a no-pull harness.
Reflective Harness
From its name, you can judge that this harness has a reflective nature that can be a lifesaver for your dog. When your dog is wearing a reflective harness, it has the least chance of getting hit by vehicles.
Military K9 Harness:
If you want to give training to your dog, then a Military harness must be your first runner. This harness is great for heavy-duty tasks.
Back clip harness
This type of harness is generally used while walking, jogging, and hiking, having a leash connected buckle on the top of it. The back clip dog harness is popular among owners because it is simple and quick to place on their pets.
Buying Guide:
Conformability:
The first thing to look at in the dig harness is the comfort of your dog. If your dog does not like the harness, then it's useless. Make surer that the harness has extra padding on the sides.
Buckles:
Make sure that there must be at least two buckles on the harness, one on the front and the other on the back. This will help you to prevent the pulling of your dog. Moreover, a padded handle is also compulsory if you do not have a leash.
Sturdy:
The harness must be made of sturdy and strong material to easily perform heavy-duty tasks. If your dog has the chewing ability, then a soft material-made harness will get torn quickly.
Breathability:
If your harness does not have a space for air to come in and out whenever heated. Then it can cause a serious effect on dog health, like hair removal. So choose a harness that has breathable material.
Conclusion:
It's important to use the best harness for German shepherds because of their strong nature. Sometimes, dogs create a great mess for a trainer or an old man by pulling. So you can only get rid of this habit by using a proper harness. The above-listed products are our personally tested and can be great for your canines.
So see the buying guide and select the best product for your German shepherd.