American bullies belong to the family of Pitbulls, so they are strong, muscular, & deep-chested canines with strong jaws & comparatively large heads. American Bullies are the extension of APBT, i.e., the American Pitbull Terrier. Due to this, American Bullies have developed their temperaments & appearances over the years.
This dog breed is very stocky & muscular. Therefore, a proper and healthy diet is extremely crucial to help maintain overall wellbeing. American Bullies need a lot of special attention, such as regular exercise, and a high-calorie diet that offers them the required energy from fats and proteins. A good and proper diet will keep the American Bully puppies energetic and active with much-needed muscle tone.
It is worth mentioning that puppies always need more specific ingredients as compared to adults. Puppy foods are specially formulated to offer extra nutrients to ensure that he/she develops properly. So, if you are among those pet parents looking for the healthiest and best dog for your American Bully Puppy, then you have landed at the right place. This article is going to review the best dog food for American bully puppy that will serve the best purpose.
Should pet parents feed their American Bully puppies dry or wet dog food?
It is a matter of personal preference and mainly depends on the dog's activity level, age, and size. Normally, dry dog food has more fat, calories, and protein as compared to wet food. But as American Bully Puppies need a limited amount of food, dry dog food can be more budget-friendly & easy to feed. Some picky American Bully Puppies, on the other hand, dislike dry food. In this case, wet dog food is a recommended option. Pet parents can mix both dry and wet dog food to offer a special treat. You may also check the food for adult American bully dog.
What are the nutrient needs of American Bully Puppies?
Puppies need 26% of the protein from meat meals and real meat gives high-quality protein. They are also rich in glucosamine to support the puppy's joints, along with omega fatty acids for the proper functioning of the brain and eyes. Ingredients present in the mother's milk, including arachidonic acid, eicosapentaenoic acid, and docosahexaenoic acid, are extremely important during the American Bully's puppyhood.
Antioxidants, minerals, and vitamins found in vegetables, and fruits support the puppy's developing immune system. In short, puppyhood sets the foundation for later stages, so whatever kibble pet parents decide to feed puppies, it is advised to pick a product that is specially designed for American Bully Puppies.
How Many Times Should Pet Parents Feed Their American Bully Puppies in a Day?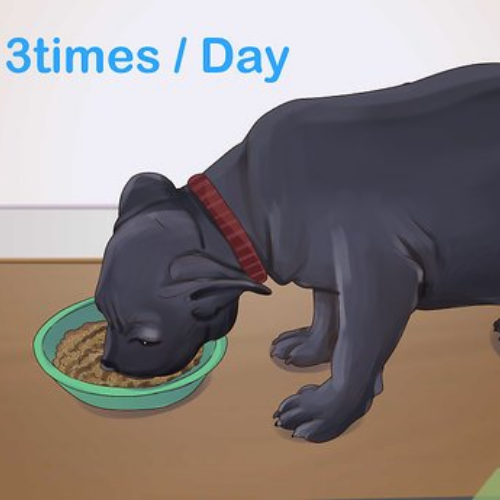 From 12 weeks to 6 months, the American Bully puppy must be fed three times per day. After turning six months old, 2 meals will be enough for them. In your free time, play with them by different toys such as the best tug of war toy.
Product Reviews for Best Dog Food for American Bully Puppy
There are numerous commercial canine food brands out there, & unfortunately, many of them offer insufficient nutrition with added preservatives and flavors. But do not worry, I did all the homework and selected the best and healthiest one, out of many unhealthy options.
Taste of the Wild Puppy Food
This dry food is the only food that my American Bully puppy comes running for. He has been enjoying this food for months now & looks super amazing. Before ordering this, I tried the various brands, from the cheapest to the most costly, dry, wet, & freeze-dried products. But nothing worked. I felt very happy and satisfied after feeding this dry food to my puppy.
The delivery process and packaging of the product were great without any kind of delay. It delivered much faster than expected. The quality is superb, & the ingredient list is very healthy. My puppy seems to love it & gets excited about breakfast & dinner daily. He feels very energetic, with bright eyes and a shiny coat. This transformation is undoubtedly mainly due to the Taste of wild dog food. The brand is quite pricey, but at least I am getting what I paid for.
---
Diamond Naturals Puppy Food
I have used different brands and types of dog food for my American Bully puppy, but Diamond Naturals is surely the way to go. My puppy is very allergic to chicken, so he does perfectly well on this food. It contains a good balance of fat and proteins along with other healthy ingredients, that I have been looking for for a long time while staying within my budget.
I highly appreciated the fact that it has joint support, digestive support & Omega. But I would suggest mixing this food with other foods that your puppies are currently eating because it can cause gas or even diarrhea in some puppies. The only concern is related to packaging; the bag was not properly sealed. Other than that, it arrived promptly & my puppy seems to enjoy it.
---
Bully Max Dog Food
My friend's American Bully puppy has dropped weight drastically, but for no apparent reason. The vet ran different tests & could not find any problems. According to the vet, it could be a reaction to the dog food he is currently eating. Perhaps a bad quality batch. Therefore, my friend switched him to raw food, which he adapted to so well. His energy finally came back.
When my friend started including bully max food in the puppy's diet along with raw foods, I noticed a visible difference in his weight & overall health. The most appreciable thing is that Bully Max dog food smells great as compared to pricey dog foods. It has a high protein content & the puppy loves it. So, my friend is hopeful about what this dog food is going to do for his American Bully Puppy.
---
Acana Dry Dog Food
My American Bully puppy has been suffering from itchy and inflamed skin for a month now. I opted for grain-free dog food with squash, pumpkin, & sometimes salmon. Apart from this, I changed all his treats to all-natural. But nothing worked. Luckily, my brother had recommended Acana dry dog food to me & to my surprise, his ears became normal within a few days. No more itchiness or inflammation.
The product is simply unbelievable. It is very difficult to find any premium-quality dog food that does not contain poultry or chicken ingredients, but this is the one that I always purchase blindly. My American Bully puppy is very happy with this dog food & he gets a lot of compliments on his shiny coat as well. The food is very pricey, but worth every penny spent.
---
Victor Super Dog Food
I always do a lot of research before buying any kind of dog food for my American Bully puppy. Because I want to make an informed decision. My main concern is related to the ingredient list & undoubtedly, Victor Super Dog Food is just what I required. The addition of probiotics, prebiotics, & Omega-3 and 6 is always a bonus for American Bully puppies.
This is great quality food but at a very reasonable price range. I never wanted to feed my puppy legumes, fillers, or potatoes, and Victor's super meets my needs. My puppy loves the taste & he has done very well on it. I would like to say that the kibble is too small for the mouth of my puppy, but he still manages to lick his bowl clean. On the downside, the packaging needs improvement to help prevent rips & tears in the food bag.
---
Conclusion
Choosing the right dog food for an American Bulldog is one of the most important steps towards ensuring this cute, helpless creature grows into your monstrous, muscular friend. If you are having problems with your pet's health, it is a good idea to seek the advice of your veterinarian. It is very important to give your dog a diet that is rich in protein and fat so that they can get big, beautiful muscles.