Felines always make wonderful and great companions however; they do come with some challenges. And all those cat owners who really want to share their life experiences with their cats but cannot always take them with then, it is better to consider buying a good quality cat backpack. Because with a cat backpack, pet parents can enjoy hiking to the fullest. It might sound a little silly but backpacks are considered a comfortable and safest way of traveling with cats.
There are different cat backpacks out there however, they are not all worth considering. Therefore, this article is going to review the 5 best cat backpack for hiking currently available on the basis of ventilation, comfort, durability and a few other factors.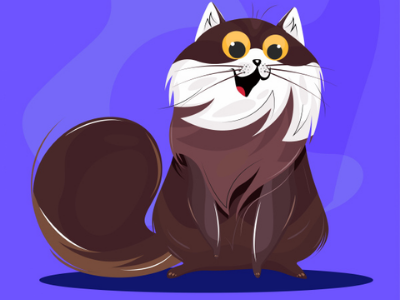 Who Should Purchase a Cat Backpack?
It is vital to mention that cat backpacks can easily be used in a number of situations rather than being a typical carry case. Moreover, it can be used to take cats to vet appointments, for hiking, travelling, adventuring, & bike riding as well. Now there is no need to leave your precious little mate at home. The best thing is that the majority of cat backpacks are airline approved & this will let pet parents keep their beloved cats with them while flying. In short, cat backpacks can open up a completely different world of opportunities to enjoy hiking trips together. Although there are cat cages but you can't use them for traveling or hiking.
What are the Advantages of using Cat Backpack?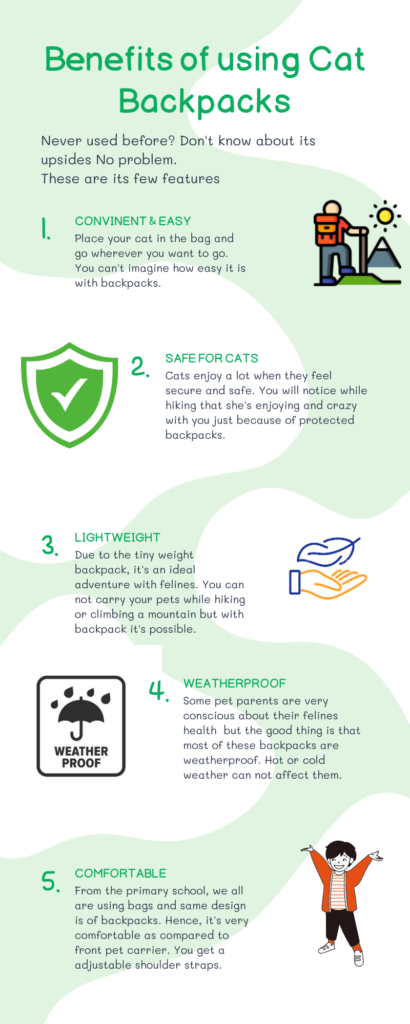 The best cat backpack offers numerous advantages when it comes to hiking:
Convenient and easy
Creates a safest space for felines where they will feel secure and cozy
Lightweight thus, a perfect option for hiking trips with cats
A pack on the back will feel like a perch, & the majority of felines love to be higher up
They are weatherproof, durable, & can be stored easily
Pet parents can get a very comfortable fit because shoulder straps are easily adjustable
Reviewed: Best Cat Backpacks for Hiking
Before getting the backpack, prospective buyers have to know the cats, including the behavior, what he/she loves & what he/she prefers. Here are the 5 best cat backpacks that will offer the safety, comfort & enjoyment cats need in order to embark on hiking adventures.
Lollimeow Cat Backpack – best cat backpack for large cats
A great product that is super functional & cool while being very well-made. This backpack served the best purpose for small to medium sized felines. Definitely extremely easy to carry as compared to traditional cat carriers since it is on your back. Truly appreciate the fact that the Lollimeow backpack is water resistant, has quite comfortable padding on the back in order to wear it easily. It is helpful to have a little door for the cats to come in safely from the side.
Likewise, the material on the outside of the backpack is shiny whereas the inside has the regular backpack material. Here, I would like to share that always use the backpack buckles in order to secure the seatbelt across the backpack for keeping the cats safe during hiking. Well, the color is quite dark in person however, still beautiful and worth every penny spent.
---
PETRIP Cat Backpack – best cat carrier for airplane
So far, the best backpack every cat owner should consider buying, it is comfortable and spacious. In fact, the PETRIP cat backpack has everything that pet parents might be looking for. The backpack is durable and extremely easy to wash whenever it got dirty. Furthermore, it has a quite fashionable design along with the bubble. The straps are wide enough & make cat owners feel comfortable during hiking. I purchased this product from Amazon, and the delivery was on-time plus packing was brilliant. It was same as shown in the picture.
Another great aspect about this backpack is that it has the harness leash on the inside & a collapsible bowl is also included. The inclusion of the front buckle is surely a great idea as that helped distribute the weight perfectly. Truly impressed with the sturdiness of this backpack & the quality of the material used. Only issue is that the PETRIP cat backpack does not fit easily under airplane seats & there are no pockets for storage.
---
PetAmi Cat Backpack – best cat carrier for hiking
Cat lovers do not necessarily have to spend a fortune on just a cat backpack, & the PetAmi backpack is definitely proof of that. Overall, this cat backpack is fantastic, comfortable, sturdy, & made of good quality material. The best thing is that the front of this backpack is extremely floppy & does not stay upright. The side pockets are perfect for putting a little bag of treats or other important things.
It is vital to mention that during hot weather pet parents might notice the backpack getting hot so, it is better to get a small cooling pad in order to prevent overheating. Overall, all those cat owners who are looking for a solid backpack especially for outdoor use including hiking then, they should go for a PetAmi backpack. Even though it is a little costly, but it has a great structure while being more spacious.
---
LEMONDA Cat Backpack – Cool Cat backpack
This is such a cute backpack for cats that will serve the best purpose for hiking and other outdoor activities. Truly loved the portability of this backpack, the protective film is kind of difficult to remove however, it protects the backpack from scratches in transit. No doubt, the LEMONDA cat backpack itself is built amazingly with plenty of ventilation.
There are many holes for air to get in & out so, there is no need to get worried that cats get too hot. The in-built lock will prevent the cats from running away & getting lost when the backpack is open, large ventilation holes on the sides of backpack, promote air circulation making the cats comfortable and cool. The only drawback is related to the bottom of the backpack that digs into your back from the hard edges.
---
Texsens Cat Backpack – best cat carrier for hiking
The last product on this article is designed by Texsens, a very well-made cat backpack for hiking. Taking your large felines for hiking is so much easier now with this amazing backpack. There are different pockets for all types of things & a tether strap so if cat owners use the harness, they can easily open the top & let the cats look around without anyone escaping.
Furthermore, the pad on the bottom is comfortable & structured well so cats can dig their claws into it if they really want. The backpack is very functional while being sturdy and breathable, all the zippers move effortlessly & it can be unzipped on both sides & folded completely flat when it comes to storage. In short, it is fun yet safe & gives much more breathability as compared to bubble window cat backpacks. Well, the shoulder straps need extra padding.
---
Buying Guide: Best Cat Backpack for Hiking
It is worth sharing that cat backpacks are considered a great bridge between completely indoor cats & full-on adventurous cats. Backpacks allow pet parents to take their precious felines with them on hiking but in a comfortable and secure way. There are different kinds of cat backpacks in the market. But there are some factors that collectively make any backpack worth buying & this buying guide is going to discuss those factors in detail.
What Should be Considered Before Buying the Best Cat Backpack for Hiking?
There are a few important factors while deciding on the best cat backpack including the following:
Material:
Prospective buyers need their backpacks to be extremely durable so, it is advised to look for high quality materials. Some waterproof fabrics i.e., oxford cloth is always regarded as a great option Mesh, pet-safe plastic and PVC are some other options.
Mesh or Bubble Windows:
Backpacks for cats have 2 kinds of windows, mesh or bubble. With a feline bubble backpack, buyers get the hard-shell exterior along with a semi sphere window. But buyers have to ensure that the backpack has required ventilation. Whereas, mesh window backpacks are the soft carriers with mesh panels.
Durability:
The cat backpack has to be scratch resistant & tough for daily use. Therefore, it is advised to consider a sturdy base & frame quality before making a buying decision.
Size:
The backpack has to be large enough in order to give cats enough room to turn around easily, stand up and sit down comfortably. Moreover, the selected backpacks are capable of carrying cats' weight as the majority of backpacks are exclusively designed to just carry felines with the weight limit of 11-12 pounds.
Ventilation
If backpack doesn't have proper ventilation system, don't buy it.
Entry:
No doubt, felines can be very wriggly creatures so prospective buyers need an easy and quick entry point to let them get inside & settled.
Do Felines Like Backpacks?
Well, it totally depends on the cat someone owns. Many cats do not like to be confined & they will definitely let pet parents know about it. Moreover, if pet parents have taken their time to select the right sized cat backpack & they have allowed their precious cats a bit extra time to get used to being in the backpack then, they must be happy to be carried. Do not force a resistant or an unhappy cat inside the backpack, try to look for some other possibilities.
Two Important Tips:
Firstly, never focus your attention on an attractive or cute backpack. Because you will end up buying impractical backpacks that will not offer required security or support.
Secondly, consider getting a supportive frame that is balanced by numerous window space & ventilation holes.
Are Backpacks Harmful?
Well, backpacks are not considered harmful for cats. Usually, the best and worthwhile backpack for cats is considered a comfortable and safest way of bonding with cats outdoors. Moreover, every cat lover should make the decision concerning whether or not to get a cat backpack for hiking based on what they actually know about their own cats. It is vital to mention that backpacks are another form of the carriers, & they always make pets feel more secure, comfortable, and safe.
Frequently Asked Questions
Q1. Is backpack good for long hiking trips?
Long hiking trip is not recommended because felines may face any health issue like stuck at same position can irritate it. Pet parents can't feed them in backpacks so always use backpacks for short hiking trips.
Q2. How I can prepare my cat for backpack?
Leave the cat in backpack for few moments at home and increase the time afterward. Put the cat in carrier and walk outside the house. Within few days, it will be easy for them to stay inside the backpack.
Q3. Are backpacks easy to clean?
They are designed in such a way that you can quickly clean them.
Conclusion:
In the end, it can be concluded that cat backpacks for hiking have become a famous and workable alternative to traditional carry cases. In fact, they are more comfortable & easier to carry around. With the wide range of available options, it might be a bit difficult to find out the best one.
However, prospective buyers cannot go wrong with the above-reviewed cat backpacks for hiking as they all are made from high quality & durable material & give proper ventilation. So, what are you waiting for? Get the best cat backpack right now and take your beloved cat on some enjoyable and fun-filled hiking adventures without getting worried about comfort and safety of the cats.