Before you take your dog to a pet-friendly restaurant, teach him some manners. It will make dining a more enjoyable experience for both of you!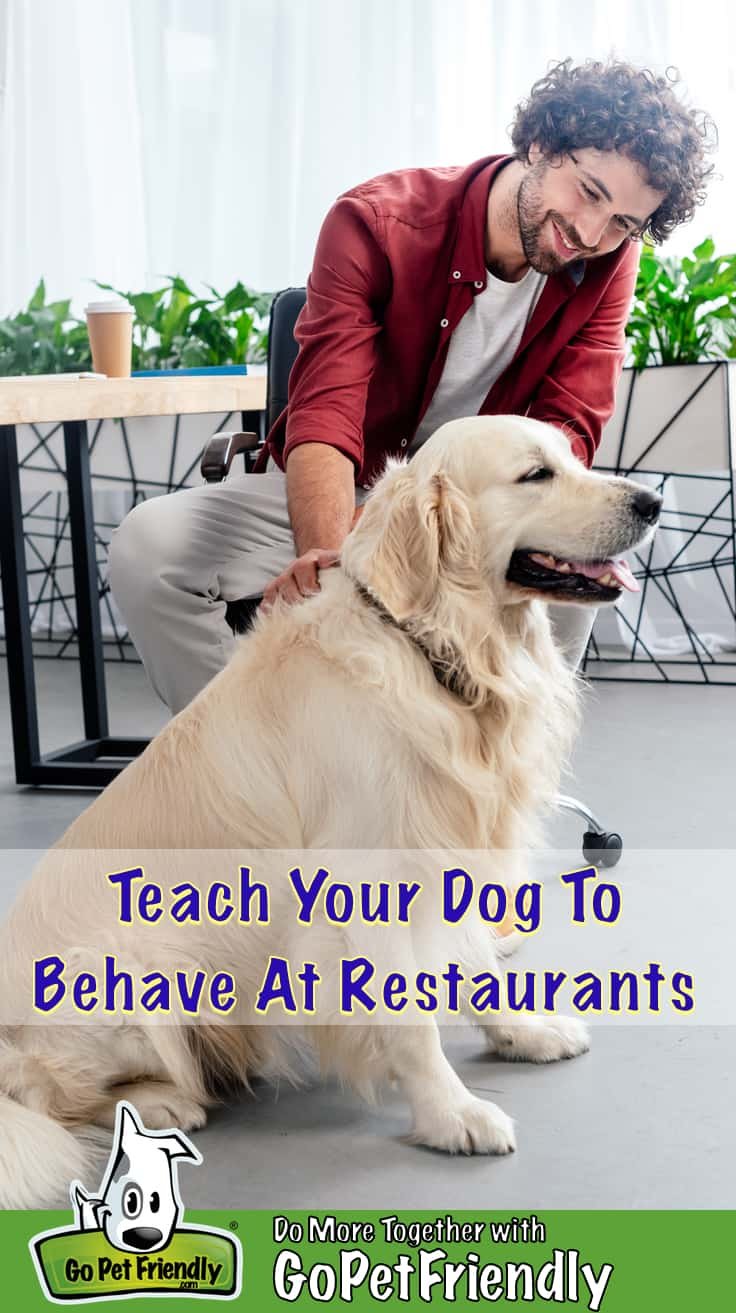 One of the biggest challenges people face when traveling with their pets is figuring out where to eat. Leaving pets in the car – especially in the summer – can be dangerous. But the thought of taking a dog, who behaves more like a dingo, to pet-friendly restaurants isn't ideal either.
Whether you have a pup just learning his eating manners or you work with an older or reactive dog, these tips will help teach your dog how to behave in restaurants.
Start training at home
The first rule of a good dog owner is to know their pup. So if your pooch isn't ready for prime time, don't bring him to the main stage! Start working with your dog at home.
With our puppy Myles, we started by teaching him to lie on his mat while he was eating. A toy filled with his food and frozen overnight kept his attention while we finished our meal.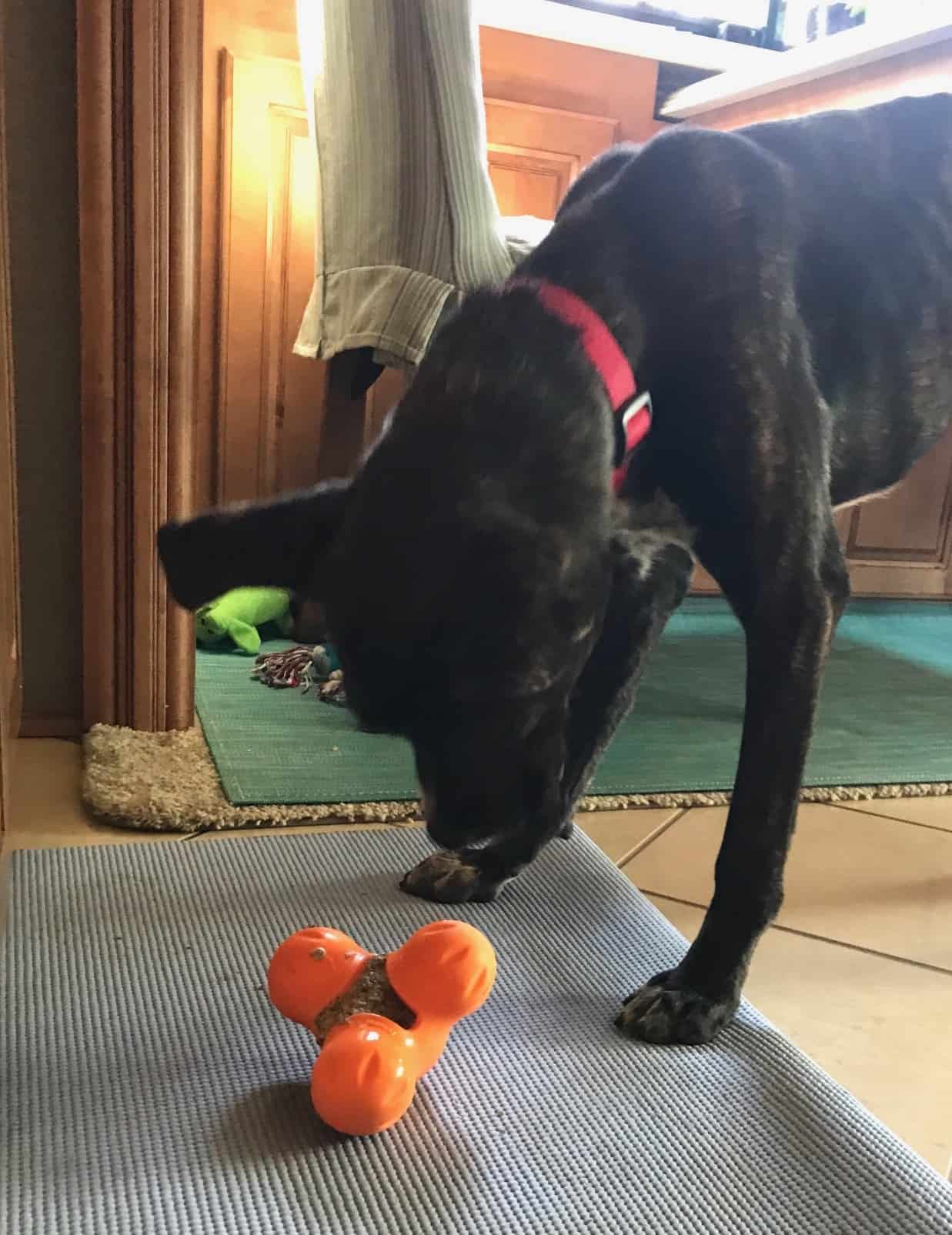 Once he got the hang of it, we took the stuffed, frozen toy outside where there are more distractions. Then we added some friends for even more challenge!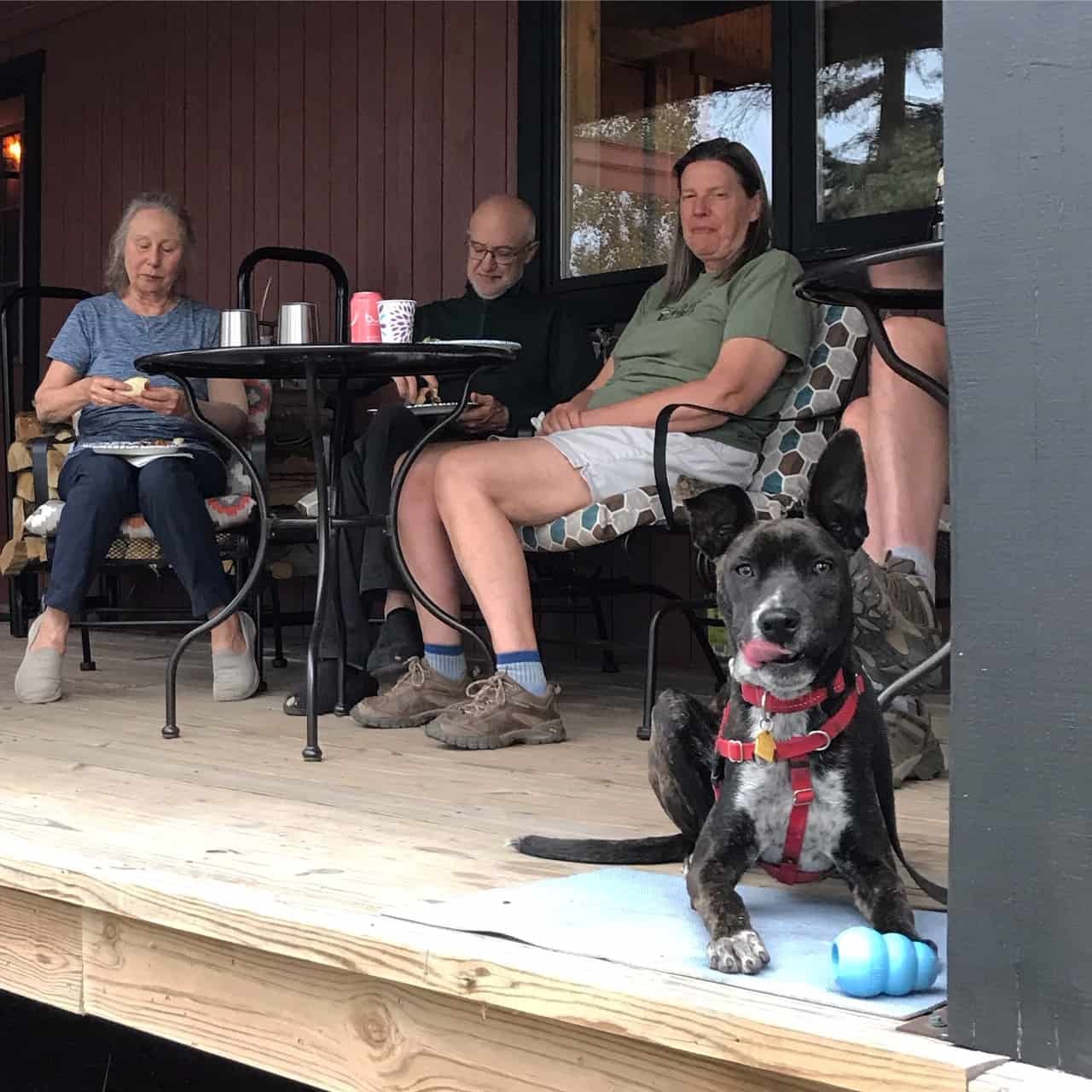 Asking your dog to lie down on his mat while he eats is something you can practice at home multiple times every day for his entire life. It's a great skill if you're hosting a dinner party or your house is full of holiday guests.
Tips for eating at pet-friendly restaurants
Once your dog is behaving well at home, it's time to make things a little better. But you can't just decide one day to take your dog to brunch in that trendy new place where people are lining up around the block! With any new experience, the most important thing is to set your dog up for success.
You could start by having a cup of coffee at a time of slow traffic. If that goes well, choose a quiet restaurant at a moderately busy time of the day. Before you know it, your dog will be happily under your table for a multi-course meal during prime time.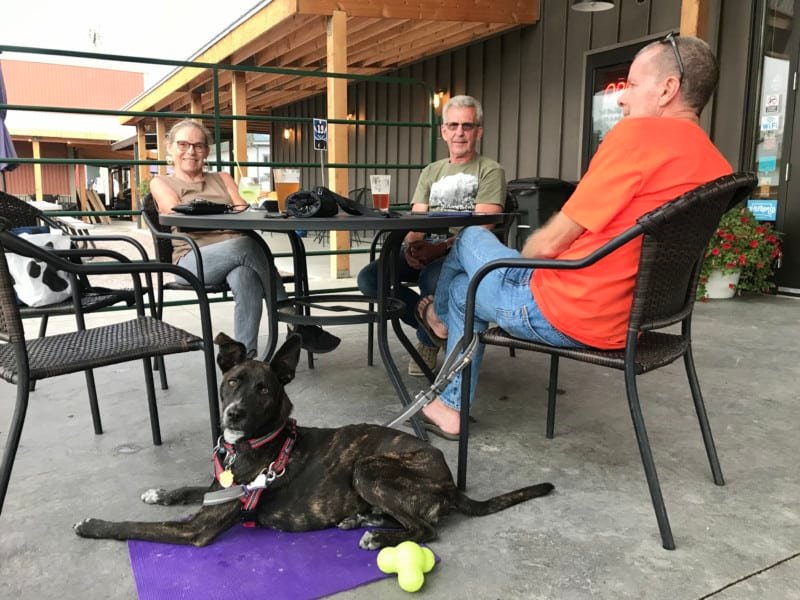 Find the right restaurant
Selection of restaurants that are really Pet friendly makes for a better experience. When choosing a seat, hosts at pet-friendly restaurants will ask where your dog will be most comfortable. You will understand if you want a shady spot or one that limits your dog's view of other guests. And they will bring out a bowl of water for your pup.
You should also consider whether your dog will be comfortable given the restaurant's seating plan. Some restaurants say their sidewalk seating is pet-friendly, but trying to squeeze even a small dog under your table, away from busy foot traffic, would be difficult.
Other restaurants that call themselves "pet-friendly" have a fenced seating area and require pets to be tethered outside the fence. We consider this not pet friendly and avoid these facilities.
The ideal dog-friendly dining area has some shade, enough space between tables for dogs to lie down undisturbed, and something that shields other guests — like potted plants or a lower level.
READ MORE ⇒ Is it illegal to leave your pet alone in the car?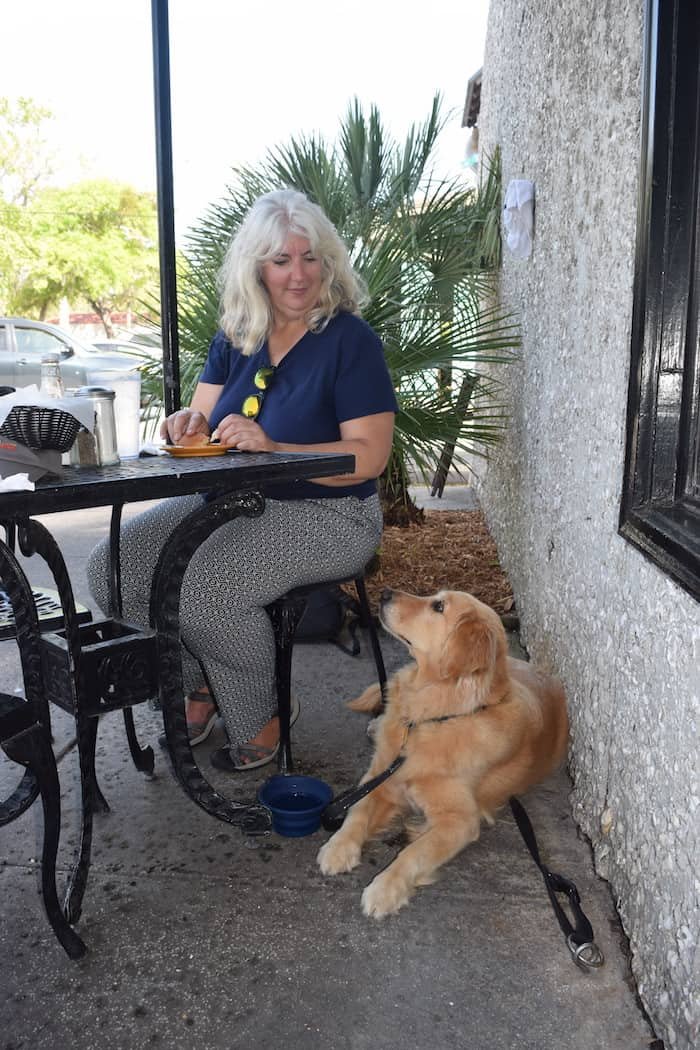 Be a good ambassador
Having the opportunity to eat at pet-friendly restaurants is a privilege, and we all need to take responsibility for making sure our dogs don't ruin things for everyone. do something like that could offend other customers or cause extra work for staff could result in a restaurant changing its pet policy.
So make sure your dog relieves himself before you arrive at the restaurant, keep him away from chairs and tables, and don't feed him off the restaurant's plates or cutlery – unless they're intended for that purpose.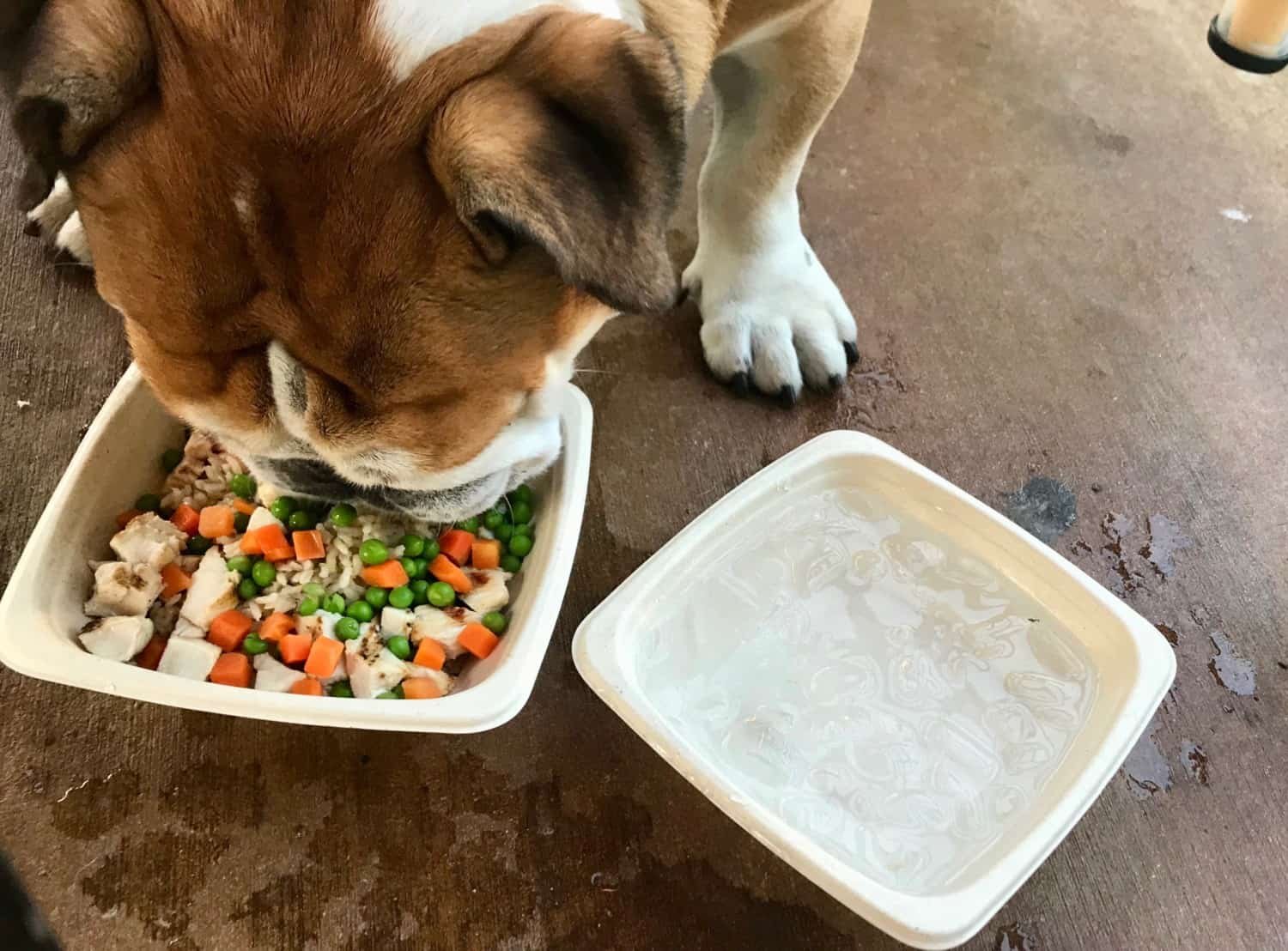 stay alert
Patiently training your dog and choosing the right pet-friendly restaurants is a great place to start. But even if you have the perfect dog, eating together means you need to divide your attention. While enjoying the food and chatting with your companions, you also need to be on the lookout for potential troubles.
Another dog might pass by. The waiter may bring a particularly tempting dish to a nearby table. Some toddler might throw food on the floor. A dog lover might choose to pet your pup. It's your job to be vigilant and avoid problems before they arise. And make sure you have some special treats to reward your dog for not reacting to something that would normally upset him.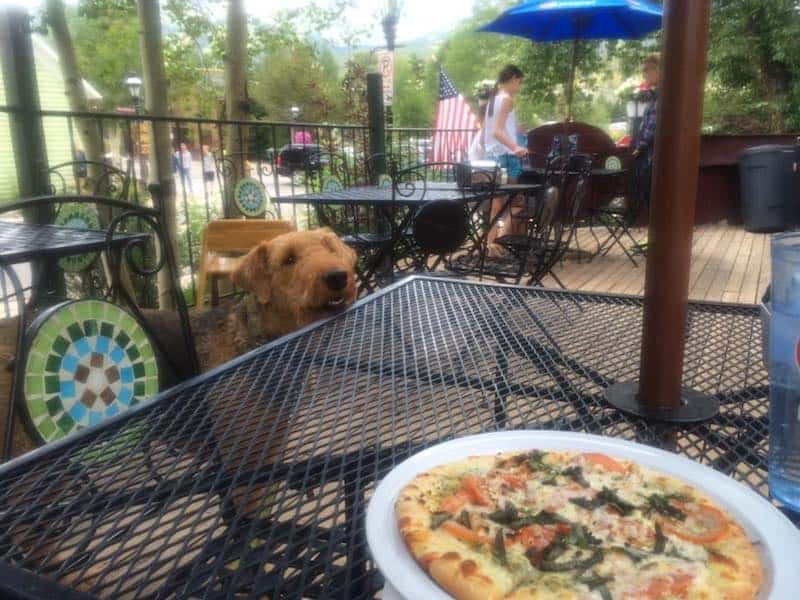 Be ready to go
We all have bad days. Dogs included. And you can't plan everything. A squirrel might show up looking for treats. A wild soccer team might show up for pizza.
If something happens and your dog starts to react, just get up and walk away. It's best to have a friend foot the bill and have your takeout packed. But if you're alone, leave enough cash to cover the check and retire quickly.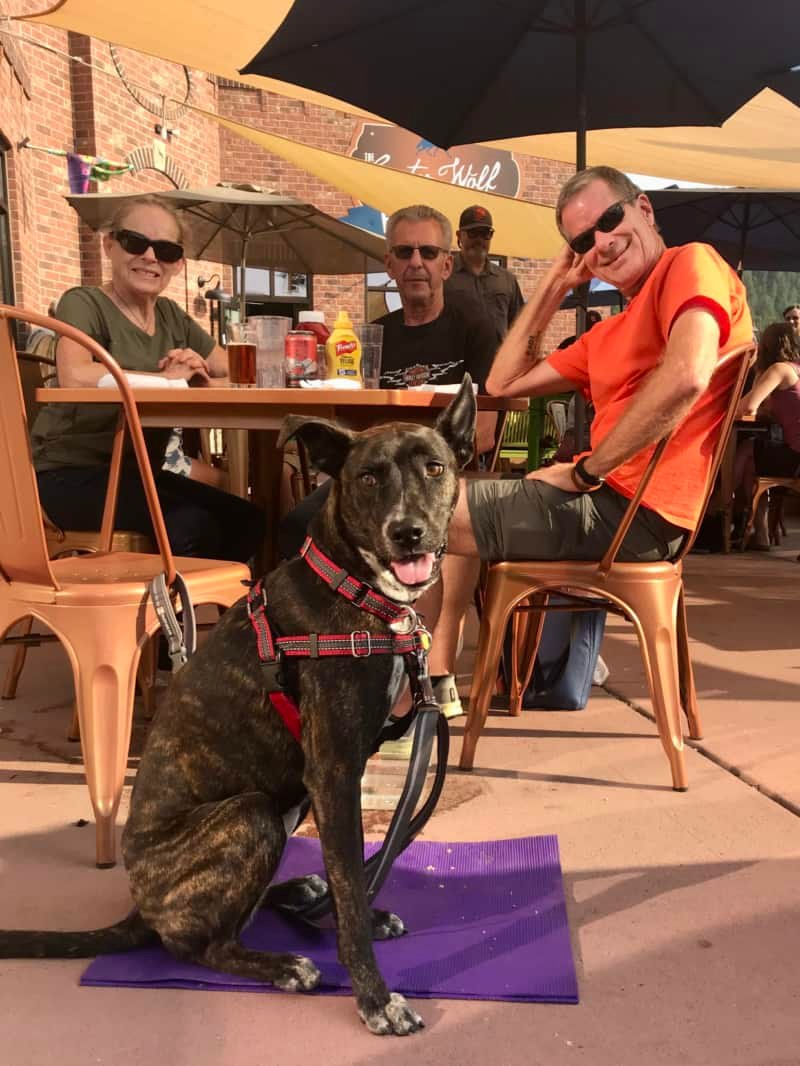 Tips for people who eat around dogs
Patronizing pet-friendly restaurants—even if you don't have a pet with you—is always appreciated. And don't forget to thank the management for their pet friendly policy! If you find yourself in this situation, there are also a few things you can do to support the pet owners who eat with their dogs:
Ignore the dog. Yes, I know it's hard. But if you see someone enjoying a relaxed meal with their dog lying peacefully at their feet, please do not approach them. Disturbing the dog is no different than going to a family's table to give their child a good tickle.
Ask for permission. If you just can't resist, please ask permission before petting the dog. And don't get hurt if the answer is no. Dogs are at different stages of performance. It might take all of this dog's willpower not to run over and cover you in kisses. Lying quietly by the table could be really hard work, and something as simple as a quick scratch could set him back in his workout.
READ MORE ⇒ 11 tips on how to greet a strange dog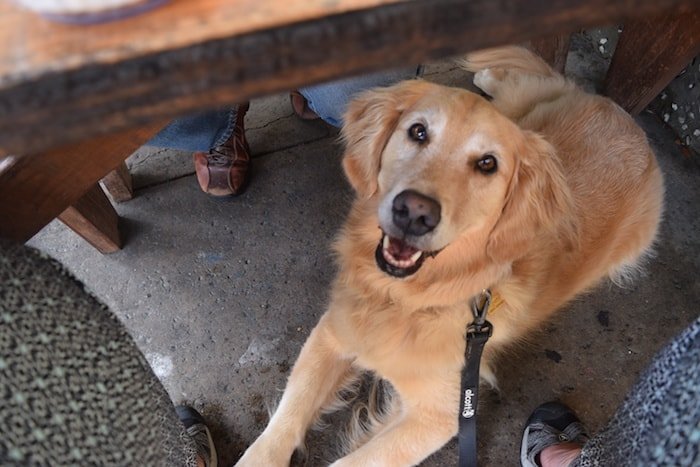 What if your dog isn't ready?
Let's face it… being a well-mannered table companion is an advanced skill. It takes practice, but it doesn't always go well. Perhaps your dog is still learning or is too reactive to thrive in this environment. Does that mean you can never eat out with your dog?
Absolutely not! Picnic style is the way to go if your dog isn't up to the challenge of pet-friendly seating areas. Find a deli, grocery store with a ready meal counter, or a pizzeria and get your meal to go. A picnic table in the park could be just the step your dog takes to get from your yard to a pet-friendly patio.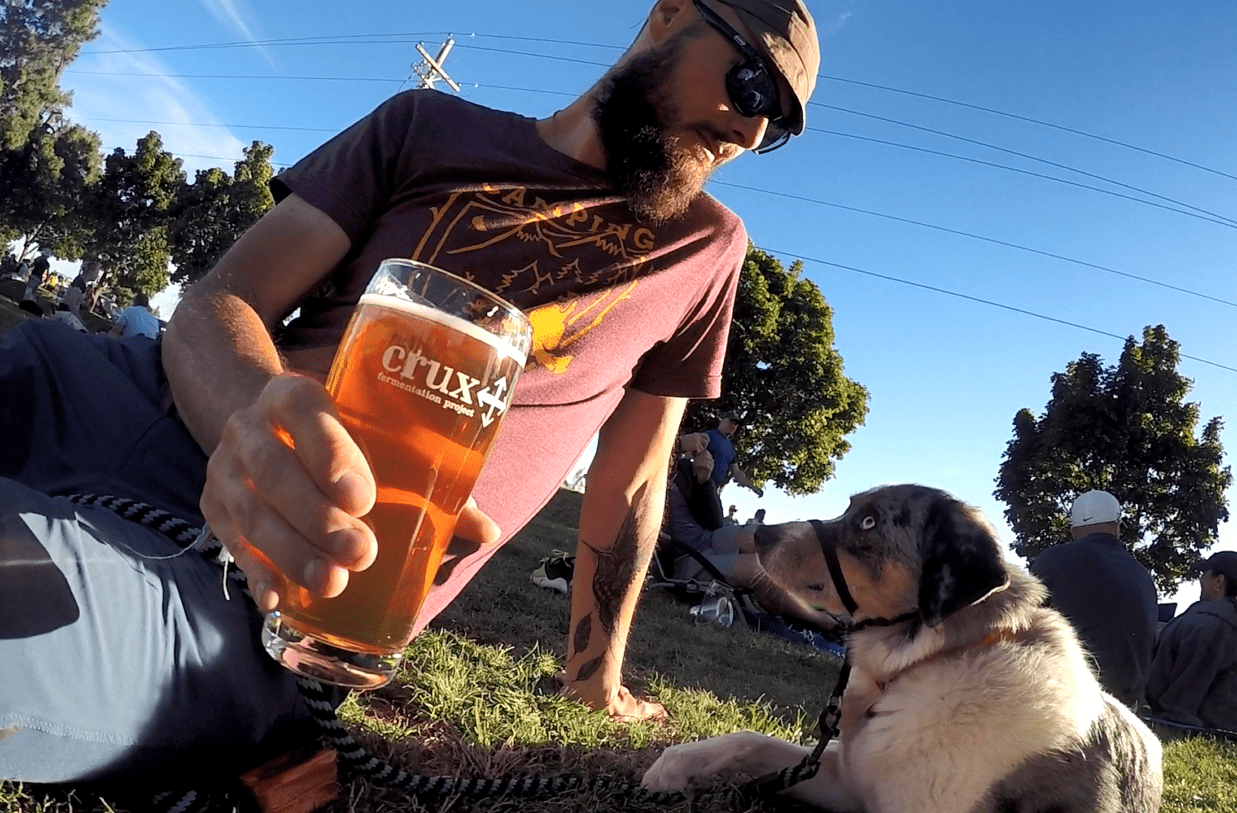 Whatever your dog's ability, don't lose heart. Your pup is doing his best. The most important thing isn't where you eat… you do more together.
(Visited 15,738 times, 1 visit today)