With a flowing bright white coat & expressive black eyes, the Maltese are an extremely beautiful dog. This breed has been recognized in the Mediterranean for around 2500 years. Additionally, these little playful companions are talked about in Roman and Greek literate. If people are looking to get an elegant and lovable dog breed then, they should get their hands on Maltese. This famous pet is surely a true lap dog that will make your leisure time more enjoyable.
Unfortunately, the Maltese breed is vulnerable to unattractive tear stains & dealing with them is just like a never ending war. Well, tear stains are not considered harmful to Maltese but these nasty lines usually point towards underlying issues such as corneal ulcerations, ear infections, PH imbalance, poor diet, or any other health related problem like sleep, itching, and digestion. Tear stains from Maltese can also come from food items that contain too many preservatives.
Therefore, it is important to select best dog food for Maltese Tear Stains to prevent tear stains. Apart from this, the quality of food is closely linked with the health of the coat as well. In short, food plays a vital role in a dog's health & general well-being & this is absolutely right when we talk about Maltese dogs.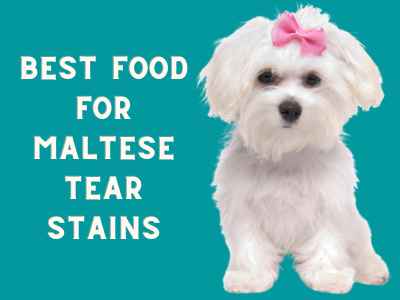 What are Tear Stains?
Tear stains are often caused by excessive tear production. While this is generally not called for instant alarm, the problem can at times be due to extremely serious health issues & if the condition persists then, it is advisable to consult a good vet & get an expert opinion.
Moreover, tear stains are highly prevalent in a few breeds such as Lhasa Apsos, Spaniels, and Maltese. Usually, tears are brown or reddish & both with their own reasons. Whatever the reason is, paying due attention to the medical needs & keeping the affected area well-groomed and clean will serve the best purpose.
What Causes Tear Stains In Maltese?
Well, they are caused by both external and internal factors. It is worth noticing that the over-stimulation of the unnecessary tear production is also termed as Epiphora. Well, the common medical reasons behind tear staining in Maltese are as follows:
Ear infection
Stress and medications
Poor-quality diet
Eye infection
Ingrown eyelashes
Inverted eyelid
How to Prevent and Remove Tear Stains on a Maltese by eliminating the Top Causes

Inferior food: It is quite amazing how low quality food can affect a dog, and particularly a toy size breed like the Maltese.
Tap water: It may seem very natural to run the kitchen tap to fill your Maltese's bowl, however this can have dire consequences. A high mineral count in tap water can lead to tear staining.
Wet hairs: Any time that hairs remain damp, this sets up the perfect foundation for yeast growth. This may happen in the genital area, ears (yeast ear infection), or on the face which causes a red yeast infection, a leading cause of stubborn tear stains.
Lack of daily facial upkeep: While days can be very busy, and it's not always easy to remember to do everything, you'll want to try to find time to wipe your Maltese's face several times each day.
What is the Relationship with Dog Food & Tear Stains?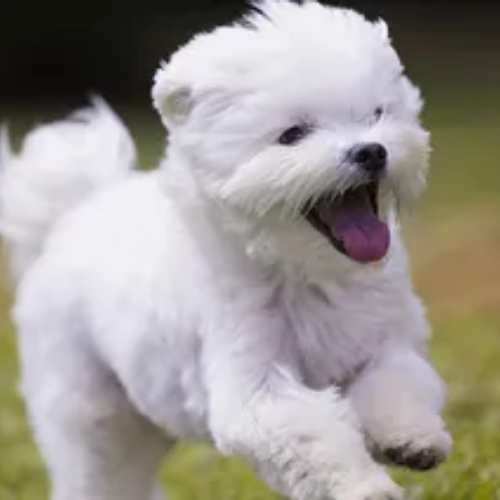 There is a strong relationship between dog food and tear stains in Maltese. Most of the time, a chemical compound known as Porphyrins causes' brownish line tear stains. Basically, it is an iron-waste molecule that is released majorly via the liver as RBC breakdown. Nevertheless, a few factors such as dieting can cause Porphyrins accumulation which is then forcefully excreted through tears, urine, and saliva. Therefore, vets always recommend paying close attention to the Maltese's food source. Moreover, according to vets the best dog food for Maltese tear stains has to be:
Palatable
Digestible
Affordable
watch the video if you don't like to read:
Reviewed: 5 Best Dog Food for Maltese Food Stains
So, if readers are wondering what the recommended dog food for Maltese tear stains is then, they have landed at the right place. Continue reading the article in order to learn more about the best dog foods that are good for preventing tear stains on Maltese.
1. Blue Buffalo Dog Food
It is considered as one of the best brands out there when it comes to dog food. In short, it is a great match for many small breeds especially due to the healthy ingredients. The food is designed to boost the overall health & well-being of the dogs. It is worth noticing that the Blue Buffalo brand always has real meat as 1st ingredient because the premium-quality protein that is present in the real chicken will surely help dogs build & maintain healthy muscles.
Moreover, it has garden fruit & vegetables and whole grains. For dogs to remain happy and healthy, it is important to give them food having a balanced ratio of carbohydrates, fat, and proteins, and no doubt, Blue Buffalo is a way to go. The food also has a unique blend of different antioxidants to help support the immune system of Maltese.
Pros:
Enhance energy levels
Ensure healthy digestion
Healthy ingredients
Fortified with minerals and vitamins
Highly digestible
Cons:
The smell might not be that tempting for few Maltese due to garlic
User Experience:
According to the buyers, Blue Buffalo is a good option for the majority of Maltese because it has a great ingredient list & many Maltese find it tasty. Few dog owners have mentioned that it has an extremely competitive price range for such a top-quality product. Overall, it is a portion of great dry dog food, especially for Maltese.
2. Wellness Natural Dog Food
It is another great product made from high quality wholesome grains and proteins to give a full-fledged diet packed with important nutrients the Maltese need to thrive. The ultimate goal is to give perfect wellness for small breeds. Furthermore, the product is made from healthy handpicked ingredients in order to give complete nutrition while improving Maltese's overall health.
The leading ingredients are peas and deboned chicken. With respect to tear stains particularly, both ingredients are great because dogs can digest them easily. Due to its promising nutritional composition, Wellness natural dog food is a recommended consideration for Maltese with tear stains problems. The formulation ensures overall healthiness and well-being without any artificial colorings or flavors.
Pros:
Give a perfect blend of nutrition
Ensure Maltese's healthy body weight
Boost immunity
Highly digestible
Give optimal energy
Cons:
Few Maltese might not like the flavor
User Experience:
This product has received glowing reviews from the majority of Maltese owners. According to them, dogs liked the smell and taste & that their little puppies' skin and coat condition has improved after using the product. Few dog owners have commented that this recipe contains a great blend of high value & nutritious ingredients.
3. Hill's Science Dog Food
This dry food is a great option for Maltese with sensitive stomachs & irritable skin. The food is available in a chicken & barley flavor & considered good for breeds of all sizes. Dog owners will definitely love the Hill's science dry food especially if the dog is suffering from tear stains that they want to remove. This dog food formula is carefully formulated with the required antioxidants blend to help in the development of the dog's immune system.
Every ingredient is safety guaranteed & proven to provide all the essential nutrients to make Maltese thrive well-being wise. Furthermore, the addition of prebiotic fiber will help support the balanced acidity directly in the dog's gut microbiome. The completely organic formula of the product targets smooth digestion, it simply means that tear stains are not going to emerge on the Maltese.
Pros:
Give lifelong immune support
Highly digestible ingredients
Full of energy and healthy option
Improve immune system
Best for food allergies and sensitive stomach
Cons:
Included grains might not suit few dogs
User Experience:
According to the dog owners, it is indeed the best dog food for Maltese due to a number of good reasons. The most noticeable thing is that this USA made Maltese food is made with universally outsourced all-natural ingredients in order to ensure a well-balanced diet. So grab this now and say goodbye to tear stains.
4. Basics Limited Ingredient Dry Dog Food
A highly recommended option for those who are looking for a pocket-friendly yet a workable option for Maltese's tear stains, Basics limited dry dog food contains high quality ingredients that give the Maltese impeccable health. Dog owners will surely be amazed by Basic's limited ample inclusion of proteins and carbohydrates to match their little pet friend's energy needs.
It is vital to mention that this food product uses real turkey as 1st ingredient while being the animal protein's primary source. The blend of pumpkins, potatoes, and peas helps to support smooth digestion thus, decreasing the risks of tear stains forming on the Maltese. The product does not contain any beef, chicken, eggs, corn, soy, or wheat to make it a workable option for Maltese with different food sensitivities.
Pros:
Promote healthy lifestyle
Support immune system health
All-natural ingredients
Recommended for Maltese with digestive and bowel problems
No glutens or artificial colors
Cons:
Bit pricey but give the best value for money
User Experience:
The majority of dog owners have recommended this dog food as it is extremely helpful for tear stains. It is a healthier option as compared to wheat & some other grains. Some buyers have mentioned that the product is good at supporting skin & coat health while minimizing food sensitivities. The best thing is that the food is free from artificial grains and flavor thus, very healthy and safe for Maltese.
5. Wellness Core Dry Dog Food
Sometimes pet lovers only need plain old meat for keeping the pets going during the day. No doubt, wellness is a great brand that ensures all dogs must base their daily diet on meat. Thus, this dry food has extremely concentrated animal proteins, mainly sourced from real turkey. Here, I would like to mention that food having grains & chemicals used as preservatives or additives is the major reason behind tear stains in Maltese.
Therefore, food made from all-natural ingredients is always recommended and the same goes with Wellness core dry dog food. After using this product, dog owners will not just notice a huge change in their pet's health and well-being but also a reduction in tear stains. All the used ingredients are safe and contain high calories in order to meet the day-to-day energy requirements of Maltese dogs.
Pros:
Grain-free
Pocket-friendly
No artificial colors or preservatives
Ensure proper digestion
Help fight dog allergies
Cons:
Might not work equally for all dog breeds
User Experience:
According to Maltese dog lovers, this balanced and complete nutritional package is perfect for daily feeding particularly due to all-natural ingredients. Few buyers have commented that this dog dry food is designed for supporting the energy needs of Maltese dogs thus, highly recommended. Overall, Maltese dog owners have loved the great value they got.
Buying Guide: 5 Best Food Dog Food for Maltese Tear Stains
While tear stains on Maltese are not harmful but these weird lines usually indicate some underlying issues. In order to tackle Maltese tear stains properly with the help of diet, it is necessary to find out the reason behind it. Just like other breeds of dogs, Maltese need a balanced diet for healthy, long, and happy life. Therefore, select the food wisely. The below-given information will surely help the Maltese owners make a good choice.
What to look for while selecting the Best Dog Food for Maltese Tear Stains?
It is important to give due attention to the following factors while selecting the best dog food:
Try to pick the dog food for Maltese that is completely grain inclusive unless the vet recommends or advise something else
Moderate fat % between 12-16 is good for healthy Maltese
The majority of Maltese can do well after eating the protein % between 22-26
The fiber percentage should be between 3-6
Consider a dog food for Maltese that has no artificial flavors or preservatives added because tear stains are also caused by food allergies
Food has to be rich in all-natural ingredients
At last, must go through the feedback of the product which you're going to buy.
In case Maltese dogs cannot digest grain-inclusive food due to health issues then, it is advised to talk to a vet about the type of dry dog food that will serve the best purpose. It is worth sharing that food allergies in Maltese dogs do exist. If people think that dogs have food sensitivities or allergies then, go for proper diagnosis instead of trying different dry dog foods.
Ingredients to Avoid:
Food dyes
Wheat or corn
Fake fish, chicken or beef
How to Prevent Maltese Tear Stains?
The following factors will help Maltese dog owners to prevent tear stains:
Check Food Quality
It is suggested to pick grain-free, top-quality Maltese dog food items that are rich in essential amino acids and vitamin E. Because a good quality food will definitely remain gentle on the Maltese's digestive system. Moreover, ensuring that dog owners get premium quality carbohydrates and proteins sources will always help in making mealtime more enjoyable for Maltese dogs.
Daily Grooming
It is important to give attention to daily grooming. Like, face grooming the little Maltese will help keep unwanted tear stains away. People can also use saline eyewash for Maltese tear stains. Moreover, cleaning products are also good for washing the Maltese's muzzle hair including dog shampoo.
Visits Vet Regularly
Visiting the vet will help diagnose & treat underlying health issues before they eventually lead to annoying tear stains. Always remember that Maltese will tear constantly due to discomfort. Therefore, a visit to a veterinary doctor is always a good practice to prevent potential harm.
Why do maltese cry so much?
Well, Getting ill is a part and parcel of life. Illness makes your Maltese puppies cry a lot. These puppies cry to express their pain and grief. Crying is a way of them to make you get alerted that they are suffering from illness. They need your care and concern.
How do I stop my Maltese from barking?
Follow these steps when your Maltese barks
1. Take him to a walk. A morning walk is always needed and recommended for him.
2. Give him more attention when he barks.
3. Teach him quiet command so that he obey your words and sits patiently.

Are Maltese Tear Stains Safe?
Yes, Maltese tear stains are safe unless they cause some other health issue. When Maltese develop such tear stains, risks are something is wrong therefore, consult a vet instantly to find out the root cause.
Verdict:
In the end, it can be concluded that a proper and balanced diet plays a vital role when it comes to Maltese's health. Although, the majority of Maltese lovers have a tough time while selecting the right kind of food for tear stains, hopefully the shared information will help them make a good decision.
The sweet, beautiful Maltese always make a perfect and loyal pet for a lot of people. Maltese are playful, cuddly, and small. As with other toy/small breeds, Maltese have a fast metabolism as compared to big dogs therefore, they need extra calories. One of the best and recommended ways of preventing Maltese tear stains is to change his diet i.e. balanced & top-quality dry dog food is always recommended but, from a well-known brand.