French Bulldogs are very playful and fun-loving. This dog breed is also known as Frenchie. They are considered as the best family pets for children, active seniors & singles. Frenchies have very squishable faces with lots of energy & unique personality.
One of the most important things about being a Frenchie owner is the fact that this dog breed loves playing with different toys & selecting the right one plays a crucial role to help build a strong relationship with your Frenchie.
Here, I would like to mention that pet parents always want the highest quality and safe toys to make their pets happy. But there are few canine breeds that come with more specific needs including the French Bulldogs. This dog breed is more vulnerable to certain health problems that can easily be helped with the right kinds of play but worsened by overdoing it. So, to help Frenchies owners, I find the best toys for French Bulldogs.
What are the Different Kinds of Toys for French Bulldogs?
French bulldogs need a huge range of toys to serve different purposes. If pet parents have got a number of toys, it will surely help stave off extreme boredom-related issues while keeping Frenchies healthy and active. However, must check the best tug of war dog toy for frenchies. A few commonly available French Bulldog toys are as follows:
Are there Any Risky Toys Pet Parents Should Avoid?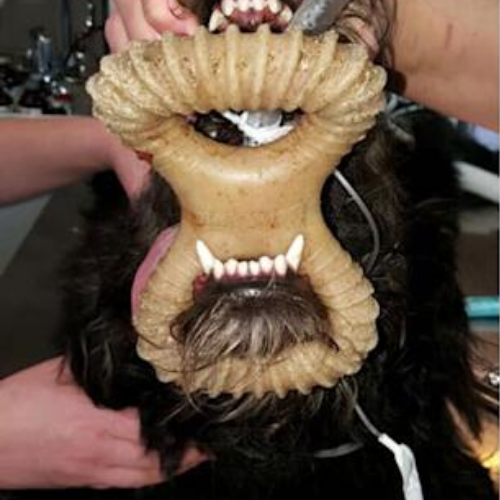 The majority of the premium-quality canine toys from reliable brands are safe to buy, but pet parents should take some precautionary measures as well. Try to avoid dog toys with toxic ingredients, sharp edges, & small components. Pet parents should remain very careful when it comes to chewing toys as they can wear down with time & turn into a choking hazard eventually.
Are Frenchies Considered Heavy Chewers?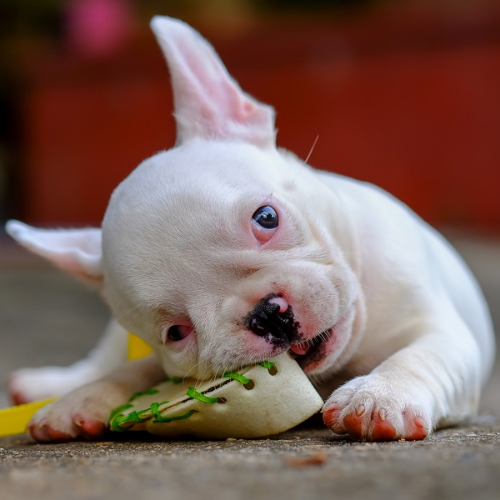 French Bulldogs are very strong, and muscular irrespective of being physically tiny. So, if they are not stimulated mentally, they can easily become extremely destructive. But this issue can be addressed with the help of a chew toy.
It is vital to mention that every Frenchie is different, some are heavy chewers whereas some are lickers and nibblers. Most of the Frenchie puppies go through the teething phase & during that phase, puppies might chew, bite, & destroy everything they get in their way.
Product Reviews for Best Toys for French Bulldogs
It is worth sharing that French Bulldogs love all types of toys. In fact, Frenchies love to fetch, chew, & are huge fans of tug of war. An ordinary play ball can easily satisfy the needs of French Bulldogs to play around but who does not want to buy some new adorable dog toys? The below-reviewed dog toys can cover a huge range of activities and purposes while keeping French Bulldogs busy and happy.
if you own any other breed, you may buy best toys for corgies and beagles.
Outward Hound Hide Dog Toy
I have a French Bulldog who is quite stubborn and wild. I have bought him many toys. But nothing works. So, I decided to order this one mainly due to the good reviews & low price. The shipment process went smoothly and my order came promptly. As soon as I opened the package, my Frenchie went crazy. In fact, within a few days, it became his favorite & most cherished toy.
It is very engaging however, Frenchies need complete supervision in order to prevent any kind of harm. Well, for me this was a sort of drawback as I was originally looking for the puzzle toy to keep my Frenchie busy when I am not at home. Unfortunately, in this perspective, the toy might not be a good option but it is still a very fun toy.
---
KONG Dog Toy
This is truly the best and worth buying dog toys for Frenchies. It is an amazing slow feeder for canines who always bolt their edible items. I ordered this toy a few months ago without any problems when it comes to shipping. The toy was delivered in beautiful packaging. The most noticeable feature is that it can easily be used with dry kibble, & wet food.
It is a problem-solving, stimulating puzzle for bored French Bulldogs, especially hyperactive ones who always need something different to do. Due to its shape, this dog toy bounces erratically & makes my Frenchie chase it down & try to chew it. But luckily, it is made to last longer, because my Frenchie has tried a lot to destroy it but after a few months, it has maintained its pristine shape.
---
Hartz Dura Dog Toy
This product is literally my Frenchie's favourite & he prefers green instead of pink. Perfectly packaged & perfectly described. The durability & layering on the toy is superb. In fact, it is a kind of very soft & velvety material, not a hard product. The toy bounces easily all over whenever I throw it & makes my picky Frenchie a very happy dog. He loves to carry this toy with him everywhere.
Well, I do not know how durable & safe this toy would be for aggressive chewers. But it served the best purpose for my French Bulldog. The only concern is related to the smell which is not very appealing to Frenchie. He likes bacon treats, in fact, the smell of bacon always makes him super excited but somehow, this toy does not smell like bacon to Frenchie.
---
KONG Dog Chew Toy
My French Bulldog puppy is a very aggressive chewer. Due to this habit, he tears through a number of chew dog toys easily. Therefore, I wanted a dog toy that would bear his non-stop chewing. My Frenchie has been using this toy for almost three months and surprisingly, it is still performing well. Simple, cute, yet effective.
He frequently carries this toy all around the home with him, throwing it excitedly across the floor & then, chases the toy like a pro. He loves to play tug of war with this toy. With this product, there is no need to offer any treats. But unfortunately, the toy is very difficult to clean, every groove has a tight corner that my French Bulldog puppy cannot get to fully. I tried to clean and wash the toy by hand but had no success.
---
SPOT Dog Toy
Quite a good and durable toy, my French Bulldog Puppies are capable of figuring out the puzzle in just a few minutes. Though, one puppy needs some motivation. The best thing is that the toy has numerous interaction techniques, not just flip pieces or push pieces & which makes the toy more fun for my puppies. Another appreciable thing is that the toy is made of plastic & thus washable & can easily be sterilized.
It does not have any rubber & suction cups therefore; it is extremely easy for puppies to paw at & move around because it is very lightweight. Very well-designed with any loose parts. It is a beginner-level toy so; I do not prefer giving it to my puppies daily to keep the thrill. Moreover, no doubt it is very durable but please remember it is not chewing proof.
---
Summing It Up
The activity and cognitive levels of French Bulldogs are surprisingly high. They require toys that promote mobility. In addition, their toys should provide puzzles to keep their minds occupied. Finally, they require engaging toys since they actually spend time with their owners.
By giving Best Toys for French Bulldogs, you can make them stay happy and healthy.