Corgis are not much popular dog breed in the USA, but many people own them. They are highly energetic and joyful pets that love to spend their most time playing. But what if you do not have plenty of time to play with them?
The same situation was happening with me as I was unable to give him proper time due to my busy life routine. He was becoming frustrated, and I was really curious about his situation. Then I find a solution in the shape of dog toys.
Due to lot of choices finding the best toys for Corgi was really difficult. So I ordered 10 different toys, of which only half performed well for me. So I decided to write a review on toys which are best for corgis. Have a look at them!!
Buying Guide of Best Toys for Corgis
Choosing a dog toy for Corgi is crucial as it directly relates to its health. As a dog owner, it's your responsibility to take care of some important points before buying a dog toy. So here are some points which I kept in my mind before selecting any product. So read them and keep them in mind before buying toys for any dog breed.
Durability:
What's the benefit of buying a product which is not strong, durable, and long-lasting. Surely you will not go for that item. It's in a Corgi character to always be on the lookout for prey, so any toy that the owner gives them to chew will receive their money's worth.
That's why it's better to select one strong and durable product instead of buying the useless stock of toys. Look for our article on best tug of war dog toys which your dog may like.
Material:
The material used within toys must be strong and not so harsh that they cause injury to Corgis dental health. Rubber is a suitable material for this because it is durable and padded, which relieves stress on the bite.
Weight:
The weight of a toy is really something to think about as a dog owner. Corgis are known for playing for extended periods of time, so if the toy needs human assistance, make sure it is one that will not fatigue you.
Types of toys for Corgis:
For Corgi, several toys are ideal for different situations. You'll need some to help them in exercise, some to keep them entertained whenever you can't play with them. Let's have a look at different types of dog toys that are used for multiple purposes.
Interactive toys: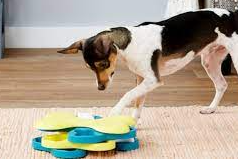 When you do not have enough time to play with your Corgi, interactive toys are best to keep them busy and active the whole day. These toys allow your dogs to play all day and spend their day alone.
Training toys:
Training toys work very well with Corgis. This type of toy keeps the mouth and paws of the dog busy and is a great way to give your dog some exercise.
Fetch toys:
If you have a tiny yard and they didn't run across on their own to burn off some energy, fetch toys are a good option.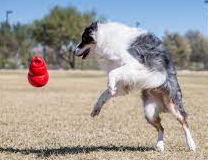 Best Corgi Toys:
Nina Ottosson by Outward Hound Dog
The reason to buy this puzzle was only a lot of positive reviews from users. It gives you the option of 4 different levels, but I choose level 2 (intermediate) as my dog is not much intelligent. In every box, there is a meal hidden, which will be a reward for the dog.
This toy requires a great focus and intelligent skills of your dog, so first, give your proper Corgi training to play with this toy. It can be a great exercise toy as it requires the involvement of 4 legs and mouth. Whenever the dog opens the box and gets the food inside, it will make him engaged, and he will be curious to play with it every time.
Overall it was a great purchase for me, and I'm satisfied. Although the dog can play it alone, giving him company will be better as sometimes the dog becomes confused.
---
Wobble Wag Giggle Ball Interactive Dog Toy:
Here comes an interesting toy that will keep your dog active, and he will play with it all day. One of my inactive dogs, who love to sleep all day is now behind the ball every time. The holes inside the ball allow you and your dog to easily hold it and throw it away inside the house or in the yard.
This ball is suitable for all ages as my puppies, and elder both are enjoying with it. On rolling and shaking, the ball produces attractive giggling sounds, which force dogs to play more.
You must be thinking that dogs' sharp paws and teeth will destroy the ball. But in reality, this ball is made with strong material, due to which it shows resistance against paws and teeth. My Corgi loves it most, and seriously, they are playing with the ball at this time.
---
Zeaxuie 9 Pack Luxury Puppy Toys:
If you are looking for a set of different best toys for Corgi, then Zeaxuie 9 Pack will be the best suitable option for you. The pack includes 3 ropes, 4 plush toys, 1 ball, and 1 bag roll for your dog. These toys are more than enough for your dog to play.
I will recommend you never give them all these toys simultaneously because it will end their attraction due to multiple options. The toys are made up of natural and durable material, including fiber and premium plush which is completely safe for your Corgi health.
The toys will also help dogs to clean their teeth and prevent gums. My Corgi puppies are really happy with the purchase, and I will definitely purchase it again.
---
Outward Hound Squeaker Ballz:
The tennis ball is the most commonly used toy for dogs playing. But a sports tennis ball is not specifically made for dogs. So for that, Outward Hound made a ball made according to dog nature. It comes in different colors, which are visible in every atmosphere.
These balls use high quality rubber with super color flair, which shows great resistance against dog teeth. I will recommend you to buy the different sizes, so your dog does not get tired of it.
Overall, not only Corgi but all other breeds love to play with these balls, and they are every time running behind the ball.
---
ChuckIt! Sport Ball Launcher:
While playing with Corgis, throwing balls towards them or behind them is a very difficult task. My arms get tired, and then I stop playing with dogs. So one of my friend suggested using this ball launcher which greatly helped me.
It not only assist you in throwing the ball but also increase the distance and accuracy of the ball.
---
FAQs
Can we use kids' toys for dog playing?
have seen some owners who have given kids toys to their dogs. However, it's completely wrong to give them kids toys because most of the kids' toys are made up of plastic and other hard material that can cause injury or hazard. So as per the veterinarian's suggestion, you should use the toys which are specifically made for dogs.
How often should I clean toys?
As Corgi are clean dogs who loves to remain clean every time and did not make their toys dirty. But when you see that, you need to wash it, then make it clean.
Conclusion:
Toys are a great possible solution to make keep your dog busy and active. But due to a great number of options available in the market, finding the best toys for Corgi is very tough. So above all, products are my personally tested, and I choose them after descriptively testing them.
So take a look at all of them and choose the best one for your best friend!!