Are you looking for a Boxer Dog harness? While it's true that a harness is a good and efficient way to control your dog and prevent pulling. They can be so curious and strong that it's difficult to keep them from pulling when they notice something or want to explore further.
But if you think that any harness can be used on your dog, then you are extremely wrong. Because there are some things and factors you have to look at before buying the dog harness. So I decided to test multiple harnesses and used them on my Boxers.
Not all lies on my expectations, but some perform very well. So here is the best harness for Boxer Dogs. Check them out!!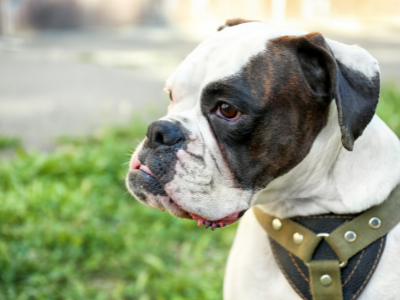 Types of Dog harnesses:
There are different types of dog harnesses that you can choose accordingly. Depending on your needs, each of these harnesses has pros and disadvantages. Not all dog harnesses are the same. To locate the one that is most suited for your dog, you may need to do some research and make numerous efforts.
Front-Clip Harness: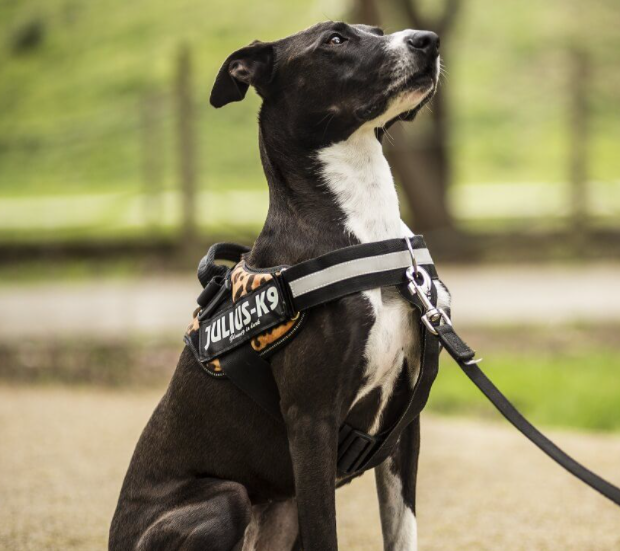 Front-clip harness is the most popular and commonly used dog harness, which you can easily find in the market at cheap rates. The leash is fastened on the front side of this harness, as you can understand from its name.
The problem of continuous pulling is reduced when one leash is linked to a ring of harness on the dog's chest. The dog is trained to walk alongside you rather than in front of you, as this is how they normally drag you along.
Front-clip harnesses offer more control and can help you feel more confident when walking your dog.
Double Clip harness: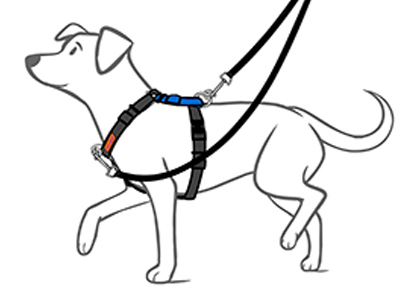 Dual-clips are less popular, but animal behaviourists prefer them because they provide consistent pressure and a variety of possibilities.
These harnesses are fastened to your dog's front and back by double clips, as you judge from its name. You can attach the leash anywhere you like. These harnesses are most costly and heavy, but they are the most practical, adaptable, and efficient for most of your requirements.
Back Clip: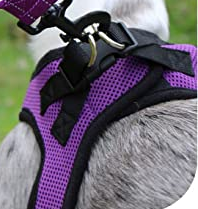 For owners and instructors, back clips are the most common harness choice. Back harness is easy for dogs to adjust to because they are light and comfortable and more easier to put on. These harnesses are often known as step-in harnesses since dogs easily step into them.
Remember to look into what can be the greatest accessory for your dog when they're wearing a harness.
Although there are some other types of dog harnesses but we will not consider them as they are not great for your dogs.
Frequently Ask Questions
Why should you select harness for Boxer?
Boxer dog is very energetic and powerful dogs who pull their leash too much when they walk or do some other activity.
A collar might be inconvenient or perhaps harmful for Boxers. When your dog pulls, the collar will swiftly choke him, restrict him from breathing, and cause throat pain, especially if a walk is long. The harness is highly recommended by dog and veterinarian instructors for this reason.
Furthermore, you will also have greater control over your Boxer dog with a harness than a leash. You'll have more control of the direction your dog chooses. You would be able to handle it this way more effectively.
It is perhaps essential to prefer the use of a harness that is completely secure and more convenient for such dogs who pull excessively.
Can My dog wear a harness for a whole day?
There's really no reason to leave your dog's harness all day unless you're going on longer hiking or camping for the night. Harnesses are designed to be worn when going outside, not at home. All day, wearing a harness can cause irritation and raw patches, particularly in dogs with short coats. 
Don't keep your Boxer on a harness all day unless you have a good reason. A harness is an item of dog equipment used when going outside, not an accessory to be kept for long periods of time.
When should you put the harness on the dog?
more the dog wears a harness, the quicker he will become familiar with it, and the more you will benefit from it.
Best Boxer Dog Harness:
BABYLTRL Big Dog Harness No Pull
With a strong and muscular body, it sometimes becomes difficult to fit a harness on their body. With 4 adjustment strips, BABYLTRL Big Dog Harness performs very well for my dogs and greatly fits them.
I ordered the XL size because my dog has a large and heavy body. This harness can be a great fit on 32-42 inch chest dogs. Moreover, multiple sizes are available for small and large boxers. It has 2 clips for the leash; one on the front and one on the back, which greatly prevents dog pulling.
The nylon-made handle is very helpful when you do not have a leash or training your dog. It has reflective colours on some spots, which can be life saving when your dog is outside at night. There is nothing that I found missing or useless in the harness.
---
Voyager Step-In Air Dog Harness:
Voyager is a top leading dog harness manufacturing company with a great reputation for providing affordable and quality harnesses. Not only for dogs, but they also make equipments for other pets.
One thing that attracts me more is the 10 different sizes available and many different popular colours, which gives you more options to choose the best. It perfectly fits on my boxer dog, giving a proper space for air to pass. You can easily lose or tight it when needed.
From the inner side, its very comfortable as it uses soft material inside. Two reflective bands make your dog prominent if your dog is outside early morning or at night.
Two D-rings and buckles give your dog a quick release option and extra security. Overall I'm really impressed with its quality as t gives comfortable equipment to my boxer dog!!
---
PHOEPET No Pull Dog Harness:
If your dog has a puling habit, you must look for a no pull dog harness. The same was happening with me when I go for a walk with my boxer dog, and they start running behind squirrels or something which they look interesting. I was very embarrassed because running behind a dog sometimes look awkward. So I decided to use the best running dog harness.
After one of my friends suggested PHOEPET no-pull harness, I was surprised with its control over the dog. Now my dog tries it's hard to run away, but I greatly control him with a harness. It is available in a variety of sizes and colors, but I choose the baby blue colour.
Its 4 adjustable clips greatly fit on your dog but only when you buy it according to your dog size, so it's better to first measure your dog chest size and then choose a product. It has a D-ring shape on top and front with which you can control your dog accordingly.
Overall, it was a great purchase for me as it greatly prevents my dogs' pulling, and I comfortably do jogging with them. So, if your dog pulls, I strongly advise you to get this harness.
---
ThinkPet No Pull Harness Breathable Sport Harness:
ThinkPet boxer dog harness is my personal favourite harness as it has some important safety features which give great control over your fogs.
It's a strong and sturdy harness that is made from pure Nylon. Its adjustable straps help to perfectly fit on your dog. It's very easy to wear and off due to quick snap buckles. The inner layer is softly mesh optimized, giving a proper space for air ventilation.
A metal D-ring is available on the top of the harness with which you can attach your leash and get more control over your dog. It's a great choice if you are walking, jogging, hiking, or any other outdoor adventure.
---
Ezier Glowing LED Dog Harness:
Here comes a most interesting and entertaining dog harness, which I just ordered for fun. The LED lights in the harness give your dog extra safety, and every eye will be on your dog while walking. The lights are lit with charging, and a USB port for charging is given, which takes 2 hours for full charging.
While talking about its quality, it's very well made to prevent choking and pulling of your dog.
---
Final Verdict:
Finding the best harness for boxer dogs is not a difficult task, but choosing the best one can be tough. Because there are so many possibilities on the market these days, you should choose wisely. Boxers are a sensitive breed that can get irritated if not properly cared for.
Above mentioned all products are our personally tested and afterwards reviewed. So take your time and make a sensible decision!!