Corgis, whether Pembroke or Cardigan, are one of the favorite family companions because they are not only incredibly affectionate, cheeky, and lively, but they also create a strong bond with family. Corgis are high-energy dogs who enjoy going for daily walks, and some are still used as working dogs on farms and ranches around the world, therefore we need to find them a comfortable and safe harness to wear.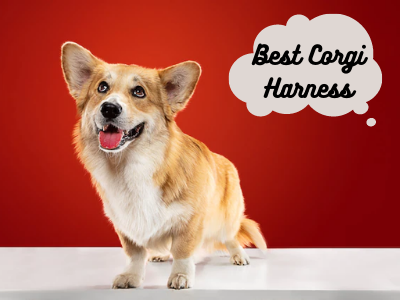 I have collected around the five best harness for corgi that are easy to adjust, safe for corgis, offer good comfort, and are known for their durability and my experience with them. So, these are perfect items for your corgi. Try to invest in a good product to offer optimal comfort to your pup.
Types of Harness
There are several sorts of harnesses to choose from, and your Corgi's demands will decide the one you pick. You have to finalize before picking any harness which kind of harness you want for your pooch.
Vest Harness
It's a good choice for dogs due to its comfort and padding area. This type only suits the large and standard dogs, so you can easily and quickly handle them. In my view, a vest harness is not suitable for corgis due to their small size and unique shape.
Back Clip Harness
A harness with the clip on the back is better for Corgis, who are either house trained or don't pull as much. It offers the owner lesser control, but it also reduces the stress on your dog and makes for a more relaxing walk. Its purpose is to disperse pressure and energy around its chest, which is why harnesses require a substantial amount of cushion.
Front Clip Harness
It's a form of the harness that has a hook on the front side or on the chest. These harnesses are mostly used for strong canines and for dog training. It gives the owner a lot more control and allows him to move away from something it's interested in.
How to get a perfect harness for a corgi?
Without considering anything, focus on measuring the dog's size; chest measurement will definitely help you. After getting the right harness, fit it to your pup. Straps and buckles are flexible, so you can easily adjust them. Make sure that it is completely fitted to its chest and they can't escape from it. Remember that the best harness for corgi will make them comfortable. Moreover, toys for corgis are suggested if it's much active and energetic.
Buyer's Guide Of Best Harness for Corgi
In this section, I will talk about the points that should be considered before confirming any product for your adorable pup. This requirement is not a hard and fast rule. You can compromise according to your requirements.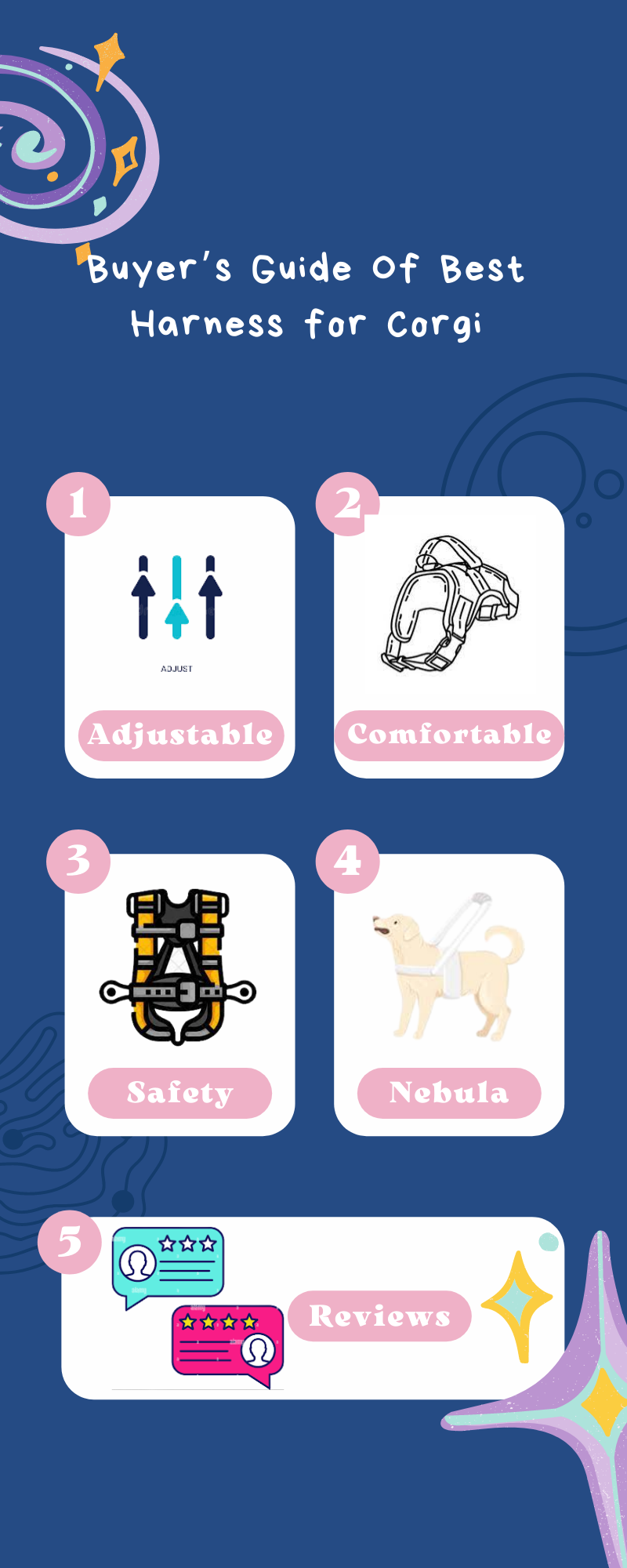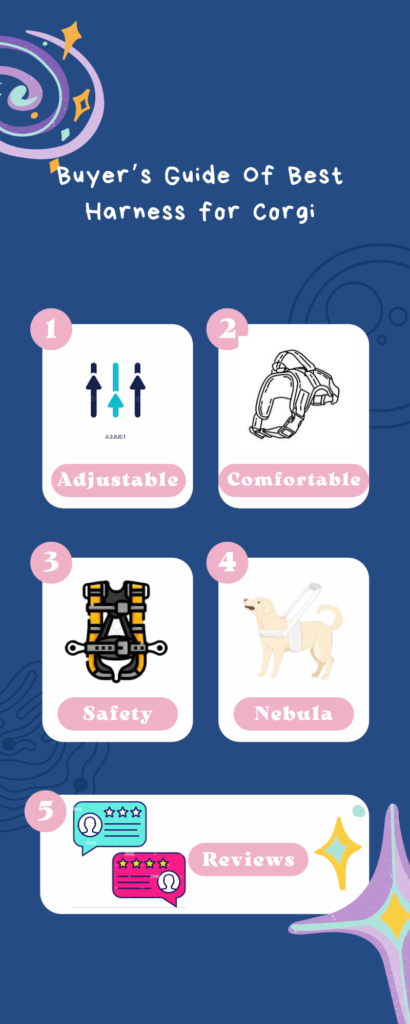 Adjustability
Due to the corgis' short size, it's a bit tough to find a fitted harness for them. So, you need to concentrate on those adjustable and flexible items. If you want the gear to fit properly, it must have several adjustable parts since this will enable a precision fit. It will be a plus point if the adjustable parts of the harness are built with quality material. According to my experience, military or metal class clips are sturdy and strong.
Comfortable
The padding on a comfy harness will indicate how comfortable it is. The more padding the harness has, the more comfortable it will be. Harnesses of poor quality affect the skin of dogs. So, a soft but quality material is preferable instead of hard padding. My corgis don't even notice that they have a harness on them because of the good quality material.
Safety
Safety is always the first focus in any case, whether it's dog food, collar or a harness for corgi. Many dogs enjoy going on walks early in the morning or late at night, so reflective stitches or any symbol on the harness can be seen in the dark and save them from being hit by a vehicle or bike. I was watching a video of a dog strolling down the street when a fast-moving car came to a halt due to the fluorescent strips on the dog's harness.
Long-Lasting
A wise man stated that " The quality comes with the price. " Most quality products always last longer than any cheap and third-class items. Some manufacturers here provide a lifetime warranty of their products, so it's quite good to have such a long warranty. Still, I will repeat that durable products are always expensive.
Top Five Harnesses for Corgis
Rabbitgoo No Pull Dog Harness
The product ranks no. 1 in our list of the best harness for corgi. Rabbitgoo's harness offers optimal comfort because of its stylish and luxury design. The unique thing you will get in the item is the chest and back clip. I prefer to use a back clip due to my hiking and traveling trips.
The material used is extremely impressive and durable. As corgis are very aggressive and affectionate, it's designed with nylon and soft cushion padding. No reflective stitches are used but don't worry, luminous parts are enough for it that is good for a late night walk.
It is quite easy to use because it includes two clips that may be used for various applications. This harness's front clip is ideal for anti-pulling, while the back clip is useful in a variety of situations like walking, hiking, etc.
When a harness is properly fitted to a dog's body, they feel confident. If your dog is uncomfortable, you can rapidly adjust two neck straps and two chest straps. I believe that you both will enjoy the daily walks and strolls. My journey with this product started in 2017, and till now, I have ordered this product four to five times from Amazon for canines. Although many users are not completely satisfied with its simple design, but its quality forces every buyer to purchase it.
---
Copatchy No Pull Dog Harness
Have you ever seen such a soft, comfy, and ideal harness for pups? Here is the one that surprises the entire pet market with its quality design for outdoor and indoor activities.
I have tried many harnesses of top brands for my little welsh corgi, but all fail to deliver results according to my expectations. The Copatchy harness is an all-in-one harness, and owners may use it for hiking, traveling, and training.
Your dog will feel at ease and will not experience neck discomfort because of the sponge-filled anti-pull effect. The no-chock and anti-pull design is an excellent choice for corgi pets. The product offers you far better control over dogs than others. Don't forget to measure the accurate size of the corgi neck and chest before going to purchase because many owners have faced sizing problems.
---
Ruffwear Reflective and Padded Harness
Ruffwear has been a reputed manufacturer for many years and has many satisfied clients. The flexible harness can be adjusted in four distinct positions and this is one of its best features. While it isn't made specifically for Corgis, you should be able to modify it to fit your dog's unique body shape. For comfortability, the Ruffwear Front Range contains soft cushions on all contact points, and it won't dig into the corgi's skin.
Like the above two products, the Ruffwear harness also has four adjustable points. It has two leash attachment points, the rear point is made up of aluminum and the other one is made from reinforced webbing. The problem we mostly faced, the front leash attachment point is not metal, and it's not suitable for dogs who pull a lot.
---
Chai's Choice Adventures Dog Harness
Here's another best harness for corgi that's the most stylish in our list. Instead of others, it has only one attachment point on top. Many owners face ultimate difficulty in controlling aggressive and strong dogs with harnesses, but this one is designed and optimized in a way to control these pups or you can use heavy chains to control these.
The aspect that distinguishes this item from others is that it properly assists damaged or disabled canines. Furthermore, the materials used to make this harness are extremely soft, providing your dog with extra support while walking and training.
---
Barkbay No Pull Dog Harness
Here is our last but considered the best harness for corgi due to multiple reasons. The fascinating point is that the collar is breathable and helps in hot summers. It reduces the chances of pulling while walking or strolling. The dog premium harness includes anti-chafe padding that is considered excellent for distributing the pressure applied.
Because it prevents choking and pulling, your aggressive and puller dog feels comfortable after dividing the force. Both front and back points offer good quality and control. At last, I will add that Barkbay's product is excellent for your little corgi.
---
Frequently Asked Questions
Why do they need a special harness? 
Because of their much shorter size, you have to find a special harness for them. Although many products are available on a large scale, it's still challenging to choose a perfect size harness for them. 
What is the average height of corgis?
The average height of these dogs is about ten to twelve inches tall. The size may vary but most corgis are almost the same size. 
Is it easy to handle corgis?
According to experts and breeders, you should have knowledge of this breed before adopting it. Many may argue, but this is right because corgis belong to the herding breed, which sometimes is difficult to control, especially for new or first time owners. 
Conclusion
That's all about the best harness for corgi. Keep in mind that the product you are going to buy should be of high-quality material to provide great comfort. I have covered all types of items, some of them are economical while some are expensive.
Rabbitgoo harness has been my favorite product for the last few years, and, most importantly, my canines like them, so it's my first choice. One must go through the points of the buyer guide. In case of any confusion, comment your problem down.