Some dog breeds require special care of their food and nutrition because of physique, muscles, fur and a variety of other reasons. The Great Pyrenees are also included in those canines that have unique demand than other dogs like golden retrievers, huskies, etc. Did you know that this breed was ranked in 66th position in 2020 in the list of popular dog breeds? Love, patience, and calmness are ideal for explaining this dog.
Many owners and breeders struggle to discover the best food for Great Pyrenees. Therefore, I've compiled a collection of the greatest options in this article. The items are listed on the basis of natural & quality ingredients, no artificial flavors, users satisfaction, and my experience with all these listed products. The food is for adults, puppies, and aged canines. So, follow our recommendations to get excellent food for the pup.
What ingredients should be avoided?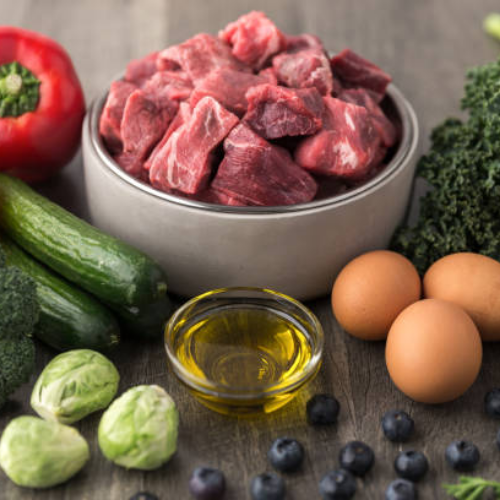 It would be great if you looked after the dog's diet in order to keep it healthy. Some additives aggravate the dog by worsening allergy symptoms. Many buy fillers, but it's proven that they add nothing to a dog's health instead of health issues. Synthetic antioxidants like BHA, BHT, and Ethoxyquin have been associated with numerous health problems such as kidney disease and cancer.
Don't even look at artificial tastes and flavors, and these ingredients are not easy to digest for animals, so avoid them. Meat by-products can be delicious, but they're best avoided because they're usually sourced from slaughterhouses.
Top Five Great Pyrenees Food
ZiwiPeak Air Dried Dog Food
Here is our first product that is available in five different flavors and we are discussing beef flavor. Ziwipeak dog food is completely formulated in New Zealand with all natural components. A premium food with no added carbohydrates is beneficial for allergic and sensitive canines.
Some owners are too conscious about dog obesity, so it has not included ingredients that cause obesity, such as cheap fillers, grain, and peas. Dental issues in pups are a serious concern that has dramatically increased in the last couple of years. It includes quality ingredients for dental health. Dental water additives is the good thing to use for.
One of our team members tried this food for his dog, suffering from major kidney problems, but she is now 70 percent better after three months of use. It's not confined to any life stage; puppies, adults, and senior dogs can all take advantage of it. Another noticeable feature is that it has fewer calories, and no artificial flavors or by-products are used in it.
---
Orijen Senior Grain Free Recipe
Orijen has a list of quality products that are formulated in a way that provides maximum energy and a balanced diet to all pets. This one also includes quality ingredients according to the dog's eating nature requirements.
The great source of proteins are chicken, fish, and turkey, and all of these are included to keep the muscles and joints healthy. The mixture of these ingredients also delivers glucosamine and chondroitin that are excellent for structural health.
Healthy fats and vitamins in the package help the senior and aged dogs to maintain their physique and body parts stable. Because I experienced this with my husky puppy and pyre adult dog, I believe this food is ideal for any dog who has digestive issues. Meat is also included in the pack, ideal for carnivorous pets.
The features are already listed on Amazon so I won't go through them again, but in terms of performance, it's unmatched. Above all, it's a US made product and doesn't include any fillers, wheat or corn. It's been in use for the last two years and you will be amazed by the company's support. 
---
Taste of the Wild Dry Dog Food
It's the best food for great pyrenees from two aspects. The first one is that it offers plenty of proteins, and the second one, it's specially formulated for food sensitive canines.
The pack is optimized to deliver essential high protein formula without those elements that may cause any allergy. Salmon fish and ocean fish are also big protein sources and provide fatty acids for a healthy body and joints.
From a performance perspective, this one is excellent for food allergic dogs. I don't believe this is true for people who claim that their pets get ill after eating this food. Antioxidant-rich fruits such as blueberries and raspberries maintain a healthy immune system. In addition, a mix of K9 Strain Proprietary Probiotics is included in the formula to help reduce inflammation.
---
Merrick Dry Dog Food
Another brand with a distinct fan base is this one. The Merrick recipe comes in five different flavors, and I chose chicken because it is my pet's favorite. The notable point about the recipe is that it includes a very low amount of calories. If your dog is overweight or gaining weight, use this food, you will see results in around three months.
The great Pyrenees quickly gain weight, so low-calorie food like Merrick is suggested to use. The omega-6 and omega-3 acids are found in chicken fat and flaxseed oil, which helps your dog's skin and coat. Additionally, healthy grains such as barley, quinoa, and brown rice deliver fiber to help digestion along with vitamin B for extra power.
---
Eukanuba Large Breed Dry Dog Food
Here is the last but not the least best food for great pyrenees that has been in the market for the last 12 years. Most of the owners don't know that large breed puppies need a special formula to support their bones and joint health. The pack includes a real chicken with fish oil that provides enough fatty acids to grow skin and coat healthily.
The prominent point is that Eukanabu food has some amount of calcium and phosphorus, which are excellent for bones. The only downside, in my view, is that wheat and corn are included in it, which is not suitable for allergic pups.
---
Buying Guide for Best Food for Great Pyrenees
The Pyrenees demand protein enriched food with healthy fats and carbohydrates for the body and muscles. Some points are mentioned below:
Healthy Fats
It's not suggested to use high fats because they result in obesity, but some healthy and controlled fats are considered good for them. This breed quickly gains weight, so you have to take care of the fat quantity.
The main sources of fat for canines are salmon fish oil, chicken fat, and flaxseed oil. I prefer to use fats that provide omega fatty acids. The benefit of omega acid is that they support the skin and fur to grow healthy and shiny.
Carbohydrates
Like fats, carbs and fibers are also essential for dogs. Chickpeas and sweet potatoes are good to use as carbohydrates. Many new owners ask, why are carbs necessary? Carbs provide fiber that is easy to digest and boost the dog's energy level. Three to five percent of carbs in dog food is ideal.
Vitamins & Minerals
Although most brands include some vitamins and minerals in their packets, new owners should know about it. Without any doubt, these are necessary for the dogs to maintain their metabolism healthy. As your dog gets older, opt for foods with increasing quantities of taurine, glucosamine, and chondroitin. These nutrients will assist in the protection of their bones, heart, and muscles.
Proteins
Above all, protein is the main ingredient in the best food for great pyrenees. This breed has strong muscles and a large body. A necessary amount of protein is needed to retain their strong muscles in a particular shape. The quality of proteins matters a lot, and meat by-products are unsuitable for use as a protein source.
I prefer wholesome meat such as lamb, chicken, and red meat. For standard dogs, 18-22 percent protein in a diet is enough, but for the great pyrenees, a minimum 22-30 percent amount of protein should be in the diet.
Customers Feedback
Before purchasing a product, make sure to read the reviews. Always buy a product with reviews since this demonstrates the analysis and performance of dog food in everyday life. Don't blindly trust newly launched brands and invest your money in good products.
Common Health Issues
Some health concerns are genetic and unavoidable but, here are some common diseases that you can avoid by taking the necessary measures.
Joint Issues
Dysplasia
Obesity
Bloat
Bone Problems
Frequently Asked Questions
Can I feed them eggs? 
It's suggested to use Eggs in dog food. Both layers of eggs, from shell to yolk, are highly protein enriched. They should consume it in their daily routine, like other things.
Are Great Pyrenees family dogs?
They might be aggressive at times, but they are generally quite friendly and polite to families, especially kids. As compared to urban areas, it is observed that they feel much better in rural areas because of their guarding nature. 
How long do great pyrenees live on average?
They can have a good life for ten to thirteen years. This time can easily reach fifteen to seventeen years if carefully looked for.
Last Words
Like all giant dog breeds, great pyrenees also need specially formulated food. All necessary points are explained in detail. Don't go for fancy foods that have a large amount of flavors and artificial tastes.
A protein-rich dish with all of the other essential ingredients is required and considered the greatest nourishment for the Great Pyrenees. We examined all of the possibilities on our list, and we included products in a variety of price levels. That's all about the best food for great pyrenees.