Do you wish to provide your Rottie with high-quality, well-balanced nutrition? Look no further, I have summed up all top-quality products for you. You'll agree that the most crucial item for dog breeders and owners is high-quality canine food. Rottweilers are an excellent family canine and a great companion. The fascinating thing about Rotties is that they make a strong connection with families, particularly children.
They, like all dog breeds, require a consistent and well-maintained diet that should meet all of their nutritional needs. Below are some of the best dog food for rottweilers that are the most selling item in the market because they don't have any artificial taste and chemical flavors.
Moreover, these packets contain top-quality digestible proteins and sufficient amounts of calcium for bones and joints. I genuinely believe that these choices are good for your black and tan pup, so carefully look at all products.
Characteristics of Rottweilers
Alert
Obedient
Confident
Kind-natured
Fearless
Devoted
Calm
Active
Four Best Rottweilers Dog Food
Taste of the Wild Dog Food
Here is our first economical product that contains 32% high protein to keep its muscles healthy and support bones. The ingredient list for Taste of the Wild is outstanding, starting with high-quality proteins like duck meal and chicken meal, and depends on sweet potatoes, peas, and potatoes for the majority of its carbohydrate content.
Supplements like roasted quail, smoked turkey, and roasted duck are merged in the package to enhance the quality as well as its taste.
K9 probiotics are well known for improving the immune systems of pets. Moreover, the food bag is packed with omega-3 fatty acids with minerals and vitamins enriched fruits and vegetables. I've been using it since July 2021 and found it useful for my Rottie. The only negative I've noticed is that some owners dislike the tomato pomace antioxidant that's included. Overall, 90% of owners are happy with this food package.
---
Nutro Natural Senior Dog Food
Nutro is well-known in pet supplies, and a lot of owners only use Nutro products due to their quality and excellent support. The above one contains duck meal as its main ingredients, whereas this food contains chicken meal.
The product doesn't include any chicken by-products, corn, soy, or wheat in this dish, and no artificial flavors or preservatives are found in it.
The calcium amount in the recipe is 1.32%, whereas phosphorus content is 0.90%. Many guys are confused between Nutro and Nutro max. We're reviewing Nutro food that contains glucosamine and chondroitin. As expected, no chicken or meat by-products are used in the formulation of it.
With elements like whole-grain sorghum, whole-grain oatmeal, and whole brown recipe, this food focuses on whole-grain carbohydrates. With all of its benefits, the fact that it's exclusively for large breed dogs or dogs older than 18 months is a minor drawback.
---
Blue Buffalo Dry Dog Recipe
Blue Buffalo dog food claims to enhance dog health and its immune system with its high protein beef meat. Most significantly, it's one of the best dog food for Rottweilers. Without any doubt, red meat is the favorite food of canines, so this red meat formulated food can fulfill its nutritional needs. Omega 3 and 6 fatty acids beautifully enhance skin and coat health. The antioxidant-rich fruits and vegetables in a recipe such as carrots, parsley, blueberries, and cranberries will help your dog's immune system function properly. You also need to care about dog's skin and coat with good quality anti-itch and dander shampoos.
I used this bag for my dry-skinned rottweiler, and after three to four months of use, its skin condition has dramatically improved. Dogs enjoy tasty and delicious treats, which satisfy them with their pleasant tastes. Many owners, including myself, dislike grains in their dog meals, and this does not include wheat or corn.
---
Wellness Natural Grain Free Dog Recipe
Here is the final product of a Wellness brand that has captured a significant market since its launching. Senior or aged dogs need the best diet to remain fit and healthy. Most dogs face joint issues as they age, so this recipe is specially formulated for senior dogs to keep their body parts and immunity at the best level.
Fresh meat ingredients keep the muscles in their best condition. Salmon oil provides omega fatty acids, whereas glucosamine, antioxidants, and some probiotics included are best for heart health. Over and above that, it's suitable for those dogs who have any food allergies. It's the only expensive item on this list, but you have to compromise on price for a quality product.
---
Buyer's Guide: Best Dog Food for Rottweilers
You have gone through all the products, here are some buying points that you should consider before purchasing any pooch food.
Omega Fatty Acids
The Canine's body needs some fatty acids to remain fit. Although there are many types, the most common acids are omega-3 fatty acids and omega-6 fatty acids. Dogs can quickly obtain omega-6 fatty acids through meat, fats, and vegetable-based items. Omega – 3 fatty acids are a bit tough to obtain because they are only found in fatty fish.
Antioxidants
Choosing a food rich in colorful fruits and vegetables is the best approach to guarantee your dog gets enough antioxidants. Kale, spinach, collard greens, carrots, blueberries, and cranberries are just a few types.
Avoid artificial flavors & Meat by-products.
Most dog owners reject artificial flavors and tastes since they have a negative impact on their dog's health. These flavors increase the food allergy and symptoms. We all know that if a food has premium and quality ingredients, it doesn't need these low-class flavors.
There is nothing wrong with using these items, but they can be risky at times because they come from slaughterhouses.
Digestible Proteins
That food is considered the best dog food for rottweilers with a high amount of protein. The source of protein can be in any type like chicken, duck, and red meat. Pets can also get proteins from plants, but these lack amino acids only found in meat. Beef and chicken meat are only good sources of protein.
Prefer product of standard places
Choosing the items created in some countries with high standards is one of the essential techniques to limit the possibility of getting unsafe or spoiled food. Essentially, this means food coming from the United States, Canada, Australia, New Zealand, or Western Europe.
Rottweilers Diet requirements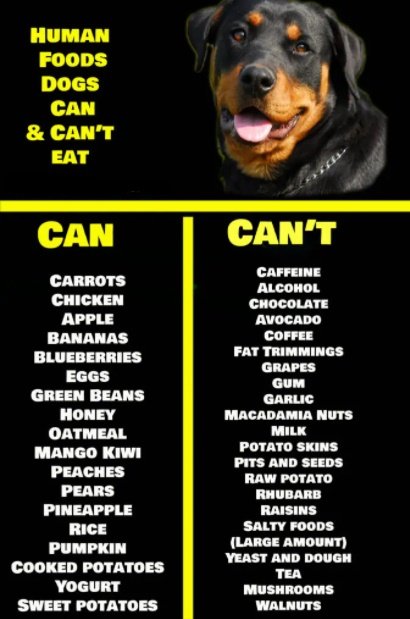 Undoubtedly, active canines need a balanced diet and a proper amount of food enriched with different minerals and proteins. According to experts, Rotties need 25% – 35% protein in their food.
Likewise, an adult dog of a large breed weighs around 100 – 120 pounds, which means they need around 2000 calories per day. If the dog is more active and energetic, increase this amount significantly. Don't provide them with too many calories; it will result in a fat rottie. Whereas healthy fats are essential for a dog's coat and skin health, so also offer them these fats.
Wholesome grains are ideal for getting carbohydrates, while minerals and vitamins assist them in keeping their body organs in perfect condition.
Some common Rottweilers health issues
Rotties may face these health concerns that are listed below:
Obesity
Bloat
Joint issues
Food allergies
Cancer
Frequently Asked Questions
For how much time I should treat my Rottie as a puppy?
It depends on the growth of a canine. Most dogs convert into an adult after one year, and some get mature earlier than others. 
How much should be the weight of an adult male rottweiler? 
The average weight of an adult male should be around fifty to sixty kilograms. 
What kind of human foods can we provide to rottweilers? 
You can offer these items to dogs that people use in daily life:
Raw and cooked carrots
Peanut butter
Eggs
Salmon fish
Blueberries
Pineapples
Bread 
Blackberries
Last Words
Note that the above-listed foods are genuinely based on our experience, users' feedback, and research. Vets and experts agreed that high in proteins, low in carbohydrates, and medium in fats are considered the best dog food for rottweilers due to their body shape and activities.
Everything about Rotties food is explained, and must read the buying guide before finalizing any product. Make the best decision because your dog's health depends on your decision and invest in a good product. A wise man said, " Buy only because something excites you, not for the simple act of shopping. "