Did you know that the Doberman Pinscher is considered the ideal security and guardian dog because of its unique qualities? According to the AKC, this breed is rated at 17th position out of 202 breeds in popularity. Every owner wants to maintain the dog with an ideal physique because the loyal canine with a short tail, strong muscles, and acrobatic way of moving needs a quality and balanced diet with complete nutrition to maintain its body and energy level.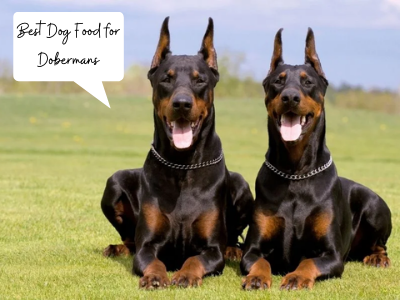 So, I will talk about some of the best dog food for Dobermans that will keep them active and energetic while still meeting their nutritional requirements. The five products are organic, made up of natural ingredients, filled with essential vitamins and minerals, have good customer feedback, and tested by us. Go through the complete guide. All products are excellent due to different reasons. 
Some Facts about Dobermans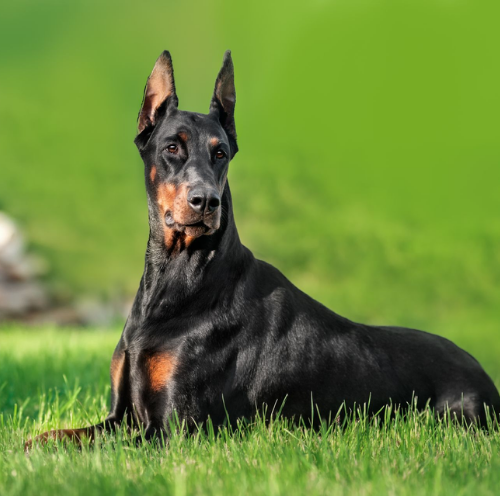 Some fascinating facts about this breed are included below:
Less than 150 years old breed
Bred by a tax collector in Germany 
Perfect for any job
They are movies and wars star
Favorite breed of breeders
Dietary Requirements of Dobermans
You all know that the canine is most energetic and active, so according to its size and energy, it needs more intake of proteins and calories than the typical canine. More energetic the dog, the more protein it need. A better strategy is to discuss with the veterinarian. 20% – 30% proteins are enough for a little pup growth. 
Must Check: Best Dog Thermometers
Dobermans also need fats and carbohydrates in their balanced diet for a healthy life. It's good to use whole grains with fresh vegetables and fruits. It doesn't matter which dog food you are using. Remember one thing that constantly feeds them natural food with high-quality ingredients.
Ingredients that should be avoided
Meat by-Products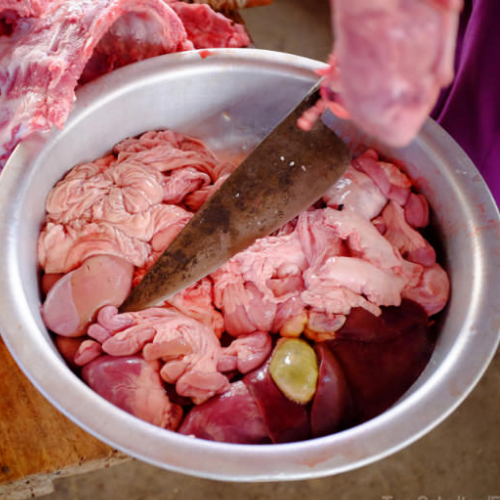 Meat by-products can't be relied on entirely. They're sometimes good and sometimes bad because they are collected during the slaughtering process. Meat by-products mainly include lungs, kidneys, blood, intestines, brain, livers, spleen, etc.
Artificial Preservatives & Colors
Dog food must be kept fresh and healthy for as long as needed. Chemical substances such as Ethoxyquin and BHT should be avoided because they can affect sensitive or weak stomachs and the immunity of Dobermans. As a dog owner, I oppose the use of flavors in dog food because it causes major health problems such as tiredness and allergies.
Fillers
Fruits, vegetables, and whole grains are healthy choices, but corn, wheat, and gluten-containing fillers should be ignored. These elements have nothing to do with the best food for dogs. If your dog already has allergic symptoms, these low-grade fillers can exacerbate them.
Reviewed: Five Best Dog Food for Dobermans
Now that potential buyers have a better understanding of the Doberman's nutritional needs and avoided ingredients, they may begin selecting the perfect dog food for Husky. Keep on reading to see my top five choices.
Avoderm Natural Dry & Wet Dog Food
Avoderm is a well-known brand for making quality pet-related products, and here is another one that I have been using for the last four years for my Border Collie and Dobermans. The healthy and delicious food contains California avocados, brown rice, and chicken meal. One of my Dobie was itching, and after two months of use, 90% of the itchiness had gone away.
Although the bag is pricey but offers the best value for money, omega-rich avocados enhance the coat's health, energy level, and immune system. It's the USA-made food formula and gift for those who prefer to purchase only American products. This protein-rich food is made with all-natural ingredients and is suitable for dogs of all ages.
---
Blue Buffalo Natural Adult Dry Dog Food
If you're checking for an adult dog food, look no further. Purchase this meal at a fair price for your canine's better health. The chicken meat, garden veggies, and fruits add quality to this food.
Have you noticed why the product's title includes the word 'adult'? Adult dogs need more proteins, carbs, and fats, so it contains all the ingredients that keep the energy and body level of the dog.
Doberman pinschers are larger dogs who need to have their joints protected. The increased amounts of glucosamine in this dog diet will help your dog's bones stay healthy. The Life Protection Mixture has no non-essential elements such as maize, soy, or wheat. The foremost thing is that no artificial flavor or taste is included in it.
---
Orijen Puppy Dry Dog Food
Orijen management is aware that dogs are carnivores. Their original meat-eating habit means that dogs require a high diet with meat-based nutrition. That's why raw food is so popular. However, not everyone likes handling raw meat every day. Therefore, Orijen has stepped up to provide a high-quality kibble with 15 distinct raw or fresh animal ingredients in its formula.
The notable thing is that no artificial is used, and trusted people provide all included ingredients. I ordered this bag in mid-2019, and at that time, the package was not sealed. After my complaint, they changed it, and till now, I haven't faced this issue again. I added the product to my list of best dog food for Dobermans because of the great feedback from various users. The only drawback of this brand is it's a bit expensive.
---
Nutro Natural Adult & Senior Dog Dry Food
How about trying Nitro natural dog food? To improve your dog's health and energy level, I think and believe that you should shop for such kinds of food with natural and fresh ingredients.
This food formula is suitable for adult and senior dogs who are entering into old age. It contains chicken meat rather than meat by-products and other chemical substances and a tasty brown rice recipe.
In short, all included ingredients are easy to digest and provide energy to joints and improve the immune system. Nutro dog food is superb for dogs suffering from joint and aches pain.
---
Holistic Select Natural Dog Food
The product stated above is for adult dogs, whereas Holistic dog food is for dogs of all ages, particularly pups. Puppies need the proper and balanced intake of calories, proteins, fats, and carbohydrates for their healthy growth, and this is all included in the package.
For healthy skin and coat, omega 3 fatty acid is included in it. Loads of probiotics, prebiotics, and digestive enzymes will make the digestion system superfit for the entire life. The noticeable point is that no artificial flavors are used in the formula.
---
Buying Guide: Best Dog Food for Dobermans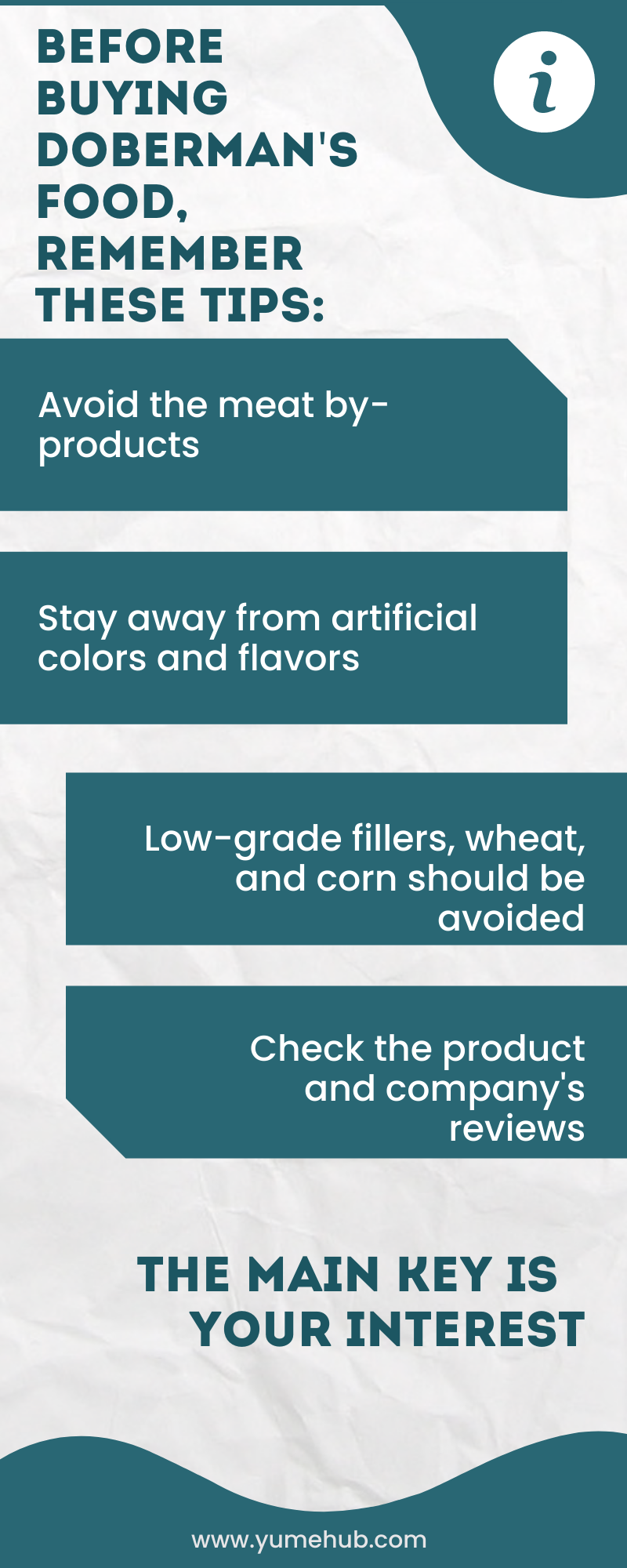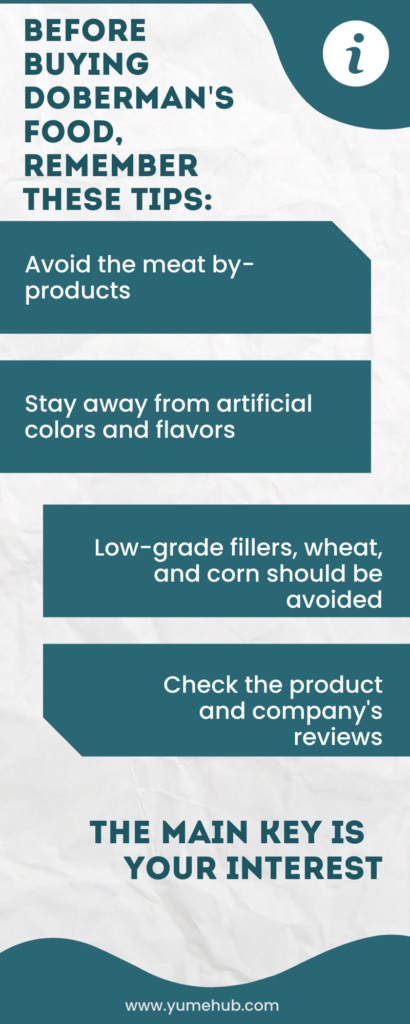 Before selecting any product, there are a few points that you should remember for better selection and investment.
Meat by-product
All dogs enjoy these items, but they are not always ideal. Because meat by-products are collected from slaughterhouses, the result may be the total opposite of your expectations, and dogs may suffer significant health problems. So, it's better to avoid these and not purchase dog food that includes these items.
Artificial Colors
Although additional flavors can make your dog's food more appealing, it's still advisable to avoid artificial things. Dobies should eat healthy and natural meals because they are susceptible to various health problems and allergies.
Substandard Ingredients
Low-grade fillers, wheat, and corn should be avoided. Instead of calories, they didn't add any energy to the food. If your beloved pet has a slight allergy, these components will enhance that allergy.
Brand Reputation & Customer Response
Don't put your faith in newly launched brands blindly. Always look into the brand's reputation in the marketplace. You may get an idea of how well this product functions right out of the box by reading customer reviews.
Dobermans Common Health Concerns
Allergies
Joint issues
Hip dysplasia
Eye problems
Hair problems
Weakness
Frequently Asked Questions
Which food is best for active Dobies? 
Active and energetic dogs need protein-enriched food to maintain their energy and body level. If your dobie is active, feed him a proper diet with balanced nutrition. 
Can dobies eat rice?
Rice offers great carbohydrates with a certain quantity of proteins and fats. Eating excessive amounts of carbohydrates can increase weight quickly. 
How many years do Dobermans live on average? 
The average lifespan of Dobies is around ten to thirteen years. Many live more than this, depending on their care and health. 
Conclusion
Because Doberman is devoted to his family and owner, try to reward the favor by offering high-quality food at all phases of life. Keep in mind that your dog's nutritional demands may fluctuate over time, and different food products will be required based on their age. I have explained the best dog food for Dobermans that will be really helpful. Must read the buying guide once.