Having a reliable dog thermometer at home could save the canine's life & for such an insignificant investment, is it not worth it? Well, while looking at any type of medical equipment, it might get confusing to get the right one so that is why I am here to take away the jargon while talking about the facts. Continue reading the article to get more valuable information about the 5 best dog thermometers both infrared/ear, & rectal that are reliable and easy to use.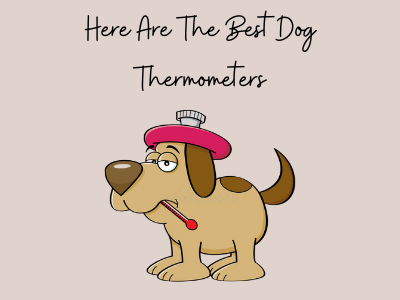 Everything You Need to Know About Dog Thermometers
Being a responsible pet parent, it is extremely important to take care of the dog's health. It simply means to get a few essentials in order to evaluate the different parameters of a canine's health including a good thermometer. Because a thermometer is the only reliable way of assessing the canine's body temperature therefore, it is considered as a worthwhile tool. Here, I would like to share that the dog's normal body temperature range is about 99.5 & 102.5 Fahrenheit. So, a body temperature of 103 & more indicates that your dog is not feeling well. If canines are sick, prevent them from mosquitos and flea tick.
Moreover, it is also necessary to consider the basic types of thermometer that are normally used for canines including infrared, digital and mercury. Well, the most famous choices for the majority of the pet parents are digital and mercury thermometers as both are affordable and easy to use.
So the best dog thermometers will:
Have a clear, large display
Work fast
Easy to use
Also Check: Best Reusable Dog Diapers
Reviewed: Best Dog Thermometers
To help pet parents find the best dog thermometer for their precious canines, I have put together a comprehensive list of the ultimate products in terms of accuracy, speed, safety & reliability.
iProven Dog Thermometer – best pet thermometer
This has been an easy to use, great, & accurate dog thermometer among all the other locally available thermometers. The pet parents will surely love the performance of iProven dog thermometer as it gives precise readings in just 20 seconds. The flexible tip is extremely helpful especially when your canine is squirming but initially pet parents might get confused concerning how far to insert this thermometer therefore, I would suggest asking from your vet for the right insertion technique.
Moreover, when not in use, pet parents can keep it in the case in order to prevent it from germs. No doubt, the best product for all those pet owners who are a bit worried about their canines as with this thermometer they can easily check if they need to call the vet or not. I ordered Iproven thermometer back in 2020 and it's working fine. Many guys have issues about delivery, it was on-time with attractive packing. I would like to appreciate the customer support for their assistance.
---
Enji Pet Thermometer
This wonderful thermometer has been extremely accurate with temperature readings & easy to use. It has a sturdy design & feels like it might last for a long time. The most useful feature of the Enji thermometer is that it came with a reliable battery source already installed & all pet parents have to do is to press the button in order to turn it on & they are good to go.
The provided instructions proved to be a plus point, making it extremely easy to understand exactly how the thermometer works. Well, in this day & age, while having a sick canine, 10 seconds always feel like an eternity for the readings to appear, so I truly wish it was a little faster as well but overall it is great value for the money spent.
---
ADC Thermometer – canine thermometer
Another worth buying product that is surely a great addition to a canine's first aid kit. In fact, this thermometer is best for vets because while working in the field of veterinary, they need something fast & ADC thermometer is not an exception. The thermometer will definitely help save vets from upsetting canines that do not like their temperature taken.
Furthermore, it is much easier to use as compared to any digital thermometer & the numbers are large so, can be read easily especially when pet owners are in the barn with their mates & the lighting is not great. Simply love the fact that the batteries are replaceable & the inclusion of a chart is just perfect as it tells temperature ranges for different types of pets. However, it does not beep to let users know that it's done.
---
Aurynns Dog Thermometer – best veterinary thermometer
This comes as the perfect and safest way of monitoring the daily temperature of sick canines & doing this will let pet parents take better care of their beloved companions. Being a dog owner, I always love experimenting with different types of products and used this one as well. It can be said that pet parents can see & feel immediately that Aurynns dog thermometer is a well-made, and premium quality unit.
This also works as a rectal thermometer for canines. Another appreciable feature of this thermometer is that, it turns off automatically after use & having an ergonomic design makes this thermometer easy to hold. However, the only problem is that sometimes it does not beep when done with the temperature.
---
Hurinan Dog Thermometer
The reason behind including this product on the list of best dog thermometers is that, it is very easy to use. After inserting the batteries, simply place its tip in the canine's anal area & click the button once. Within a few seconds, you will get consistent readings. Pet parents can use it whenever their canines are puking or not eating anything to check if they are sick or not.
In short, it is accurate, quick, & as comfortable as can be expected. I would suggest cleaning the tip of the thermometer with alcohol or soap for easy disinfection. And for the convenience of pet parents with vision issues, the Hurinan dog thermometer gives fast results in large, & easy to read numbers on LCD display.
---
Buying Guide: Best Dog Thermometers
Any of the 5 thermometers reviewed above should help pet owners to monitor their canines' body temperatures. But just reading reviews is not enough therefore, this buying guide will share more relevant information to make the selection process hassle-free.
What Makes the Best Dog Thermometer?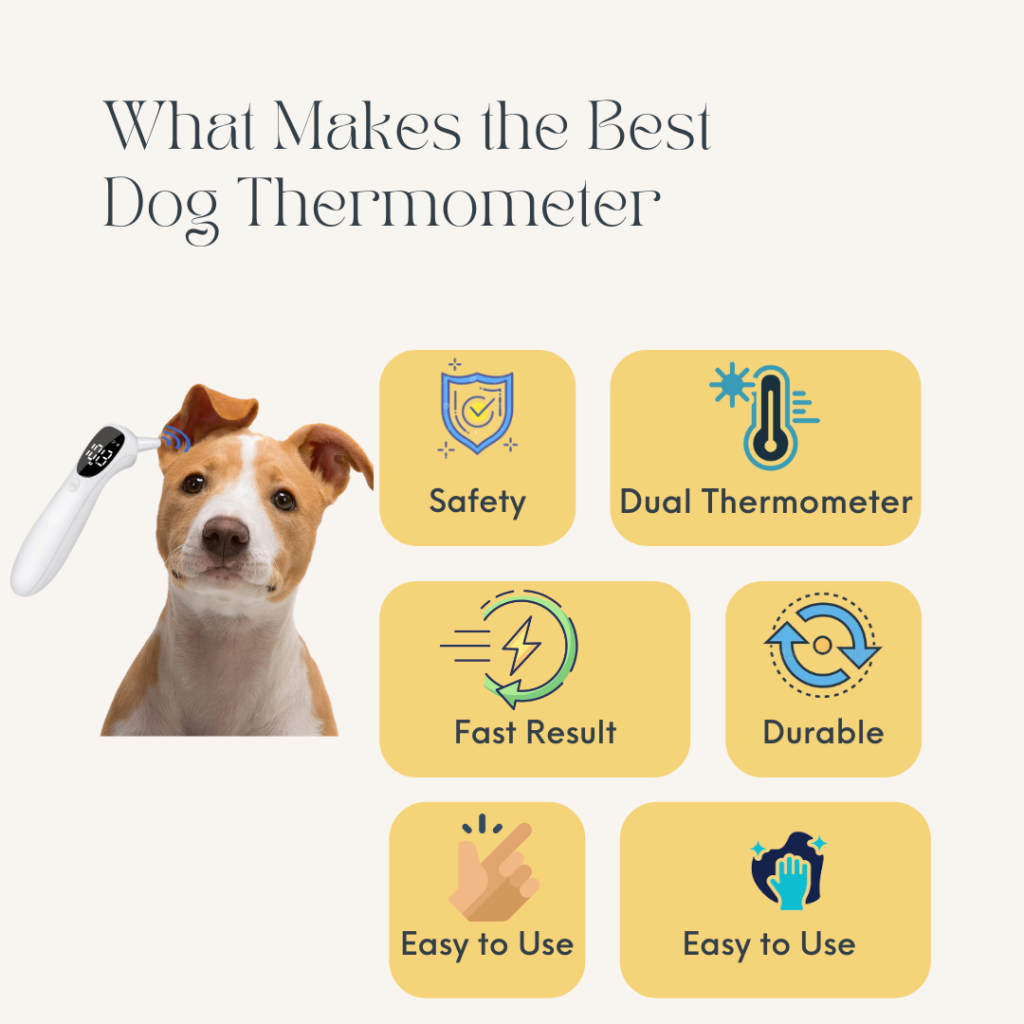 From the above-discussion, now it has been clear that a dog thermometer is a crucial piece of equipment for pet parents. However, if someone has not yet bought one then, here are the features they should consider:
Is it safe for canines?
Consider a thermometer that use both Celsius and Fahrenheit
How fast are the results?
How consistent & durable is it?
Is it easy to use and read?
Is it easy to clean?
Apart from this, pet parents should consider their own temperaments & that of their canines before buying a thermometer. Some canines will definitely not bear with you while taking their rectal temperatures, few pet parents might be squeamish. If this is a case then, an axillary or auricular thermometer will serve the best purpose.
Important Note:
Pet owners should use a separate thermometer for food, unless they are using the non-contact thermometers because, as everyone knows, Bacteria.
How to Calm Canines while Taking Temperature?
Whether inserting the thermometer rectally or via ear canal, it might still cause some discomfort to canines. However, pet parents & vets can successfully take the temperature after following these steps:
Firstly, pet parents should remain calm, because dogs can sense if their owners are upset, scared or even agitated.
Let your canines know that you care & this can be achieved by using a soothing and calm voice.
After retrieving the thermometer, sit in a comfortable place, where you & your canine usually spend time. Give canine a few minutes
It would be great if pet parents have another person with them in order to keep the canine calm while inserting the thermometer. While I do not recommend restraining the canine tightly because this will cause him to panic.
Lubricate the thermometer with K-Y Jelly or Vaseline
Always remember 2 important things:
Do not force things
Be very patient
Conclusion:
In the end, it can be said that whether pet parents are caring for their sick canes or taking temperature for some other reasons, getting a reliable & good quality thermometer will save a lot of time & money. Happy and healthy, two of the perfect descriptors for a great life. And, the same goes to canines as well. It just takes a few seconds to check that your four-legged companion is feeling great, so do not wait anymore and get your hands on the above-listed best dog thermometers right now.