Bulldogs are very adorable, sweet, and lovable canines with sometimes weird & stubborn personalities. Like other dog breeds, bulldogs need regular exercise to help maintain good health. Bulldogs are considered athletic canines who always prefer running. But due to their unique build, with barrel-shaped upper bodies, oversized heads, & short legs, it is very difficult to control them.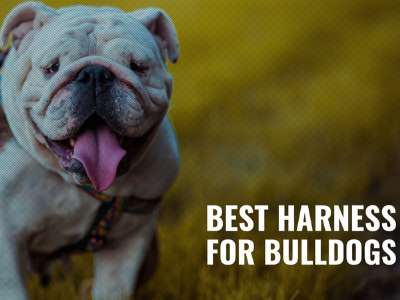 Therefore, a good quality harness is important before planning any adventurous trip with your Bulldog. The best harness for Bulldogs is surely the one that is designed after considering their comfort. It is vital to mention that this working dog breed needs a durable harness for both walking and training.
However, with several available options, it can be hard to tell which harness will keep bulldogs safe while meeting the walking needs of pet parents. Keeping this in mind, the article is going to review the 5 top-rated harnesses for Bulldogs based on durability, comfort, & quality.
Why Purchase a Bulldog Harness?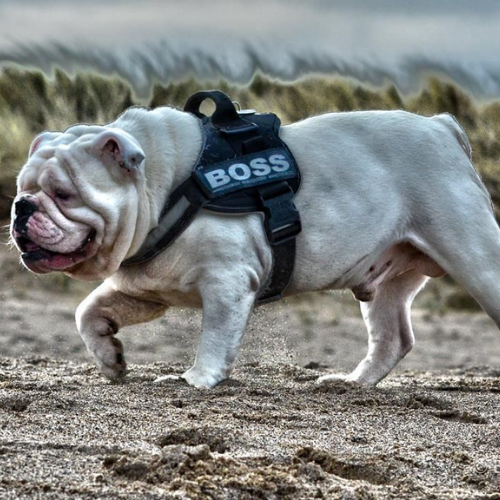 Most of the canines are taken on regular walks or run-on collars. And the same goes for the Bulldogs. But now, veterinarians prefer using a harness instead of a collar for bulldogs simply due to their unique body structure. The dog breed is famous for its muscular and dense physique.
But most importantly, Bulldogs have short & thick necks, so the collar can be slipped on more easily than a dog harness. Furthermore, a harness can help prevent Bulldogs from manoeuvring and pulling themselves out of the killer. The best thing is that the harness distributes the pressure evenly.
What are the different types of harnesses for bulldogs?
It is worth mentioning that every harness is different when it comes to the attachment point. However, the two most commonly used types are as follows:
Back-Clip Harness
Front-Clip Harness
Both kinds of Bulldog harnesses have their pros & cons. Pet parents have to weigh in both & decide which one serves the best purpose for the Bulldogs. The less common types are step-in harnesses & dual clip harnesses.
How can Pet Parents Pick the Right Fit for Their Bulldogs?
It is recommended to measure the Bulldog's length, width, and neck size to ensure the perfect fit. Before placing the order, do consider the size chart of the particular Bulldog harness. If the Bulldog is a good candidate for two sizes with minor differences choose the larger one and use adjustment points to make up the difference. For running, you may like the harnesses that are considered best dog harness for running.
Product Reviews:
Concerning the above discussion, the article will take a detailed look at the best harnesses for Bulldogs currently available on the market. Whether prospective buyers own an American, French, or English bulldog, below are the 5 highly recommended and durable harness selections for the entire bully breed.
RUFFWEAR Dog Harness
After 7 months of regular runs, mainly through the trails & woods, this harness still assures safety and comfort for my French Bulldog. When my French Bulldog outgrew the small size, I purchased this harness as the replacement, which I got him as a puppy. The customer service of this brand is superb. Another commendable thing is that the provided adjustments for the growing bulldogs are great.
I have tried different harnesses designed by well-known brands but the RUFFWEAR harness by far ensures the best fitting, & safety. I like the entire colour selection & reflective strips. Before ordering this one, I carefully measured my Bully as per provided guidelines on the sizing chart. But still, I have faced a few sizing problems. Other than that, everything was perfect.
---
Metric USA Dog Harness
This harness for my French Bulldog came quickly and was packed perfectly. So far, it worked as expected. Great quality, no issues so far. This is surely the best harness for a Bulldog I have come across. I looked in different pet stores, but nothing came close to this amazing harness. The material is very soft yet extremely durable.
And surprisingly, my French Bulldog loves this harness. He hated his other collars and harnesses. The product is very easy to use while running or walking. It fits perfectly on my dog. I ordered the small one & depending on how my Frenchie grows, I might get a large size. Almost everything about the Metric USA harness is mind-blowing, but unfortunately, the clasp makes a very loud rattling noise whenever my Frenchie runs or walks.
---
Embark Adventure Harness
This harness is very well-made, my Bulldog wears this harness whenever he goes on hiking, or even for walks. I would like to share that the harness looks good in pictures but wonderful in person. And the delivery process was also hassle-free which is highly appreciable. I ordered the harness for my senior American Bulldog with severe mobility issues. Unfortunately, he also suffered from breathing problems.
Therefore, he cannot wear a regular collar. The adjustable straps of this harness allow for a comfortable & customized fit on my Bulldog. The Embark Adventure harness can withstand biting, chewing, and pulling. I have one problem with this harness, irrespective of the size guide, the harness does not fit properly around the chest area.
---
Blueberry Pet Dog Harness
I ordered this harness for my American Bulldog on my friend's recommendation. It looked great while being affordable. I usually select accessories for my canine based on aesthetics. And luckily, the blueberry dog harness is both functional and stylish. My bulldog has received many compliments & up until now, it held up well. My canine's behavior on walks and runs has also been improved.
Well, I prefer using this bulldog harness at night just because of the reflective stripes. On the other hand, the harness is very bulky and heavy. Therefore, it is not a recommended option for short-legged bulldogs. And secondly, it is very difficult to select the right fit. I ordered the large size after taking all the measurements but somehow it was quite big around his neck. If you're traveller and keep bulldog with yourself, then buy a best dog seat belt harness.
---
HDP Dog Harness
My French bulldog loves this harness. No doubt, it is sturdy & fits him well. I appreciate the fact that this harness is designed amazingly. Much better than the typically designed harnesses that are made with very narrow straps. The handle on the HDP harness is very well-constructed & positioned in the best spots.
I am really happy and satisfied to be able to give my bully more comfort and safety during walks with the help of this harness. Unlike other dog harnesses, the HDP dog harness fits perfectly well but it is a real chore to keep the Bulldog under control due to the fact that the harness slips off easily. Furthermore, the adjustable buckles do not stay intact. So, I have to readjust the straps again and again.
---
Last Words
Bulldogs are lovely dogs, but they often have had some unique needs when it comes to harnesses. A bulldog harness should be easily adjustable and comfy around the pet's broad neck, in addition to being robust enough to handle their muscular physique. So select the Best Harness for Bulldogs according to your dog's physique.