The English Bulldog or simply Bulldog is considered as the 5th most famous dog in the USA due to his noticeably cute smooshed face. It is vital to mention that English Bulldog is a quite unique dog breed with special diet & care requirements. In ancient times, this dog breed was used for bull and bear baiting in England.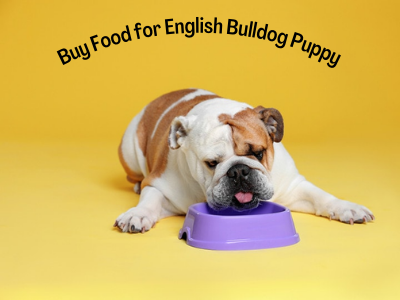 Well, it is very difficult to believe that the wrinkly and adorable English Bulldogs were once used for baiting. But now, pet parents found English Bulldogs as peaceful, kind, and gentle as compared to what they were known before. However, because of overbreeding, the once unmatched and fearless breed in bull & bear-baiting rings currently suffers from some major health problems.
But the good news is that many of the underlying health issues can easily be prevented & controlled by simply feeding English Bulldog puppies a healthy and balanced diet. In this article, I will provide pet owners with all the relevant information they need to know about the best food for English Bulldog puppy.
What Should English Bulldog Puppies Eat?
In order to maintain good health, English Bulldog puppies need premium-quality food items irrespective whether the provided food is commercially made or home-made. The ultimate aim should be to feed English Bulldog puppies a healthy diet made of quality ingredients.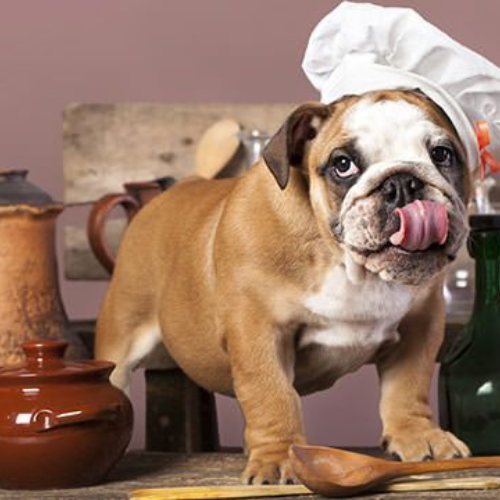 Pet parents should consult their veterinarians before introducing the new diet to puppies. Consider getting the age-appropriate diet. Because puppies need a different need as compared to senior or adult English Bulldogs. Pet parents can give puppies dehydrated or freeze-dried items.
Usually, these foods are a little costly as compared to raw or fresh foods. Likewise, there are many premium-quality kibble as well. It is better to buy kibbles made of all-natural ingredients with required supplements.
What are the Recommended Dietary Allowances for English Bulldog Puppies?
Protein is very important for any canine breed as it acts as the building block for strong and healthy muscles. Fat is considered as the concentrated energy source for canines however, it has to be controlled in English Bulldog puppy's diet to help prevent overgrowth. Both fats and proteins are great from animal sources. As they are sensitive, so must use the best winter dog boots for them.
Carbohydrates give puppies a lot of fiber, energy, & essential nutrients. But they should be obtained from digestible sources including legumes, beans, vegetables, and whole grains. English bulldog puppies need 8% fat and 22% protein to fuel their growth & development. Well, the percentage can vary because different products and brands contain different ingredients.
What Ingredients Should be Avoid in the Diet of English Bulldog Puppies?
Pet parents should not feed their English Bulldog Puppies with food items that contain corn-based compounds, heavy-grains, wheat and soy. Grains, eggs, & dairy can cause severe allergic reactions. Apart from these, almonds, cinnamon, garlic, ice-cream, macadamia nuts, and chocolate should also be avoided. In case, these are not gaining their weight, use the best dog food for weight gain.
Product Reviews: Food for English Bulldog Puppy
The best food for English Bulldog puppies is surely the one that contains all the required nutrients to help puppies stay happy, healthy, and strong. Below are the 5 top-rated foods that will help English Bulldog puppies to maintain good health while preventing unforeseen health issues.
Iams Puppy Dry Food
I have tried various dog food brands during the last few years for my Bulldog puppy before settling on this one. Iams dry food is highly digestible & cost-effective. I ordered this dog food a few days back & received my parcel within 3 days. The delivery was quick and everything was up to the mark.
My English Bulldog puppy now prefers this dry good over high-end brands. The ingredient list is solid, it includes a powerful hint of vegetables, fruits, & herbs. Well, I personally do not like chicken by-products for my Bulldog puppy, since it is considered a low-quality ingredient. But it is the 3rd ingredient on this food, which is not that bad. For the quality and price point, this is definitely the best bet. I am happy that my Bulldog puppy eats this dry food happily.
---
Purina Pro Puppy Food
This was recommended to my English Bulldog puppy by our vet because he was suffering from stomach issues. I liked the quality of listed ingredients, the probiotics, Omega's, DHA, calcium, etc. All these are highly important for the proper growth and development of the puppies. My Bulldog puppy loves the flavor and texture of this food & gets super excited whenever I offer this food to him.
After seeing this excitement, I have ordered twice & both packages arrived safely. Now, his bowel movements have improved and stomach issues have also been resolved. Well, on the downside I have noticed that Purina pro food has a very strong smell that always hangs in the Puppy's mouth & gives him quite a stinky breath for around 30 minutes, other than that this product seems to be a healthy & balanced puppy food.
---
Purina Pro Wet Food
I cannot suggest this puppy food enough, after months of struggling with my puppy who was suffering from severe constipation to diarrhea & back again, I have decided to order this wet food just to check if it would help & luckily, it did. This packaging includes the serving recommendations & every can came very well-packaged. My puppy loves this & his appetite has also increased on a daily basis.
The taste & texture is hands down the best ever part in my Bulldog puppy's opinion. I am impressed by the quality, timeliness, & wonderful packaging of Purina pro wet food. As per personal experience, it is better to select a food that your English Bulldog puppies prefer eating consistently, & does not cause any digestive or skin issues. And no doubt, the Purina Pro wet food serves the best purpose in this regard.
---
Merrick Puppy Dry Food
One of my close friends uses Merrick dry food for her English Bulldog puppies & they simply love it. So, my friend has been extremely happy and satisfied. On her recommendation, I decided to order this product as well. It has all the required ingredients my English Bulldog puppy needs. His poops are now formed with minimal odor. He seems to love this dry food & even prefers it to other high-end food brands.
This is one of the famous brands that pet parents can find with tasty & healthy grains. Well, some of the customer reviews have mentioned that their order arrived damaged but luckily, I have not faced this problem. However, moderation is the key, use this food with regular intervals because vets have found a strong link between grain-free foods & early onset of heart problems in puppies.
---
Wellness Complete Puppy Food
My English Bulldog puppy performs well on this dry food. My puppy is about one year old & has been eating this product since I adopted him. I did a lot of research on different both wet & dry dog food & finally realized that for my English Bulldog puppy, Wellness complete dry food is a way to go. Because he needs a healthy grain-free diet to fight against different health issues.
Now, his poop is always moist and on time. The food is full of healthy nutrients & my puppy is surely growing tall & big due to this food. This food also helps with severe tear stains. Here, I would like to mention that every puppy is different & sometimes it might take a lot of time before getting your hands on the right food. It is advised to get a small bag of 4-5 Lbs.
---
Conclusion
So, that's all we have to say about the Best Food for English Bulldog Puppy, as well as optimal nutrients and dietary patterns for the breed. With an average lifespan approaching 8 to 10 years, ensure you feed your dog that best dog food designed to assure he remains safe with you for as long as possible!