Pet lovers always try their best to make the homes comfortable for the pets, and the superlative thing they can do is to purchase different types of equipment & accessories in order to create a safe and perfect ambiance for the pets. While having felines in the homes, it is essential to have the right temperature & cozy environment, especially during winters.
Only then, cat lovers can nature & help this lovely creature live comfortably. Caring and fostering a newborn feline, or a dear elderly cat or just a cat in extremely cold weather demands nothing but some love & care.
So, if you are among those cat lovers who are ready to keep their cats' pain-free and happy all year round, then, a pressure-sensitive heating pad is considered as the perfect bet. Even though cats are pretty independent & low maintenance pets, thus, when the winters begin, the radiators will not serve the purpose to keep them warm. It clearly shows that the cats eventually need a special tool for keeping them healthy and warm & i.e. heating pads.
What Exactly the Pressure Sensitive Cat Heating Pads are?
These pads are specially designed using a technology similar to that of the heated pads used by humans. A cat heating pad is a wisely designed indoor/outdoor sleeping pad that cat owners can plug into the electrical outlets to let their cats stay comfy.
Moreover, the cat owners can use the heating pads alone or can even place them on the cat's bed. Some cat heating pads come under the category of pressure-sensitive pads which means the pad becomes warm once the cats sleep or sit on them whereas some are electric. Some cat heating pads are best for indoors while others are recommended for outdoor usage.
What are the Different Types of the Cat Heating Pads?
Right now, the cat heating pads are available in two different types. Among these, which one would be perfect for cat lovers to purchase depends largely on different factors. The two types are as follows: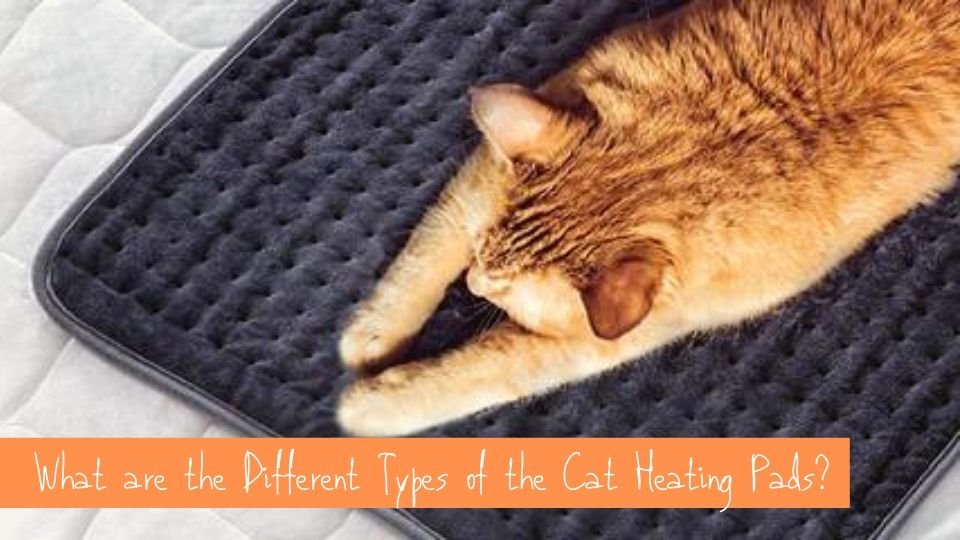 1. Self-warming/pressure sensitive
This type of heated cat pads takes advantage of the cat's movements. In simple words, the self-warming heating pads use the cat's wiggles for keeping them cozy. These types of cat heating pads do not use electricity therefore, they are extremely safe for cats.
2. Electrical
In an electrical cat heating pad, there is a heating component stitched into a cat's bed material & as you turn on the heating pad, it generates required heat that promptly disperses all over the material. However, extra care is needed to keep the cats' safe from extreme heat, especially during night time.
What are the Recommended Ways of Selecting the Best Heating Pad for Cats?
As mentioned earlier, the cat heating pads consist of two types, electric or self-warming. It is important to think through a few important things while selecting the cat heating pad. Initially, cat owners should look for either a self-heated or electric what they want while considering the needs of their cats.
It is worth mentioning that electric heating pads are a little bit risky particularly when somebody is not around while self-heated pads are completely safe. Below are some other important factors which should be kept in mind during the buying process.
Location
There are numerous reasons cat owners can select the heating pad for, however, if they have selected the heating pad for the cat's convenience throughout the winter season then, they should assure that the electric pad should be of top quality along with reinforced cable.
Heat Source
Depending upon the heat source, cat owners can easily find a wide range of heating pads. Always remember that electric cat heating pads should always be intact with special protection when it comes to chewers.
Material
The heating pads made up of durable natural fabrics are highly recommended instead of chemical products. The reason behind this is, the cats are quite sensitive and prone to allergies therefore, it is better to buy high-quality material. Additionally, the breathable and soft PVC is considered as the perfect material due to the number of reasons including comfort, durability, and warmth.
Lastly, buyers are requested to check the quality & power cord of the heating pad. Likewise, check the shape, size, & padding. All these features should work together to make the pressure-sensitive heating pad suitable and comfortable for the little feline.
Design
Like all other varieties of the pet pads, cat heating pads are available in different designs. The electric heating pads come in every shape. Moreover, there are beds, pads, and designs having a cave style. Even bolster warming pads are available but, most of the cats do not find bolster pads overly attractive.
How someone can distinguish between Safe & Unsafe Cat Heating Pads?
Always remain cautious while using any device that provides heat. In other words, the electric-powered devices. Therefore, never buy a cat heating pad blindly. Don't worry, we will provide detailed information about the best pressure sensitive cat heating pads currently available in the market.
Firstly, the safest cat heating pads offer the best control options. These heating pads use different electrical inputs for creating heat output. Furthermore, they are generally made from various layers of the water-resistant, fireproof, and comfortable fabrics with an inner thin layer of the heating wires. Do remember, that control options play an important role in the safety and comfort of cats.
Secondly, durability plays a vital role due to a strong reason that each cat heating pad contains electrical components and heating wires, it is obvious that durable heating pads are the safest.
Who should Purchase a Cat Heating Pad?
The simplest answer is anyone who has a cat. No doubt, cats love to feel more secure and curl up a snuggly place therefore, there are no limits on how cat owners want to pamper their furry pal.
Well, there is a group of cats that would benefit from pressure-sensitive heating pads as compared to a sunny windowsill or even their usual headrest. Such as:
Cats living in extremely cold climatesHairless cats
Cats with their owners
Elderly cats
Sick cats
The 8 top rated Pressure sensitive cat heating pads list:
With the number of options to select from, it would often be difficult to make an informed decision & press that "add to cart" button. In order to guide and help readers especially cat lovers in their search, the article outlines some great options which will surely make the entire process of buying the best pressure sensitive cat heating pad hassle-free.
No doubt, all are cool options, however, the best one for cat owners will depend on their living style, budget & whether they want an insulating or heated product. The detail description of each cat heating pad is as follows:
1. Aspen Pet Self-Warming Cat Heating Pad
As its name suggests, the Aspen heating pad is completely self-warming. It simply means that the heating pad does not have an electric heater to provide heat to the mattress. As an alternative, it works according to the heat provided by the cat.
With the help of insulating technologies, this heating pad is capable of reflecting the heat of the cat's body to keep it quite warm during night time. It is worth sharing that insulating technologies are also used in winter coats and space blankets. The cool heating pad clearly eliminates the need for an outlet plug and long cord.
The cat heating pad by Aspen is made from fleece, polyester, and corduroy to get the required warmth. Unlike the heated cat pads, Aspen self-warming heating pad will not get cozy and hot however, it will ensure that cats do not feel too cold.
Pros:
Easy to carry & handle as it is lightweight
Comparatively economical as compared to electric pads
Cons:
· Not a good option for extremely cold homes
2. K&H Pressure Sensitive Covered Cat Pad
The K&H has also introduced the self-warming or pressure-sensitive heating pads quite alike to those that the above-mentioned brand offers i.e. Aspen. The K&H cat heating pad consists of a protective cover that can block out the coming light while protecting the cats from the wind coming via doors or windows.
Moreover, the good heating pad has an insulation layer to retain the warmth or heat of cats once they sleep. To be honest, this heating pad is highly recommended. Without any kind of electric wiring inside, the heating pad can be wiped & cleaned more safely. For style fanatics, the K&H heating pad is perfect as it is available in two cool color sets along with the large & small size.
Pros:
Available in different colors
Protective cover to give cats animal privacy
Cons:
Bit costly
No fleece or wool for additional insulation and warmth
3. Best Friends by Sheri Heated Cat Pads
It is a well-accepted fact that cats love warmth as they like to be cuddled and stroked more frequently than people think. Sheri's self-warmth heating pad will surely keep the cats in great company because the oxford fabrics and faux fur of the heating pad are absolutely non-toxic. Furthermore, the featured back high walls are meant to give the much-required back support in order to ease any kind of pain your cat might be suffering from. It also gives a comfortable and relaxed neck and headrest at front walls that are surely shorter thus, making this heating pad a great opting for elderly cats.
Pros:
Easy to clean
Waterproof bottom
High walls specially designed for improved and peaceful sleep
Cons:
· Might not perform up to the mark in extreme weather conditions
4. Milliard Pressure Sensitive Automatic Cat Heating Pad
Before moving ahead, it is vital to mention that for cat owners who are not ready to invest a huge amount on premium products, should consider buying a heating pad by Milliard. It is a great product that looks like a blanket but, it's a feline mat. It works in a very simple way like, it is self warming when the feline lays on it.
The internal warming sheet is quite flexible and stays soft to give the required amount of warmth. The bedding cover is made of velour to give cats a fuzzy and soft surface. Moreover, this heating pad is just a great product to put anywhere in the home whether, it is a garage, shed or even indoor.
Pros:
The heating pad is large enough to accommodate cats of any size

The cover is removable so it can be washed easily in the machine
Cons:
Because of the plastic lining, this pad sometimes makes noise
5. Cat Bed-Purrfect Thermal Cat Heating Mat Leopard Prints
Usually, cats are sleep lovers & like to have cozy and warm surroundings. Due to technological advancements, the number of other ways can be used to provide that required warmth such as bed-Purrfect thermal cat heating mat. The heating pad consists of a mat that is extremely lightweight & able to redirect the cat's body heat. The material is also long-lasting & can hold out scratching and chewing. Furthermore, it offers soothing comfort to aging cats, kitten, & cats who are getting better after injury or illness.
Pros:
Provide perfect heat and warmth
Durable
Great diversion
Easy to wash and handle
Cons:
· Few customers are not happy with the quality
6. Downtown Pet Supply Thermal Cat Heating Pad
It is considered as one of the most budget-friendly cat heating pad. It comes under the category of contemporary cat heating pads because of a core that truly reflects the cat's body warmth at her/him thus providing additional heat. Downtown cat heating pad is available in different sizes and shades to choose from, depending on cat owners' preferences.
Pros:
Easy to clean and wash
Self-warming core
Available in different sizes and colors
Cons:
· Sometimes cleaning the heating pad becomes tricky
7. Pet Magasin Thermal Self-Heated Cat Pad
This cool and worth buying heating pad consists of a triple layer protection hybrid design for storing the heat in its upper layers while reflecting the heat back towards your feline as it touches the pad's lower layers.
Pros:
Super comfortable as top cover is velvety & padded with soft, thick, & hypoallergenic foam
Secure and steady
Cons:
· Sometimes it produces a crinkle noise
8. CISNO Waterproof Heating Pad for Cats
It is a highly recommended product for those cat lovers who are looking for a contemporary heating pad to give cat proper warmth or heat swaddled into coziness and comfort. This heating pad is quite famous due to its chew-resistant power string, cover replacement with double fleece, & waterproof feature. In order to get the required temperature, the CISNO heating pad features a digital thermostat LCD screen thus, making it a perfect option for providing heat to cats during winters.
Pros:
Easily machine washable
Quite economical as compared to the other available options having the same features
The cats won't be hurt due to the power cord that is chew resistant & quite long
Waterproof along with an in-built power surge safety module.
Cons:
Power button to turn on/off the CISNO heating pad OFTEN GETS DAMAGED.
Ready to Buy?
As readers can see, nowadays there are various important factors to be kept in mind while selecting a pressure-sensitive cat heating pad. Whether cat lovers want something electric or non-electric, outdoor or indoor, there are heating pads for them to buy. Hopefully, the provided information will help them to select the right heating pad for the cats.
FAQs: Regarding the Pressure Sensitive Cat Heating Pads
So, after reading the above-mentioned reviews regarding the best pressure sensitive cat heating pads, the readers would be in a better position to make a wise decision. However, apart from the provided information, it is important to consider some important facts. These facts are given below in the form of FAQs:
1. Do your cat really need a heating pad?
Cat heating pad is a pet-friendly and convenient way of keeping the cats comfy and warm in winters. Moreover, cats have to maintain their body temperature of approximately 102 ℉ &, as the winter approaches, your exquisite cats can suffer from body pains & ache. Therefore, it is advised to use a heating pad to keep them warm. Apart from providing warmth, heating pads give a perfect place of relief that the cats can associate with safety.
2. Is it safe to use a human heating pad for cats?
Someone might think that he/she can use the human heating pad for providing warmth to cats. But, unfortunately, the majority of the cat lovers must be mindful of a fact that they cannot use the human heating pad for cats because cats play with wires & sometimes even chew on them. Furthermore, the heating pads that are designed for cats have some additional features like cords resistant, temperature regulator and water-resistant pads.
3. Is it a recommended practice to leave the cat heating pad turn-on overnight?
Here, I would like to give an example of human heating pads. Readers might know & understand that it is not good to use the human heating pad whole night because it does not have the thermostat & the absence of a thermostat can easily cause internal problems and burns. Therefore, it is better to avoid this. But, conversely, cat heating pads come with a thermostat that identifies the body temperature of the cat & adjusts the required heat accordingly. Still, it is advised to check this important feature while buying the cat heating pad.
4. Can the cat heating pad be washed?
Each heating pad comes with specific instructions for washing in order to keep the integrity. Therefore, it is important to check and read the instructions carefully.
5. How heating pad ensure the safety of cats?
Heating pads which are particularly designed for the cats always ensure safety because these heating pads have been designed to warm up to the feline's body temperature nor more not less. It simply means that the cats will feel snug and warm, without any kind of danger such as overheating, fire, and electrocution.
6. Do Cats even like a heating pad?
Cats definitely love heating pads and heating beds. As readers already know that their lovely cats always seek out different places of heat or warmth. So, a high-quality cat heating pad is going to be a perfect gift for your little kitten.
Final Thoughts: Best Pressure Sensitive Cat Heating Pads
In the end, it can be said that heating pads for cats are as wide-ranging as the cats who have them are. After reading this article, the readers should now be capable of identifying an appropriate pressure-sensitive heating pad for their lovely cats which will surely be both comfortable and energy-efficient.
Selecting and then buying a pressure-sensitive cat heating pad can be one of the best and wisest choices cat lovers may make for their kitty. A best pressure-sensitive cat heating pad will not just keep the cat warm and cozy but, also give him/her a comfortable, secure, and homely feeling.