The German shepherd is the USA's most famous dog breeds for some good reasons.  They are also known as the super dogs of the dog breeds. German shepherds are courageous, confident, faithful, and intelligent. The German shepherds are a great option for those who spend a lot of time in outdoor settings. Moreover, German shepherds do pretty well in extended families also due to their loving nature and loyalty.
They are considered to be an extremely safe breed if trained well & socialized early and due to this reason, German shepherds are the best family pet. But, pet lovers should know that grooming German shepherd is extremely important when it comes to his happiness and health. Unluckily, there is a major downside that some potential owners of the German shepherd might not consider and i.e. their thick and long coats.
In other words, German shepherds are considered as notorious shedders. So, in this article German shepherd lovers will learn why brushing is necessary and the best brushes currently available in the market. Adopting a regular yet effective grooming routine will definitely reduce the amount of coat hair to cleanup.
Breed Overview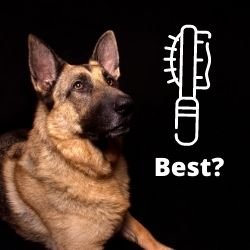 German shepherds first originated in Germany. Being a low-maintenance and loyal breed, German shepherds are always in demand. The appearance of this breed is quite attractive and generally a blend of gold and black. German shepherds are popular for their thick & bushy tails, wolf-like overall appearance, and pointy ears.
Their trainability, obedience, intelligence have led German shepherds to become the most versatile and adaptable dog breeds globally. This breed is usually employed in rescue, search, police departments, and military. The life span of German shepherds is around 11-14 years.
Temperament and Personality
German shepherd is a very active dog who is always eager to learn something new. He likes strenuous activities due to being very smart and intelligent. German shepherds are alert and curious but can become very over-protective. As just like dog breeds, the risks are always there especially when the owners let him believe that he is a pack leader. Thus, it is important for owners to declare the authority in a very calm yet firm manner.
Some Facts about German shepherd
It is advised to consider the following facts before owning a German shepherd:
German shepherds shed badly therefore, it is recommended to keep vacuum nearby. Apart from this, daily brushing is one of the best ways of preventing a fur buildup
German shepherds have been incredibly famous pets among the famous and rich over the years.
German shepherds are intelligent and active dogs. They should be kept busy playing, learning, & working.
German shepherds can also be unfriendly & apprehensive of strangers. Therefore, expose him to different people, places, and experience in order to raise a well-behaved and social dog.
Crate training is important for German shepherds to help them remain calm & happy once separated from owners.
German shepherd Daily Grooming
Usually, German shepherds have double hair coats namely undercoat and guard coat, which might present a tough grooming challenge for the owners. The purpose of double coats is to regulate the body temperature in cold and hot weather along with protecting his skin from parasites, debris, and dirt. Thus, it is important to use the good quality brush for the German shepherd's double hair coats. But, given the fact that the majority of the German shepherds always have an undercoat, owners should purchase at least 2 brushes i.e. grooming brush for his topcoat & brush for penetrating the undercoat. 
What are the Different Types of German Shepherd Brushes?
Well, I would like to mention that people can use all types of grooming tools depending upon German shepherd's coat, season, & other important factors. Some of the famous brushes & other grooming tools people will across are as follows:
Bristle, pin, and slicker brushes
Deshedding and undercoat brushes, rakes, and tools
Dematting rakes and combs
Reviewed: 6 Best Brush for German shepherd

There are several undercoat rakes & deshedding brushes for German shepherds are available & reviewing them all is simply impossible. Therefore, the article is going to review the top-rated products to help readers make a wise decision.
1. FURminator Deshedding Brush for Dogs
This product is one of the most famous & instantly recognizable German shepherd brushes on the marketplace due to some good reason. The brush has stainless steel edges to reach through the undercoat and guard hairs in order to remove loose fur. It is available in large, medium, and small sizes & for German shepherds with long or short hair.
As mentioned earlier, there are different edge length options thus, try to select a brush that will penetrate the German shepherd undercoat properly. The most noticeable thing while using the FURminator deshedding brush is to ensure that never apply too much pressure or even drag it through the dog's coat harshly. In short, gentle brushing is the best practice to prevent unforeseen harm.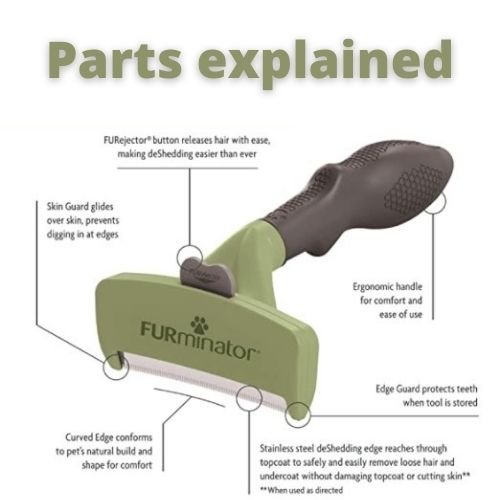 Pros:
Ergonomic design
Works as advertised
Ensure comfortable & easy grooming
Very easy to handle and use
High quality product
Cons:
Not recommended for German Shepherds with allergies or sensitive skin
User Experience:
According to the reviewers, this is the best and highly recommended grooming tool for German Shepherds due to its effectiveness and overall performance. Many customers have mentioned that handle is extremely comfortable & easy to hold. However, it is suggested to avoid this tool while grooming your precious dogs without undercoats.
2. Hertzko Dog Grooming Brush
This is another great tool that is especially designed for long coat German Shepherds. So, if dog owners want something that can lift dead hair easily then, they should consider buying Hertzko brush. The bush is effective and gives the best value for money. The brush has durable and firm metal bristles in order to penetrate deeper in double coats & groom long hair.
Moreover, the Hertzko brush can be also used for removing dirt & cleaning up the German shepherd's topcoat. In other words, this brush removes loose hair perfectly from a dog's undercoat while being tough on tangles and Matts side by side. The bristles of this brush go deep however, do not scratch the dog's skin. In fact, the brush gives a feeling of soothing massage. The most noticeable feature of Hertzko brush is self-cleaning.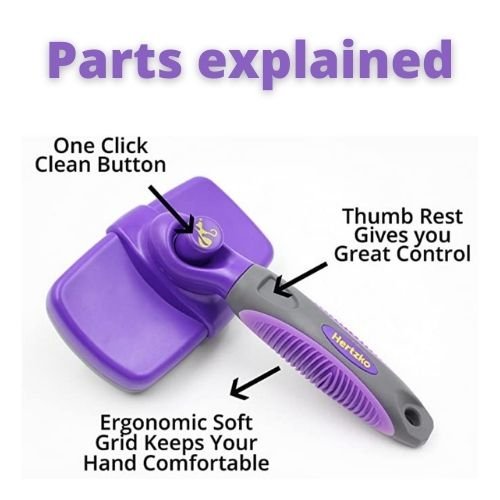 Pros:
Durable design with comfortable grip
Prevent wrist strain
Works amazingly on dogs with all hair types and sizes
Easy to clean
Perfect blend of gentleness and firmness
Cons:
Not good for short-coated German Shepherd
User Experience:
According to the customers, the brush works as advertised because the dogs not just look good but also feel great. Few dog owners have commented that the brush is durable, strong, and comfortable. Many users have loved the fact that the brush has an anti-slip handle and comfort grip. Dogs always love being brushed with Hertzko grooming tools.
3. DakPets Dog Grooming Brush
The best thing about this grooming tool is that it can be used on different dog breeds including German shepherds. The brush is capable of reducing shedding by up to 95%. Moreover, the brush has durable & non-irritating stainless steel blades to make deshedding more effective and quick. It is vital to mention that the DakPets dog deshedding tool can be used for German Shepherds having different coats.
The bristles of the brush are firmer & highly compressed so, it will only acquire the Dog's loose undercoat while keeping the topcoat safe. As the brush is made of stainless steel therefore, it avoids corrosion while being extremely safe on the dog's skin. The brush ensures a shiny and healthy pet coat and keeps allergies at bay. No doubt, it is a great & long-lasting deshedding brush. All these features make DakPets grooming brush a must-have tool when it comes to establishing strong & friendly bonds between you & your precious German shepherd.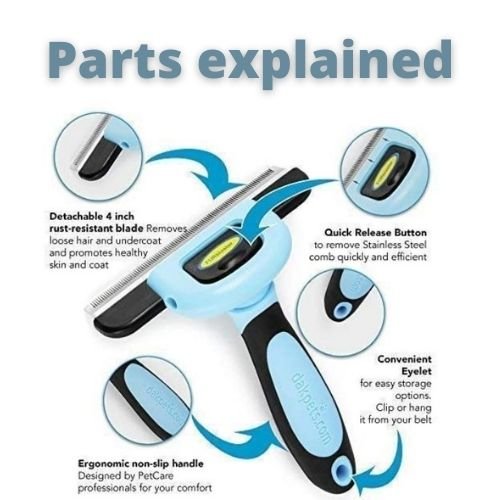 Pros:
Works perfectly on all breeds of dog
Reduce shedding to great extent
Anti-slip rubber grip
Gentle bristles to help prevent damage
Heavy-duty, safe, and comfortable
Cons:
It might be not effective for very long hair
Blade guard is flimsy
User Experience:
According to the dog owners, the brush is way better than expected. The majority of German shepherd lovers have recommended this brush due to its versatility. Customers love the ergonomic design of the brush. As it is pocket-friendly so, it can be considered as the best solution to get rid of those annoying hair.
4. Thunderpaws De-Shedding Tool
A great grooming tool that is highly recommended by professional groomers & veterinarians, the Thunderpaws de-shedding tool digs deep directly into the dog's coat in order to remove hair. It is worth mentioning that the Thunderpaws de-shedding tool comes under the category of the extremely useful product at an affordable price range. It can be easily used on different coat lengths of the German Shepherds.
Using this amazing tool will surely reduce shedding to great extent. Made of premium quality materials, the brush remains very gentle on the dog's skin. This also comes with a durable protective cover for increasing the brush's lifespan. Thunderpaws deshedding is extremely safe to use & can reduce shedding by upto 95% without even damaging the dog's topcoat. It has anti-slip rubber handles to ensure comfortable grip & harmless deshedding experience.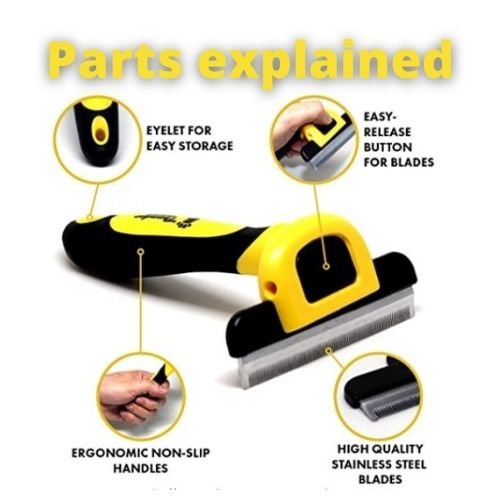 Pros:
Keep hair allergies at bay
Professional grade
Suitable for dogs of all sizes and breeds
Ergonomic & easy to use
Promotes healthy skin & shiny topcoat
Cons:
Not good for long, double coats
User Experience:
Many German shepherd owners are using the Thunderpaws deshedding tool & are extremely happy and satisfied with the performance. According to them, it is an economical and pocket-friendly option. Due to its size, the brush is best for multi-pet owners. The brush is just as advised and does the job in an amazing way.
5. Pet Neat Deshedding Tool
It is also considered as the best German shepherd grooming tool as it helps people leave behind the deshedding headache by simply removing upto 95% of the tangles and dead hair in only 10 minutes. Now, German shepherd lovers can keep their floors and furniture safe from dog hair while saving a lot of time and money on costly vet visits.
No doubt, it is a very durable dog shedding tool that is especially made to last longer in order to ensure effortless dog grooming. The stainless steel blades of the brush are protected by the cover for user's safety along with the blade longevity. In short, with this amazing deshedding tool, people will have a great, efficient, and enjoyable grooming session with their beloved German shepherd. Additionally, with the Pet Neat deshedding tool, people can remove extra hair safely, quickly, and easily.
Pros:
Highly durable
Give quick results
Sturdy blades
Ergonomic, anti-slip handle
Reduce shedding instantly if used properly
Cons:
Requires regular cleaning for amazing results
User Experience:
Many German shepherd lovers have mentioned that it is a well-designed and well-made grooming tool with durable blades. Few users loved the fact the brush is extremely easy to handle and use. When it comes to price point then, people will surely get the best value for money considering the features and performance.
6. GoPets Store Professional Brush for Dogs
This bristle and double-sided pin brush is important for the grooming of German shepherds. Well, it is worth mentioning that neither side of this brush might not remove as much hair as a good deshedding tool but GoPets brush is gentle for the skin & perfect for daily grooming. Furthermore, the bristle side of the brush can be used to remove dry mud & other debris.
This side is also beneficial to spread essential oils all over the coat. Whereas, the pin side is good for preventing tangles while giving the dog's shiny and healthy appearance. Another advantage of this grooming brush lies in its comfortable and soft silicon handle. Well, this may not be the highly durable option out there but it will make the grooming tool easy to use.
Pros:
Great pin & bristle brush for all coats
Non-slip handle
Ensure fast and easy grooming
soft yet firm bristles
Comfortable & easy to handle
Cons:
Quality is not upto the mark
User Experience:
According to the German shepherd owners, this brush leave the dogs looking so shiny and soft. It helps in getting a groomed look in a few minutes. Some users have commented that the pin truly grabs all the fur that has to be removed without causing discomfort to the dogs. But, on the other hand, few customers have complained about the quality. According to them, it has a comfortable hand but not very durable.
Buying Guide: 6 Best Brush for German shepherd
Having a German shepherd simply indicated 2 important things i.e. Vacuum daily & get the best brush. German shepherd sheds a lot therefore, it is necessary to keep the fur away to ensure the safety of family members. There are different ways of preventing the German shepherd shedding however, the most economical way is to buy a good quality brush.
How to Select the Best Brush for German shepherd?
It is vital to consider the following factors while selecting the best product.
Material
It means the materials used on the handle and frame of the grooming tool. Many deshedding tools have stainless steel construction to make it more durable & ensure corrosion resistance. The handle and frame of the brush has to be made of hard & sturdy material while being light enough to use and handle it comfortably.
Bristle & Teeth Design
Bristles are thin as compared to teeth & are especially designed to support hair detangling. Try to get a grooming tool with fine bristles in order to get effective detangling. On the other hand, teeth are found on deshedding tools and combs. The purpose is to reduce mats and loose fur on the German shepherd coat. Go with the wider teeth as it will work perfectly on kinkier and thicker coats.
Grip & Control
It is recommended to select a brush that gives great control and grip during the whole process of grooming. This factor is extremely crucial for German shepherds due to their active & energetic nature.
Versatility & Functionality
This factor is all about versatility but with respect to functionality. Brush should offer multiple services including massaging, dematting, deshedding, and detangling. Many multipurpose options give this with a single head where the bristle or teeth design allows versatility.
Safety
The majority of grooming tools are especially designed for preventing unforeseen harm with different safety features. People can get the curved blades & safety edges concerning safety. They could also select a brush with teeth or bristles that have completely rounded edges to avoid such problems.
Old Customers Reviews
Many users often post the review about the product that they have used. So, check it once to get the close analysis that how the German Shepherd brush works out of the box.
How Frequently Should People Brush German Shepherds?
It is mandatory to brush German Shepherds at least 2-3 times a week. Because in this way he will shed less. It is important for people to follow a strict grooming routine. Be very careful while doing so. Vet do not suggest bating German shepherds in order to get rid of annoying loose hairs as it can strip the dog of his fur's all-natural oils. This thing can also make the coat unhealthy while leading to extreme shedding.
Frequently Asked Questions
What kind of brush is suitable for German Shepard?
Some German shepard has short hair and some has lengthy hair. Based on the length of the hair, the brush has to be choosen. Short haired German shepard needs undercoat rake and a long haired German shepard needs a slicker brush to groom it well
Do German Shepard need to be brushed?
Yes . One time a day German shepard has to be brushed to avoid its hair getting tangled and also to avoid hair fall. Special care to hair has to be made if you have a lengthy haired German Shepard.
Should German Shepard needs hair Cut?
If you have a single coated German Shepard, Shaving is all enough and if you have a double coated German Shepard then avoid shaving as it would destroy the growth of the hair.
Some Important Tips to Manage the German shepherd's shedding
If you own a German shepherd then, it is essential to get a powerful vacuum along with a pet tool. You will probably have to vacuum daily particularly during moulting season. Regular brushing will definitely reduce loose hair. Brushing outside is also a great idea while using the deshedding tools. No doubt, managing the German shepherd's coat demands a lot of time and patience. So, give some time to get amazing outcomes.
Verdict
Overall, it can be said that almost all German shepherds shed a lot. In order to keep them clean and healthy, people should keep the coat of German shepherds under control. With the 6 above-shared products, the important thing is to notice the reaction of German shepherd to each brush or grooming tool.
Sometimes it might seem scary to care for the German shepherd's coat particularly during the season of shedding however, having a durable and top-quality brush will make a huge difference. Keeping the German shepherd well groomed will greatly improve his appearance and health without spending much time and energy. So what are you waiting for? Get the best product now and make German shepherds feel more comfortable.