Like other small animals, ferrets also need cushions or a soft place for their rest and living. Although ferrets are stinky and messy but they can be good pets. Have you ever considered why these creatures require suitable bedding? Because they prefer to nap in comfortable places and spend the majority of their time napping.
These adorable animals' natural instincts are to hug and borrow. We can't say that any specific product suits them, so here is the list of best bedding for ferrets. These items are selected on a few aspects: the ability to provide maximum comfort, durability, odor absorption, and, most important, user response over these beddings.
Make sure that the bedding you are choosing for ferrets must have the capability to keep odor for maximum time. Few beddings can retain odor for 14 days, so check the below list for your animal's comfort and health.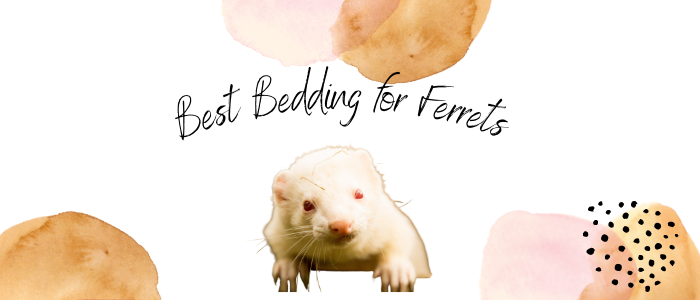 Importance of bedding for ferrets?
Many people argue that because we can put them in soft cushions, why do we need bedding? Here are some points that will surely clear your confusion.
Ferrets are included in those animals which need a soft and cozy place for rest and sleep. If you put them in bed or cushions, it will lead ferrets to allergic problems. They feel safe and secure in beddings. You might put them in soft couches, but what about their urine and odor? So beddings are ideal for them because they absorb the urine and odor and keep the cage clean for a long time. Many ferrets get sick due to low-quality bedding, so invest in an excellent product for your lovely animal.
Types of Ferrets Bedding
Here are some types of ferret bedding that most owners use. What experts say about them, read it below. You can also check the rat bedding.
Wood Shavings Bedding
For the last few years, it's most commonly used bedding all over the globe. Instead of its popularity, all types of wood shavings are not suitable for ferrets, such as cedar wood shaving is dangerous for ferrets because cedar contains oil that makes ferrets sick.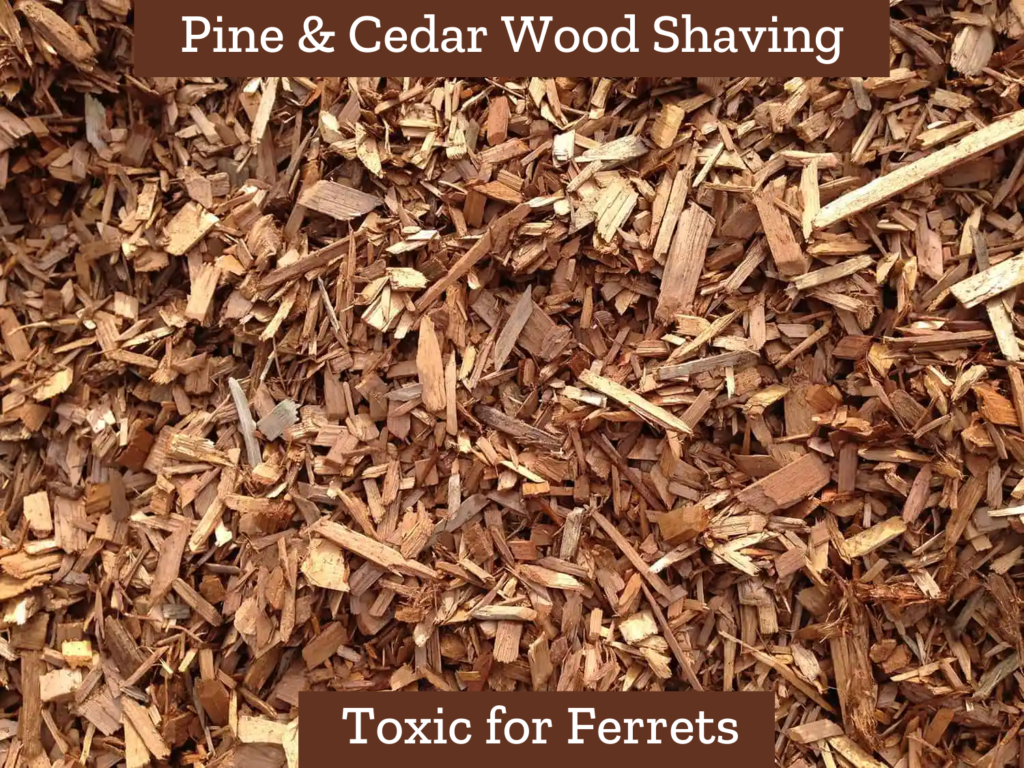 Due to the reasonable price, many people prefer aspen wood shaving, which is better but creates problems at trimming time. Don't use cedar and pine shaving for ferrets and ball python because these are toxic for your little animals. Another downside, in my view, is that wood shavings are unable to absorb urine and odor, so it will be tough for you to clean the bedding.
Paper Ferret Bedding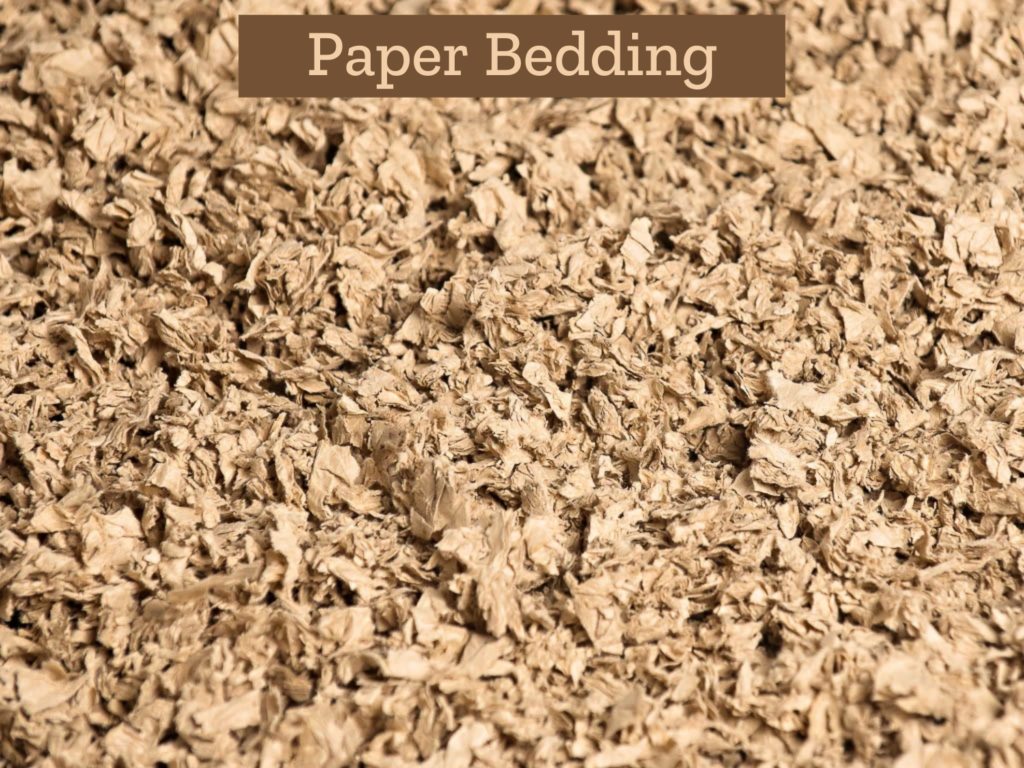 Although these are more expensive than wood shaving but offer superior comfort, absorption, and protection. The Rough-textured paper can be harmful since it does not absorb urine and smell. Their upside according to me is that they absorb urine very well and you don't need to clean the bedding after a few hours, but it depends on your selection and product. Without any doubt, paper products are safe and comfortable and if you're on a good budget, go for paper products instead of wood shaving beddings.
Fleece Ferret Bedding
It's yet another extensively used material, but some owners have expressed dissatisfaction with fleece. It is an extremely soft and pleasant material that ferrets will enjoy sleeping in. This type of bedding can be an excellent absorber if it has a thick underlayer and is adequately maintained. Furthermore, you can wash and reuse this, and another advantage is that Fleece is recommended for the long run due to its durability.
5 Best Bedding for Ferrets
Marshall Premium Ferret Litter
The Marshall premium is a product to consider if you're seeking something remarkable and unique. In terms of comfort, it's at the top. As you all know, it's vital to protect the ferret's sensitive respiratory system so it's completely dust-free. The foremost thing about this product is that it's specially designed for Ferrets. It is constructed with natural paper fibers and has used special material to absorb smells for the maximum time, which will keep the cage neat and clean.
Another perk is that this bedding absorbs three times its weight, so you don't have to clean the ferret's cage as often. The manufacturer claims that it is made with 100% recycled paper and four times more absorbent than the clay litters. In this price range, it comes highly recommended from me.
---
So Phresh Paper Bedding
Phresh paper bedding is the perfect item for your ferrets if you are looking for the best ferret bedding. It could be an excellent option if you have more than one ferret because you can use it for all of their bedding needs. The bag contains tiny natural paper pellets that absorb moisture and scent quickly, so the cage environment and surroundings will be fresh and clean. You will be amazed to know that it is 100% dust-free, non-allergenic, and biodegradable. Furthermore, it is optimized to encourage the small animals to live in their natural ways such as burrows and tunnels.
---
Small Pet Natural Paper Bedding
Many people only buy American-made products, so this one is especially for those folks. It is manufactured from natural materials that act as superior absorbent. It is worth noting that it is also suitable for other small animals. It is non-toxic, safe, comfortable, and ferrets will enjoy this bedding material. I have tried many beddings for my ferrets but it was not comfortable, but after using this, ferret is active and healthy. The plus point is that it may grow to three times its original volume for the highest value. It is made with unbleached and unprinted paper, and no chemical is used to construct this bedding. It's available in different sizes at different prices, so choose one that is good for your ferret.
---
Healthy Pet HPCC Natural Bedding
I believe you will prefer natural things, and this bedding is entirely made up of natural materials. It's 100% compostable and biodegradable, making it ideal for those concerned about their environmental effect. It can also take in three times its weight in liquids that make it one of the most absorbent option. Apart from its pros, it has a few downsides, such as being not very soft and pleasant, which may make some little animals uncomfortable. If we talk about its smell control ability, it is best from other beddings because it controls the odor for a long time.
---
Carefresh Small Animals Bedding
This simple paper bedding is an all-time favorite and popular. You will be surprised to know that it's the best seller on Amazon with thousands of satisfied customers. The reasons behind its success are given below:
It can absorb a lot of urine as compared to wood and other paper shaving beds.
It is perfect for all small animals like rats, guinea pigs, etc.
It has a proven odor control formula that can absorb ammonia odors for up to 8 – 10 days.
The company claims that it is 99% dust-free, and no harmful ingredient is used in this bedding.
The price is very cheap and everyone can purchase it.
Buying Guide: Best Bedding for Ferrets
There are many types of bedding discussed above, and some are expensive while others are cheap. It doesn't matter which product you select, but it should be able to meet the necessary requirements. Here are a few critical things that should be that you must look in the item before selecting it.
Comfortable & Soft
Ferrets prefer cozy nooks, as previously said; thus, bedding that may provide the best comfort and relaxation is ideal. Paper bedding and fleece offer maximum comfort and softness, but both have pros and cons, so it's up to you how you choose the product.
Absorb Liquid and Control Odor
Bedding should be able to absorb the urine for a longer period. In a chilly environment, wet surfaces might irritate them and cause health issues. Furthermore, bedding must be able to manage odor, which is attainable if it is composed of high-quality materials.
Made up of natural materials
No one wants to put their animals in harm's way, so check the ingredients carefully. If there's anything unnatural or non-toxic, avoid it. These beddings are mass-produced nowadays, and many low-quality brands use chemicals in them that are less expensive but highly harmful for animal bedding.
Don't compromise on health
If you make the wrong choice, your animal could end up with any health problem. If you want to avoid any respiratory issues, choose the rust-free product. It's proven that Cedar and Pine shaving woods are toxic to ferrets, so forget them. If your lovely ferret feels uncomfortable, do change the bedding quickly.
Customer Response
Check the buyers' feedback for better analysis of any specific product. You will get the idea about bedding performance in real life.
Frequently Asked Questions
Q1. Are cedar and pine shaving wood beddings suitable for Ferrets?
According to experts, these woods contain oil which is not good for ferrets' health because this little animal is sensitive, so extra care is needed for them.
Q2. What is the advantage of paper bedding?
Because the paper product does not break apart when wet, you may clean the cage without exerting too much effort.
Q3. How can I make my ferrets happy?
Give them a large cage for playing and other activities and make it escape-proof. Feed them food that contains proteins and healthy fats and doesn't use excessive carbohydrates. Play with it daily as you play with cats or dogs. Bath it every week and brush it to control shedding. These are few suggestions that will make your ferret comfortable.
Conclusion
Dozens of beddings are available in the market with different varieties and sizes. We have tried our best to give reviews about the products which are at the top nowadays. These all are the best bedding for ferrets, and now, it's up to you how you select the product according to your requirements.