If properly cared for, reptiles are the most affectionate creatures. The ball python is one of the most prominent reptile species, and it's worth noting that they're naturally kind and gentle. They do not grow as huge as other reptiles, but you will need a tank or box for them. Please don't believe the myths that the royal python requires a large tank or can't live in an enclosure.
We've compiled a list of the best ball python enclosures, and I feel these are the ideal choices for your python. These enclosures are evaluated based on the snakes' behaviour and the habitat in which they survive. These snakes are typically found in grasslands and forests and these boxes are similar to that environment.
If it's your first experience with this specie, then you must consider these tanks. It's recommended for newbies to start with a proper setup otherwise, it's a bit tough to handle them.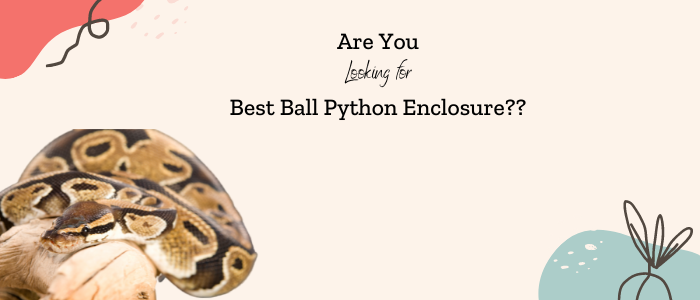 Importance of Enclosure
Why do they need enclosure when we can care for them in the open air? Let me explain, pets like cats, rabbits, or dogs need a bed or litter box for their activities, whereas snakes will stay in tanks for a long time and you're bound to provide the environment according to their needs and body movement. You can easily create the nature replica in the enclosure and how will you create a replication of nature in the open air? Obviously, it's impossible for all of us, so a ball python enclosure is the perfect option and you can pick the tank size according to snake size.
Ball pythons live in very humid and hot areas. After choosing any enclosure:
Place the necessary elements for a proper natural atmosphere.
Remember, maintain the humidity and hotness level according to the specie requirement for its better health.
Choose the best one for your snake.
Different types of Enclosures
There are different kinds of tanks for snakes and these all are good for your ball python. Each one is listed down:
Glass
Wooden Vivarium
Plastic Tanks
Exo Terras
Glass Tanks
These are most preferable and popular because they provide you a 180 degree view of a snake's activities and its surroundings. These tanks can maintain the temperature at a specific level and they have front opening doors so you can quickly clean the enclosure and feed it.
Wooden Vivarium
As their name indicates, these are made up of wood with necessary features. They are less popular or preferable because wooden tanks block the snake view and its activities inside the tank. Despite this, it perfectly maintains the temperature level and acts as the best insulator.
Before picking any wooden vivarium, make sure that it's not constructed with cedar and pine. According to snake experts, these two are very toxic for ball pythons and can affect their health.
Exo Terra
Without any doubt, these are perfect for reptiles because Exo terra boxes are specially designed for them. Instead of all other enclosures, these have all facilities such as thermometers, heaters, locks, and doors. The plus point is that these tanks are available in all sizes.
Plastic Tanks
One of the main reasons for their appeal is that plastic enclosures are easy to clean, lightweight, and sturdy. These tanks hold the humidity very well. The major downside of the plastic is that you cannot see the snake's actions and surroundings.
Size of the Tank
Mostly, I have seen that reptile owners change the enclosures as their species grows. The box for a ball python must be the same size as the python. Otherwise, you have to change the tank after a few months. The recommended approach is that you should change the tank according to snake size and age.
For a young snake, 20 gallons or larger tank is perfect and for the baby snakes, a 10 gallons tank offers enough area for activities and movements. Similarly, you can get the 30-40 gallons tank for an adult ball python. The size for senior snakes is far enough to provide them a large room for unrestricted movement. I'll repeat it: don't skimp on the size; the wrong or small size will irritate your lovely reptile, which you don't want.
Buying guide for best Ball Python Enclosures
Ball pythons belong to West and Central Africa, where they live in shrublands, forest, and grasslands. Because of this, a warm and humid environment is essential for them. While picking the enclosure, make sure that the tank is capable of maintaining the required conditions.
Also Read: Best UVB Light for Chameleon
For required climate or temperature, you need some instruments such as a thermometer, heater, etc. Some companies provide these devices along with the package. The purpose behind explaining everything is that you should know all the necessary parameters for the best enclosure for your royal python. Below are a few critical things for selecting an appropriate enclosure.
Perfect Dimensions
As stated earlier, they can grow to a maximum of 72 inch, so you need to carefully measure the dimensions for your snake's tank. Try to select the box which has more space in the vertical direction. They are included in specie that don't like to climb trees all time, they want free movement and roaming.
Size of the box
Royal pythons will spend the majority of their life inside the tank so choose the box size according to snake's size. The size changes according to the age of the python. Baby snakes can be adjusted in small boxes whereas young need a 20-25 gallons tank and old age snakes need a 30-40 gallons enclosure for them. Small size cages can irritate the adult and elder pythons.
Material
It's up to you whether you choose a plastic or wooden tank but remember a few important points in mind before selecting the enclosure. Mesh, cages, and screen tops are not recommended because they cannot maintain the humidity level because of continuous airflow and the humidity is essential for pythons. Cedar and pine constructed wooden tanks are not good for them. According to vets, both materials are toxic to ball pythons. The average lifespan of the ball python is around 30 years, so durable material should be selected for them that can last for several years.
Easy to clean
Cleaning is necessary for the snake's health. Always pick a tank that's easy and quickly to clean. One more thing, if the tank does not absorb liquid or odor, this would be ideal.
Additional Features
These are not essential but few best ball python enclosures come with following components and great features.
Places for fixing light
Background
Thermometer
Tray at the bottom for removing waste
Buyer Feedback
When it comes to choosing an item, the user's reaction to the thing is crucial. Read the reviews of your favorite enclosure to get a better idea of how well it works right out of the box.
5 Best Ball Python Enclosures

Exo Terra Glass Natural Terrarium Kit – best tank for ball pythons
Consider this Exo terra glass terrarium kit if you are searching for something affordable and economical. Although it's not a very large tank like others, but it's perfect for young-age ball pythons. Due to front opening doors, cleaning and feeding the snake is relatively easy. It has plenty of space for stuff like heaters and thermometers and a waterproof bottom.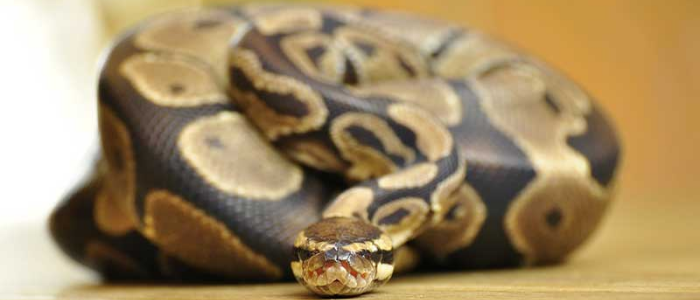 This 20-gallon tank is perfect for babies and young snakes. The prominent feature is that the glass construction is covered with a mesh cover that allows 180-degree view of the snake and its activities. If you are excited to install lights or tubes, closable inlets allow this. Above all, it's very easy to clean. My first product was damaged and I contacted customer support and they delivered me again this tank. As it is glass tank, so there are chances of damage.
---
Repti Zoo Glass Terrarium – Top terrarium for ball python
It is the perfect tank in which your snake can grow without any issue. It has a raised bottom frame that allows you to place a heater for balancing the temperature in cold weather. The notable point is that the waterproof base allows this tank to be used as a rainforest tank and desert terrarium. Moreover, chances of escape are minimized because you can open front doors separately.
It doesn't have ventilation at the front doors, which is somehow good for maintaining humidity levels. You can assemble it within five minutes. Its downside in my view is that it's a little bit pricey than other tanks.
---
Carolina Custom Cages – best snake cages
It is an ideal cage, if you want to give plenty of room to your ball python. It's 24 inches tall, 24 inches wide, and 48 inches long, and these dimensions make it ideal for reptiles. The cage is designed by using glass with a mesh top. This tank has key locks on the front doors to prevent escape. As it's a big tank so according to my experience, you will need the 150-170 watts bulb to warm up the enclosure.
This 40-gallon tank is perfect for adult royal pythons, and provides large room for movement and roaming. If you plan to buy it for a young snake, forget it, it's not designed for them.
---
Exo Terra Habitat Kit
Instead of all, this is specially designed for snakes and reptiles. The tank offers all essential components that are necessary for a ball python. For quick feeding and cleaning, you can use front doors. Although, full-screen top allows excellent ventilation but unable to balance humidity and allows UVB rays inside. Many folks ask how they can prevent snakes from escaping from their enclosure? You can use a particular lock and only open the door while cleaning or feeding your ball python.
Furthermore, you will get all decoration items with this kit like jungle rope, water dish, jungle vines, and substrate. If you are interested in a lighting system, you are allowed to install a compact lighting system for your adorable reptile. Overall it's a complete feature-packed best enclosure for ball python.
---
Oiibo White Reptile Terrarium – best snake terrarium
Your ball python reptile will enjoy a healthy and protected living environment in the OiiBO glass terrarium. The doors of the tank are constructed of a specially developed lock. So the gates will keep it from escaping. The enclosure requires a source of heat in order to keep your pet at the ideal temperature.
The cage is constructed with heat rocks and heat cables. They also come with a sensor and other items that can be placed on the side through tube inlets. For proper ventilation and UVB light, the top is fully ventilated and the top can be removed in case of cleaning or decoration.
---
Frequently Asked Questions
Q1. Which type of enclosure most suits the ball pythons?
Exo terra boxes are perfect for snakes because they are featured-packed tanks and are specially optimized for reptiles and snakes. Although there are other types of tanks but reptile owners prefer the Exo terra enclosures.
Q2. What is an ideal temperature for ball python?
As these are cold-blooded snakes, the warm temperature suits them. The temperature around 21 degrees is perfect for them. According to research, going above 38 degrees can be dangerous for their health.
Q3. Are they friendly?
By nature, they are very kind and gentle. Many folks say that it's a very shy breed but you will enjoy with it.
Q4. How long does a ball python live on average?
The average lifespan of ball python is around 30 years depending on the environment and how you treat them in tanks.
Conclusion
Ball pythons are considered adorable reptiles but they are not easy to maintain at home, so a proper tank is required for them. Above discussed are the best ball python enclosures in the market. Some of them are good for babies while others are perfect for young and adults.