Cats are fascinating pets, but at the same time, they are quite sensitive to allergies and seasonal diseases. Do you know about the common cause of cat allergy? Litter boxes are the main reason behind the allergy. Before two years ago, my cat was showing allergy symptoms, itching, and continuous coughs. After using the hypoallergenic litter box, her symptoms disappeared within one month.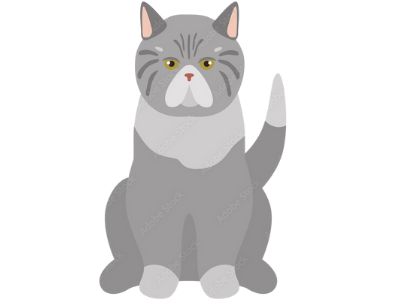 I have more than thirty cats in my home of different breeds, and I have tried many litter boxes and other stuff for my felines. Because of my experience, many folks ask, what's the best hypoallergenic cat litter? So, five products are listed below that are dust-free, scent-free, made up of high-quality material, and have a good reputation among users. Go through the complete article. You will find something suitable and perfect.
What are the benefits of using hypoallergenic cat litter?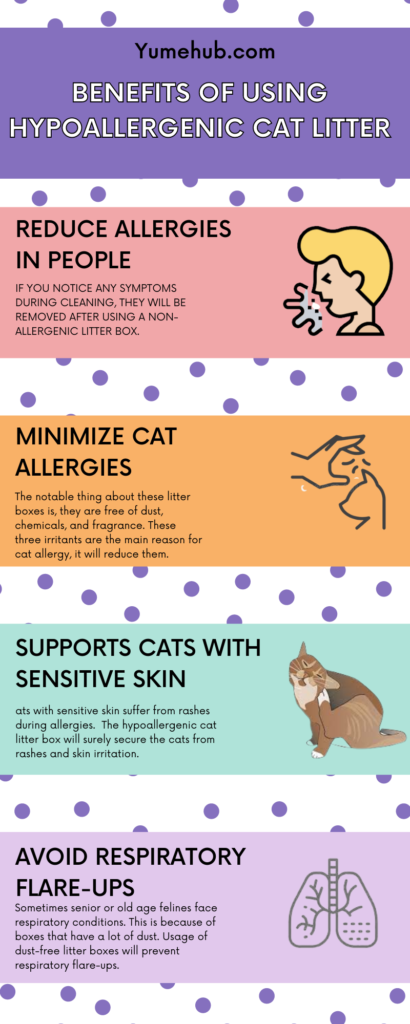 You might think, why should I use these over regular cat litter boxes? As a pet parent, you must know about the perks of using hypoallergenic cat litter. Here are its few benefits:
Reduce allergies in people
Surprised? Yes, you can also suffer from allergy especially while cleaning the litter boxes. The litter box dust is the reason behind it. If you notice any symptoms during cleaning, they will be removed after using a non-allergenic litter box.
Minimize allergies in cats
The notable thing about these litter boxes is, they are free of dust, chemicals, and fragrance. These three irritants are the main reason for cat allergy, and without these, you will see an improvement in its health.
Supports cats with sensitive skin
Cats with sensitive skin suffer from rashes during allergies. There are many allergy symptoms rather than coughing and sneezing. The hypoallergenic cat litter box will surely secure the cats from rashes and skin irritation.
Avoid Respiratory Flare-ups
Sometimes senior or old age felines face respiratory conditions. This is because of boxes that have a lot of dust. Usage of dust-free litter boxes will prevent respiratory flare-ups.
What are the common symptoms of cat litter allergies?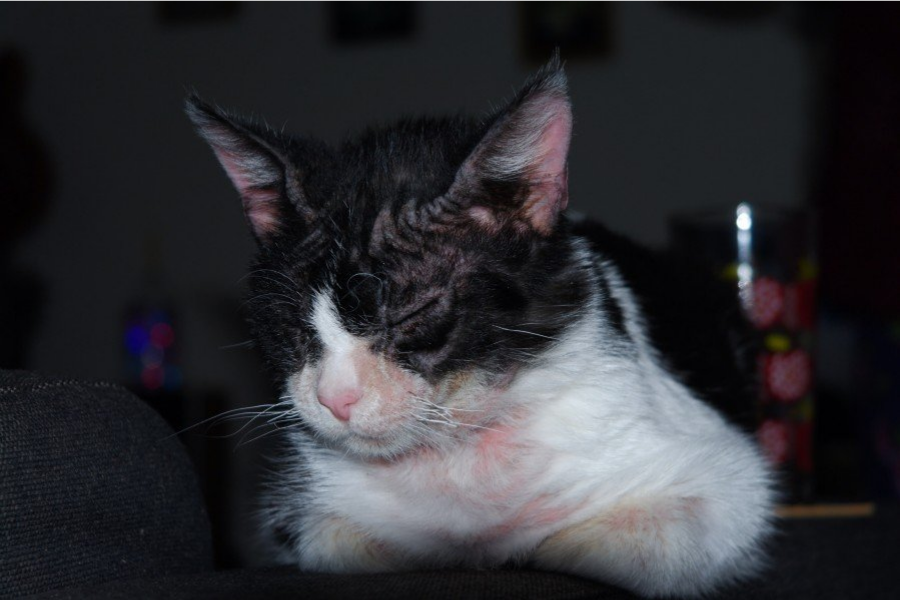 Every feline have different symptoms, but the most common indications are given below:
Itchy skin & eyes
Constant coughs
Watery eyes
Runny nose
Self scratching
These are different symptoms that show the cat has some type of allergy, but how will you know that these symptoms are due to cat litter? The easy solution is to check your cat after using the litter box. If its symptoms increase, you have to use the non-allergenic litter box.
If the litter box is posing too many troubles for the cat, it may avoid using it. Another symptom of cat litter allergy is this. Now, check the best hypoallergenic cat litter.
Buying Guide for the best hypoallergenic cat litter
You can see the massive variety of allergy-free litter boxes in the market, but it's essential to keep some points in mind before confirming any purchase. So, below, a few points are discussed for this purpose.
Material
Clay cat litters are a popular choice among many cat owners, but keep in mind that these boxes contain more dust and chemical irritants, and they are not hypoallergenic. The material is an important consideration, and an item that is constructed with 100% natural materials is preferable because it is easy to dispose of the cat litter in the toilet. You can use it if both you and your feline are okay with it, but not if your cat has allergies.
Clumping or Non-clumping
I favor clumping cat litter because it collects urine rapidly and allows us to quickly dispose of clumps and waste on a routine basis. The litter box will need to be totally emptied and cleaned less frequently if I remove soiled litter on a regular basis and replace it with fresh litter. It will take less time to clean.
Because non-clumping litter is more challenging to remove from your cat's litter box, you'll have to dump, clean, and replace the tray more frequently. Non-clumping litter, on the other hand, is better at absorbing odor due to its ability to absorb large amounts of pee.
Dust-Free
The litter box should be clean and free of dust. Dust is another common source of allergy, particularly when a cat uses it and the dust is released into the air, and these dust particles cause the allergy. You can use special type of litter box for picky cats.
Scent-free
Some brands use fragrance or any perfume to cover up any smell. These artificial scents are the main reason for allergies in animals and humans. It's advised to use scent-free hypoallergenic cat litter.
Brand reputation and reviews
Check the company's worth in the market by the reviews. Must check the users' comments before making any final decision.
Five Best Hypoallergenic cat litters
World's Best Unscented Cat Litter – good cat litter
It's the best allergy-free litter box, as the name implies. It includes all of the features that most owners, including myself, desire. Such as felines can easily breathe, and you will notice less mess occurred by this litter. It has been my top pick for many years.
I really appreciate the manufacturer for making such a great quality product. Because of this, our home is odor-free due to its tricky odor control features. It's great for cats with scent allergies.
Those who ask about its liquid-absorbing ability, it captures liquids quickly to reduce the smell. This capability makes the cleaning simple because feline's urine will be quickly converted into clumps that are easy to dispose of. As it's built with whole-kernel corn, it's 100% biodegradable which is suitable for plants and pets.
Many customers don't purchase this due to its price, but they don't know about its worth because it lasts twice as long and is more durable than other brands. I purchased this in December 2020 on Amazon, and I'm using it for my most cats.
---
Fresh Step Advanced Clumping Cat Litter – best non tracking cat litter
Have you ever tried Fresh Step clumping cat litter? For removing the allergy symptoms, this one is a valuable item. The interesting point is that the company guarantees odor control for ten days. The activated charcoal makes your home's air fresh and clean by removing odors. It's a hundred times better than using fragrance or artificial scent.
Why do I suggest this product for allergy-prone cats? Because it's 99.9% dust and chemical fragrance-free. Due to this, it's quite easy to clean. Other perks are that it makes cat litter cleaning easy and fast, and the tight clumping locks the cat urine that eliminates all crumbles in the trash.
Apart from its benefits and great features, I have found the main drawback is that it can not prevent cats from all types of allergies because of its material. Sodium bentonite is used in the formation of this clumping litter, and some cats are allergic to this material. None of my cats are affected by it. All of them are happy and fit while using this, but my friend's feline was affected.
It was launched in 2019, and it surprised the pet market with its record sales in a short period of time. I ordered this product in 2020 before the lockdown in the U.S and its packaging was different from the images that are shown on the Amazon website. I contacted the support, they said the packaging might vary but the product is the same which you ordered. Overall, it's the best litter for cats.
---
Purina Tidy Cats Clumping Litter – best clumping cat litter
Purina tidy clumping litter provides the guarantee of odor removal for ten days and claims to remove allergy symptoms in cats by its natural materials. I have chosen it because it's super-fit for cats with scent and fragrance allergies, which means it's 100% scent-free litter. It controls the odor using activated charcoal.
In my view, it's ideal for long hair cats because its litter particles are large and don't stick with cat hairs. Because the clumping litter is made of clay, it is very easy to clean. However, it is not washable. As a result, you must dispose of it on a daily basis, which I agree is its fault.
---
Dr Elsey's Clumping Cat Litter – best dust free cat litter
This one is the perfect product for those who ask: what's the best hypoallergenic cat litter? I still remember those days when I bought it in 2009, and still, it's been used in our cat lab and home. It's a great purchase because it belongs to a well-known and reputable brand, as well as the number one and best seller on Amazon. The notable thing is that Dr Elsey's clumping cat litter works for most of the cats.
Fill the box with three to four inches of litter and after scooping the waste, refill the box quickly. Why is it easy to clean? Because it creates hard clumps like concrete of cat urine that assist you to clean the box easily. I always use the large bag of 40 lbs, which survives for 40-45 days, and I don't remember how many bags have been used so far. Due to large grains, it reduces the litter tracking around the home. This litter is great for multiple cats.
Cat's Pride Unscented Multi-Cat Litter – best natural cat litter
Here is my last recommendation for those owners who have more than one cat in their homes. It controls the dust to eliminate any chances of respiratory issues in your cat. My 60% of felines are susceptible to any type of fragrance. They don't come close to me even if I use perfume, body spray, or any shampoo. So, that's why I like this product.
While others use activated charcoal, it uses baking soda to eliminate any type of scent. The stated litter can remove the odor for up to seven days.
---
Frequently Asked Questions
Q1. What are the common symptoms of cat litter allergy?
The most common allergy symptoms in cats are sneezing, coughing, itching, scratching, and difficulty breathing. If you want to confirm the cause of cat allergy, check it after using the litter box. If she feels bad, then it's due to the litter box.
Q2. Which litter box is not recommended for allergic cats? 
The clay litter box is not suggested for cats affected by allergies because it contains a lot of dust in the form of sodium bentonite. So, avoid using clay boxes.
Q3. Is there any hypoallergenic cat breed?
Although some breeds exist that have a low rate of shedding but no breed in the world is 100% hypoallergenic.
Conclusion
I hope the question of my readers that what's the best hypoallergenic cat litter is clear now because everything is explained in-depth with my experience. Every owner wants to keep their pets healthy and fresh, but there are some issues that we can't control, but we can take cautions to reduce or overcome them. Allergy is a common issue in felines, and you can quickly reduce this by using non-allergic cat litter.