Swimming is a wonderful all-around activity as it increases your heart rate while lowering impact stress on your body, helps you maintain a healthy weight, and keeps your lungs and heart in good shape.
All of these health benefits apply not only to humans but also to animals such as dogs. As a dog owner, I can say for the fact that dogs like swimming and bathing in a pool. However, the depth of large pools made them uncomfortable. As a result, dog pools have been made for them to enjoy.
I was finding out the best puncture proof dog pools because my two ugly dogs puncture them with scratching with their claws and teeth. Then I start finding the pools that cannot be punctured or leaked due to surface or dog's teeth.
I found some outstanding products pools and will share with you and also what I looked at in the product before selecting.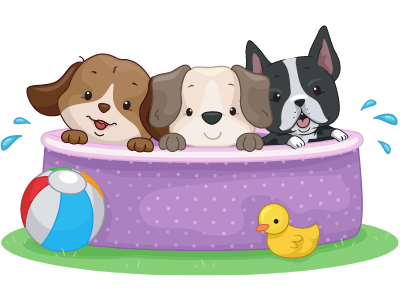 Best Puncture Proof Dog Pools:
Jasonwell Foldable Dog Pool Bathing Tub
If you do not have enough space to store the pool in your home, this pool will be your first runner due to its foldable nature. It has such a lot of positive reviews from the buyers, which made me help to buy it.
After two days of ordering in nice and tight packing, I received the order. Before, it was very difficult to blow up the pool, but this was really easy to pop up and easy to collapse. You do not have to inflate the pool because it uses cardboard at the wall with a slip-resistant and sturdy bottom. So you can easily fold it!!
Not only dogs, but you can also use it for your toddlers and small age children. At the bottom, there is a drain and water refresh hole, which can be easily opened and closed.
I have judged that dog scratches cannot damage it, but continuously placing it on a rough and hard surface can damage its bottom layer.
---
Casfuy Foldable Dog Pool
Another beautiful foldable dog pool is here, which looks very attractive and pleasant. Generally, it comes in three small, medium, and large variants. But I ordered the small one due to m requirement.
Its bottom surface highly attracted me, showing great resistance against the dog's paws and scratches. Moreover, the surface has a non-slip surface which gives your dog great stability.
Rather than inflating a pool, which is a time-consuming and hard task, you just have to construct it according to the given instructions. It uses a PP board in the wall that didn't collapse and is lightweight.
Emptying the pool is no longer a hard job due to the improved drain system. Just press the water ring in and let the water come out.
---
NACOCO Foldable Dog Pool Large Dog PVC Swimming Pool
NACOCO is well-known and popular in making dog pools. Such products from the company have already gained a lot of global attention, and the company is working hard to make high-quality pools for dogs. There this struggling background made me bound to order their product and test on my dogs.
Truly, I am really impressed with the resistant nature of the pool as my dog badly torn the pool with its teeth, but nothing happened. The size of the pool is 63 "*11.8" in which 3 dogs can easily make fun. In addition, 4-5 kids can easily manage them inside the pool.
The corner is well sealed; use a PVC and flip board material that can be used for a long time. After taking a bath, you can easily fold it, and its small folded size is easy to carry and move.
You may also need a german shepherd shampoo, check our article.
---
NHILES Portable Pet Dog Pool
How about trying an NHILES portable dog pool to make your dog swimming experience more enjoyable. We recommend you to buy these types of sturdy and good-looking best dog pools for the money. Its durable and foldable walls are made up of nylon cloth, preventing it from leaking.
Its easy to drain system helps out to pour out water quickly by just pulling the knob. The size of the pool is 63″ in diameter and 12″ in depth, making it best suited to large breed dogs.
At the bottom, it contains a drain cap through which you can easily and quickly drain the water. To avoid causing any effect to the pool, check that your dog did not have long nails.
Overall I am really satisfied with its sturdy nature. It's easy to clean, and dogs can easily come in or out of the pool. One drawback I have noticed is that the draining hole is a bit above the surface, leaving some water on the surface after draining.
---
Kopeks Round Heavy Duty Outdoor Bathing tub
My heavy German Shepherd has a habit of digging and biting everything, which confused me when I think it will do the same with the pool. But my worries go to waste when he tries to bite the Kopeks pool several times, but nothing happens to the pool.
It comes with a length of 47″ diameter in and 12″ in depth. The pool is very easy to set up and fold due to its foldable nature. The sides are flexible but will be sturdier with more water. Not only for dogs, but the pool is also great for your kids and toddlers.
---
Difference between inflatable pool and foldable pool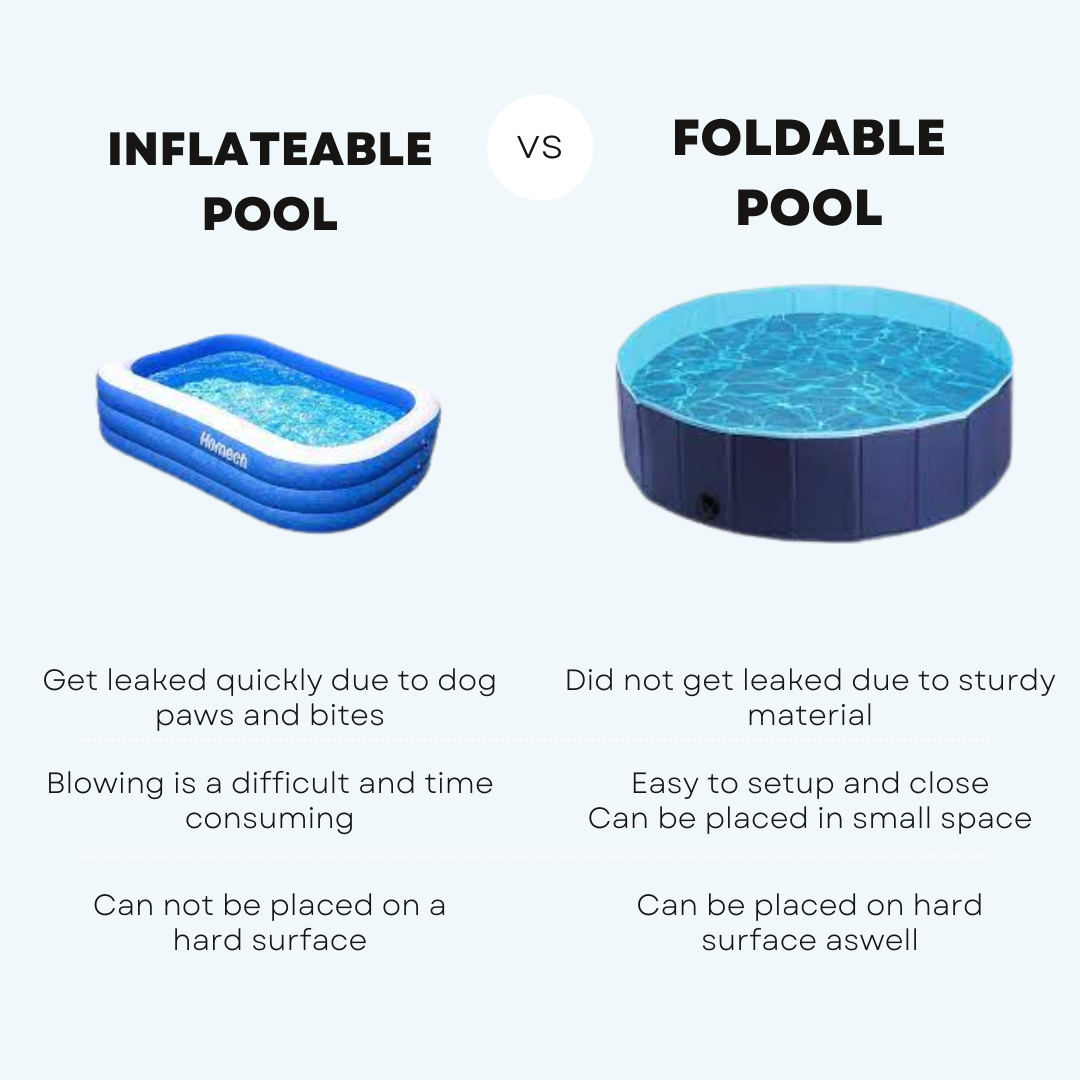 People are generally confused about the question of what is the difference between an inflatable pool and a foldable pool? Inflatable pools are not specially designed for dogs; they are for families and children. So this pool is designed with respect to human mature.
When you give a bath to a dog in the inflatable pool, it gets leaked due to harsh paws and scratches. Moreover, blowing the pool is also a challenging and time-consuming task.
On the other side, the foldable pool used cardboard or PP board with a hard plastic cover, making it impossible for dogs to do any damage.
So that's why we always recommend using foldable pools for your dog.
Material used in Puncture-proof pools:
Nowadays, three materials are being used in the pool material, which greatly prevents pools from puncturing.
PVC Material:
PVC is the most strong and sturdy material, which shows great resistance against dog nails, scratches, and bites. It is also soft, smooth, and completely safe for dogs' health.
Structural foam:
Structural foam is another material used in the best puncture proof pools for dogs. It's so soft and smooth that dogs remain comfortable and happy.
Polyurethane:
Polyurethane is a tough and hard material through which the passing of any hard material is difficult.
Why have a puncture proof pools?
Dogs really love to have some time to play inside the water. But also have fear from deep water, so they did not take a bath in a swimming pool or beach. But with pools, they have water up to their stomach, which really suits them, and they feel comfortable.
Likewise, in a pool, while playing, they try to dig or do some activities through which sometimes pools get punctured. People are now using puncture proof pools that show great resistance against paws and bites.
Buying Guide of Best Puncture proof dog pool
What to see in a puncture-proof dog pool is a common question you may also be thinking about. So have a look at the factors and keep them in mind before buying.
Size:
This is the most important factor you have to look at and decide on before buying. Always select the size of the pool according to the number of dogs you have. Moreover, if you have only one dog, also measure its length so that he can sit comfortably.
Material:
Whether the pool will puncture or not depends upon the material of the pool. The three most famous materials provide a strong and long-lasting pool; PVC, Polyurethane, and structural foam. Always check that your pool must be made from one of these materials.
Surface:
The surface can cause a great problem for the dog if this is not made with proper material. If your pool surface is not anti-skid, your dog will continuously slip with little movement. So choose a pool that has a great grip on the surface.
Foldable:
As the pool is in large sizes so strong them in the home can be a difficult job. Nowadays, pools are made up of foldable nature, so you can easily fold them and store them in a little space and even can take them with you.
Frequently Ask Questions:
Can my kids also enjoy the pool?
Yes, these pools are also made for toddlers and small age children. But remember to give attention when toddlers are in the pool.
How much puncture proof pools cost?
Puncture proof pools are not very expensive and are easily available in the price range of 20 to 60 dollars.
Final verdict:
Giving your dog some water activities is very good for dog health and enjoyment. Nowadays, in the market best puncture proof pools for dogs are introduced in which you do not have to inflate the pool neither you have a fear of being punctured. So we have listed the top products after briefly reviewing our dogs. Choose them wisely!!