In this article, I am going to share the worth reading information about the best dog belly bands. There are several belly band options in the market, however they are not all designed equally.  So, in order to help pet parents make a wise decision, I have selected and reviewed the 5 best-selling dog belly bands on the basics of fabric quality, proper fit, and ability to absorb urine, along with patterns & colors. 
What's the Purpose of Dog Belly Band?
As the name suggests, it is basically a band of fabric that is used around the dog's belly. Mainly used with male canines, the band can be extremely useful in various situations such as it can easily be used in the long & tiresome housebreaking process. Moreover, it can be used while living with ill, incontinent, and senior canines. However, the basic purpose of a dog belly band is to absorb urine the dog releases.
Reviewed: Best Dog Belly Bands
If prospective buyers are in a hurry then, they can trust my top picks for dog belly bands.
Teamoy Reusable Belly Band 
All I say is that Teamoy belly bands are saving me too much frustration & work.  Easy to use and put on, at 1st I was a bit concerned if the band would cover that particular area or not however, the band served its purpose in the best way possible. The most noticeable feature of this dog belly band is that it is waterproof so if my canine pees overnight, he is not leaving urine spots everywhere.
Moreover, as compared to other belly band I have bought earlier, Teamoy belly bands are much thinner. However, my only concern is the sizing chart that needs more detailing. I would really appreciate it if the Teamoy belly bands also come in more sizes other than small, medium, and large. I purchased this band before six months ago, package delivery was on time and with beautiful packing, and I have found it really amazing.
---
Pet Parents Belly Band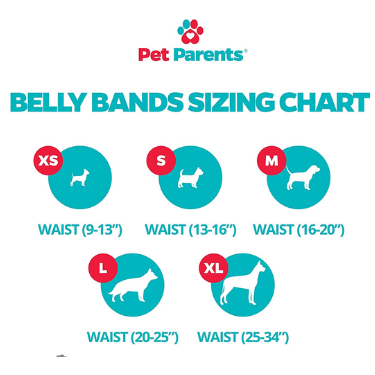 This belly band is truly a game change for my 2 male canines who started the marking war a few months back. So, I must say that I am very satisfied with the performance of Pet Parents belly bands. The bands are extremely easy to wash, just hand wash them & dry them in the sunlight.
Furthermore, the product has elastic gathering to prevent gaps along with a nice, tight Velcro. My canines do not remove them but if your canine is inclined then, he would have a difficult time of it. Another noticeable feature is that, padding is extremely thick, & can easily hold approximately six ounces of water. But if dog owners want to add heavy duty pads then, they should go a size up. 
---
Paw Legend Belly Band 
The reason I selected this brand is, my canines love wearing them due to being highly absorbent. I personally liked the amazing colors these belly bands come & they do hold a lot of liquid. The Velcro is quite strong so it cannot be removed easily & my canines seem to think it is perfectly comfortable.
I had rare problems with occasional leakage however mostly when the band is not snugly fastened. Pet parents do not want it very tight but they have to tug it a little for a snug fit in order to avoid leakage.  Moreover, the Paw Legend belly band has also made house cleaning very easy. Overall, my experience with these belly bands is fairly good. I would advise to get the right size or else you might experience some leaking problems. 
---
Wegreeco Belly Band 
Another great product that I have personally bought and used for my dogs. I bought this belly band to prevent the canine from peeing in the home, especially during work hours. After using them for my beloved canines, I can that this is a very well-designed & well-product with great value.
The design is super cute, not actual denim, in fact it is a soft & moisture wicking material. Here, I would like to share that for added protection, I usually put a liner in them. The band can easily hold a huge amount of urine with no leaks. Well, just like other belly bands, I found that the Wegreeco band runs small. But do not worry this is a common issue across all brands, & is easily avoidable by simply measuring the canine carefully & following the guidelines provided by the manufacturer. 
---
IN HAND Belly Band 
This particular product is the best priced one I have ever purchased for my canines. The belly bands are very well-made, & fit perfectly, & do not leak. The IN HAND belly bands are much better than what I found somewhere else due to the Velcro strips. I usually put these belly bands into the washing machine on a fast cycle, and air dry them.
The design with long double strips allowed more flexibility & comfort with my little mates. Well, these belly bands run a little larger than measured, however, did the trick with good quality. The best thing is that the material feels very velvety. Would surely purchase them again whenever I want more for my beloved canines. 
---
Buying Guide: Best Dog Belly Band 
When it comes to purchasing the best and quality belly band, prospective buyers should not get the 1st thing that they see online. It is advised to do some research in order to get the right product according to your needs. All the above-reviewed products are worth buying as per my experience. But always remember that getting the right product is not that easy therefore, I have compiled this buying guide to make things easy for pet parents.
What Makes the Best Dog Belly Band?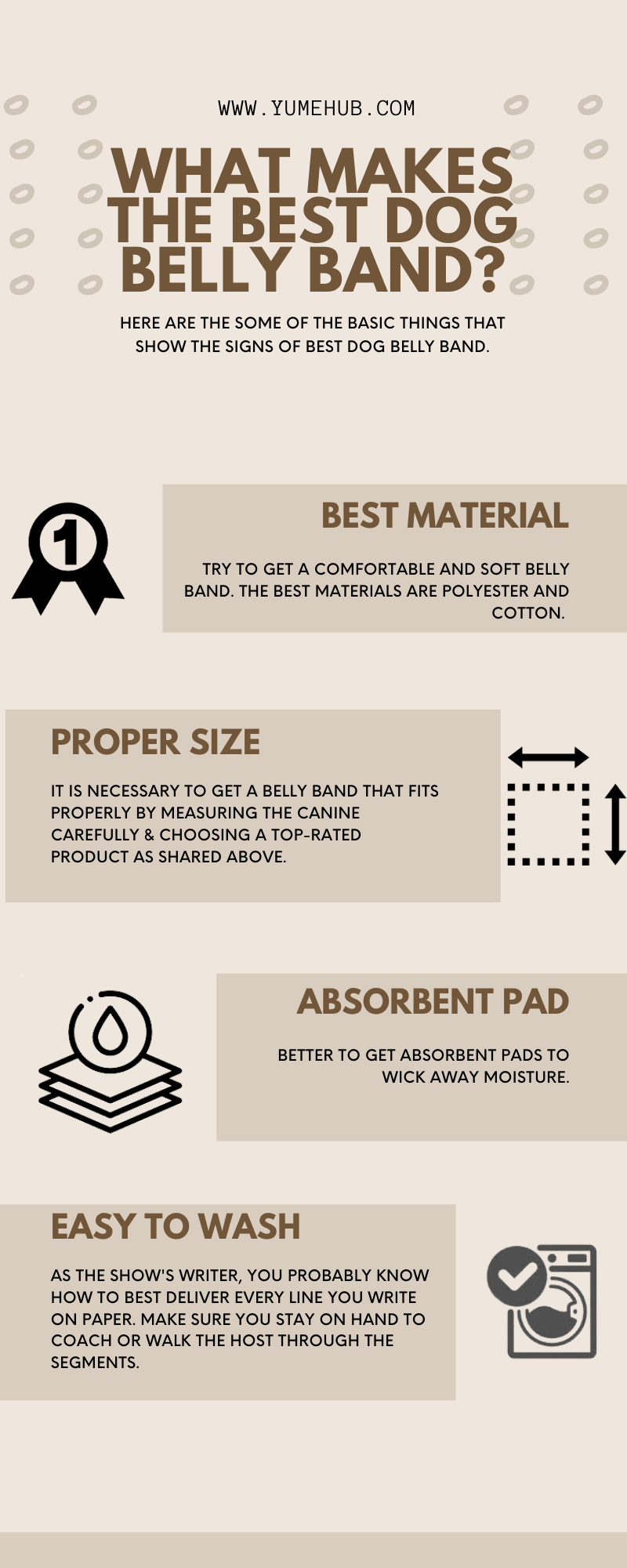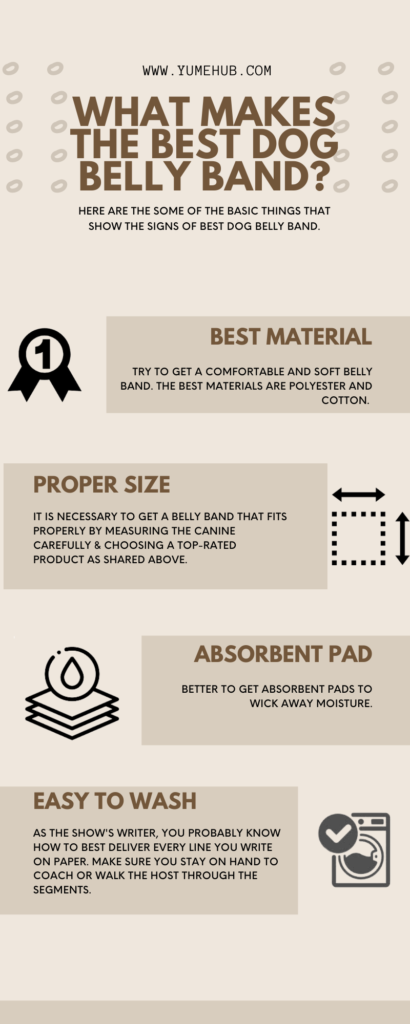 As with nearly every other canine product, there are some good dog belly bands & some are not that good. Well, few of the traits that always draw a line between good & not so good dog belly bands are as follows:
No doubt, the dog's belly band will have a significant amount of contact with her/his body so, pet parents should try to get a comfortable and soft belly band. The best materials are polyester and cotton.
A belly band might fail to catch canine's urine if it does not fit as it should. Therefore, it is necessary to get a belly band that fits properly by measuring the canine carefully & choosing a top-rated product as shared above.
Forcing the canines to wear the wet belly bands around their bodies for a long time can call for fungal and bacterial infections along with general discomfort. So, better to get absorbent pads to wick away moisture.
Because pet parents will have to wash their band often, they will certainly appreciate the dog belly band that can withstand everyday machine washing
How to Use a Dog Belly Band Safely?
When pet owners 1st introduce their canines to belly bands, try to use positive reinforcement in the form of treats & praise. It is recommended to take baby steps & never force the canines into the situations they are clearly unhappy or unsatisfied with.
Firstly, place the belly band on any kind of surface right in front of the canine to let him sniff the belly band. Do not forget treats & praise. Afterward, try lying it over canine's back area. Finally, place the belly band on him. It is worth remembering that some canines might take extra time to go through this entire process. Pet parents should ensure that their beloved dogs never associate a belly band with any kind of bad or negative experience.
Consider the following tips as well:
Always buy 2 or even more belly bands. By doing this, pet parents will always have a clean, fresh belly band on hand. 
Consider a wider band for pug, dachshund or basset hound. These dog breeds need a wide belly band in order to get a right fit. 
What about Liner Pads?
The majority of dog belly bands are designed in a way that they cannot be used without a liner including, panty liner, incontinence pad, & female hygiene pads. The purpose is to wick all the moisture away from the canine's skin in order to prevent infections. Use the dog pee pads for dog urine.
Final Thoughts:
In the end, it can be concluded that dog belly bands are extremely useful and much house cleaning process easy. Because a belly band is considered an ultimate option to keep home clean. Unlike diapers, these belts are simply great as they are easy to wash thus reusable. As long as pet parents measure the canines properly & change the bands frequently, there is nothing inhumane about belly bands.