Have you ever wondered, what is the best way of taking your little bearded dragon for a long walk to let him explore the world around? The majority of the people always take their bearded dragons along with them. When the dragon is small & young, an enclosure will surely be his favorite place to roam around. But, once this little bearded dragon grows up, he will try to discover new surroundings.
Apart from physically exercising the bearded dragon, walking outside the terrarium offers him an opportunity to experience a whole new environment that will eventually mentally stimulate the dragon. Plus, it will also help to reduce some stress.
It is worth mentioning that bearded dragons are the most underrated pets that give a lot of amusement and love. And in order to give them due importance, dragon lovers can use a harness. With the help of this remarkable control mechanism, dragon lovers can secure their little friend while having peace of mind.
Here, I would like to share that during the last few years, deserts of Australia are considered as the favorite place of bearded dragons but, they have now found new homes within Canada, America, UK and many others.
When the little bearded dragons are not within their terrariums/cages, dragon lovers need to get a mechanism to carry and control them. Moreover, the bearded dragons have also delicate bodies just like the lizards. If they are not handled properly, death or some severe harm may prevail.
To carefully handle the little bearded dragon, harnesses and leashes have been designed to ensure safety and comfort. A top-quality leash and harness will make the little bearded dragon look good, feel secure, get recognized easily & ensuring the dragon does not run away.
Keeping the importance of harness for bearded dragon in view, this article aims to provide the worth – reading information regarding the best dragon harnesses currently available. Because new products are coming out on a daily basis, it is better to remain updated to get the best product.
Why Dragon Lovers need a Harness for the Bearded Dragon?
A bearded dragon always needs sunlight in order to have good health. Because, despite using the heat for fulfilling the metabolic needs, sunlight is also considered a good source of Vitamin D for living beings.
Bearded dragons, just like human beings, need exposure to UV radiation to produce Vitamin D for strong bones and healthy bodies. So, if dragon lovers want a strong & healthy scaly friend, then it is recommended to let him enjoy the sunlight. And during all this process, it is better to put on a comfortable and soft harness if you don't want to lose your precious buddy.
Important Factors to be considered while selecting the Best Harness for Bearded Dragon
As much as dragon lovers want an affordable and stylish dragon harness, they need to be mindful of choosing a piece that offers maximum security and comfort. To make a wise decision, readers can consider the following important factors:
Size
Different dragon harnesses can be appropriate for various sizes. Therefore, it is advised to consider whether your precious dragon comes under the category of large, medium, or small. A harness that is not fitted properly can harm the dragon badly.
Comfortable and non-toxic Material
Sometimes, bearded dragons can stress out quickly. Selecting a comfortable and non-toxic harness ensures that a little dragon is not in danger anymore. It is recommended to pick a harness made of genuine leather.
Durability
This factor matters a lot therefore, dragon lovers should pay attention to it. They can check the durability of the harness by touching it. With a durable harness, there will be less chance of any mishap.
Lightweight
The best harness is the one that is lightweight and, adjustable. There should be no metal hooks on it because these hooks can cause injuries.
Adjustment Options
The majority of the harnesses are versatile because of the adjustment options they offer. Such adjustment options can make a bearded dragon harness to perfectly suit both baby & adult dragons.
Budget
It is necessary to stick to the budget however, it is equally to secure a best and high-quality product.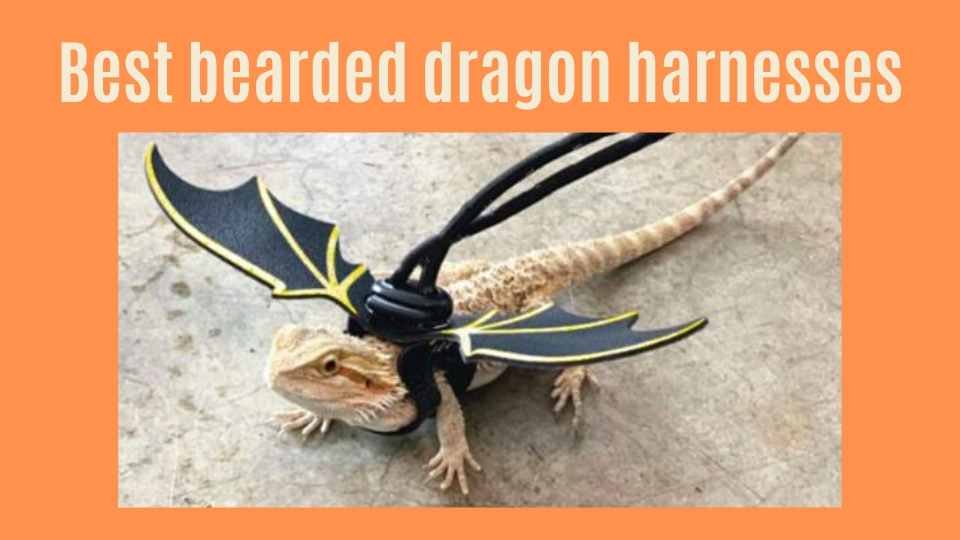 How to Use a Bearded Dragon Harness?
Selecting and purchasing a harness is one factor & using it properly is the next thing. Please note that there are no recommended ways to use bearded dragon harness because they are designed differently.
But, dragon owners can purchase a harness that is available with easy to follow manual guidelines or else below are some rules which can be considered while using a bearded dragon harness.
Check the chest size of the dragon and make all the adjustments according to that size
Always clean the harness after use
Do not use the harness when the dragon is in the enclosure
Ensure that the little dragon has a harness while relaxing in the sunlight to abort numbers of escape.
Use the harness to train your little dragon walk properly
Make sure that the harness becomes a source of comfort not, harm
How to Prepare a Bearded Dragon for Harness?
It is quite easy for dragon lovers to train the little mates for a harness if, he is already familiar with it. Ensure to start in the warm/cozy environments where he feels secure and comfortable. Hold him, stroke him & keep him relaxed during the whole process.
Another way is to give him rewards so that, he can link the harness with happy and good memories. Moreover, adjust the harness to fit him & carefully observe his behavior.
Our 4 Top-rated harness from editor's choice:
Our top 10 bearded dragon harness list reviewed:
So, dragon lovers are you ready to make a wise purchase? Then, let's help and guide you to find what you actually need. In order to speed up the shopping process, this article will give useful information regarding the best harnesses for bearded dragons.
1. Watfoon Adjustable Bearded Dragon Harness
Available in large, medium, and small sizes, this harness is appropriate for iguanas, bearded dragons, and geckos. It is completely homemade & quite durable. Made up of soft leather, this harness is always in demand due to its remarkable features. Dragon owners can easily adjust the size and length of the Watfoon harness according to the little mate's comfort level. The adorable and distinctive design of the harness makes the dragon look extremely unique and bright while walking.
Pros:
Made from durable and non-toxic material
Easily adjustable
Extremely famous and gained a great reputation from the number of customers
Cons:
Few dragon owners have complained that sizes are not always available due to high demand
2. FunPetLife Small Pets Harness for Bearded Dragons
With this cool harness, the little dragon can enjoy & love sitting in the sunlight naturally without being getting afraid. Besides, this long harness will enable users to walk with their dragons as they build a strong & close relationship with them. Moreover, the FunPetLife harness along with the long leash is simply what dragon lovers need while taking their mate to exhibitions and concerts.
Pros:
Made from a high-quality nylon fabric, therefore, it gives comfort
An Ideal option for some other small pets as well
During the outdoor activities, this harness will serve the best purpose to keep dragon safe
Cons:
Some dragon owners complaint that the harness does not fit properly by being too big
3. JackS Reptile 4Ft Iguana, Bearded Dragon & Lizard Leash Combo
Before moving ahead, it is vital to note that if dragon owners are not sure about either to buy a harness or leash then, JackS reptile combo is a perfect kit for them as it will serve their desert friend. The best and important feature of this amazing bearded dragon harness is the level of comfort it offers to the dragons. Moreover, the fact that JackS reptile combo is adjustable & secure makes it a recommended harness for the bearded dragon.
Pros:
Easy to handle and clean
Available in a range of colors
Comfortable and secure
Multipurpose
Cons:
Few bearded dragons do not like this harness around their bodies
4. RYPET 3 Packs Bearded Dragon Harness
It is another unique and recommended harness for bearded dragons. Despite the attention-grabbing aesthetic design, the RYPET harness is extremely adjustable & available in different sizes like large, medium, and small. The handmade leather material of the harness can suits some other pets as well such as tegu, leopard geckos, and iguana. This harness for bearded dragons has been repeatedly tested to ensure the comfort and safety of the dragons.
Pros:
Adjustable according to the size of bearded dragon
Hand-washable
Non-toxic and affordable
Cons:
According to few buyers, the bearded dragons slip out of the harness easily
5. T-Rex Comfort Leash
This comfortable and highly secure harness features soft leather thus, making it suitable for a huge range of critters, for instance, crested geckos, bearded dragons and iguanas. Most of the dragon lovers place a suede underneath the belly of gecko or dragon. Afterward, they can easily adjust the harness with the help of the cord. In order to ensure comfort, the T-Rex harness features pivoting safety fastener.
Pros:
Easy to use
Made from a high-quality leather
A great product to support the dragon's basking ambition
Available in different cool colors
Cons:
Quality is not consistent
6. KUDES Adjustable Bearded Dragon Harness
It comes under the category of bearded dragon harness with wings & no doubt, little dragons love wearing it. A soft leather & nylon rope is used in this harness to reduce the risk of a dragon getting hurt. When dragon lovers go outside with their dragon mates, the KUDES harness ensures that he will stay safe. Moreover, an adjustment clip is fixed on the harness to let users choose the desired length. The wing-like design of the harness looks beautiful and attractive.
Pros:
The wings are removable which is a good feature
Available in all sizes
Ensure comfort and safety
It comes with a walking control rope thus, it helps dragon owners enjoy quality time with their mates outside the home.
Cons:
It might be difficult for some buyers to adjust the size of the harness perfectly
7. Adjustable Lizard Harness Leather Bearded Dragon
With this worth buying adjustable harness, dragon lovers can take their bearded dragon for a long walk. The harness is specially designed for small pets such as crested geckos, tegus, iguanas, and a hamster. The harness is made from the finest and soft leather material that allows users to affectionately but firmly safe their precious dragon. Moreover, the harness is about 62" long to give dragons freedom to enjoy and explore the surroundings.
Pros:
The best option when it comes to safety, security, and comfort
Available in three sizes to fit dragon of any size easily
Adjustable
Cons:
Little difficult to put the harness on bearded dragoon but, looks super cool once wore
8. KHLZ US Adjustable Bearded Dragon Harness
It is considered as one of the most famous and cool gifts for the beloved bearded dragons. The soft leather is used in the making of KHLZ US harness to protect the dragon's skin & looks vivid. A durable, lightweight, and top quality nylon rope is used which is animal-friendly and non-toxic. Furthermore, single line adjustment design makes this harness suitable for the grown-up, juvenile, or even baby beardie.
Pros:
Adjustable
Extraordinarily unique and bright
The chest strap is not visible thus, dragons will not feel uncomfortable
Cons:
For a few buyers, it is not a good option for a huge bearded dragon
9. Serdokntbig Harness for Bearded Dragon
An angel wing design is extremely famous among bearded dragon lovers. The overall look has been incredible, so dragon owners are expecting more accessories with wings. This harness is highly recommended because it does not have a very large rope to inhibit all of the basking desires of dragons. Furthermore, the delicate nature of the harness makes it easier to fix and adjust.
Pros:
The process of installation is very easy
Conspicuous colors
It can easily be used to train new skills to dragons.
Cons:
It looks super cure, however, not much secure
10. Vehomy Adjustable Bearded Dragon Harness
Last but not least, the Vehomy harness is made of a nylon rope, soft leather, tasteless, and non-toxic thus, it will never hurt the dragon's skin. It comes in three different sizes to make it perfect for lovely dragons throughout the growing process. However, it is better to consider the size chart before buying it.
Pros:
Adjustable clip
Artistic bat wings design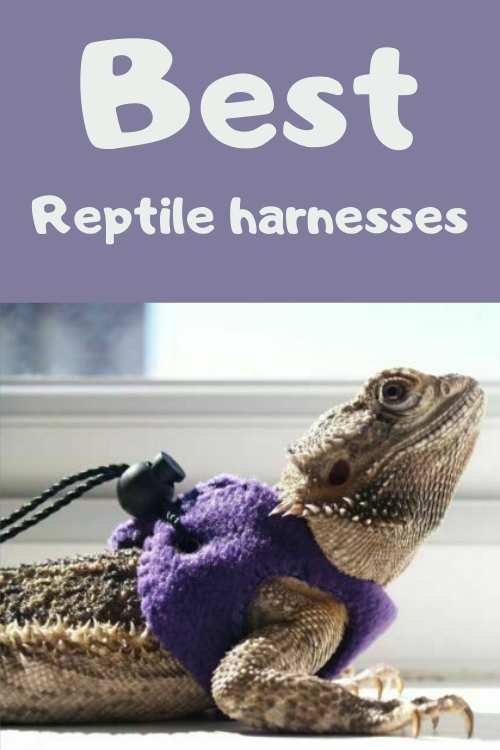 FQAs Answered: Bearded Dragon Harness
While categorizing the 10 best products, I have prioritized the comfort, security, and safety of the bearded dragon. Moreover, I have identified some particular accessories for serving the precious bearded dragons.
After reading the detailed review of each product, the dragon lovers can select the best-bearded dragon harness that can help dragons of different ages. Apart from this, it is better to consider some other aspects as well. These important factors in the form of FAQs are as follows:
Can Dragon Owners walk their Breaded Dragon with Harness?
Yes, they can. The recommended technique to walk the bearded dragons is by means of a harness. Nevertheless, users will need to honor some other important things before going for a long walk such as the desire of dragon, availability of the rewards & the temperature. Throughout the walk, dragon owners should pay due attention to the dragons to ensure they do not eat harmful insects.
What Features make the Best Harness for the Bearded Dragon?
The little bearded dragon should feel comfortable while capable of moving his neck, head, and legs freely. Moreover, the harness has to be adjustable to ensure the perfect for the dragon. The harness should also ensure that dragons could not wave to and fro loose & eventually escape. The fabric matters a lot as well thus, ensure that the material or fabric will not abrade the dragon's skin.
How to clean the Bearded Dragon Harness?
The cleaning part of the harness is also very important. Dragon owners should learn about the maintenance & cleaning tricks needed for keeping the dear bearded dragon happy and healthy. The daily routine to clean out a breaded dragon harness is quite simple with a little extra care. The cleaning steps are as follows:
Keep the harness dry
Keep it spot free with deep cleaning
Is it Safe to Take a Bearded Dragon for a Walk?
Yes, it is completely safe but with precautions. No doubt, exploring & letting your dear bearded dragon roam a different place is the best way to build a strong bond with him. However, due to the fact that the bearded dragon runs faster, it is recommended to take some additional precautionary measures before allowing him to go for a walk. Such as:
Try to locate an area or place with borders
Keep the surroundings controlled
And most importantly, use a high-quality Bearded Dragon Harness
What are the Crucial Factors to be kept in mind when the Bearded Dragon is on a Harness?
Firstly, put on the harness around the dragon's body gently. Better slide the harness cautiously through the legs initially before deciding to pull the harness over the head slowly. Furthermore, always ensure that the provided harness fits around the dragon's body perfectly. Users can push the harness adjustment clip until it rests firmly. Here, it is worth sharing that try handling the dragon from below not from his head.
All these questions are important and should be considered while buying a harness for your bearded dragon.
How to make a harness for bearded dragon at home?
Final Verdict
In the end, it can be said that since a bearded dragon is no longer in his natural habitat, he has to use to the new surroundings and environment & dragon lovers can achieve this easily by letting him go for a walk. If dragon owners want to have a strong bond with their beardie, then it is better to allow him to explore the new world freely.
Allowing the bearded dragon to get out of the terrarium frequently is extremely important when it comes to dragon's growth & development. But all this demands a lot of patience, training and obviously the safety of the bearded dragon is important as well. In order to achieve this goal, using one of the above-mentioned harnesses will give dragon lovers that required satisfaction and peace of mind.
While deciding on buying a best-bearded dragon harness, consider the durability, color availability, comfort and size of the dragon. And if you are lucky enough to get all these in one harness then, undoubtedly your beloved bearded dragon will love it and wear it easily.
Because, when cared properly, the bearded dragons will give many years of healthy and happy companionship. Hopefully, the provided information will help the readers to get their hands on one of the best products to show the love and care towards dragons and on the contrary, ensuring the comfort and safety of the dragons.